On this Mnemonic Monday, we challenge you to remember medications or activities associated with pseudoporphyria with the following mnemonic:
Let's Really Party Hard T(w)oNight
Lasix (furosemide)
Retinoids
Pyridoxine
Hemodialysis
Thiazides
Tanning beds
NSAIDs
Click HERE to print your mnemonic card.
Study More!
Need a refresher on Porphyria Cutanea Tarda (PCT) and pseudoporphyria? Check out the following pages of your 2019 Derm In-Review Study Guide:
Porphyria cutanea tarda, 61, 130, 152
Pseudoporphyria, 16, 133, 135
Don't have a copy? Sign up for Derm In-Review and download the digital version here.
Further Reading
Check out the following case reports published in the Journal of Drugs in Dermatology (JDD):
ABSTRACT
Porphyria cutanea tarda (PCT) is a blistering skin disorder that occurs most commonly in middle-aged individuals. It is caused by decreased uroporphyrinogen decarboxylase (UROD) activity, which results in elevated levels of uroporphyrinogen. Occurrence remains very rare in children with some sources quoting as few as 50 reports of childhood cases.¹ The literature reports occasional cases of PCT onset with various drugs, including barbiturates, estrogens, griseofulvin, rifampicin, sulfonamides, imatinib, methotrexate, tamoxifen, and cyclophosphamide, however its incidence in childhood is uncommon.²-6 We present a case of new-onset PCT in an eight-year-old following treatment of pre-B cell acute lymphoblastic leukemia with multi-agent chemotherapy. Read the full case report here. Don't have a JDD subscription? Subscribe here.
J Drugs Dermatol. 2014;13(4):489-491.
ABSTRACT
Pseudoporphyria describes a photodistributed bullous disorder with negative urinary, fecal, and serum porphyrin studies. Although pseudoporphyria is thought to be extremely rare (less than 100 reported cases4-5), we propose that this entity is underreported. One author (KB) has seen four cases of pseudoporphyria in the past four years. We describe a patient with nonpruritic, nonpainful bulla on the dorsum of his hands. Biopsy revealed a split at the dermal-epidermal junction; laboratory tests and urinary porphyrin evaluation were negative.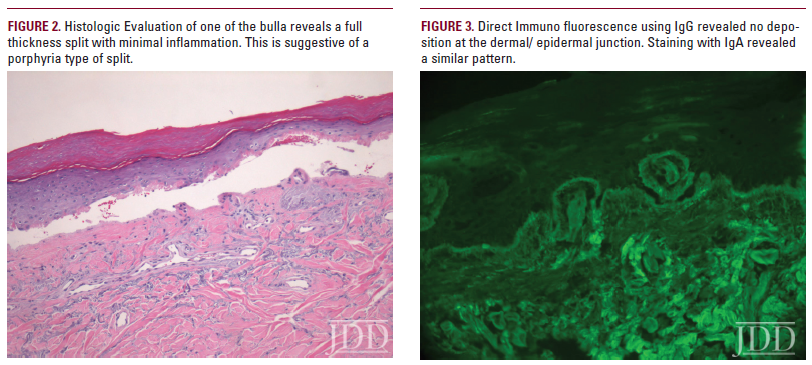 Read the full case report here. Don't have a JDD subscription? Subscribe here.
J Drugs Dermatol. 2014;13(8):990-992.
Test your knowledge!
A patient presents with signs of porphyria cutanea tarda. Porphyrin screens are negative. Which of the following medications on the patient's medication list is your top choice for discontinuation?
A. Naproxen
B. Fenofibrate
C. Enalapril
D. Chloroquine
E. Multivitamin
To find out the correct answer and read the explanation, click here.
Did you enjoy this mnemonic? You can find more here.
Brought to you by our brand partner Derm In-Review.  A product of SanovaWorks.