On this Mnemonic Monday, we challenge you to remember syndromes with an X-linked Dominant (XLD) inheritance pattern with the following mnemonic:
The CHICAGO Bulls Dominated Because They Had the MIDAS Touch
Conradi–Hünermann
Incontinentia pigmenti
CHILD
Albright's
Goltz
Oro-facial digital syndrome
Bazex
MIDAS (microphthalmia, dermal aplasia, and sclerocornea)
Click HERE to print your mnemonic card.
Study More!
Need a refresher on X-Linked Dominant (XLD) Syndromes? Check out the following pages of your 2019 Derm In-Review Study Guide:
X-Linked Dominant Syndromes: 210
Don't have a copy? Sign up for Derm In-Review and download the digital version here.
Further Reading
Check out the following case report published in the Journal of Drugs in Dermatology (JDD):
M Ali, M Keir, H Dodd, and R Cerio
Abstract
Bazex Syndrome (acrokeratosis paraneoplastica) is characterized by a psoriasiform skin eruption that favors acral sites and has been associated with underlying malignancy in all reported cases. Squamous cell carcinoma of the upper third of the respiratory system and upper third of the gastrointestinal tract and squamous cell carcinoma of unknown primary with cervical lymph node metastasis are the most commonly associated neoplasms. Here we report a case of flexural Bazex syndrome with tonsillar adenocarcinoma
Case Report
A 69-year-old Caucasian woman presented to her local doctor with eight weeks history of an itchy red rash on the skin underneath the breasts and the axillae. Her medical history included long term non-insulin dependant diabetes mellitus well controlled by metfromin. She was treated with topical steroids and antihistamines but without improvement. Examination in our hospital showed an erythematous scaly psoriasiform skin eruption with atrophy under the breasts and the axillae (Figure 1). Hands, feet, nails, nose, and ears were not involved and there was no lymphadenopathy. Routine investigations, ANA, ANCA, hepatitis screen, and chest x-ray were normal. Skin biopsy showed hyperkeratosis, parakeratosis, subcorneal pus-tules, dilated dermal blood vessels, and sparse perivascular inflammatory cell infiltrate.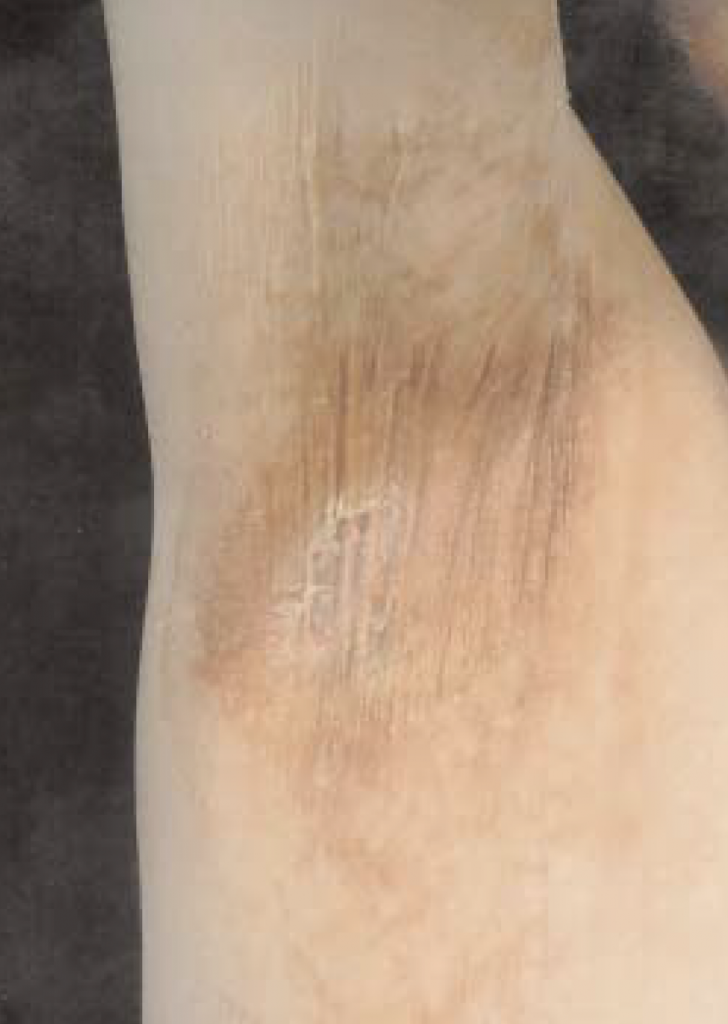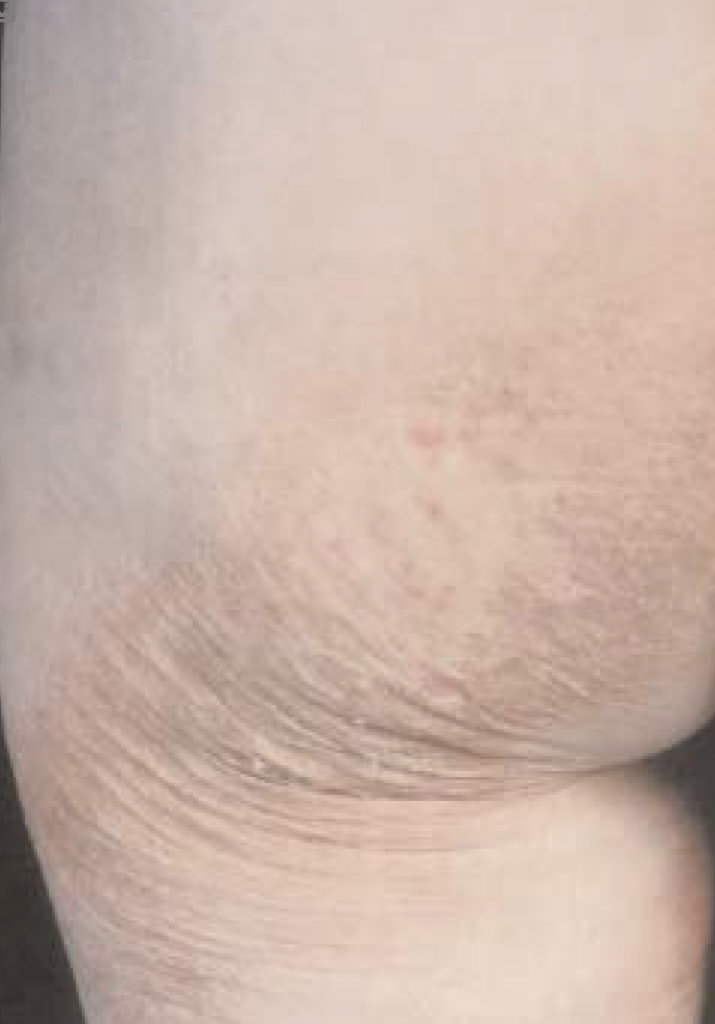 Immunohistochemistry (T/B/CD30 and CD56) was negative. An underlying malignancy and paraneoplastic skin eruption were considered however CT scan of the abdomen, glucagon level, and intestinal peptides were normal and there were no clinical signs of underlying malignancy. The skin eruption continued to spread and it involved the upper thighs, buttocks, and was associated with pain (Figure 2). The patient was treated with potent topical steroids, dapsone but without improvement, and due to the persistence of the rash and the pain we have treated her with PUVA and while she was on this treatment she developed severe sore throat with a very large right tonsil, PUVA was stopped and an urgent excision of this tonsil showed poorly differentiated adenocarcinoma. The skin eruption improved very quickly after excision of the tonsillar cancer. She remains well and she is under regular follow-up with the oncologist. Undoubtedly, our patient had a paraneoplastic skin eruption. We feel it is a variant of Bazex syndrome.
Discussion
On the base of clinical observations, Bazex and Griffith have divided acrokeratosis paraneoplasica (AP) into three stages. In the first stage, there is violaceous psoriasiform erythema with scaling of the digits, feet, nose, and the helix of the ears¹. This is usually associated with nail changes in form of periungual vesicles, subungual hyperkeratosis, longitudinal striae, and onycholysis. The first stage usually lasts two to four months². If the tumor not found, the skin eruption continues to evolve. In the second stage there tends to be a honeycomb thickening of the palms, soles (acquired keratoderma)³. At this stage, there may be an early sign of the associated malignancy. In the third stage, there are widespread psoriasiform changes involving the scalp, extremities, trunk, and the flexures4. In our patient, only stage three was observed, which improved quickly after excision of the tonsilar tumor. Several mechanisms have been associated with paraneoplastic syndromes, such as production of active cytokines, antibodies against the tumor that cross-react with the epidermis, or the basement membrane zone which could lead to damage of the basal layer of the skin. Some studies reported that tumors might produce epidermal growth factor (EGF), transforming growth factor (TGF), or insulin-like growth factor-1 (IGF-1). In transplant studies in nude mice, overexpression of TGF resulted in benign hyperplasia of the keratinocytes. Other reports disclose that alpha TGF levels in the urine of patients with a cutaneous paraneoplastic syndrome decline markedly after excision of the tumor, together with clinical improvement of the skin5. In conclusion, we reported the case of a 69-year-old woman who presented with a paraneoplastic psoriasiform eruption, which preceded the diagnosis of the tonsillar carcinoma of about six months. There was no involvement of the hands, feet, nose, ears, or nails. The skin eruption did not respond to different dermatological treatments but improved after excision of the tumor. The authors believe that this is a variant of Bazex syndrome.
References
1. Bazex A, Griffith A. Acrokeratosis paraneoplastica: a new marker of malignancy. Br J Dermatol 1980; 103:801-5.
2. Pecora AL, et al. Acrokeratosis paraneoplastica (Bazex syndrome). Report of a case and review of the literature. Arch Dermatol 1983; 119(10):829-36.
3. Grimwood RE, Lekan C. Acrokeratosis paraneoplastica with esophaeal squamous cell carcinoma. Arch Dermatol 1987; 17(4):685-6.
4. Wishner AJ, Lynfield Y. Psoriasiform dermatitis in a cachectic man. Acrokeratosis paraneoplasstica syndrome. Arch Dermatol 1988; 124(12): 1852-5.
5. Hsu Ys, et al. Acrokeratosis paraneoplastica with adenocarcinoma colon: Report of a case and review of the literature. J Gastroentrol 2000; 35(6):460-
Content and images used with permission from the Journal of Drugs in Dermatology.
Test your knowledge!
A 1-week old baby girl erupts with clear vesicles in streaks that developed a few days after birth on the extremities, trunk, and scalp, sparing the face. A mineral oil prep is negative for scabies. A biopsy demonstrates eosinophilic spongiosis with scattered necrotic keratinocytes and a dermal infiltrate composed predominantly of eosinophils. Maternal history is notable for many miscarriages. Which of the following is the most likely diagnosis?
A: Acropustulosis of infancy
B: Eosinophilic pustular folliculitis of infancy
C: Autosomal-dominant hyper-IgE syndrome
D: Congenital erosive and vesicular dermatosis
E: Incontinentia pigmenti
To find out the correct answer and read the explanation, click here.
Did you enjoy this mnemonic? You can find more here.
Brought to you by our brand partner Derm In-Review.  A product of SanovaWorks.