In case you missed it, the 17th Annual Women's & Pediatric Dermatology Symposium offered dermatologists a practical approach to treat and evaluate the "aging face." Dr. Jacqueline Watchmaker, a dermatologist from Scottsdale, Arizona, and cosmetic dermatology extraordinaire, discussed her approach to helping patients feel and look their best. Read on for a full summary of this session!
Step 1: Identify the goals of the patient
Dr. Watchmaker shared some of the main aesthetic concerns of her patients: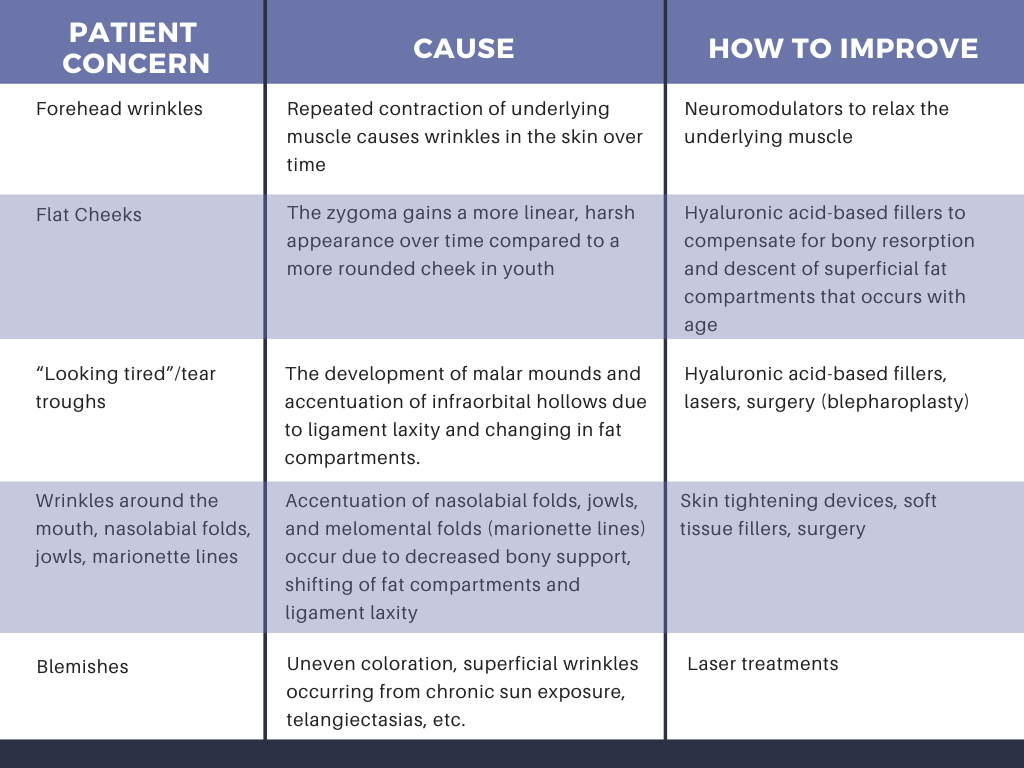 Step 2: Set realistic expectations relative to the patient's goals
Be honest about goals and expectations:
Identify who is the most appropriate candidate for different procedures.
Minimally and non-invasive skin tightening treatments are suitable for patients with mild to moderate skin laxity but surgery is often needed for patients with severe skin laxity.
Several rounds of fillers, neuromodulators, and skin tightening treatments may be necessary to achieve an optimal cosmetic outcome.
Don't worry, there is a way to go about improving someone's appearance while still maintaining a "natural" look
Deep etched in lines in the forehead and glabella may never go away completely and typically take consistent use of neuromodulators (and other treatment modalities) to significantly improve.
Often, the goal is to soften wrinkles, not make them disappear.
Step 3: Take a stepwise approach, rinse and repeat
For wrinkles on the forehead:
Use neuromodulators! These relax the underlying muscles to slowly improve the appearance of wrinkles over time.
Helpful adjunct treatment:
For deep etched in lines (e.g. glabella), inject hyaluronic-based filler very superficially into the rhytids (should only be done by expert injectors given the high risk nature of this treatment).
Caution:
Neuromodulators placed in the frontalis muscle may cause drooping of the eyebrow. Use caution in patients with upper eyelid skin laxity or ptosis at baseline.
Hint:
Show the patient which wrinkles you are not going to treat so that they know where to expect (and not expect) the most change.
For flat cheek bones:
Use a high G' hyaluronic acid-based filler. This provides firmness and support for lifting.
For infraorbital hollowness, nasolabial folds, and marionette lines:
Typically low or medium G' fillers are used around the mouth area. These softer fillers often look more natural and are more flexible with movement during speech and expression.
Hint:
G' is a measure of viscosity and elasticity of a filler. Fillers with high G' are firmer and hold their shape.
Hint:
Inject laterally on the zygoma for the most lift. Inject slightly more superior for a more "contoured" appearance and avoid filling too much of the mid-cheek to avoid an "apple cheek" appearance.
For "jowls" and skin laxity:
Skin tightening devices can help in addition to fillers as noted above.
There are two general ways to go about skin laxity:
Surgery, most commonly via facelift (e.g. rhytidectomy).
This is recommended for those with severe skin laxity. 
Skin tightening devices
This may be beneficial for those with mild and moderate skin laxity who want to avoid surgery.
This is also a great treatment option for those who want "little to no" downtime. Patients can get this procedure and still go to work the next day!
In addition to the above mentioned treatment options, Dr. Watchmaker also discussed two general skin tightening devices:
Radiofrequency = electromagnetic radiation (either alone or with concomitant microneedling)
Microfocused ultrasound = ultrasound waves
Both of these devices use heat to cause collagen contraction and stimulate neocollagenesis which eventually leads to (some) skin tightening. These devices focus energy at specific points in the skin (within the dermis, subcutis, and superficial muscular aponeurotic system depending on the specific device and settings) to cause focal tissue coagulation. See below for general counseling of our patients.
"Collagen doesn't form overnight"
With skin tightening devices, it may take 3-6 months to see results.
Most patients only need one treatment every 1.5-2 years.
Step 4: Procedures to treat blemishes
Lasers, Lasers, Lasers! Dr. Watchmaker detailed her favorite laser devices for blemishes.
Hint: Ablative laser is NOT a "walk in the park"! Provide guidance on what to expect.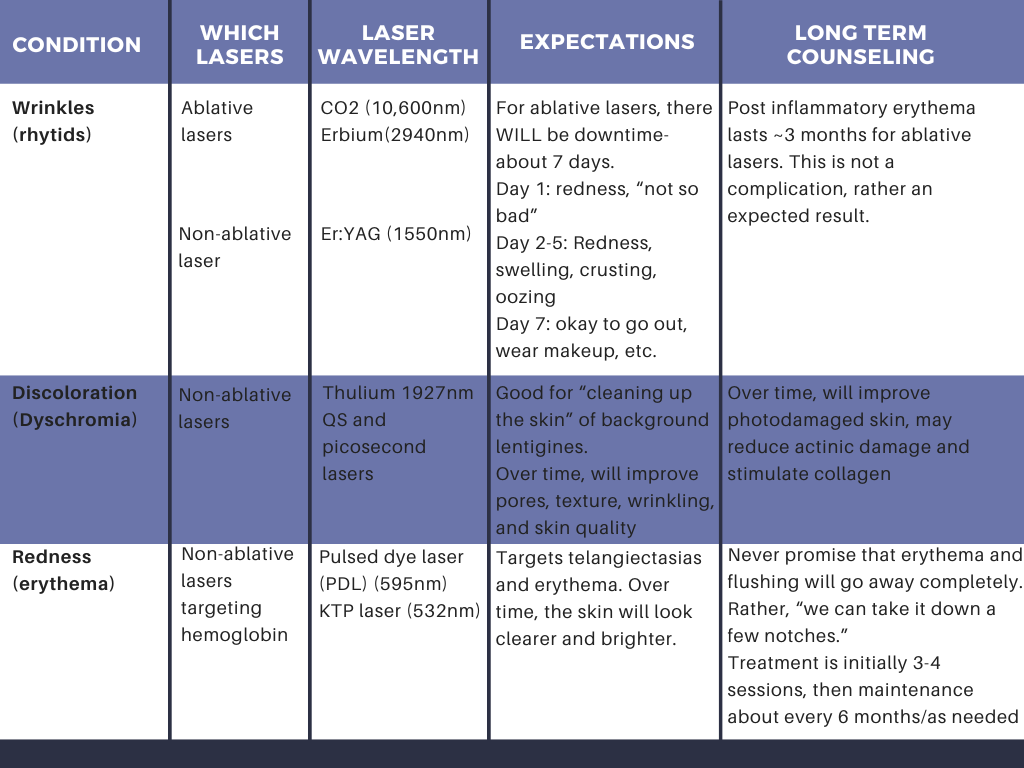 Remember the #1 rule : "set expectations for your patients." It is important to select the right procedure for the right patient and remind them that all improvements take time and consistency.
This information was presented by Dr. Jacqueline Watchmaker at the 17th Annual Women's and Pediatric Dermatology Seminar held June 3-4, 2022. The above highlights from her lecture were written and compiled by Dr. Jacqueline McKesey.