As dermatologists, pruritus (or itch) is one of the most frequent symptoms that we encounter. The broad spectrum of itch severity in patients with various dermatologic conditions suggests a need for a host of "tools" or medications that dermatologists should have in their toolbox. In this publication, we continue our Therapeutic Cheat Sheet series by highlighting the uses of Doxepin in dermatology, which has been described as one of the most impactful oral and topical medications used in the treatment of recalcitrant, chronic itch related to cutaneous disease.
Doxepin Therapeutic Cheat Sheet
Compiled by: Michael J. Visconti, DO | Reviewed by: David Fivenson, MD, FAAD
Trade Names
Oral: Silenor (U.S.)
Topical: Prudoxin, Zonalon (U.S.)
Drug Class/Mechanism of Action
Tricyclic antidepressant with strong antihistamine (H1 & H2) activity
Far superior antihistamine potency compared to diphenhydramine and/or hydroxyzine
Labeled Indications
Oral: Insomnia, Unipolar major depressive disorder
Topical: Moderate pruritus (atopic dermatitis, lichen simplex chronicus)
Off-label Uses
Chronic pruritus (including end-stage renal disease, scalp, neurogenic, atopic dermatitis)
Urticaria
Neurotic excoriations
Serum sickness-like reaction pruritus
Dosing (Dermatologic Uses)
Oral:
Prolonged half-life
10 to 25 mg per day (QHS recommended)
In elderly: initial dosing of < 5 mg with slow dose escalation
Intractable disease (without systemic adverse effects) may require as high as 300 mg per day
Topical:
Contraindications
Concurrent use with other antidepressants
History of mania or bipolar disorder
Severe cardiac disease
Seizure history
Adverse Effects
Oral:
Sedation/drowsiness/somnolence
Impaired concentration
Orthostatic hypotension
Dizziness
Anticholinergic effects (dry mouth, dry eyes, increased thirst)
Reduced seizure threshold
Suicidality
Topical:
Allergic contact dermatitis
Burning/stinging sensation
Sedation/drowsiness
Pregnancy
Oral:
Topical:
Monitoring
With higher doses, consider electrocardiograms for cardiac monitoring
Monitor for falls and traumatic injuries
Follow up
Consider plasma concentration testing for suspected treatment failure (accepted range 150-250 ug/L)
Treatment failure may correlate with polymorphisms in CYP450 (CYP2D6) enzymes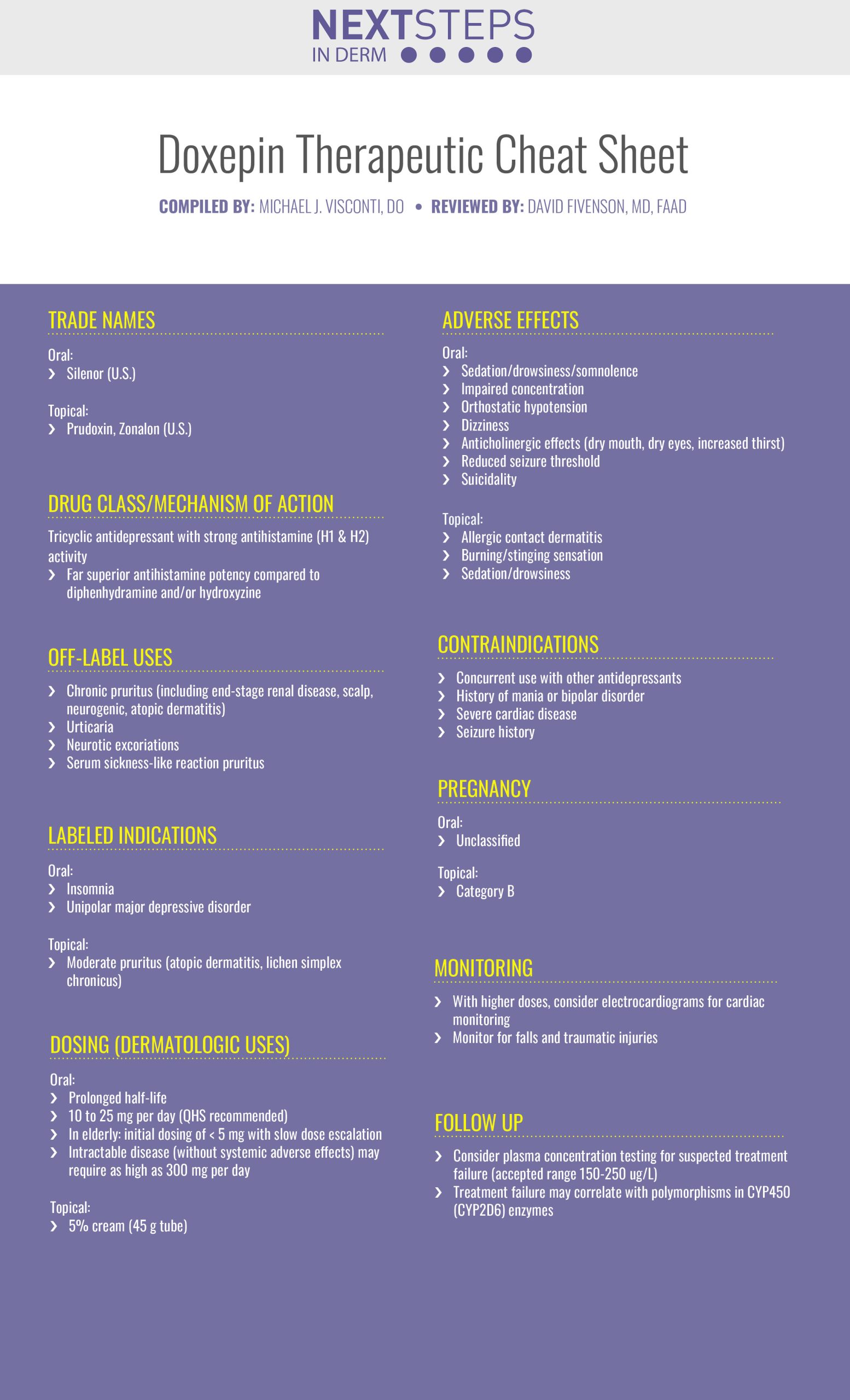 References:
Drake LA, Millikan LE. The antipruritic effect of 5% doxepin cream in patients with eczematous dermatitis. Arch of Dermatol. 1995;131:1403-1408.
Kouwenhoven TA, van de Kerkhof PCM, Kamsteeg M. Use of oral antidepressants in patients with chronic pruritus: A systematic review. J Am Acad Dermatol. 2017;77:1068-1073.
Chan S, Reddy V, Myers B, et al. High-dose doxepin for the treatment of chronic, intractable scalp pruritus. JAAD Case Rep. 2020;8:71-73.
Beck KM, Yang EJ, Koo J. Dose escalation of doxepin for intractable pruritus. J Am Acad Dermatol. 2018;79.
Gupta MA, Gupta AK. The use of antidepressant drugs in dermatology. J Eur Acad Dermatol and Venereol. 2001;15:512-518.
Did you enjoy this Therapeutic Cheat Sheet? You can find more here.