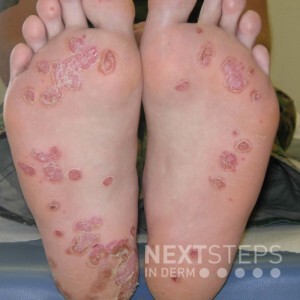 In addition to the lesions seen on the feet of this young man he also had geographic tongue, erythematous plaques on his penis and arthritis, what HLA type is associated with this syndrome?
A. HLA-B27
B. HLA-B51
C. HLA-DR1
D. HLA-DR3
E. HLA-DQW2
To find out the correct answer and read the explanation, click here. 
Brought to you by our brand partner Derm In-Review.  A product of SanovaWorks.