Various forms of alopecia affect millions of individuals worldwide and its prevalence appears to be increasing.1 Hair loss often leads to significant distress and negatively impacts quality of life. Treatment often requires a multimodal approach, and patient satisfaction is highly variable. Dermatologists have limited tools in their treatment armamentarium and may often resort to off-label use of systemic medications. In this month's installment of Therapeutic Cheat Sheets, we will discuss use of minoxidil for the treatment of alopecia.
Minoxidil Therapeutic Cheat Sheet
Compiled by: Adrianna Gonzalez M | Reviewed by: Adam Friedman MD
MINOXIDIL TRADE NAME
MINOXIDIL MECHANISM OF ACTION
The exact mechanism by which minoxidil improves alopecia is not fully understood. It is thought that minoxidil leads to increased oxygenation and production of growth factors around the hair follicle through vasodilation and increased production of vascular endothelial growth factor.2 Additionally, minoxidil may activate potassium channels in hair follicles, shortening the telogen phase and prolonging the anagen phase. It may also have immunomodulatory effects via suppression of T cells, which may be beneficial in autoimmune hair disorders.3
FDA APPROVED USES OF MINOXIDIL
Oral: hypertension
Topical: androgenetic alopecia
OFF-LABEL USES OF MINOXIDIL IN DERMATOLOGY
Androgenetic alopecia (oral), chronic telogen effluvium, alopecia areata, lichen planopilaris, permanent chemotherapy-induced alopecia, monilethrix, traction alopecia, loose anagen syndrome, eyebrow hypotrichosis and scarring alopecias
MINOXIDIL DERMATOLOGIC DOSING
Topical:

Women: 2% foam/solution twice daily or 5% foam/solution daily
Men: 5% foam/solution twice daily4

Oral: 0.25 to 5 mg5 once to twice daily. In regards to terminal hair count, higher doses of 5mg per day may be more efficacious than a dose of 0.25mg per day.6 However, higher doses may increase the risk of developing dose-dependent side effects such as hypertrichosis.7
MINOXIDIL SIDE EFFECTS
Irritation (topical)
Pruritus (topical)
Contact dermatitis (topical)
Change in hair texture (topical)
Shedding
Hypertrichosis: Normally appears within the first 3 months of therapy and may affect the face and body. Hypertrichosis is usually mild and can be managed with dose adjustments or hair removal.7
Lower extremity edema and facial edema
Weight gain
Postural hypotension
Dizziness
Tachycardia
Headaches
At higher doses, Acute pulmonary edema and pulmonary hypertension have been reported as possible adverse effects, although a direct relationship has not been established7
MINOXIDIL CONTRAINDICATIONS
Hypersensitivity to drug component
Pericardial effusion
Pheochromocytoma
Caution in patients with renal failure, severe hepatic impairment, congestive heart failure, tachycardia
SAFETY MONITORING
Lab monitoring is not required when oral minoxidil is used at dermatologic doses3
Oral minoxidil should be used cautiously in patients who are taking other mediations that may affect blood pressure. In these cases, one must ensure that baseline blood pressure is within normal limits.
PREGNANCY
Possible risk of teratogenicity and hypertrichosis based on limited human data8,9
Inadequate human data available to assess risk of taking minoxidil while lactating
CLICK ON THE IMAGE BELOW TO ENLARGE AND/OR DOWNLOAD YOUR THERAPEUTIC CHEAT SHEET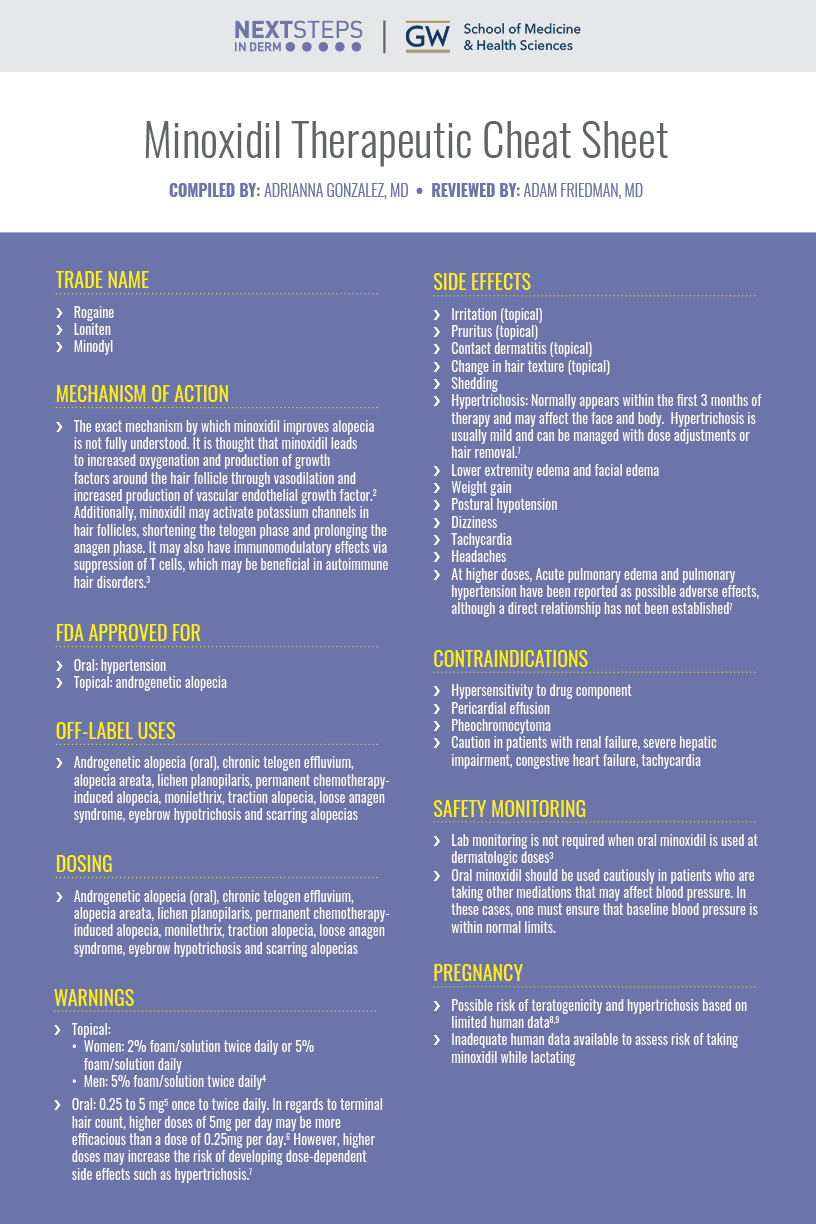 Oral minoxidil is increasingly being used off-label for various forms of alopecia, either as monotherapy or an adjunctive to a multimodal treatment plan. It is generally well tolerated and therefore a safe and efficacious alternative in our therapeutic arsenal. For some patients, the oral formulation may improve adherence, especially if they have developed localized adverse effects to topical minoxidil in the past.
Further Reading
If you would like to read more about the use of minoxidil for alopecia, check out the following articles published in the Journal of Drugs in Dermatology:
The Efficacy of Topical Minoxidil for Non-Scarring Alopecia: A Systematic Review
ABSTRACT
Introduction: Topical minoxidil is the first-line therapy for treating both male and female androgenetic alopecia. Currently there are no comprehensive reviews on the clinical efficacy of minoxidil on hair loss. Method: A literature search was conducted to identify clinically relevant studies regarding the efficacy of topical minoxidil for human subjects for hair loss. Results: Twenty-three pertinent studies were identified for inclusion in this review. Topical minoxidil has been studied in concentrations ranging from 0.01% to 15% for the treatment of AGA resulting in hair growth ranging from 17% to 70%. Concentrations from 3% to 5% have been used to treat alopecia areata, 2% to treat traction alopecia, and 1% to 5% for congenital hair disorders with varying levels of treatment success. Efficacy varies by ethnic groups, but topical minoxidil has been demonstrated to significantly improve quality of life even in the absence of hair regrowth. Conclusion: Topical minoxidil is efficacious for the treatment of hair loss due to male and female androgenic alopecia, alopecia areata, with case-by-case application for traction alopecia, hair transplantation, and congenital hair disorders. Combination therapies using minoxidil with systemic, topical, and injectable therapies demonstrate increased effectiveness over monotherapies. J Drugs Dermatol. 2019;18(2):155-160. Read the full article here.
Efficacy and Safety of Once-Daily Minoxidil Foam 5% Versus Twice-Daily Minoxidil Solution 2% in Female Pattern Hair Loss: A Phase III, Randomized, Investigator-Blinded Study.
ABSTRACT
BACKGROUND: A once-daily minoxidil topical foam (MTF) has been developed to treat female pattern hair loss.
OBJECTIVE: Determine noninferiority of once-daily 5% MTF versus twice-daily 2% minoxidil topical solution (MTS) based on the change from baseline in target area hair count (TAHC) at 24 weeks. METHODS: In a randomized, phase III trial, women with female pattern hair loss received once-daily 5% MTF (n=161) or twice-daily 2% MTS (n=161) for 52 weeks. Primary endpoint was change from baseline in TAHC at 24 weeks. Secondary endpoint was change from baseline in TAHC at 12 weeks. Exploratory endpoints included change in total unit area density and change in overall scalp coverage.
RESULTS: Once-daily 5% MTF increased TAHC from baseline (adjusted mean ± standard error) by 23.9 ± 2.1 hairs/cm2 at week 24. Twice-daily 2% MTS increased TAHC 24.2 ± 2.1 hairs/cm2 at week 24. The treatment difference was –0.3 hairs/cm2 (95% CI = –6.0, 5.4). Since the lower bound of the 95% CI was less than –5.0, the prespecified noninferiority goal was not met. Both treatments were well tolerated.
CONCLUSIONS: Once-daily 5% MTF and twice-daily 2% MTS induced hair regrowth in female pattern hair loss, but prespecified noninferiority criteria were not met. J Drugs Dermatol. 2016;15(7):883-889. Read the full article here.
References
He F, Shen M, Zhao Z, et al. Epidemiology and disease burden of androgenetic alopecia in college freshmen in China: A population-based study. PLoS One. 2022;17(2):e0263912.
Huang KP, Senna MM. Hair Are the Rankings-5-alpha Reductase Inhibitors and Minoxidil in Male Androgenetic Alopecia. JAMA Dermatol. 2022.
Sharma AN, Michelle L, Juhasz M, Muller Ramos P, Atanaskova Mesinkovska N. Low-dose oral minoxidil as treatment for non-scarring alopecia: a systematic review. Int J Dermatol. 2020;59(8):1013-1019.
Johnson & Johnson Consumer INC. Men's Rogaine (5% minoxidil topical aeorosol) [package insert]. U.S. Food and Drug Administration website. https://www.accessdata.fda.gov/drugsatfda_docs/label/2020/021812Orig1s016lbl.pdf. Revised 2020. Accessed 2022. .
Feaster B, Onamusi T, Cooley JE, McMichael AJ. Oral minoxidil use in androgenetic alopecia and telogen effluvium. Arch Dermatol Res. 2022.
Gupta AK, Venkataraman M, Talukder M, Bamimore MA. Relative Efficacy of Minoxidil and the 5-alpha Reductase Inhibitors in Androgenetic Alopecia Treatment of Male Patients: A Network Meta-analysis. JAMA Dermatol. 2022;158(3):266-274.
Randolph M, Tosti A. Oral minoxidil treatment for hair loss: A review of efficacy and safety. J Am Acad Dermatol. 2021;84(3):737-746.
Rampon G, Henkin C, de Souza PR, Almeida HL, Jr. Infantile generalized hypertrichosis caused by topical minoxidil. An Bras Dermatol. 2016;91(1):87-88.
Smorlesi C, Caldarella A, Caramelli L, Di Lollo S, Moroni F. Topically applied minoxidil may cause fetal malformation: a case report. Birth Defects Res A Clin Mol Teratol. 2003;67(12):997-1001.
Did you enjoy this Therapeutic Cheat Sheet? You can find more here.