When standard treatment options fail and corticosteroids are not a long-term option, dermatologists often have to look back to their tool-kit and pull out the "big guns." Mycophenolate mofetil has emerged as a promising immunosuppressive agent for severe immune-mediated and inflammatory dermatologic disease. We continue our series, Therapeutic Cheat Sheet, with a closer look at mycophenolate mofetil.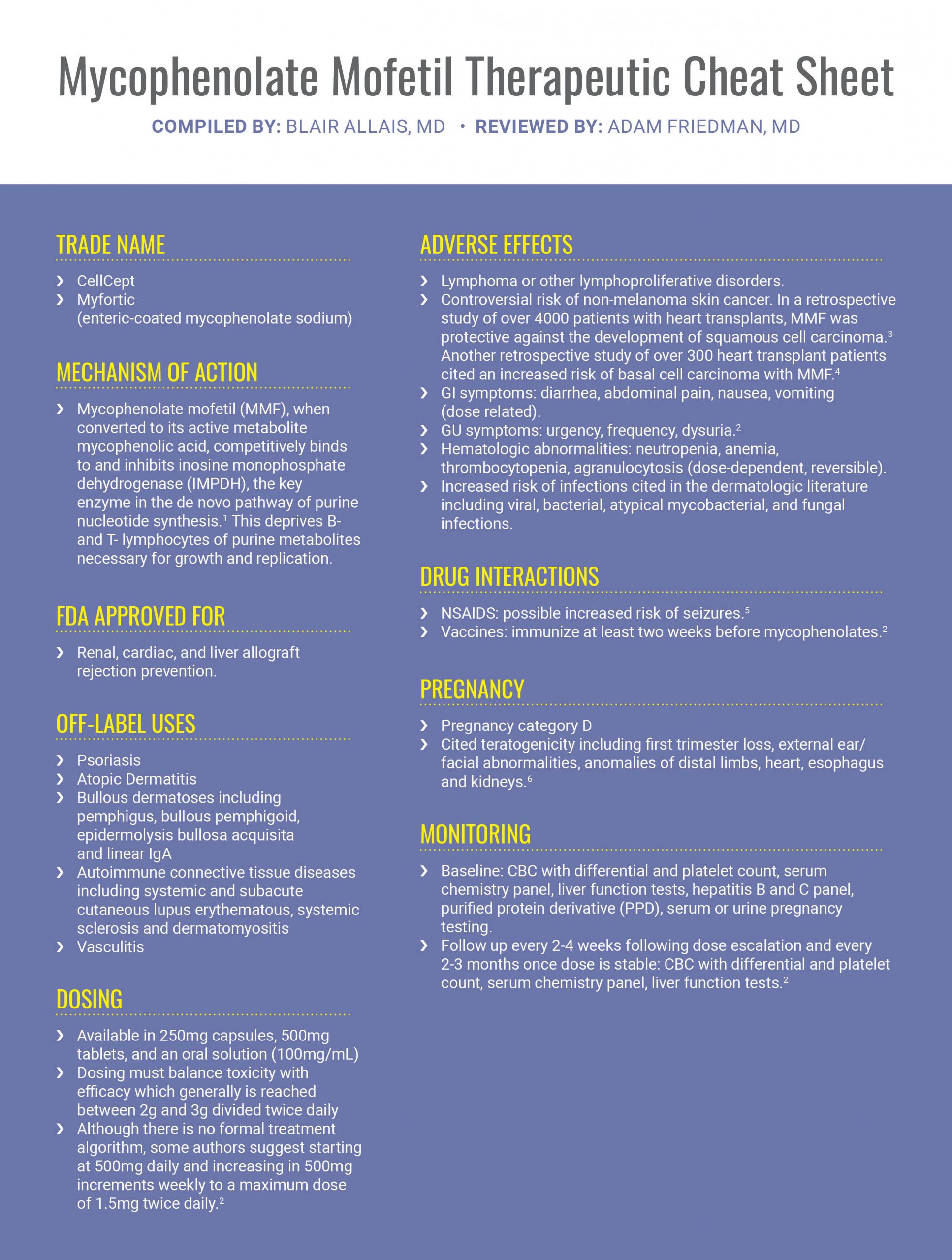 Ultimately, while large randomized controlled trials are lacking, mycophenolate mofetil has been shown to be of benefit as a corticosteroid-sparing agent in various inflammatory and immune dermatoses. Patients should be monitored closely for adverse effects and clinicians should weigh risks and benefits prior to initiating treatment.
Further Reading
If you would like to read more about mycophenolate mofetil, check out the following 2 articles published in the Journals of Drugs in Dermatology:
Prussick L, Plotnikova N, Gottlieb A.
ABSTRACT
Atopic Dermatitis (AD) is a chronic inflammatory skin disease that is a significant cause of morbidity, quality-of-life impairment, and health-care costs. Although many patients can be treated satisfactorily with topical medications and phototherapy, a smaller subset requires more aggressive systemic therapies. Multiple studies have shown promise for the use of mycophenolate mofetil (MMF) to treat refractory AD. This report summarizes the evidence for use of MMF in the treatment of recalcitrant AD for both children and adults. Familiarity with these studies on the benefits and risks of MMF will enable the clinician and patient to select the most appropriate therapy. J Drugs Dermatol. 2016;15(6):715-718.
Cuellar-Barboza A, Cardenas-De La Garza JA, Villarreal-Villarreal CD, et al.
ABSTRACT
Bullous morphea is a rare clinical variant of localized scleroderma characterized by the formation of bullae on sclerotic morphea plaques. Severe disease may be highly disabling and greatly impair quality of life. Current treatment strategies are based on anecdotal reports of clinical experience and include topical corticosteroids, methotrexate, and phototherapy. Herein, we describe the case of a 56-year-old woman with progressive bullous sclerotic lesions who was successfully treated with mycophenolate mofetil after treatment failure with psoralen plus ultraviolet A therapy, ultraviolet A1 phototherapy, and methotrexate. Treatment with mycophenolate mofetil halted disease progression after 8 weeks. No major adverse effects were recorded in a 3-year follow-up with continuous treatment. This case suggests mycophenolate mofetil may be considered as an alternative for the treatment of resistant bullous morphea lesions. J Drugs Dermatol. 2018;17(10):1123-1125.
References
Allison AC, Eugui EM. Purine metabolism and immunosuppressive effects of mycophenolate mofetil (MMF). Clin Transplant. 1996;10(1Pt2):77–84
Braue JA, Schadt CR, Zwerner JP. Mycopenolates. In: Wolverton, SE, Wu, JJ, eds. Comprehensive Dermatologic Drug Therapy. 4th Philadelphia, PA: Elsevier; 2021.
Molina BD, Leiro MG, Pulpon LA, et al. Incidence and risk factors for nonmelanoma skin cancer after heart transplantation. Transplant Proc. 2010;42(8):3001–3005.
Brewer JD, Colegio OR, Phillips PK, et al. Incidence of and risk factors for skin cancer after heart transplant. Arch Dermatol. 2009;145(12):1391–1396.
Hansten PD, Horn JR. The Top 100 Drug Interactions: A Guide to Patient Management, 2019 Edition. Freeland, WA: H&H Publications, 2019.
Cellcept (mycophenolate mofetil) full prescribing information. Revised August 2018. www.gene.com/gene/products/information/cellcept. Accessed Oct 5, 2020.
Did you enjoy this Therapeutic Cheat Sheet? You can find more here.