Roflumilast is a non-steroidal topical cream that was FDA approved for the treatment of plaque psoriasis in 2022.1 Roflumilast selectively inhibits phosphodiesterase-4 (PDE-4), which is an enzyme that mediates inflammatory responses and has been shown to play a role in several dermatologic diseases.2 Prior to topical roflumilast, oral PDE-4 inhibitors have been investigated across a wide variety of skin conditions.2 Apremilast, an oral PDE-4 inhibitor was approved for psoriasis in 2014 and is now also approved for psoriatic arthritis and Bechet's disease.2 However, side effects of systemic PDE inhibition, mainly diarrhea and nausea have limited its utility.2 Fortunately, PDE-4 inhibitors are amendable to topical application with less concern for systemic side effects. Crisaborole ointment, a topical PDE-4 inhibitor was first approved in 2016 for mild to moderate atopic dermatitis.2 Roflumilast cream is a highly selective PDE-4 inhibitor and is considered more potent than either apremilast or crisaborole.2 It showed efficacy across the entire spectrum of psoriatic disease severity and is currently being studied in foam form for the treatment of seborrheic dermatitis.3 We continue our series, Therapeutic Cheat Sheet, with a closer look at topical roflumilast.
Roflumilast Therapeutic Cheat Sheet
Compiled by: Adam Rosenfeld, MD | Reviewed by: Adam Friedman, MD 
TRADE NAME1
GENERIC DOSAGE FORM1
MECHANISM OF ACTION1,4
Roflumilast is a phosphodiesterase-4 (PDE4) inhibitor.
By blocking PDE4 activity, this leads to accumulation of cyclic adenosine monophosphate (cyclic AMP), an intracellular second messenger that controls a network of pro-inflammatory and anti-inflammatory mediators.
The specific mechanism by which roflumilast exerts its therapeutic action is not well understood, although it is thought to modulate a wide variety of inflammatory mediators involved in psoriasis.
FDA-APPROVED USE1
Approved for topical of plaque psoriasis, including intertriginous areas in patients 12 years of age or older. 
OFF-LABEL USES
DOSING1
Apply roflumilast 0.3% cream to affected areas once daily and rub in completely. Wash hands after unless roflumilast is for treatment of the hands.
Only apply the cream to your skin. Do not apply to your eyes, mouth or vagina.
SIDE EFFECTS ASSOCIATED5
In the DERMIS-1 AND DERMIS-2 multicenter, randomized, double blind, vehicle-controlled trials, adverse reactions were as below:

Diarrhea (3.1%)
Headache (2.4%)
Insomnia (1.4%)
Nausea (1.2%)
Application site pain (1.0%)
Upper respiratory tract infection (1.0%)
Urinary tract infection (1.0%)
WARNINGS1
The coadministration of roflumilast with systemic CYP3A4 inhibitors or dual inhibitors that inhibit both CYP3A4 and CYP1A2 simultaneously (erythromycin, ketoconazole, fluvoxamine, enoxacin, cimetidine) may increase roflumilast exposure and may result in increased adverse reactions. The risk of such concurrent use should be weighed carefully against benefit.
The coadministration of roflumilast with oral contraceptives containing gestodene, and ethinyl estradiol may increase roflumilast systemic exposure and may result in increased side effects.
CONTRAINDICATIONS1
The use of roflumilast is contraindicated in the following condition:

Moderate to severe liver impairment (Child-Pugh B or C)
PREGNANCY1
There are non-randomized clinical trials of oral or topical roflumilast in pregnant women. In reproduction studies, roflumilast administered orally to pregnant rats and rabbits during the period of organogenesis produced no fetal structural abnormalities at doses up to 9 and 8 times the maximum recommended human dose, respectively (MRHD).
Roflumilast induced post-implantation loss in rats at oral doses greater than or equal to 3 times the MRHD.
Roflumilast induced still birth and decreased pup viability in mice at oral doses 5 and 15 times the MRHD.
Roflumilast has been shown to adversely affect pup post natal development when dams were treated with an oral dose 15 times the MRHD during pregnancy and lactation periods in mice.
Roflumilast should not be used during labor and delivery as there are no human studies investigating the effects of roflumilast on preterm labor or labor at term. However, animal studies showed that oral roflumilast disrupted the labor and delivery process in mice.
There is no information regarding the presence of roflumilast in human milk, or the effects on a breastfed infant, or on the effects of milk, production. 
MONITORING
No routine tests recommended.
CONCLUSION
Overall, roflumilast cream has been shown to be a safe and effective treatment of plaque psoriasis in patients 12 years and older1. The safety in patients under the age of 12 has yet to be determined1. Topical roflumilast is currently being studied as a treatment for seborrheic dermatitis3, which would mark the first FDA approved medication for seborrheic dermatitis and the first new topical agent for the condition in over 20 years.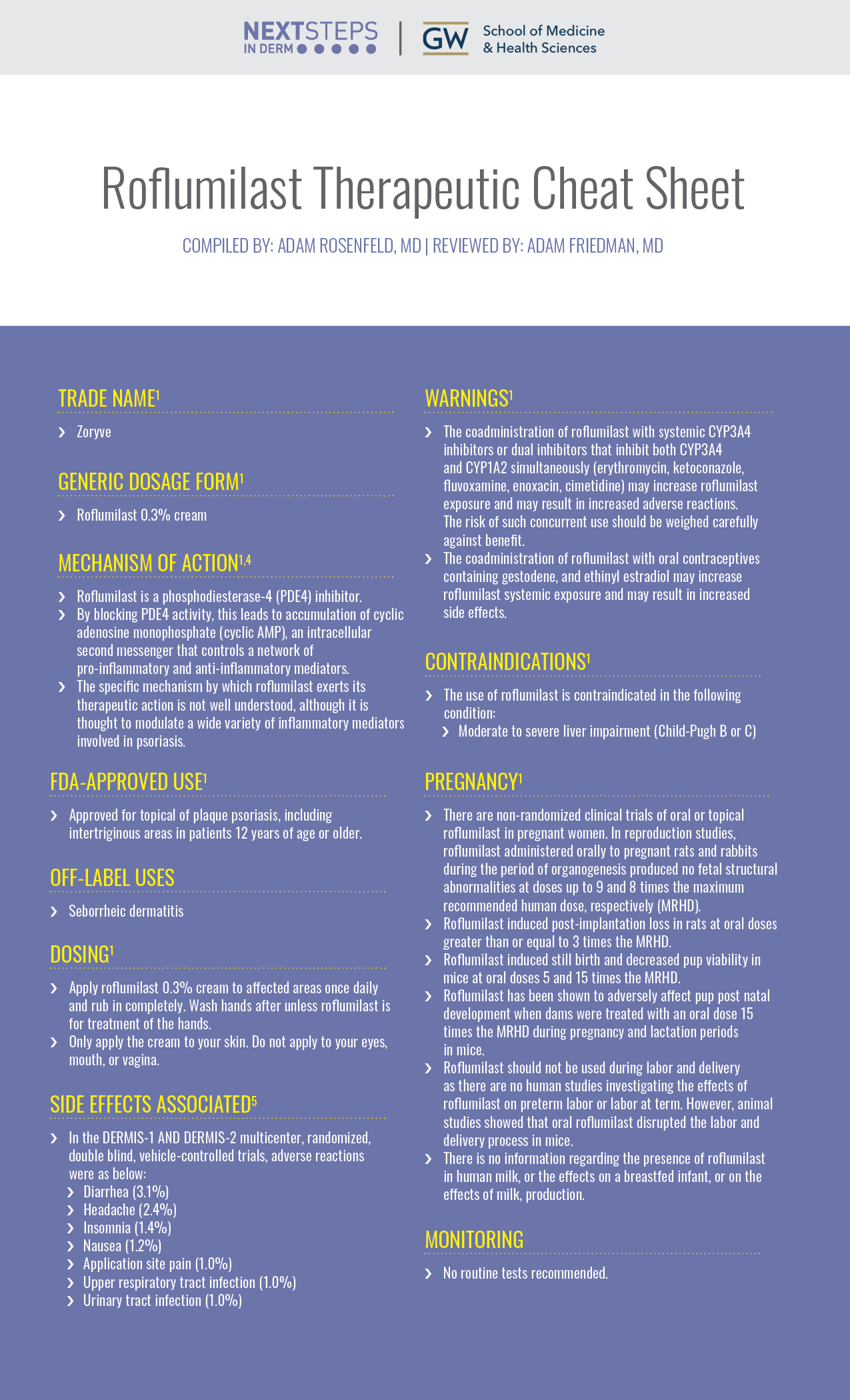 FURTHER READING
The Safety and Efficacy of Roflumilast Cream 0.15% and 0.05% in Patients With Atopic Dermatitis: Randomized, Double-Blind, Phase 2 Proof of Concept Study
ABSTRACT
Background: Patients with atopic dermatitis (AD) need safe and effective topical treatments.
Objective: To assess safety and efficacy of roflumilast cream in patients with mild to moderate AD.
Methods: In this phase 2, proof of concept trial, patients (N=136) aged ≥12 years with AD were randomized to once-daily roflumilast cream 0.15%, roflumilast cream 0.05%, or vehicle cream for 4 weeks. Absolute change from baseline in Eczema Area and Severity Index (EASI) score at week 4 (primary endpoint), percentage change and responder rates, Validated Investigator Global Assessment-AD (vIGA-AD), and safety were assessed.
Results: At week 4, mean absolute changes in EASI were -6.4 (P=0.097 vs vehicle), -6.0 (P=0.356), and -4.8 with roflumilast 0.15%, roflumilast 0.05%, and vehicle, respectively. Significant improvements were observed for percentage change from baseline in EASI, patients reaching 75% improvement in EASI, and patients achieving vIGA-AD score of "clear" or "almost clear." Treatment-related adverse events (AEs) occurred in 2 (2.2%) patients receiving roflumilast (mild rash and moderate application site pain). Only 1 (1.1%) patient receiving roflumilast discontinued study/drug due to an AE.
Limitations: Small number of patients.
Conclusions: Results support additional larger clinical trials of roflumilast cream to assess its potential as a once-daily, nonsteroidal topical AD treatment. ClinicalTrials.gov identifier NCT03916081
J Drugs Dermatol. 2023;22(2):139-147. doi:10.36849/JDD.7295
Roflumilast Cream Improves Signs and Symptoms of Plaque Psoriasis: Results from a Phase 1/2a Randomized, Controlled Study
ABSTRACT
Background: Roflumilast cream (ARQ-151) is a highly potent, selective phosphodiesterase-4 inhibitor in development for once-daily topical treatment of chronic plaque psoriasis.
Objectives: To assess the safety and efficacy of once-daily roflumilast cream 0.5% and 0.15% in patients with chronic plaque psoriasis.
Methods: This phase 1/2a study enrolled a single-dose, open-label cohort (Cohort 1: 0.5% cream applied to 25 cm² psoriatic plaques), and a 28-day, double-blinded cohort (Cohort 2: 1:1:1 randomization to roflumilast cream 0.5%, 0.15%, or vehicle). Patients had chronic plaque psoriasis of >6 months' duration with ≤5% body surface area involvement. Outcomes included safety (adverse events) and efficacy (percentage change in the Target Plaque Severity Score [TPSS] × Target Plaque Area [TPA]) at week 4.
Results: For Cohorts 1 (n=8) and 2 (n=89), adverse events (all mild/moderate; none severe or serious) were similar between active arms and vehicle. Treatment-related events were confined to the application site, without differences between drug and vehicle. No patient discontinued treatment due to adverse events. The primary efficacy endpoint was met for both roflumilast cream doses: TPSS×TPA improvement at week 4 was statistically significant for roflumilast 0.5% (P=0.0007) and 0.15% (P=0.0011) versus vehicle; significance was reached as early as 2 weeks. For both roflumilast cream doses, 66%–67% improvement from baseline was observed at week 4, without reaching a plateau, versus 38% improvement for vehicle.
Conclusion: Roflumilast cream was safe and highly effective at doses of 0.5% and 0.15% and represents a potential novel once-daily topical therapy for the treatment of chronic plaque psoriasis.
ClinicalTrials.gov NCT03392168.
J Drugs Dermatol. 2020;19(8): doi:10.36849/JDD.2020.5370
RESOURCES
Highlights of prescribing information. Revised 7/2022. Retrieved June, 12, 2023, from https://www.accessdata.fda.gov/drugsatfda_docs/label/2022/215985s000lbl.pdf
Milakovic M, Gooderham MJ. Phosphodiesterase-4 Inhibition in Psoriasis. Psoriasis (Auckl). 2021 Mar 17;11:21-29. doi: 10.2147/PTT.S303634. PMID: 33763335; PMCID: PMC7982714.
Zirwas MJ, Draelos ZD, DuBois J, Kircik LH, Moore AY, Stein Gold L, Alonso-Llamazares J, Bukhalo M, Bruce S, Eads K, Green LJ, Guenthner ST, Ferris LK, Forman SB, Kempers SE, Lain E, Lynde CW, Pariser DM, Toth DP, Yamauchi PS, Higham RC, Krupa D, Burnett P, Berk DR. Efficacy of Roflumilast Foam, 0.3%, in Patients With Seborrheic Dermatitis: A Double-blind, Vehicle-Controlled Phase 2a Randomized Clinical Trial. JAMA Dermatol. 2023 May 3:e230846. doi: 10.1001/jamadermatol.2023.0846. Epub ahead of print. PMID: 37133856; PMCID: PMC10157502.
Zhang X, Chen Y, Fan L, Ye J, Fan J, Xu X, You D, Liu S, Chen X, Luo P. Pharmacological mechanism of roflumilast in the treatment of asthma-COPD overlap. Drug Des Devel Ther. 2018 Aug 1;12:2371-2379. doi: 10.2147/DDDT.S165161. PMID: 30122895; PMCID: PMC6078181.
Lebwohl MG;Kircik LH;Moore AY;Stein Gold L;Draelos ZD;Gooderham MJ;Papp KA;Bagel J;Bhatia N;Del Rosso JQ;Ferris LK;Green LJ;Hebert AA;Jones T;Kempers SE;Pariser DM;Yamauchi PS;Zirwas M;Albrecht L;Devani AR;Lomaga M;Feng A;Snyder S;Burnett P;Higham RC;Berk. (n.d.).Effect of roflumilast cream vs vehicle cream on chronic plaque psoriasis: The dermis-1 and dermis-2 randomized clinical trials. JAMA. https://pubmed.ncbi.nlm.nih.gov/36125472/.
Did you enjoy this Therapeutic Cheat Sheet? You can find more here.