Following numerous office-based dermatologic procedures, erythema, swelling, and scarring are often feared complications experienced by our patients. Understanding the wound healing response is synonymous with understanding the stages of healing and ultimately the clinical appearance of each wound. Possessing and sharing a firm grasp on this knowledge allows for patient empowerment during the wound healing process. In this therapeutic cheat sheet, we aim to highlight the phases involved in the wound healing process, as well as key molecules and cell types involved in the response for board examination purposes.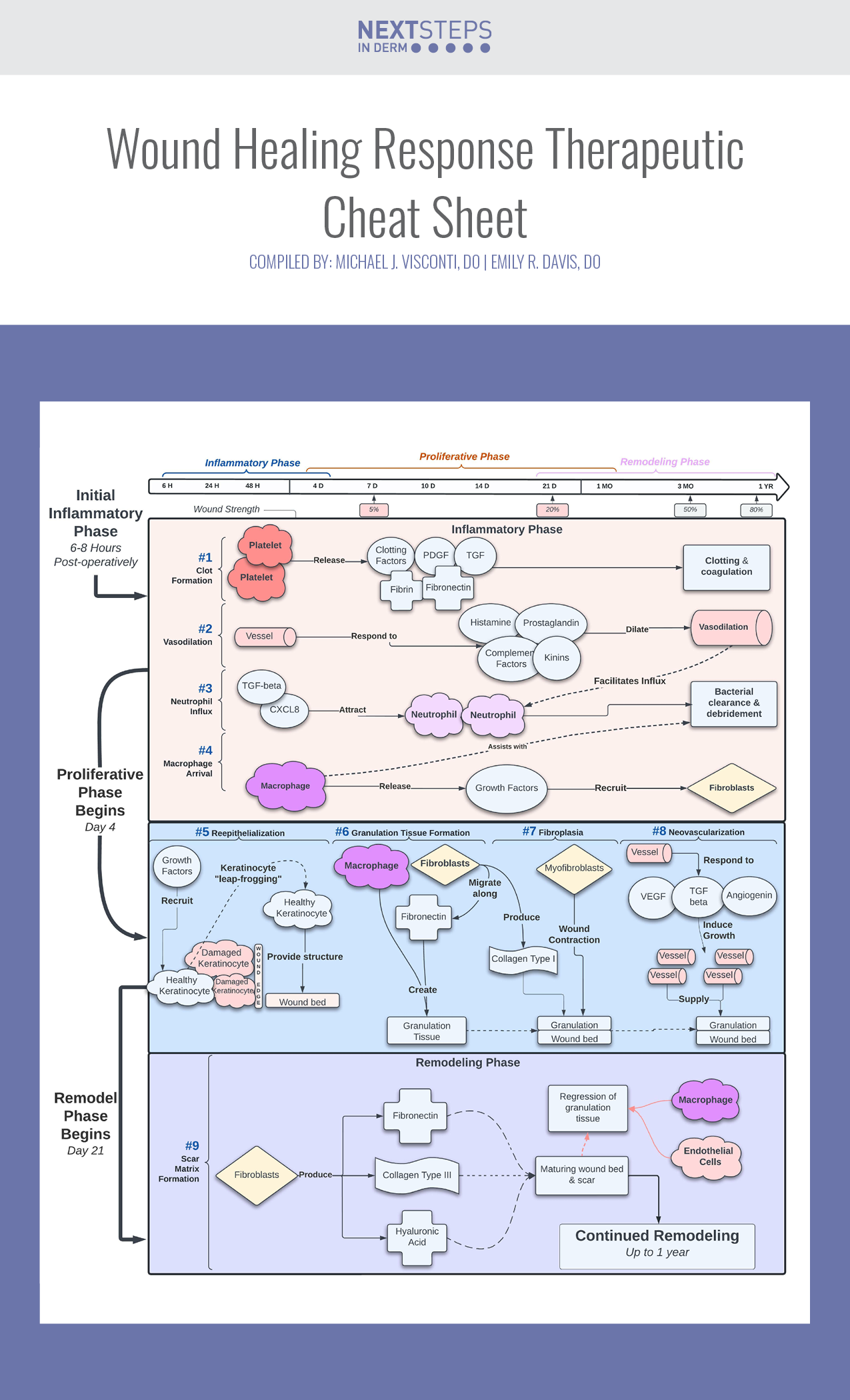 Further Reading
If you want to read more about wound healing and care, check out the following articles publishing in the Journal of Drugs in Dermatology.
The Role of Skin Substitutes in Dermatologic Surgery: A Practical Review
ABSTRACT
Background: The number of skin substitutes (SS) available for wound care management has increased markedly in the last few decades. This presents a challenge as dermatologists attempt to determine the appropriate setting for a skin substitute use.
Objective: This is a practical review of SS used in dermatologic surgery to assist clinicians in their selection of SS by providing information about the efficacy, risk, availability, shelf-life, and relative cost of the available options.
Methods and Materials: Relevant data were identified through a search of PubMed, a manual search of relevant company websites, a manual search of the reference sections of relevant papers, and communicating with subject experts.
Results: SS can be divided into 7 categories based on composition: amnion, cultured epithelial autograft, acellular allograft, cellular allografts, xenografts, composites, and synthetics. These groups offer unique benefits and disadvantages that are outlined in the manuscript and tables.
Conclusion: Considerations of the characteristics, settings of use, and efficacies of SS may allow more effective wound care and the potential for faster healing times. Additional studies are needed to evaluate and compare the healing benefits of these substitutes. Trials comparing the efficacy of each of the common SS vs each other and granulation are needed.
Use of Topical Timolol Maleate as Re-Epithelialization Agent for Treatment of Recalcitrant Wounds of Varying Etiologies
ABSTRACT
Background: Chronic wounds remain a challenge for the clinician and healthcare system. It is therefore vital for additional therapies that target steps involved in wound recalcitrance. Recently, topical timolol has shown promising results for use in wound healing.
Objective: The goal of this study was to assess timolol's effectiveness in healing wounds of varying etiologies.
Methods: This multi-center series took place from 2016¬–2019 at the wound healing centers at the University of Miami Health System and the Veterans Affairs Northern California Healthcare. We identified all wound patients who received treatment with topical timolol maleate 0.5% for at least 4 weeks after failing previous treatments. Timolol drops at a dose of 1 drop per cm2 of wound area were instilled with dressing changes twice a day, once a day, every other day, or continuous application. Once they began the study, they stopped all concurrent therapies aside from standard of care. Healing outcomes were classified into 3 categories: healed, defined as complete re-epithelialization of the wound and closure, improved, defined as decreasing wound size area (WSA), and worsening, defined as increasing WSA.
Results: We identified 39 patients, 32 males and 7 females that had a total of 55 chronic wounds of varying etiologies. Thirty-four of the wounds had completely healed, 15 wounds improved in WSA, 4 wounds were unchanged in WSA, and 2 wounds worsened in WSA.
Conclusions: In line with our previous experience, we found topical timolol to be a safe, cost-effective, and efficacious treatment for recalcitrant wounds of varying etiologies.
Did you enjoy this Therapeutic Cheat Sheet? You can find more here.