Onychomycosis is an extremely common and difficult to treat condition. We have numerous oral and topical treatments in our therapeutic repertoire, but oral medication use is often limited by the risk of hepatotoxicity or drug interactions. Traditional topical lacquers, on the other hand, have limited efficacy due to their inability to adequately penetrate the nail plate. Efinaconazole is a newer topical anti-fungal solution, formulated with the goal of enhanced topical penetration. We continue our series, Therapeutic Cheat Sheet, with a closer look at efinaconazole, an azole antifungal that is approved for treatment of toenail onychomycosis.
EFINACONAZOLE THERAPEUTIC CHEAT SHEET
Compiled by: Emily Murphy, MD | Reviewed by: Adam Friedman, MD
EFINACONAZOLE TRADE NAME
MECHANISM OF ACTION
Azole antifungal: inhibits fungal lanosterol 14α-demethylase, which induces the synthesis of ergosterol, an important structural component of fungal cell membranes.1,2
Shown to have antifungal activity against Trichophyton species and Candida Albicans.3
Given efinaconazole's low keratin binding affinity, low molecular weight, and unique vehicle with low surface tension, this drug can better penetrate the nail and retain its activity in the nail bed.3,4
FDA APPROVED FOR
Topical treatment of toenail onychomycosis due to Trichophyton rubrum and Trichophyton mentagrophytes.1
Approved for ages 6 years and older.1
OFF-LABEL USE OF EFINACONAZOLE
For severe disease or immunosuppressed patients, you can consider combining topical efinaconazole with oral therapy to prevent resistance and for possible synergistic effects.5,6
Consider use of efinaconazole (weekly to daily) as maintenance therapy to prevent recurrence of onychomycosis.5
DOSING (TOPICAL)
10% topical solution (100 milligrams of efinaconazole in each gram of solution).1
Apply the solution to the affected toenails once daily for 48 weeks using the brush applicator. Ensure that the toenail, toenail folds, toenail bed, hyponychium, and undersurface the nail plate are all covered.1
APPLICATION TIPS
Wait 10 minutes after bathing/washing before applying the solution.1
No debridement or intermittent removal of medication is required given it is formulated in a non-lacquer vehicle.1
Counsel patients that efinaconazole application alters nail polish appearance (removes polish, alters polish color, or makes polish tacky).7
EFFICACY
After 52 weeks, complete cure (no involvement of toenail) was seen in 15-18% of treated patients. Mycologic cure (negative fungal culture and KOH) was seen in 53-55% of participants.8
SIDE EFFECTS1,8
Ingrown toenails
Application site dermatitis (erythema, swelling, or exfoliation)
Application site vesicles
Application site pain or pruritus
Onychomadesis (separation of nail plate from matrix caused by temporary cessation of nail growth)
Nail discoloration
DRUG INTERACTIONS
No known interactions; efinaconazole does not inhibit or alter cytochrome P450 enzymes at therapeutic concentrations.1
CONTRAINDICATIONS
PREGNANCY AND BREASTFEEDING
No human data is available for use during pregnancy; in rabbit and rat studies, subcutaneous administration to pregnant animals did not cause fetal malformations at doses two orders of magnitude above the maximum human dose (112 times the dose for rabbits; 154 times the dose for rats).1
It is unknown whether efinaconazole is excreted in human milk. Because maternal blood levels are extremely low after topical application to toenails, it is unlikely that a measureable amount enters breastmilk, but caution should still be advised given the lack of data.9
MONITORING
No lab monitoring required.
CLICK ON THE IMAGE BELOW TO ENLARGE AND/OR DOWNLOAD YOUR THERAPEUTIC CHEAT SHEET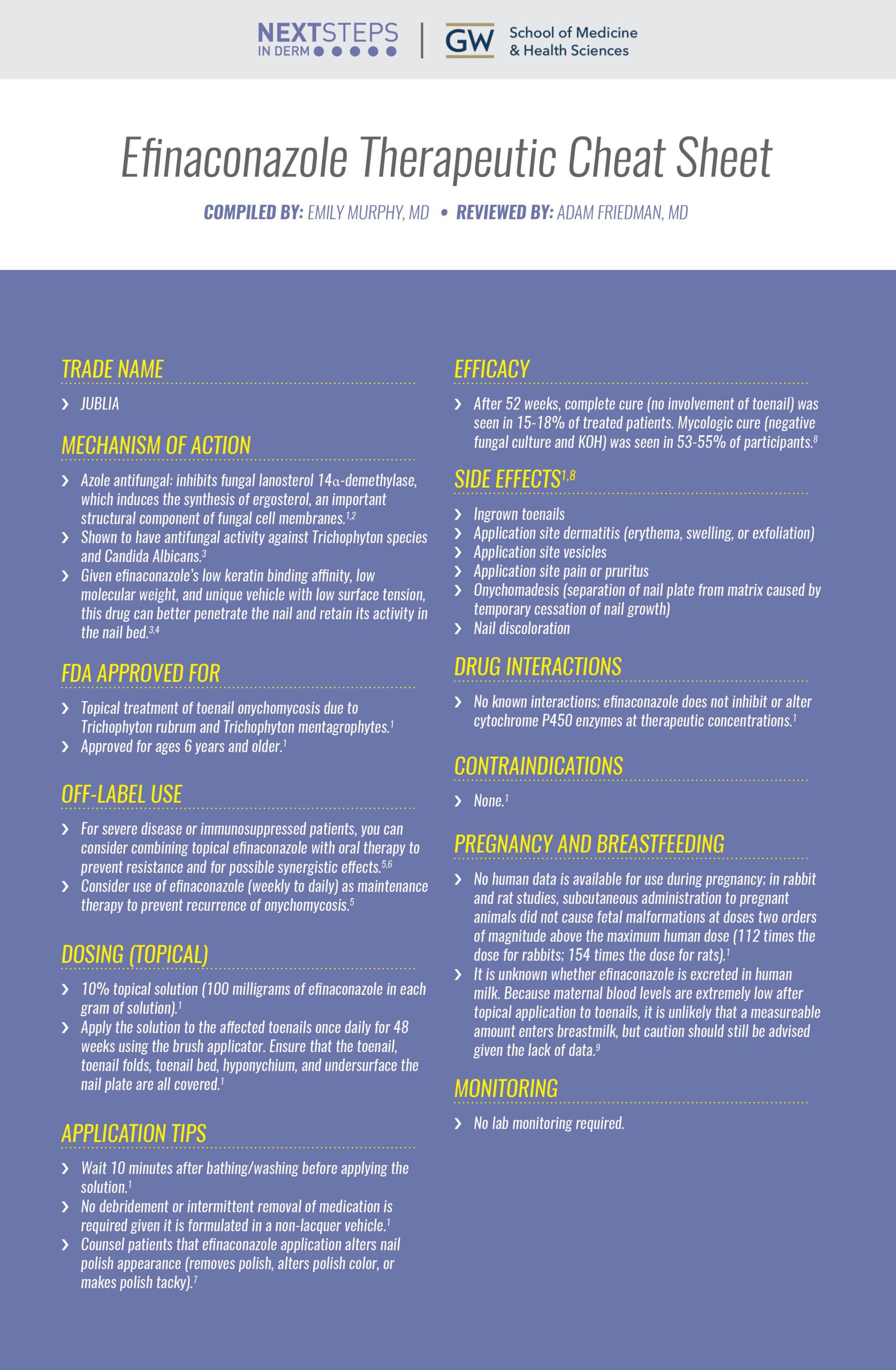 FURTHER READING
If you would like to learn more about efinaconazole, check out the following articles published in the Journal of Drugs in Dermatology:
Therapeutic Recommendations for the Treatment of Toenail Onychomycosis in the US
Shari R. Lipner, Warren S. Joseph, Tracey C. Vlahovic, Richard K. Scher, Phoebe Rich, Mahmoud Ghannoum, Ralph Danie, Boni Elewski.
Abstract:
Background: Onychomycosis affects around 14% of individuals in North America and Europe and is undertreated. Treatment is challenging as toenail growth can take 12–18 months, the nail plate may prevent drug penetration, and disease recurrence is common. National guidelines/consensus documents on onychomycosis diagnosis and treatment were last published more than 5 years ago and updated medical guidance is needed.
Methods: This document aims to provide recommendations for the diagnosis and pharmaceutical treatment of toenail onychomycosis following a roundtable discussion with a panel of dermatologists, podiatrists, and a microbiologist specializing in nail disease.
Results: There was a general consensus on several topics regarding onychomycosis diagnosis, confirmatory laboratory testing, and medications. Onychomycosis should be assessed clinically and confirmed with microscopy, histology, and/or culture. Terbinafine is the primary choice for oral treatment and efinaconazole 10% for topical treatment. Efinaconazole can also be considered for off-label use for maintenance to prevent recurrences. For optimal outcomes, patients should be counseled regarding treatment expectations as well as follow-up care and maintenance post-treatment.
Conclusions: This article provides important updates to previous guidelines/consensus documents to assist dermatologists and podiatrists in the diagnosis and treatment of toenail onychomycosis.
J Drugs Dermatol. 2021;20(10):1076-1084.
Safety, Pharmacokinetics, and Efficacy of Efinaconazole 10% Topical Solution for Onychomycosis Treatment in Pediatric Patients
Lawrence F. Eichenfield, Boni Elewski, Jeffrey L. Sugarman, Ted Rosen, Tracey C. Vlahovic, Aditya K. Gupta, Linda Stein Gold, Radhakrishnan Pillai, Eric Guenin.
Abstract:
Background: Pediatric onychomycosis management is challenging as there are limited treatment options. The objective of this study was to evaluate efinaconazole 10% topical solution in children with onychomycosis.
Methods: This phase 4, multicenter, open-label study (NCT02812771) evaluated safety, pharmacokinetics (PK), and efficacy of efinaconazole 10% topical solution in pediatric participants (6-16 years). Efinaconazole was administered once daily for 48 weeks, with a 4-week posttreatment follow up. Participants had culture-positive, mild-to-severe distal lateral subungual onychomycosis affecting at least 20% of at least 1 great toenail. The PK subset included participants 12-16 years with moderate-to-severe onychomycosis affecting at least 50% of each great toenail and onychomycosis in at least 4 additional toenails.
Results: Of 62 enrolled participants, 60 were included in the safety population and 17 in the PK population. Efinaconazole 10% topical solution was well tolerated. The concentration-time profiles for efinaconazole and its major metabolite were relatively stable, with only minor fluctuations during the 24-hour dosing interval. Systemic exposure to efinaconazole was low. By week 52, 65.0% of participants achieved mycologic cure, with a 36.7% mycologic cure rate observed as early as week 12. A total of 40.0% of participants achieved complete cure, 50.0% achieved clinical efficacy, and 88.3% achieved fungal cure by week 52.
Conclusion: Efinaconazole was safe and efficacious in pediatric participants with mild-to-severe onychomycosis, with improved mycologic cure and complete cure rates compared with adults from two 52-week studies.
J Drugs Dermatol. 2020;19(9):867-872.
Efinaconazole Topical Solution, 10%: The Benefits of Treating Onychomycosis Early
Phoebe Rich.
Abstract:
Objective: To evaluate efficacy of efinaconazole topical solution, 10% in onychomycosis patients with early and long-standing disease.
Methods: An analysis of 1655 patients, aged 18-70 years, randomized to receive efinaconazole topical solution, 10% or vehicle from two identical multicenter, double-blind, vehicle-controlled 48-week studies evaluating safety and efficacy. The primary end point was complete cure rate (0% clinical involvement of target toenail, and both negative potassium hydroxide examination and fungal culture) at Week 52. Three groups were compared: those with early disease (<1year), patients with a baseline disease of 1-5 years, and those with long-standing onychomycosis (>5years).
Results: The majority of patients had long-standing disease; were older, male and white. While nail involvement of the target toenail did not differ noticeably amongst the three groups, the number of nails involved did increase progressively with disease duration. Differences were seen in terms of infecting pathogens in early disease that might have important treatment implications. Efinaconazole was more effective in treating early disease, however more than 40% of patients with long-standing disease were considered treatment successes.
Limitations: A period of 52 weeks may be too brief to evaluate a clinical cure in onychomycosis.
Conclusion: Treatment of onychomycosis early to avoid disease progression to other toenails is important. Once daily efinaconazole topical solution, 10% is particularly effective in these patients.
J Drugs Dermatol. 2015;14(1):58-62.
The Efficacy and Safety of Efinaconazole 10% Solution for Treatment of Mild to Moderate Onychomycosis: A Pooled Analysis of Two Phase 3 Randomized Trials
Aditya K. Gupta, Boni E. Elewski, Jeffrey L. Sugarman, Chikara Ieda, Hideki Kawabata, Robert Kang, Radhakrishnan Pillai, Jason T. Olin, Shinichi Watanabe.
Abstract:
Background: Onychomycosis is a fungal infection of the nail apparatus that can be challenging to treat due to the modest efficacy of existing antifungal therapies and a high rate of relapse and recurrence.
Objectives: To investigate the efficacy and safety of efinaconazole 10% solution in pooled Phase III clinical trial participants with mild to moderate onychomycosis.
Methods: Phase III clinical trials data from NCT01008033 and NCT01007708 were pooled. Efficacy analysis for the primary and secondary outcome variables was conducted using the mITT population and analysed using Cochran-Mantel-Haenszel tests. Subgroup analysis was conducted for prognostic factors that may affect drug efficacy. Safety analysis was conducted on all recipients of a single drug dose.
Results: Efinaconazole 10% nail solution was superior to vehicle for all primary and secondary outcome measures assessed. Complete cure was 18.5% vs 4.7% P<0.001 [mITT] and mycological cure was 56.3% vs 16.6%, P<0.001 [mITT]. Complete or almost complete cure and treatment success were achieved in 27.7% and 47.2% compared to 7.9% and 18.2% with vehicle, respectively (P<0.001 [mITT]). In all subgroups, efinaconazole 10% solution had statistically higher cures rates compared to vehicle. Higher complete cure rates were observed in women and individuals with mild disease (≤33% involvement), but not in any other subgroup assessed. Treatment associated adverse events in the efinaconazole 10% solution group were similar to vehicle and limited to local site reactions (2%).
Conclusions: The findings from this pooled analysis suggest that efinaconazole 10% solution may become the preferred topical agent for mild to moderate onychomycosis.
J Drugs Dermatol. 2014;13(7):815-820.
References
Bausch Health Companies Inc. JUBLIA (efinaconazole) topical solution, Package Insert. Published online March 2022. Accessed July 17, 2022. https://pi.bauschhealth.com/globalassets/BHC/PI/Jublia-PI.pdf
Lipner SR, Scher RK. Efinaconazole in the treatment of onychomycosis. Infect Drug Resist. 2015;8:163-172. doi:10.2147/IDR.S69596
Gupta AK, Paquet M. Efinaconazole 10% nail solution: a new topical treatment with broad antifungal activity for onychomycosis monotherapy. J Cutan Med Surg. 2014;18(3):151-155. doi:10.2310/7750.2013.13095
Kawai M. Characteristics and Efficacy of Two Topical Therapeutic Agents for Onychomycosis. Med Mycol J. 2019;60(3):71-74. doi:10.3314/mmj.19.006
Lipner SR, Joseph WS, Vlahovic TC, et al. Therapeutic Recommendations for the Treatment of Toenail Onychomycosis in the US. J Drugs Dermatol. 2021;20(10):1076-1084. doi:10.36849/JDD.6291
Sugiura K, Masumoto A, Tachibana H, Tatsumi Y. In Vitro Combination Effect of Topical and Oral Anti-Onychomycosis Drugs on Trichophyton rubrum and Trichophyton interdigitale. J Fungi (Basel). 2021;7(3):208. doi:10.3390/jof7030208
Vlahovic TC, Gupta AK. Efinaconazole topical solution (10%) for the treatment of onychomycosis in adult and pediatric patients. Expert Rev Anti Infect Ther. 2022;20(1):3-15. doi:10.1080/14787210.2021.1939011
Elewski BE, Rich P, Pollak R, et al. Efinaconazole 10% solution in the treatment of toenail onychomycosis: Two phase III multicenter, randomized, double-blind studies. J Am Acad Dermatol. 2013;68(4):600-608. doi:10.1016/j.jaad.2012.10.013
Efinaconazole. In: Drugs and Lactation Database (LactMed). National Library of Medicine (US); 2006. Accessed July 17, 2022. http://www.ncbi.nlm.nih.gov/books/NBK500727/
Did you enjoy this Therapeutic Cheat Sheet? You can find more here.