Morphea profunda. To the dermatologist, these words conjure images of hyperpigmented to violaceous, indurated, bound down atrophic plaques. We describe these lesions in our specialty's vernacular, so that those we are conversing with can often surmise the diagnosis before even seeing the affected patient. But to the patient, it is the language of the diagnosis itself that has the most meaning. Morphea profunda suggests a profound transformation.  This may be experienced as revulsion, confusion, or distress as the patient powerlessly gazes upon the way their skin has changed. Others may experience physical pain and functional impairment as a consequence of these changes. Whether the sequelae of morphea profunda are physical or psychological in nature, treatment often poses a challenge.
At the 2020 ODAC Dermatology, Aesthetic and Surgical Conference, Dr. Samantha Marrone and her colleagues in the department of dermatology at Florida State University presented a case of morphea profunda that was successfully treated with autologous fat transfer (AFT). As a procedurally-oriented dermatologist, this poster caught my eye, and I was eager to learn more about their methods.  As you will see, Dr. Marrone provides a detailed explanation of the rationale behind why she treated her morphea profunda patient with AFT, as well as precisely how she and her colleagues went about doing it. This interview is definitely one to bookmark, as it provides a roadmap for both planning and executing AFT for the treatment of morphea profunda, as well as how to counsel patients on what to expect post-procedure. Thanks for the tips Dr. Marrone—I learned so much from this!
You can view the poster here.
Your patient had failed several commonly employed treatments for morphea before she opted for autologous fat transfer (AFT). What other treatment options were discussed with her before AFT was settled upon? And what was the rationale for proceeding with AFT?
We discussed various systemic options including a combination of methotrexate 25 mg weekly with the possible addition of prednisone and/or excimer laser. The patient had already tried multiple systemic treatments and nerve blocks with little to no benefit. She was in significant discomfort and wanted a treatment she had not tried previously that could potentially provide immediate relief, thus she quickly agreed to AFT.
How did you determine how much fat you would have to aspirate from the donor site in order to correct the atrophic areas on the right lower ribcage and right upper abdomen? Why is an overcorrection of 20% necessary?
The amount of fat was determined by inspection of the site to which the fat was going to be injected. We estimated she would require a total of 15-25 cc of adipose tissue.
The 20% overcorrection is necessary for a few reasons. The first reason is because the site will be temporarily infiltrated with tumescent anesthesia that will dissipate once the anesthetic affect wears off. Additionally, with time the body will resorb the transferred adipose tissue, thus we wanted to give the patient a buffer to relieve her pain.
Can you describe what a basic set-up procedure would entail? That is, what equipment and supplies would someone need if they would want to attempt this on a similar patient?
The procedure entails three main steps (supplies listed in explanation):
1) Harvesting fat via liposuction
Infiltrate donor site (in this case the left lower abdomen) with tumescent anesthesia containing lidocaine 0.05%, saline, and epinephrine to produce anesthesia, swelling, and firmness of targeted areas
Make a ~3 mm puncture incision
Insert the blunt tip cannula of the handheld liposuction device with an attached 10 mL Luer-lock syringe in incision site
Use digital manipulate to pull back on plunger of syringe and create a light negative pressure while advancing and withdrawing the cannula in the donor site to aspirate the adipose, ensuring minimal serosanguinous fluid
Once syringe is filled, disconnect from the cannula, set aside, and repeat until you have the desired amount of adipose tissue collected
2) Refinement and isolation of fat cells
The fat is allowed to sit 10-20 minutes in the syringe to separate denser components from less dense components

The upper level will contain the least dense components including the oil and adipose tissue, while the lower level will contain the more dense components including the blood, water, and aqueous element

Remove the oil layer and aspirate the adipose layer into a smaller syringe
3) Fat graft placement
Make a 3 mm incision around the periphery of the concavity, a minimum of 1 to 2 cm from the defect to allow sufficient room for feathering and blending of the transition between the depression and surrounding soft tissue.
Place 0.1 cc of fat grafts on each pass while withdrawing the cannula. The clinical end point was reached when the subcutaneous volume of fat injected was overcorrected by 20%.
Are there any special considerations regarding the handling of harvested fat between the time that it is harvested and when it is handled into the donor site? Is there a window of time during which the fat must be transplanted in order to ensure it is viable?
Once the fat is harvested, it sits in the syringe for 10-20 minutes to allow separation of the various layers as described about and then transferred to a separate smaller syringe to transfer to the graft site.
What are some aftercare instructions that you provided to your patient? What are some potential complications of AFT?
Patients are instructed that it is not unusual to see slight drainage from the incision site over the next 1-3 days. We also tell them to expect some bruising, swelling and minimal pain. We instruct the patient to avoid exercising for 1 week post procedure and avoid drinking alcohol for 48 hours post procedure. Patients may also use cool compresses as needed for pain. Potential complications of AFT include volume loss over 3-6 months. Also, fat necrosis with nodularity and firmness can be another complication.
About Dr. Samantha Marrone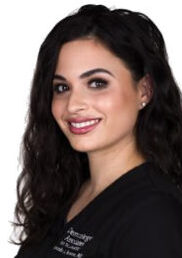 Samantha Marrone is a 3rd year dermatology resident at Florida State University. Her areas of dermatologic interest include cutaneous neoplasms, blistering disorders, dermatological surgeries, and cosmetics. Her interests outside of dermatology include traveling, food, music, fitness, and fashion.
Credits:
All case report images are courtesy of Samantha Marrone, MD
Did you enjoy this case report? Find more here.