JDD Podcast Recap and Author Interview
There has been vast growth in the array of treatment options for psoriasis over the last two decades.  Not surprisingly, the variety of new drugs for this chronic condition has resulted in substantial direct-to-consumer marketing.  However, patients with psoriasis are still largely undertreated.  This discrepancy is explored in the paper "Discordance Between Patient Reported Motivations to Seek Treatment for Psoriasis Compared to Television Advertisements"which appears in the August 2018 issue of the Journal of Drugs in Dermatology.
Podcast host Dr. Adam Friedman sat down with senior author Dr. Alexa Kimball, CEO of HarvardMedical Faculty Physicians and professor of dermatology at Beth Israel Deaconess Medical Center, to further discuss the new publication, as well as therapeutics for psoriasis.  Here are some of the podcast highlights:
On her group's paper in the JDD:
Kimball and her colleagues noticed the vast amount of advertising targeted towards patients with psoriasis and, in contrast, how many patients with psoriasis are still undertreated.
Their study used YouTube and other sources to identify 20 different commercials about therapeutics for psoriasis.
In the past, patients have stated that ads like these do not motivate them to seek treatment. In Dr. Kimball's experience, many patients are more motivated by the discomfort that results from their psoriasis.
Rather than focusing on symptoms like itch that may make patients uncomfortable, the ads studied in the investigation largely cited "clear skin" as an outcome.
Kimball notes that the regulatory framework set out by the FDA dictates what kind of claims can be made in these ads, and that measures of discomfort have not been used as endpoints in large trials.This may change soon, as new data emphasizing patient-reported measures comes down the pipeline.
Kimball feels that the next steps in research should focus on identifying factors that motivate patients to seek treatment and elucidate the ways that we can address these factors.
On choosing biologics:
Kimball likes to set expectations for her patients: choosing a biologic may not be a one visit discussion.  She counsels her patients that they will need baseline labs, and that this will help guide clinical decision making.
When it comes to comorbidities, weight and the presence of psoriatic arthritis will play the largest role in narrowing down the choice of biologics.
After taking into account the patient's lab results and comorbid conditions, coverage by the patient's insurance will also be a big factor in deciding which therapy to move forward with.
If a patient is doing poorly on biologic therapy, when should the drug be switched? Friedman feels that 3 months of inefficacy or decreased efficacy over time warrants exploring a change in therapy.  Dr. Kimball agrees that 3-6 months should be enough time to see a full response.  She also considers dose escalation in patients that are not responding well. She notes that cost must be kept in mind when switching biologics.
Make sure to tune in and listen to the Podcast here.
I also got the chance to ask Dr. Kimball some questions myself:
Psoriasis can be a very challenging disease process to navigate, with a large impact on patients' quality of life.  What are some strategies you think dermatology residents and young dermatologists should be using to better serve our patients with this potentially debilitating condition?
Don't underestimate how devastating this disease is for people and don't be intimidated by all the new therapies available. The happiest, easiest patients I have are those on biologics. It's really not hard once you get a hang of it.
What is one piece of advice you have for current residents and young dermatologists?
Take the time to think about the aspects of a career that really capitalize on your personality, strengths, and interests – and then don't be afraid to ask and design what you need. Don't be fooled that career satisfaction is about balance — it's really about choices.
What is one book you feel everyone should read?
Best recent read for fun: "Bad Blood". Also "5 Dysfunctions of Team" – a classic that makes you think about all the teams you are on.
Did you enjoy this podcast recap? If so, find more here.
About Alexa Boer Kimball, M.D., M.P.H.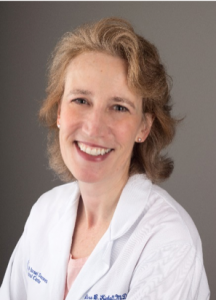 President and Chief Executive Officer, Harvard Medical Faculty Physicians at Beth Israel Deaconess Medical Center President, Beth Israel Deaconess Care Organization Physician LLC
Professor of Dermatology, Harvard Medical School
Alexa Boer Kimball, M.D., M.P.H., is president and chief executive officer of Harvard Medical Faculty Physicians (HMFP), an academic multi-specialty group practice with more than 1,200 Harvard Medical School (HMS) faculty members at Beth Israel Deaconess Medical Center (BIDMC) in Boston,
Massachusetts and an additional 400 physicians in the community. She is also president of the Beth Israel Deaconess Care Organization (BIDCO) Physician LLC, which maintains a membership of approximately 2,600 physicians, and a professor a dermatology at HMS.
Dr. Kimball received her undergraduate degree in molecular biology and public and international affairs from Princeton University, her medical degree from the Yale University School ofMedicine, and a master's degree in public health from the Johns Hopkins Bloomberg School ofPublic Health. She completed her internship in internal medicine at the former Beth Israel Hospital, a residency in dermatology at Stanford University Medical Center, and a clinical research fellowship at the National Institutes of Health. Prior to joining HMFP in 2016, Dr. Kimball was senior vice president of the Massachusetts General Physician Organization (MGPO). She has also served as medical director of the MGPO and as vice chair of dermatology at MGH.
Dr. Kimball is an international expert on psoriasis and hidradenitis suppurativa. She has published more than 300 papers, is the author of the books "100 Questions and Answers about Psoriasis," which has been translated into Spanish, Greek, and Korean, and "Hidradenitis Suppurativa: Your Questions, Expert Answers," and is the editor of "Dermatologic Diseases and Cumulative Life Course Impairment."
Dr. Kimball is also widely recognized for her research on physician workforce economics, quality of life, and outcomes.  For this research, she was awarded the American Skin Association Research Award for Health Policy and Medical Education.  She was also awarded the Mass General Hospital Bowditch Prize for increasing quality of care while reducing costs, Mentor of the Year by the Women's Dermatologic Society, and the Outstanding Physician-Clinician Award from the National Psoriasis Foundation. Dr. Kimball has served on multiple non-profit boards.  These include: the Society for Investigative Dermatology, where she was elected Vice President, the Massachusetts Foundation for the Humanities and Public Policy, and the Hidradenitis Suppurativa Foundation.
She is currently President of the International Psoriasis Council.