Perniosis (also known as pernio or chilblains), is a condition characterized by the development of pruritic, painful erythrocyanotic skin lesions induced by exposure to cold temperatures.² When perniosis occurs in conjunction with clinical or laboratory features of systemic lupus erythematosus, the condition is further classified as chilblain lupus erythematosus (CHLE). CHLE is a rare condition with limited treatment options especially in refractory cases.³ Here JDD authors Stephanie Golub, MS, Galen Foulke MD, and Matthew Helm, MD discuss the utility of therapeutic botulinum toxin injections in the treatment of severe, ulcerative CHLE.
CASE
A 25-year-old female with a 9-year history of systemic lupus erythematosus (SLE) categorized by +ANA (1:640 speckled), +ds-DNA, +anti-Smith, +Anti-histone, palatal ulcers, hypocomplementemia (C3 and C4), malar rash, class V glomerulonephritis, discoid rash, non-scarring alopecia, arthralgias, myalgias and morning stiffness, was referred for management of severe desquamation of all finger tips, hyperextension of the thumbs, and violaceous hyperkeratotic plaques on the hands associated with shallow ulcerations and erosions (Figure 1). Medications for her SLE included aspirin (81 mg PO qd), belimumab (IV, q30d), hydroxychloroquine (400 mg PO qd), lisinopril (40 mg PO qd) and mycophenolate mofetil (500 mg PO bid).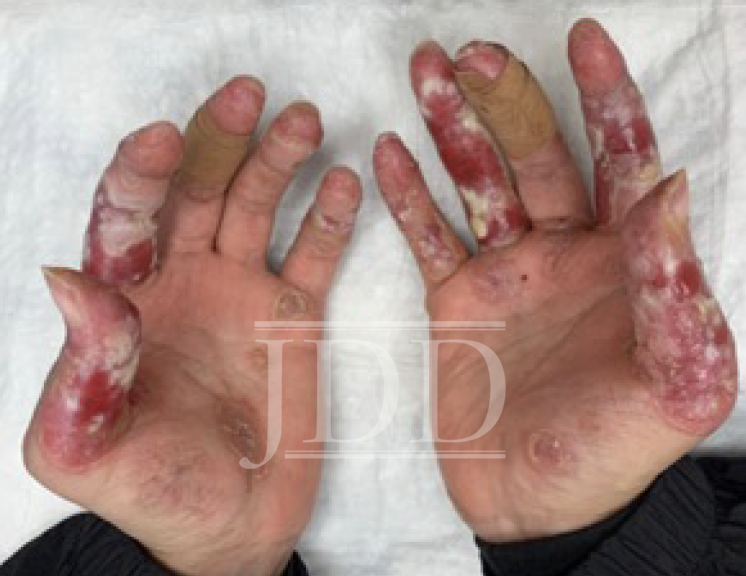 Her distal extremity symptoms first presented as painless livedo reticularis and progressed to include painful and pruritic lesions. Chilblain lupus erythematosus (CHLE) was suspected because of the patients underlying SLE diagnosis and chronicity and the absence of triphasic skin color changes typically seen in Raynaud's phenomenon (RP).4 Moreover, although the lesions initially worsened in the winter months and healed during the summer months, they chronically worsened until they were persistent year-round (Figure 2). On presentation, her symptoms had developed into painful ulcers that prevented her from completing activities of daily living or working. She had to keep her hands wrapped in bandages at all times.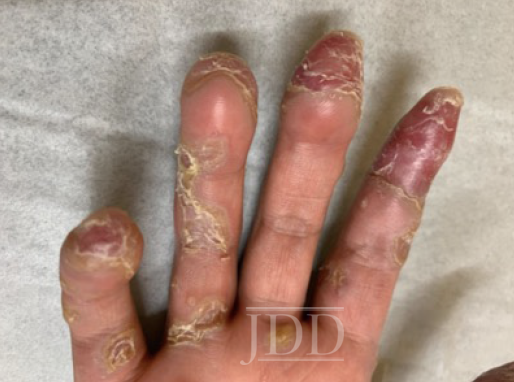 Over a 5-year period, treatment with petrolatum ointment, neomycin and polymyxin ointment, mupirocin cream, 2.5% hydrocortisone cream, topical dapsone, pimecrolimus cream, betamethasone diproprionate ointment, clobetasol cream, pentoxifylline (400 mg tid), nifedipine (60 mg qd), prednisone (up to 40 mg qd), nitroglycerine paste, sildenafil (50 mg qd), and lifestyle modifications all failed. Workup and clinical evaluation were negative for evidence of systemic sclerosis (negative anti- Scl-70, anti-centromere antibodies, and no sclerodactyly) and antiphospholipid syndrome (APLS antibodies negative). Plain radiographs revealed soft tissue atrophy at the tip of the fingers and subluxation of right thumb interphalangeal joint. Upper extremity duplex studies did not reveal evidence of microvascular disease. Transthoracic echocardiogram failed to reveal valvular abnormalities.
DISCUSSION
CHLE is a very rare form of chronic cutaneous lupus erythematosus that presents with pernio persisting beyond the winter months.2,3 Although the pathogenesis is not completely understood, it is thought to be associated with vasoconstriction and microvascular injury provoked by exposure to cold and damp environments.3 On exam, patients classically present with pruritic, erythematous to violaceous macules, papules or plaques that can develop into blisters and ulcerations.3
Treatment options for CHLE are limited and mostly confined to raditional SLE therapeutics.2,3 Nevertheless, these treatment options, which include topical and systemic steroids as well as systemic calcium inhibitors, only work to relieve symptoms in 50% of patients.3 Some studies suggest the use of mycophenolate mofetil, antimalarial agents and topical tacrolimus or pimecrolimus but evidence is limited.3 Moreover, as our patient had tried all of these therapies without symptom improvement, we attempted to treat with local injection of onabotulinumtoxinA (Botox).
To our knowledge, BTX injections have not been previously reported for the treatment of CHLE. However, local injection of BTX is a recently described alternative therapy for treatment resistant, severe ulcerative RP, which has a similar pathogenesis to CHLE.2-5 Both RP and CHLE are associated with abnormal vasoconstriction in response to cold that manifests with chronic ischemia presenting with pain and in severe cases, ulceration.2-5 Although the mechanism of action of BTX is not completely understood, it is known that BTX blocks the neurotransmitter response across the neuromuscular plate by inhibiting the release of acetylcholine.5As a result, BTX inhibits smooth muscle contraction and improves digital blood flow. BTX also affects the binding of soluble N-ethylmaleimide sensitive factor attachment protein receptors, inhibiting the release not only of acetylcholine, but also of a variety of other neurotransmitters like norepinephrine, substance P, calcitonin gene-related peptide and glutamate.6These neurotransmitters are components of several neuropathic pain pathways and thus, by inhibiting these neurotransmitters, BTX reduces pain severity.
Fifty units of BTX were injected into each of the patients hands at 7 different locations (Figure 2).1,4-6 10 units were placed into each inter digital web space adjacent to the 2nd, 3rd and 4th common digital arteries (30 units per hand), and 5 units were placed at the proximal phalanx base of the radial aspect of the index finger, the ulnar side of the small finger, and at each side of the thumb (20 units per hand).1 To treat both hands, a total of 100 units of BTX were used (see Figure 3 for injection protocol).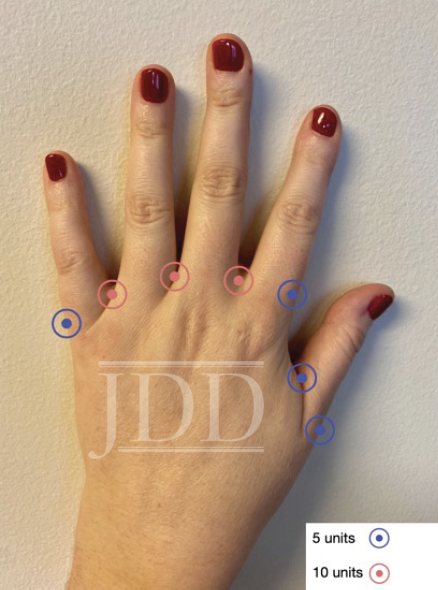 One month after treatment the patient reported improvement in pain and redness as well as increased finger mobility. On examination fingertip desquamation, erosion, skin induration and thickening of the distal fingertips, as well as hyperkeratotic plaques with some granulation tissue continued to be observed.
However, the patient reported no longer needing to wear bandages throughout the day and was able to do more of her normal activities around the house. She also continued with clobetasol cream for the scaly areas and sildenafil and pentoxifylline along with her chronic SLE medications. Three months after treatment, digital ulcerations resolved completely, leaving only moderate desquamation of the digits and healing pink hyperkeratotic plaques (Figure 4).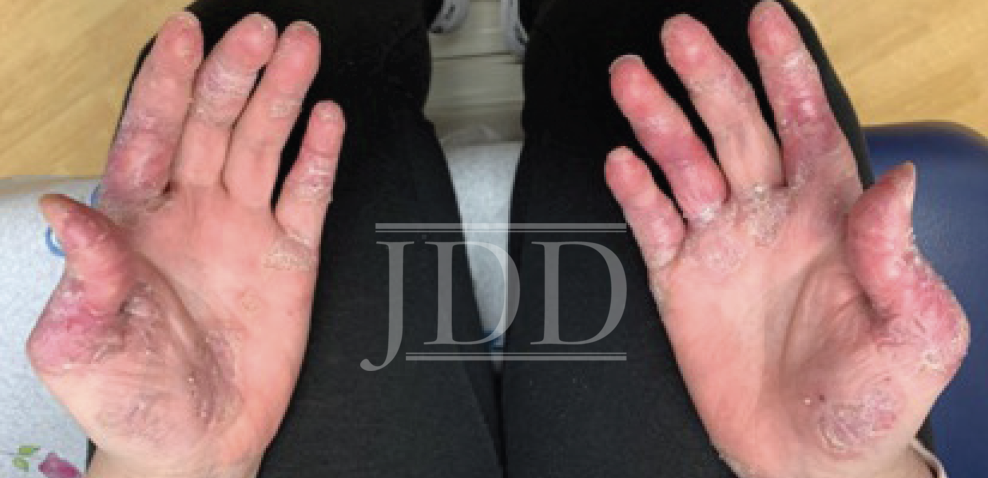 This case suggests that local injection of BTX is an effective treatment option for CHLE in cases where traditional SLE therapeutics are ineffective. BTX seems to inhibit vascular spasms which reduces the severity of lesions and promotes healing of ischemic digital ulcerations. BTX injections offer a simple and non-invasive way to treat severe manifestations of CHLE and achieve safe and rapid results. In patients with CHLE that is resistant to traditional treatment, botulinum toxin injections should be considered.
REFERENCES
1. Bello RJ, Cooney CM, Melamed E, et al. The Therapeutic Efficacy of Botulinum Toxin in Treating Scleroderma-Associated Raynaud's Phenomenon: A Randomized, Double-Blind, Placebo-Controlled Clinical Trial. Arthritis Rheumatol. 2017;69(8):1661-1669. doi:10.1002/art.40123
2. Cappel, J. A., & Wetter, D. A. (2014). Clinical characteristics, etiologic associations, laboratory findings, treatment, and proposal of diagnostic criteria of pernio (chilblains) in a series of 104 patients at Mayo Clinic, 2000 to 2011. Mayo Clinic Proceedings. 89(2), 207–215. https://doi.org/10.1016/j. mayocp.2013.09.020
3. Hedrich CM, Fiebig B, Hauck FH, et al. Chilblain lupus erythematosus- -a review of literature [published correction appears in Clin Rheumatol. 2008 Oct;27(10):1341. Lee-Kirsch, Min Ae [added]]. Clin Rheumatol. 2008;27(8):949-954. doi:10.1007/s10067-008-0942-9 4. Iorio ML, Masden DL, Higgins JP. Botulinum toxin A treatment of Raynaud's phenomenon: a review. Semin Arthritis Rheum. 2012;41(4):599-603. doi:10.1016/j.semarthrit.2011.07.006
5. Neumeister MW, Chambers CB, Herron MS, et al. Botox therapy for ischemic digits. Plastic Reconstructive Surgery. 2009;124(1):191-201. doi:10.1097/ PRS.0b013e3181a80576
6. Quintana Castanedo L, Feito Rodríguez M, Nieto Rodríguez D, Maseda Pedrero R, Chiloeches Fernández C, de Lucas Laguna R. botulinum toxin a treatment for primary and secondary Raynaud's phenomenon in teenagers. Dermatol Surg. 2021;47(1):61-64. doi:10.1097/DSS.0000000000002397
Source
Golub, S., Foulke, G., & Helm, M. (2021). Severe Ulcerative Perniosis Treated With Abobotulium Toxin. Journal of drugs in dermatology: JDD, 20(12), 1350-1351.
Did you enjoy this JDD case report? You can find more
here
.