Overcoming Barriers to Acne Treatment Adherence
There is a wealth of research into the psychology of the acne patient, which may be used to speak with patients more effectively and ultimately lead to better treatment outcomes. Despite the fact that acne has a high emotional impact on patients, adherence to acne treatment plans is surprisingly low (in 1 study, 27% of patients didn't even fill their prescription).1 Barriers that impact treatment adherence include lack of education about acne and its causes, adverse events associated with acne treatments, and complex treatment regimens.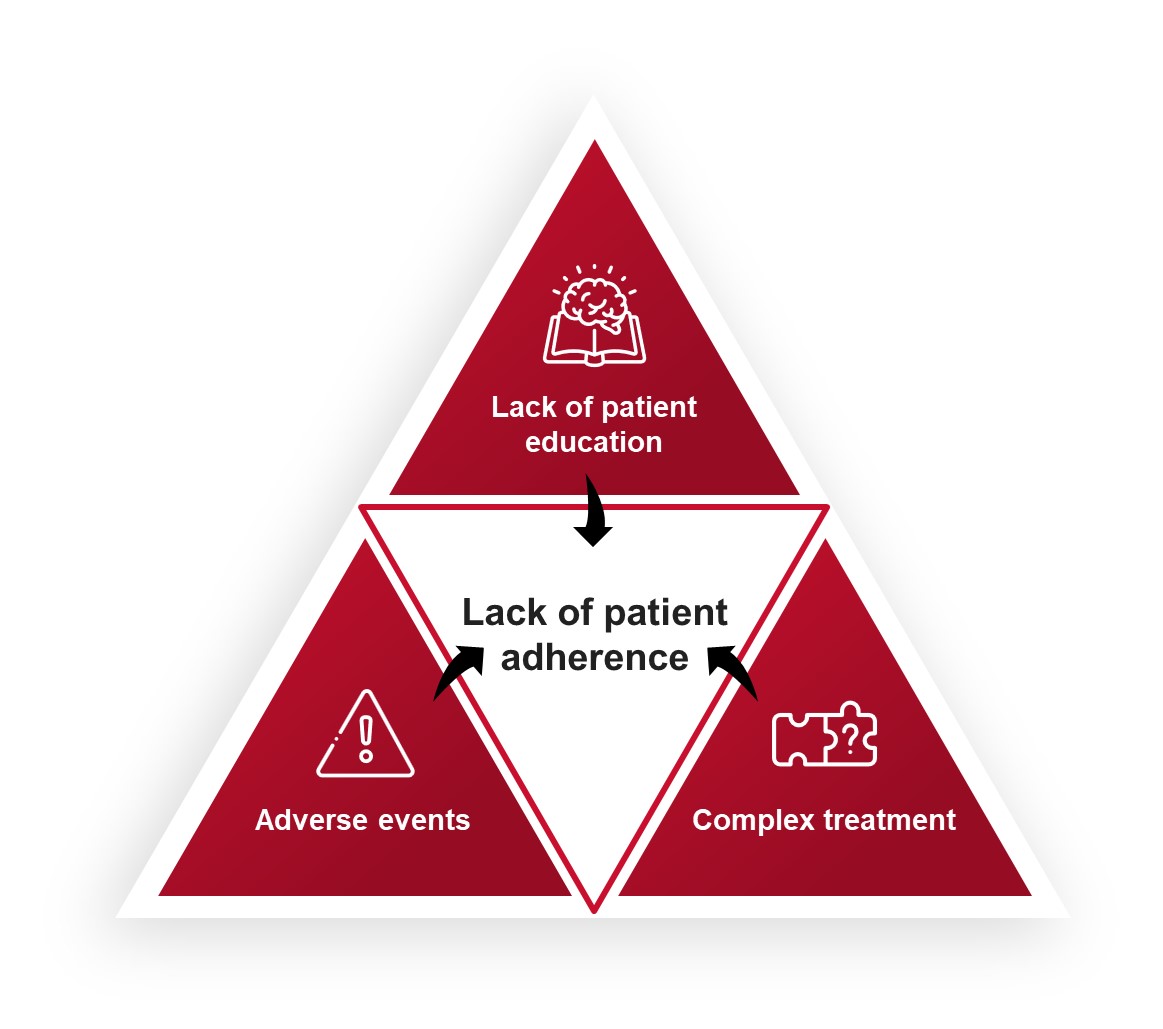 I believe we can overcome these barriers by educating the patient about acne and involving them in the treatment plan.

If patients are involved in the decision-making process and contribute to developing their own treatment plan, they are subsequently more likely to adhere to that regimen. I get my patients involved by asking the following questions:
Is today a good, bad, or average day for your skin?
How do you feel about your breakouts?
Do you prefer topical treatments or are you open to an oral medication?

Inform the patient about possible adverse events associated with acne medications (eg, irritation caused by benzoyl peroxide or the potential of the topical medication to bleach fabric). Finally, ensure that the patient knows how to apply topical treatments, because poor application can reduce effectiveness (eg, tell them to treat the full face to prevent breakouts, rather than just spot treating pimples after they have already developed).
PACE (Personalising Acne: Consensus of Experts) Panel Recommendations (1 Size Does Not Fit All)
Recent presentations at the American Academy of Dermatology 2021 Virtual Meeting Experience (VMX) meeting have highlighted the importance of the patient's psychological profile when developing personalized acne treatment plans. The first of these presentations included recommendations from the PACE panel regarding the acne consultation.2
Doctors should ask the patient what their treatment goals are, but be sure to discuss priorities (eg, treat acne first, then scars, then brown/red spots). It is also important to clarify that you can feel pimples more than you can see them so patients can tell the difference between an acne outbreak and post-inflammatory changes in the skin. Doctors should be open with their patients about the psychosocial burden that comes with acne. Importantly, they should ask patients how their acne affects the following:
Relationships with their friends
Willingness to date
Performance at school/work

Opportunities to improve their social life and academic performance may encourage adherence (ie, potential benefits of following the acne management plan go beyond resolving acne symptoms). Remember, some patients have unique situations; these may include:
Patients aged younger than 10 years
Patients with darker skin phototypes (Fitzpatrick types IV-VI)
Women who are pregnant or breastfeeding
Patients with hormonal conditions
Athletes
Patients who are transgender
Patients with medication-induced acne
The physical examination is also important. After examining the patient's face, doctors should evaluate the trunk. It is estimated that approximately 50% of patients with facial acne have acne on the chest, back, and/or shoulders. Finally, to support adherence, doctors should discuss the potential impacts of non-adherence, such as scarring or post-inflammatory hyperpigmentation.
The Emotional Impact of Acne
Another presentation of interest from the 2021 VMX meeting highlighted results from a recent study evaluating the emotional impact of acne on 104 patients  who ranged in age from 13–45 years.3 Patients were asked, "What is the worst thing about having acne?" The resulting analysis revealed that patients focused on the following 3 aspects of acne: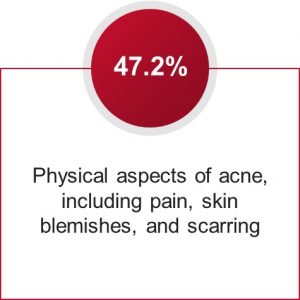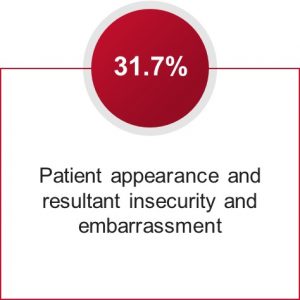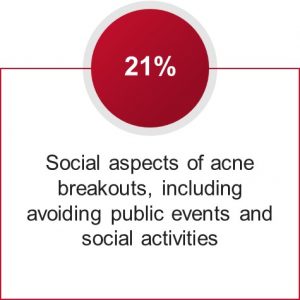 Additionally, patients who focused on the social aspects of acne breakouts tended to be more anxious than patients in the other categories; therefore, it is important to make recommendations that may help reduce their anxiety, in addition to treating their acne.
Finally, the study found that age and gender impact how patients described their acne. Male teenagers were more likely to describe their acne using words associated with anger, and female teenagers were more likely to use words associated with sadness. This gender disparity decreased with age, and older women tended to use words associated with anger when describing their acne, similar to the language used by teenaged boys. These psychosocial data highlight the importance of personalizing treatment regimens to support better outcomes. For example, patients who are angry about their acne may tolerate more aggressive treatment plans.
Practical Advice for Maximizing Your Acne Treatment Plan
In addition to the recommendations distilled from the 2021 VMX meeting, I'd like to share some of my personal recommendations as a practicing dermatologist. First, my approach to treating adult patients differs from my approach to treating children and teenagers. The main question I consider is, "How much does your acne bother you?", and often for children and teenagers, acne bothers the patient's parents more so than the patient themselves. You can't force a patient to follow an acne treatment plan, so you need to tailor your recommendations taking into consideration what the patient is willing to do. The only time I strongly encourage treatment in these cases is when there is physical scarring because it is a permanent structural change.
Second, patient adherence to an acne treatment plan may also be increased by considering the prescribed treatment as part of the larger management approach (eg, recommending over-the-counter complements to support the primary medication or considering possible adverse events of the primary medication). If you're prescribing a prescription acne medication, make sure you also recommend gentle cleansers, moisturizers, and/or sunscreens to complement the action of the prescription.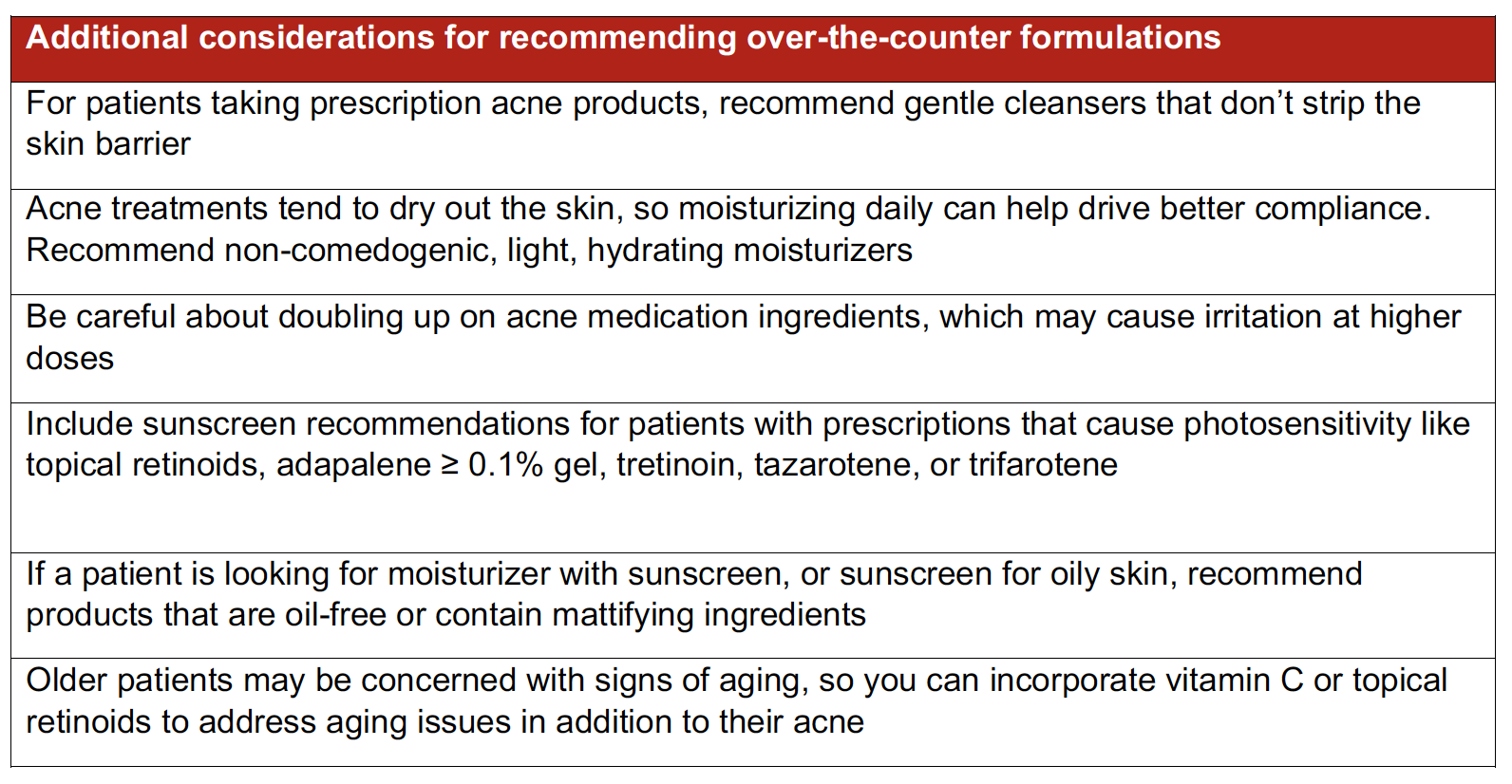 Summary
To increase patients' adherence to their acne management plans, I recommend that dermatologists educate their patients about acne and its causes, involve them in designing their acne management plan, and consider the psychosocial aspects of acne. Age, gender, and the patient's personal reasons for seeking acne treatment are all important considerations when prescribing medications and engaging with the patient at appointments. Taken together, these recommendations should increase patient adherence, leading to better treatment outcomes. 
Product to Consider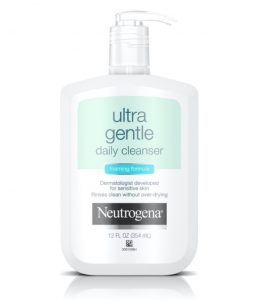 Neutrogena® Ultra Gentle Daily Foaming Facial Cleanser
Non-irritating cleanser that utilizes hydrophobically modified polymer technology to cleanse without penetrating the stratum corneum
Disclosures
Dr Zeichner is an advisor, consultant, or speaker for AbbVie, Almirall, Burt's Bees, Cassiopea, EPI Health, Galderma, Incyte, Johnson & Johnson, Journey, L'Oréal, Ortho Dermatologics, Pfizer, Procter and Gamble, Regeneron, RoC, Sun Pharma, UCB, Unilever, and Vyne.
References
Anderson KL, Dothard EH, Huang KE, et al. Frequency of Primary Nonadherence to Acne Treatment. JAMA Dermatol. 2015;151:623-626.
Layton AM, Alexis A, Baldwin H, et al. Acne consultations: recommendations for optimizing patient-centered care. Presented at the American Academy of Dermatology Virtual Annual Meeting. AB107.
Coubart A, Richtmyer M, Gardner W, et al. Profiling acne sufferers: from acne types and severity to impact in personal and social life. Presented at the American Academy of Dermatology Virtual Annual Meeting. AB70.
This article is brought to you by Next Steps in Derm in partnership with Johnson & Johnson Consumer Health.
Did you enjoy this article? You can find more on our OTC Resource Center.