While some celebrities and star athletes are using their platforms to help normalize mental illness, dermatologists may remain hesitant to care for their own mental health.
"The nature of the road traveled to the medical profession and the performance demands placed upon physicians create a deeply ingrained belief that 'perceived defect or weakness' can be catastrophic for their careers", says Richard Fried, MD, PhD, who is board-certified in dermatology and clinical psychology. "Thus, the 'prescription' has been written: work hard, stay strong and keep potentially stigmatizing emotional struggles hidden."
Yet Dr. Fried says depression and anxiety are commonly reported among medical students, residents and postgraduate physicians, though he says dermatologists may be slightly less impacted than other specialists. While not a formal diagnosis, burnout is fairly common among early career dermatologists, according to Evan Rieder, MD, who is board-certified in dermatology and psychiatry.
"Some of the symptoms of burnout overlap with depression and can lead to poor quality of life, extreme dissatisfaction with work, and resignation and learned helplessness," Dr. Rieder says.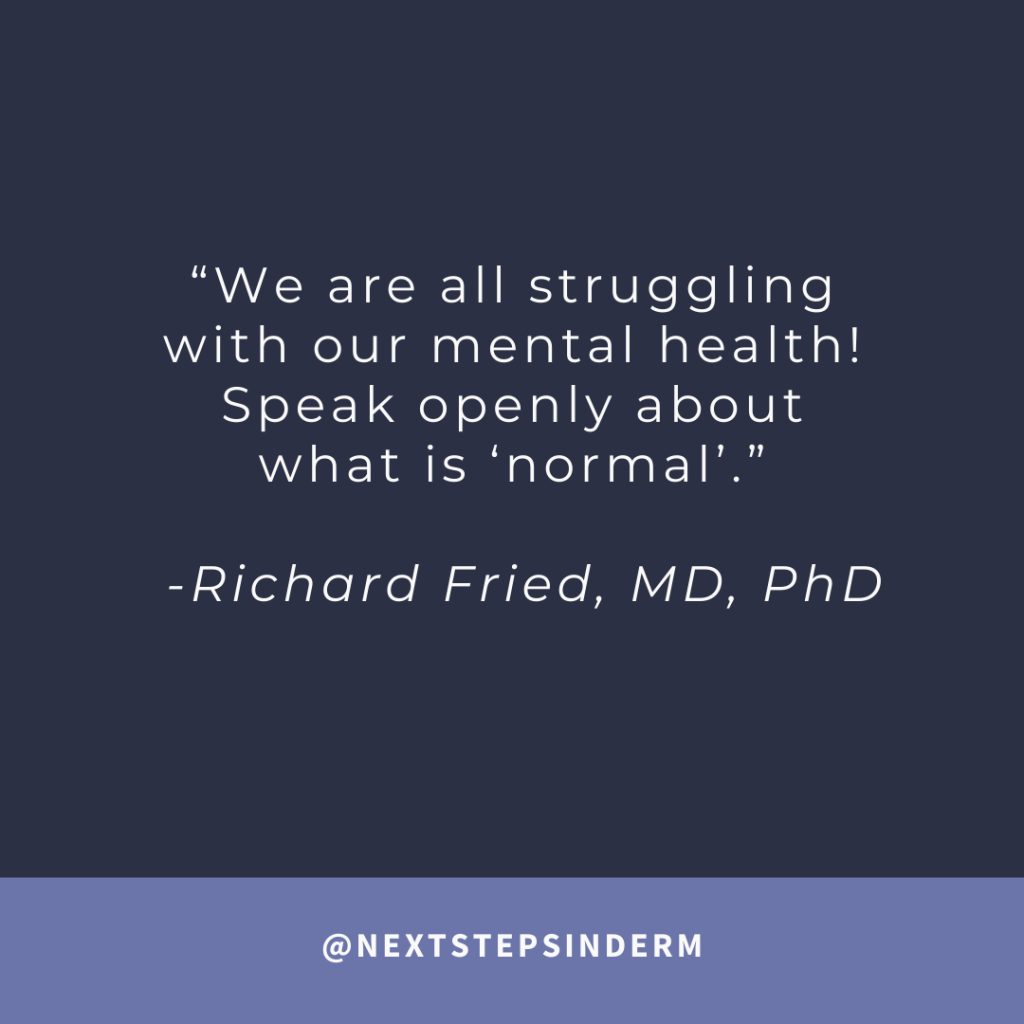 He believes the culture of medicine encourages physicians to sacrifice their own medical or psychological wellbeing. "This means going to work when sick or pressing ahead alone when overwhelmed or depressed. Some of this has changed with the pandemic, but the culture still remains."
Dermatologists also may consider licensure when deciding whether or not to seek help. Several states ask during the initial medical licensure if there is any medical or psychiatric condition that will impair the applicant's ability to perform competently as a physician. Some states ask if the applicant has ever suffered from or ever been treated for a psychiatric condition. Dr. Fried says physicians who have sought help for mental health are caught in a bind: Answer "yes" and run the risk of having to undergo a mandated psychiatric evaluation or answer "no" and risk losing their medical license if caught.
"Fortunately, thanks to the efforts of the American Medical Association and the Americans with Disabilities Act, there is a rapidly changing landscape affording more privacy and protection for physicians," he says.
Dr. Fried says dermatologists should seek care for their mental health regardless of any concerns about licensure. "Maintaining emotional modulation and well-being is a lifelong learning and interventional process."
Dr. Rieder recommends dermatologists who would like care for their mental health to start with the National Alliance on Mental Illness or ask colleagues for recommendations for a psychiatrist. "Unlike a skin examination where the personality fit between the patient and the dermatologist doesn't necessarily impact the quality of care, you really do want to see a mental health professional who you 'click' with," he says.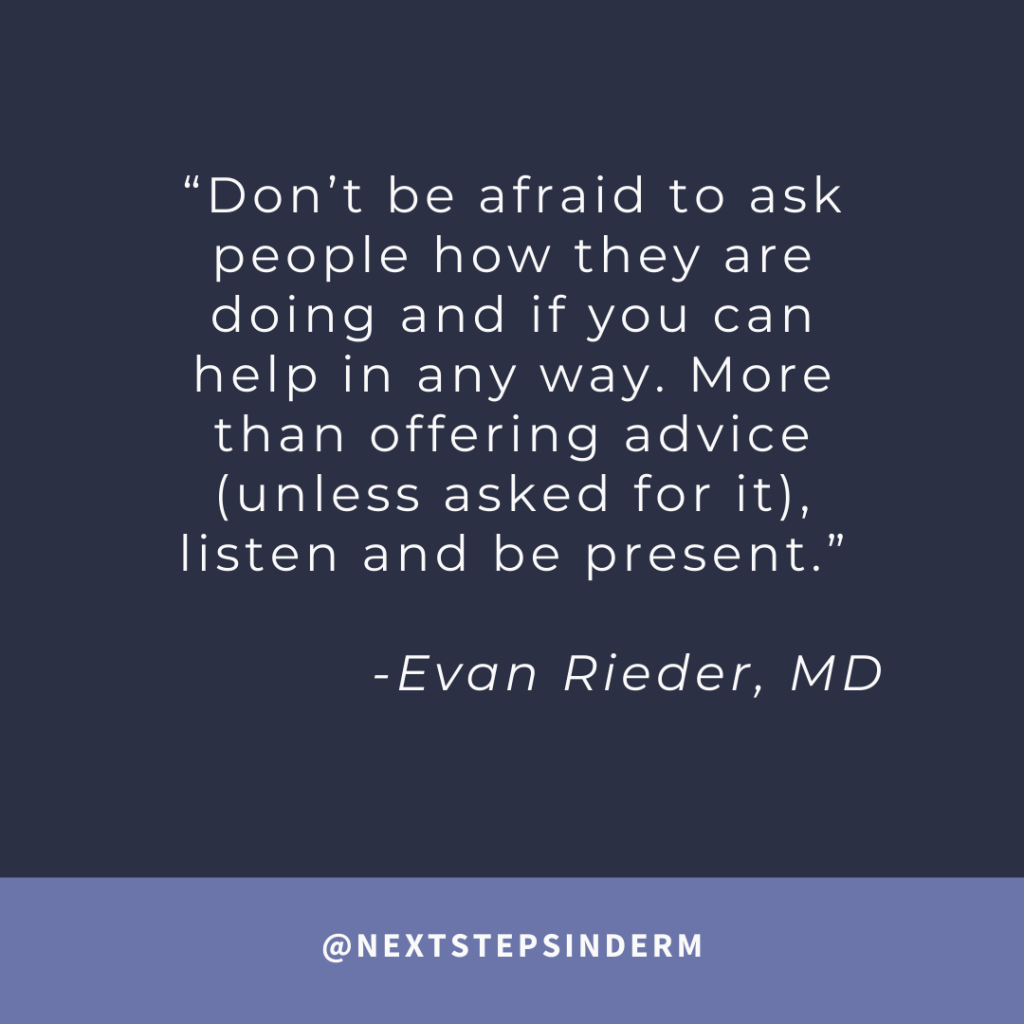 Dr. Rieder says it's especially important that dermatologists seek care if they are considering taking their own lives. "I counsel that for the vast majority of people, suicidal ideation is temporary and responsive to the right treatments."
Dr. Fried says suicidal ideation and completed suicides are substantially higher among physicians in comparison to the general population. Both experts agree it's essential for those contemplating suicide to be in psychological treatment, which may include taking psychopharmacologic medications. Dr. Rieder also recommends those contemplating suicide to stay away from drugs and alcohol, surround themselves with loved ones for emotional support, and have a crisis plan in place, which includes the National Suicide Prevention Lifeline at 1-800-273-8255. "If things are serious, inpatient hospitalization and medications can be life saving," he says.
Drs. Fried and Rieder have several tips that all dermatologists can use to encourage positive mental health:
Seek a healthy work-life balance
"Ask yourself whether you are living a life with some positive balance between work, family and recreation," says Dr. Fried. "Even baby steps help."
"It boggles my mind how so many of our colleagues juggle full dermatology practices, families, active social media presences, publications in the medical literature, and so much more," says Dr. Rieder. "While I applaud those who can keep up with all of this, it's essential to practice self-care, take breaks for your own psychological well-being and have rest. Rest comes in many forms and is not limited to sleep!"
Reframe definitions of "strength and success"
"Strength may not be maintaining a long and maximally productive work schedules and becoming department chair," says Dr. Fried. "True strength and success may be working three days a week in the office and living your life outside the office more engaged with others in your life."
Look out for others
"Don't be afraid to ask people how they are doing and if you can help in any way," says Dr. Rieder. "More than offering advice (unless asked for it), listen and be present."
Speak out
"We are all struggling with our mental health!" says Dr. Fried. "Speak openly about what is 'normal'."
"I always speak about my own psychotherapy as it helps to destigmatize the process," says Dr. Rieder. "My own therapy has been profoundly helpful for my practice as a psychiatrist, in understanding myself and my behaviors, and in helping me work though life crises."
Drs. Fried and Rieder encourage dermatologists to care for their mental health whether in crisis or not.
"Be kind and honest with yourself and others," says Dr. Fried. "Reach out readily for advice, support, and the tools for a healthier and happier life."
Did you enjoy this article? Find more on Navigating Your Career here.