Tips on Giving Back from Dr. Deborah Sarnoff
Next Steps In Derm strives to help you achieve your career goals.  A well-rounded career includes giving back to the communities we serve and to the greater field of medicine.  Dr. Angelo Landriscina recently got the chance to talk with Deborah Sarnoff, MD, a board-certified dermatologist practicing in New York and President of the Skin Cancer Foundation about public outreach projects, including the Foundation's initiative Destination: Healthy Skin.  As Co-Editor-In-Chief of the Journal of Drugs in Dermatology, Dr. Sarnoff also shared some advice about how to give back to the field of dermatology by getting published.
Dr. Landriscina: Thank you so much for agreeing to talk with me today! Destination: Healthy Skin is such a unique concept in skin cancer screenings.  Can you tell me how this program came about?
Dr. Sarnoff:  We wanted to create a community program that focuses on our three main education pillars – skin cancer prevention, early detection and treatment. Destination: Healthy Skin allows the Foundation an opportunity to deliver these messages directly to the public, in their own communities. The program has a national reach, yet we're able to offer one-on-one interactions. We are helping save lives by identifying skin cancers early and urging prompt treatment.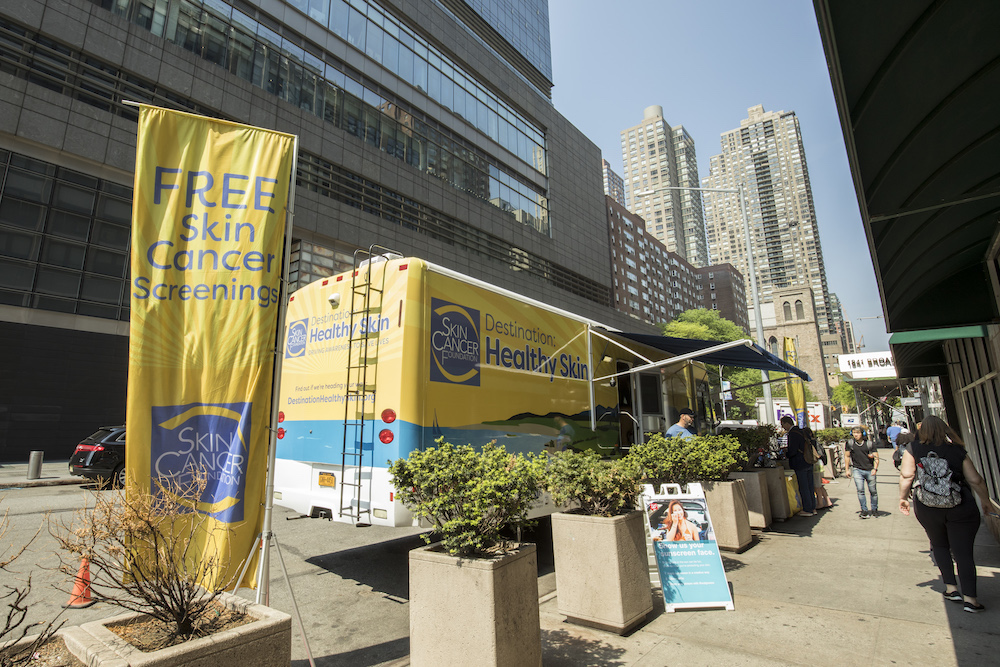 The program originally began as the Road to Healthy Skin Tour which was active from 2008-2015. In 2017, the program was restructured as Destination: Healthy Skin. Now our RV travels to approximately 25 communities each season, staying in each city for 2-3 days of events. As a new program, a shift was made to create new educational experiences to accompany the screenings that really help change people's attitudes and behaviors.
In the past two years, the Foundation has worked to tackle resistance when it comes to sun protection and skin cancer incidence. First, we knew that many people still aren't seeing their dermatologist annually for a full body skin exam. Destination: Healthy Skin helps minimize the excuses and procrastination when it comes to making an appointment – it's here now, it's easily accessible and it's free!
Secondly, we know that many people still don't take skin cancer prevention seriously. The program seeks to highlight the need for sun safety, regardless of activity or location, by visiting cities that represent various lifestyles such as beach and mountain towns, urban, suburban and rural areas. While the volunteer dermatologists are not treating suspected skin cancers on the RV, patients are provided with support and guidance on next steps. Many of our doctors personally follow up with the patients they meet to ensure they received proper care.
Destination: Healthy Skin will be back on the road in 2019 in hopes of continuing to affect change by detecting skin cancers early when they are most treatable and encouraging a lifestyle that will help prevent skin cancers in the long run.
Public outreach interventions like this can have such an impact.  Why do you think they aren't more common?
A program such as Destination: Healthy Skin requires a lot of time, attention and money. The means and manpower must be there to garner success and I can imagine that the lack of these may deter others from creating their own health advocacy initiatives. As a small organization, the Foundation relies on the generous support of our volunteer dermatologists, corporate partners and individual donors to make this all possible.
How can dermatology residents and young dermatologists get involved with Destination: Healthy skin or other volunteer opportunities?
The Skin Cancer Foundation is always looking for local dermatologists to volunteer their time at Destination: Healthy Skin events. As we begin working on the 2019 program, physicians who are interested in helping out are welcome to fill out the following online volunteer form. As the schedule and locations are finalized, a staff member from the Foundation will reach out to discuss the opportunity further. We always encourage our volunteer dermatologists to bring their residents along. It's helpful to have another set of hands in addition to being a great learning opportunity.
You have such a varied and impressive list of accomplishments, including being Co-Editor-in-Chief of the Journal of Drugs in Dermatology.  Do you have any advice to share with our readership on how to get published?
Keep your eyes and ears open! When you're seeing patients in the clinic, always keep a notebook to record any interesting cases and take quality photos. Start by writing up 1 or 2 case reports. Try to make an original contribution to the literature. Create relationships with attending staff (doctors or voluntary faculty) to utilize their experience. Having a mentor or collaborator can be very insightful. Read your monthly peer-reviewed journals and take note of the study design of each. If you're going to do an actual study yourself, pay attention in journal club (most residencies have this) where published articles are reviewed amongst peers. This will help you learn what constitutes a good study.
My last tip is to be disciplined. Pick a time when you like to write (and won't be distracted) and make this a part of your routine. When you do get published, there is a rewarding feeling that you're giving back to the field. In a world that has become entrenched in social media, there is still something prestigious about getting published in a peer-reviewed journal. This can ultimately elevate your status and give you a true sense of accomplishment and professional self-worth.
One of the harder aspects in the process of getting published is rejection.  Do you have any words of advice when it comes to this?
Even the greatest novelists have been rejected. If you believe in your work, don't take the rejection personally. Never give up. Take constructive criticism as a useful learning tool. It might be your submission just wasn't a good fit for that particular journal. In that case, be sure to familiarize yourself with the publication itself.  Submission guidelines and formats can be used to determine if your work is appropriate for their readership. Above all, write with honesty, integrity and full transparency. If your study is funded or sponsored by a particular pharmaceutical company or energy-based device company, it is important to disclose this information. Take your time – your path may not be what you expected. Getting published may open doors and lead to greater opportunities in the future.
Interested in learning more about what it takes to get published? JDD's Executive Editor, Karin Beehler, will lecture on the topic at the upcoming ODAC 2019 conference. To learn more, click here.
Did you enjoy this post? Find more articles on Becoming a Thought Leader here.