Destination: Healthy Skin, The Skin Cancer Foundation's mobile skin cancer education and screening program concluded its second annual journey around the U.S.
Local volunteer dermatologists conducted 1,243 free skin cancer screenings aboard the Foundation's 38-foot Destination: Healthy Skin RV. Program participants also received The Skin Cancer Foundation's educational materials and Walgreens brand sun care items.
From May to August, the Destination: Healthy Skin RV traveled more than 12,000 miles, making stops for educational events in New York, New Jersey, Virginia, Tennessee, Georgia, Florida, Texas, California, Washington, Colorado, Kansas, Illinois, Indiana, Massachusetts and Maine. Fifty-three dermatologistsdonated their time to perform free, full-body skin exams at the events.  The dermatologists identified 356 potential skin cancers and precancers, 19 of which were suspected melanomas. Julie Karen, MD, who volunteered for one of the events in New York, examined one man who had never seen a dermatologist before.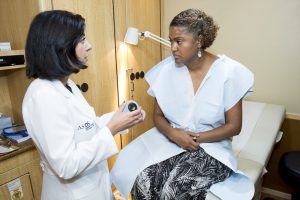 "About 60 percent of the people we served this year had never received a skin cancer screening before," says Deborah S. Sarnoff, MD, president of The Skin Cancer Foundation. "Without this service, it's possible that many of the suspected skin cancers we identified would go untreated. By helping people identify skin cancers early and urging them to seek treatment, this program is truly saving lives."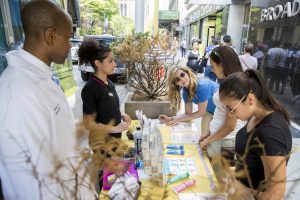 The 2018 Destination: Healthy Skin program was made possible in part by generous support from Walgreens, EMD Serono and Pfizer, Amazon, Genentech, a member of the Roche Group and the Rona Jaffe Foundation.  Though every type of support is integral to Destination: Healthy Skin, the program's success relies on the generous donations of time and expertise by volunteer physicians across the country.
Dermatologists interested in helping their communities may visit DestinationHealthySkin.org/volunteer for more information on getting involved.
To read the full press release on the 2018 Destination: Healthy Skin program, click here.
About The Skin Cancer Foundation
The Skin Cancer Foundation is the only global organization solely devoted to the prevention, early detection and treatment of skin cancer. The mission of the Foundation is to decrease the incidence of skin cancer through public and professional education and research. Since its inception in 1979, the Foundation has recommended following a complete sun protection regimen that includes seeking shade and covering up with clothing, including a wide-brimmed hat and UV-blocking sunglasses, in addition to daily sunscreen use. For more information, visit SkinCancer.org.
Source: The Skin Cancer Foundation