Hair loss can be such a challenging disease to treat, especially with the social toll it can take on patients. Do you struggle to keep up with the newest treatments and data on hair loss? If so, keep reading as we learn from Dr. Shilpi Khetarpal, Associate Professor of Dermatology and Director of Cosmetic Dermatology and Lasers at Cleveland Clinic, about adjunctive therapies for hair loss based on her presentation at the 2022 Skin of Color Update.
Review of Hair Loss
Androgenetic alopecia (AGA) is the most common form of hair loss in men and women, affecting 50 million men and 30 million women and increasing in prevalence with age [1] [2]. It is thought to be autosomal dominant with complete penetrance and related to upregulated perifollicular 5-alpha reductase and miniaturization of the hair follicle. There are a variety of causes of AGA, including genetics, environment, nutrition, stress, and hormones. Currently FDA-approved treatments include oral finasteride and topical minoxidil, though there are many issues with compliance and adverse effects of scalp irritation and sexual dysfunction. Yet for those not responding, we will explore adjunctive therapies, such as lasers, microneedling, platelet-rich plasma (PRP), and hair transplantation.
Lasers
Low level light devices use biostimulation for their anti-inflammatory effect. Red or near infra-red light (650-900 nm) three times weekly for 10-15 minutes has been shown to increase terminal hair density, improve hair regrowth, and decrease inflammation [3]. However, it takes 3-4 months for optimal improvement.
Fractional 1927 nm thulium lasers increase vascularity and growth factors and create microchannels in the scalp to increase absorption of compounds [4]. Weekly sessions with the 1927 nm thulium laser with growth factor solution applied after showed improvement in 10 male patients with AGA; however, 3 months after treatment, hair counts were decreased despite some improvement 1 month after treatment [4]. Look at the results of their study here.
Additionally, a 1550 nm fractional erbium glass laser was used in 28 patients with female-pattern hair loss (FPHL), and after 10 treatments performed every 2 weeks (energy 6mJ, density 800 spot/cm2), there was an improvement in hair density and thickness at 5 months [5]. This was presumed to be due to increased blood flow and stimulation of the dermal papilla, though the mechanism is not fully understood.
Platelet-Rich Plasma
Platelet-rich plasma (PRP)—that is, autologous patient blood with hyperconcentrated (>1,000,000 platelets/uL or twice the whole blood concentration)—has been studied as an adjunctive treatment for hair loss. The alpha granules of platelets secrete protein growth factors, such as platelet-derived growth factor (PDGF), transforming growth factor (TGF), vascular endothelial growth factor (VEGF), epidermal growth factor (EGF), fibroblast growth factor (FGF), and insulin-like growth factor (IGF), all of which ultimately activate folliculogenesis to promote hair growth.
Treatment of FPHL in one study showed that using a 3-6x platelet concentration with a single spin, minimal granulocytes, and subdermal depo injection over 3 months had positive results for men and women, including regrowth, density, and improvement in quality of life [6]. Below are some before-and-after figures shared by Dr. Khetarpal showing the value of PRP for treatment of hair loss.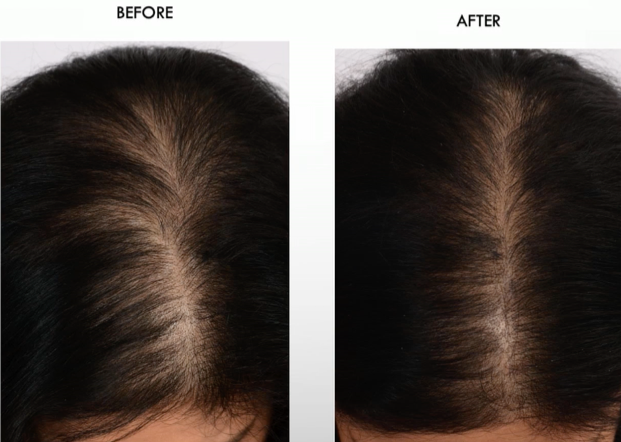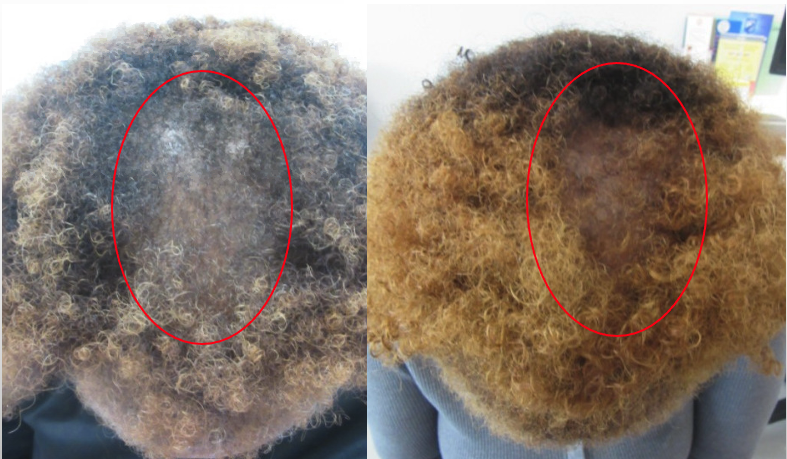 Ultimately, a combination therapy involving PRP may be beneficial for patients with hair loss. However, Dr. Khetarpal cautions that not all PRP systems are equal, such as single versus double spin. More studies are needed to establish a standard practice, particularly ones that are a larger population-based study.
Microneedling
Microneedling is another adjunctive treatment for hair loss. It involves doing superficial, controlled skin puncturing to cause microinjuries that will release growth factors and cause neovascularization and growth of fibroblasts. Specifically, it has been shown to release PDGF and EGF, stimulate and activate stem cells in the hair bulge area, and cause overexpression of hair growth-related genes (e.g., beta-catenin, WNT3a) [7]. Dr. Khetarpal recommends this process be done in combination with growth stimulants: minoxidil, PRP, and/or topical steroids. Indeed, microneedling with PRP for AGA has been shown to increase mean hair diameter, hair growth, hair counts, and root strength [8]. Meanwhile, microneedling with minoxidil was shown to be statistically superior to minoxidil only after 12 weeks based on hair counts [9]
Hair Transplantation
Over 300,000 hair transplant surgeries are done annually worldwide, with most (86%) in men and usually for AGA, traction alopecia, or central cicatricial centrifugal alopecia (CCCA). However, there are differences in the hair transplant process based on hair type. This study characterizes those differences, and as seen in the table below, notes the ways to approach a hair transplant based on hair type [10]

Follicular Unit Extraction (FUE) is the process of a 1mm punch excision from a donor area to a new area without a visible scar. While it is best for straight hair, in curly hair the the angle should be parallel to the curl as it enters skin with minimal depth incision [11]. There are also other special considerations for hair transplant to evaluate per Dr. Khetarpal. There is limited use for FUE in curly hair, as punch grafts transect curly hairs. For patients with CCCA, there is a lower risk of graft failure in burn-out areas, whereas the periphery can flare. Use of concurrent medical therapy is essential in maintaining the results.
Key Points
In summary, while the treatment of AGA and hair loss remains a challenge, there are numerous adjunctive therapy options, including lasers (low-level light devices, fractional 1927 nm thulium, 1550 nm erbium), platelet-rich plasma, microneedling, and hair transplantation. Overall, while there remains a great need for larger studies, particularly in ethnic hair, combination therapy remains ideal with systemic therapy and procedural modalities in advance of surgical intervention.
References
Kelly Y, Blanco A, Tosti A. Androgenetic Alopecia: An Update of Treatment Options. Drugs. 2016;76(14):1349-1364.
Qi J, Garza LA. An overview of alopecias. Cold Spring Harb Perspect Med. 2014;4(3):a013615. Published 2014 Mar 1.
Avci P, Gupta GK, Clark J, Wikonkal N, Hamblin MR. Low-level laser (light) therapy (LLLT) for treatment of hair loss. Lasers Surg Med. 2014;46(2):144-151.
Cho SB, Goo BL, Zheng Z, Yoo KH, Kang JS, Kim H. Therapeutic efficacy and safety of a 1927-nm fractionated thulium laser on pattern hair loss: an evaluator-blinded, split-scalp study. Lasers Med Sci. 2018;33(4):851-859.
Lee GY, Lee SJ, Kim WS. The effect of a 1550 nm fractional erbium-glass laser in female pattern hair loss. J Eur Acad Dermatol Venereol. 2011;25(12):1450-1454.
Conic RR, Khetarpal S, Bergfeld W. Treatment of female pattern hair loss with combination therapy. Semin Cutan Med Surg. 2018;37(4):247-253.
Dhurat R, Mathapati S. Response to Microneedling Treatment in Men with Androgenetic Alopecia Who Failed to Respond to Conventional Therapy. Indian J Dermatol. 2015;60(3):260-263.
Asif M, Kanodia S, Singh K. Combined autologous platelet-rich plasma with microneedling verses microneedling with distilled water in the treatment of atrophic acne scars: a concurrent split-face study. J Cosmet Dermatol. 2016;15(4):434-443.
Dhurat R, Sukesh M, Avhad G, Dandale A, Pal A, Pund P. A randomized evaluator blinded study of effect of microneedling in androgenetic alopecia: a pilot study. Int J Trichology. 2013;5(1):6-11.
Rogers NE, Callender VD. Advances and challenges in hair restoration of curly Afrocentric hair. Dermatol Clin. 2014;32(2):163-171.
Singh MK, Avram MR. Technical considerations for follicular unit extraction in African-American hair. Dermatol Surg. 2013;39(8):1282-1284
This information was presented by Dr. Shilpi Khetarpal at the 2022 Skin of Color Update conference held on September 9-11-2022. The above highlights from her lecture were written and compiled by Dr. Nishad Sathe.
Did you enjoy this article? Find more on skin of color dermatology here.