Male pattern hair loss is a commonly encountered complaint in dermatology offices that causes patients significant distress and anxiety. Patients are looking for answers and have often heard of finasteride, but are concerned about potential side effects such as sexual dysfunction. We continue our series, Therapeutic Cheat Sheet, with a closer look at finasteride.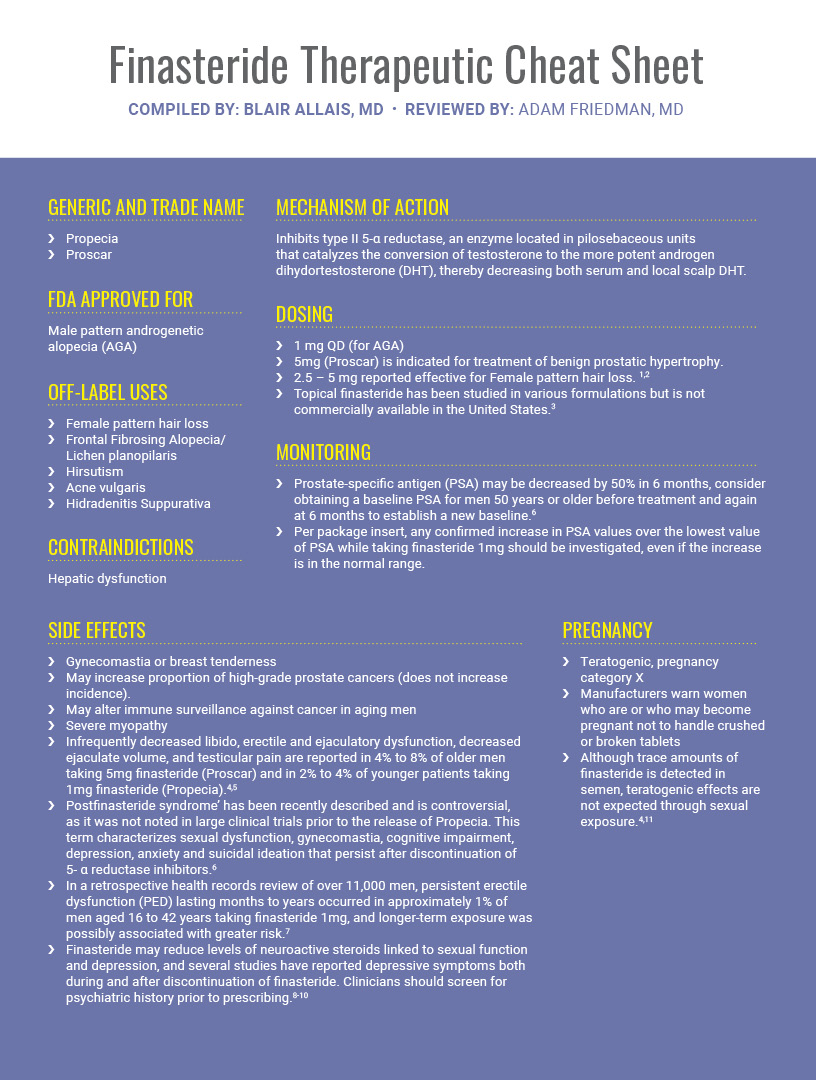 Ultimately, finasteride is an FDA-approved treatment for male AGA with numerous high quality and phase III studies highlighting its efficacy. Patients should be educated regarding labeled warnings and side effects prior to starting therapy. If you would like to read more about finasteride, check out the following 2 articles published in the Journals of Drugs in Dermatology:
Sung Won Lee MD, Margit Juhasz MD, Pezhman Mobasher MD, Chloe Ekelem MD, Natasha Atanaskova Mesinkova MD PhD
Abstract:
Introduction: Currently, only topical minoxidil (MNX) and oral finasteride (FNS) are approved by the Food and Drug Administration (FDA) and the European Medicines Agency (EMA) for the treatment of androgenetic alopecia. Although FNS is efficacious for hair regrowth, its systemic use is associated with side effects limiting long-term utilization. Exploring topical FNS as an alternative treatment regimen may prove promising. Methods: A search was conducted to identify studies regarding human in vivo topical FNS treatment efficacy including clinically relevant case reports, randomized controlled trials (RCTs), and prospective studies. Results: Seven articles were included in this systematic review. In all studies, there was significant decrease in the rate of hair loss, increase in total and terminal hair counts, and positive hair growth assessment with topical FNS. Both scalp and plasma DHT significantly decreased with application of topical FNS; no changes in serum testosterone were noted. Conclusion: Preliminary results on the use of topical FNS are limited, but safe and promising. Continued research into drug-delivery, ideal topical concentration and application frequency, side effects, and use for other alopecias will help to elucidate the full extent of topical FNS' use.
Lauren R. Seale BS, Ariana N. Eglini BA, Amy J. McMichael MD
Abstract:
5 α-reductase inhibitors such as finasteride and dutasteride have been studied for the treatment of hair loss in men, with finasteride being the only Food and Drug Administration-approved treatment. Increasingly, in recent years, off-label use of these drugs has been employed in the treatment of female pattern hair loss (FPHL) and frontal fibrosing alopecia (FFA) in women. Side effects with 5 α-reductase inhibitors can include changes in sexual function, and recent publications have characterized an increasing prevalence of these in men. A review of 20 peer-reviewed articles found that very few side effects, or adverse events, related to sexual function have been reported in studies in which dutasteride or finasteride has been used to treat hair loss in women. Future publications should investigate not only the efficacy of these drugs in treating FPHL and FFA, but the side effect profile in patients as well.
References
Fabbrocini G, Cantelli M, Masarà A et al. Female pattern hair loss: A clinical, pathophysiologic, and therapeutic review. Int J Womens Dermatol. 2018 Dec; 4(4):203-211.
Iorizzo M, Vincenzi C, Voudouris S et al. Finasteride Treatment of Female Pattern Hair Loss. Arch Dermatol. 2006 Mar;142(3):298-302.
Lee SW, Juhasz M, Mobasher P et al. A Systematic Review of Topical Finasteride in the Treatment of Androgenetic Alopecia in Men and Women. Journal of Drugs in Dermatology. 2018 April;17(4):457-463.
Merck Inc. Propecia (finasteride) [package insert] Revised September 2013. Available at: https://www.merck.com/product/usa/pi_circulars/p/propecia/propecia_pi.pdf. Accessed May 18, 2020.
Fertig R, Shapiro J, Bergfeld W, Tosti A. Investigation of the plausibility of 5-alpha reductase inhibitor syndrome. Skin Appendage Disord. 2017; 2(3-4):120-129.
Somani N, Sawaya M. Antiandrogens and Androgen Inhibitors. In: Wolverton, SE, Wu, JJ, eds. Comprehensive Dermatologic Drug Therapy. 4th Philadelphia, PA: Elsevier; 2021.
Kiguradze T, Temps WH, Yarnold PR, et al. Persistent erectile dysfunction in men exposed to 5alpha-reductase inhibitors, finasteride or dutasteride. Peer J. 2017; 5:e3020.
Melcangi RC, Caruso D, Abbiati F, et al. Neuroactive steroid levels are modified in cerebrospinal fluid and plasma of post-finasteride patients showing persistent sexual side effects and anxious/depressive symptomatology. J Sex Med. 2013;10(10):2598–2603.
Ganzer CA, Jacobs AR. Emotional consequences of finasteride: fool's gold. Am J Mens Health. 2016;12(1):90–95.
Irwing MS. Depressive Symptoms and Suicidal Thoughts Among Former Users of Finasteride With Persistent Sexual Side Effects. J Clin Psychiatry. 2012 Sep;73(9):1220-3.
Pole M, Koren G. Finasteride: does it affect spermatogenesis and pregnancy? Can Fam Physician. 2001;47:2469-2470.