Apremilast (OTEZLA®) is a twice daily oral medication that is FDA approved for adults with plaque psoriasis, psoriatic arthritis and oral ulcers associated with Behçet's Disease.1 This drug is being extended as an off-label treatment to target inflammation in a number of different conditions. This Therapeutic Cheat Sheet will focus on apremilast and its applications for different dermatological conditions ranging from psoriasis to alopecia areata.    
Apremilast Therapeutic Cheat Sheet
Compiled by: Alexis E. Carrington, MD Reviewed by: Adam Friedman, MD
TRADE NAME
MECHANISM OF ACTION1
Apremilast inhibits phosphodiesterase 4 (PDE4) which prevents the degradation of cyclic adenosine monophosphate (cAMP). The resulting increase in cAMP results in an antagonistic effect on the production of proinflammatory cytokines
FDA APPROVED FOR2,3
Adult patients with plaque psoriasis who are candidates for phototherapy or systemic therapy
Adult patients with active psoriatic arthritis
Adult patients with oral ulcers associated with Behçet's Disease
OFF-LABEL USES4-6
Lichen planus
Behçet's disease
Hidradenitis Suppurativa
Nail and Scalp psoriasis
Palmoplantar psoriasis
Alopecia areata
Atopic dermatitis
DOSING1
Dosage titration schedule for Plaque Psoriasis, Psoriatic Arthritis, Oral Ulcers associated with Beçhet's Disease

Day 1: 10 mg
Day 2: 20 mg
Day 3: 30 mg
Day 4: 40 mg
Day 5: 50 mg
Day 6: 60 mg
Maintenance Dose: 30 mg PO twice daily

Off-label dosage titration

Day 1: 10mg x 2 days
Day 3: 20mg x 2 days
Day 5: 30mg x 2 days
Day 7: 40mg x 2 days
Day 9: 50mg x 2 days
Day 11:60mg x 2 days
Maintenance Dose: 30 mg PO twice daily
SIDE EFFECTS1
Most common side effects of Otezla® include:
Diarrhea
Nausea
Headache
Upper respiratory tract infection
Vomiting
Nasopharyngitis
Upper abdominal pain
Fatigue
WARNINGS1
Hypersensitivity: Cases of angioedema and anaphylaxis have been reported during post marketing surveillance. Avoid the use of Otezla® in patients with known hypersensitivity to apremilast or to any of the excipients in the formulation.

If signs or symptoms of serious hypersensitivity reactions develop during treatment, discontinue Otezla® and institute appropriate therapy

Diarrhea, Nausea, and Vomiting: Consider Otezla® dose reduction or suspension if patients develop severe diarrhea, nausea, or vomiting
Weight Loss: Monitor weight regularly. If unexplained or clinically significant weight loss occurs, evaluate weight loss and consider discontinuation of Otezla®
Drug Interactions: The use with strong cytochrome P450 enzyme inducers (such as rifampin, phenobarbital, carbamazepine, phenytoin) is not recommended due to potential loss of efficacy
Depression: Advise patients, their caregivers, and families to be alert for the emergence or worsening of depression, suicidal thoughts or other mood changes. If such mood changes occur, institute appropriate therapy.

It is recommended to carefully weigh risks and benefits of treatment with Otezla® in patients with a history of depression and/or suicidal thoughts or behavior
CONTRAINDICATIONS1
Patients with known hypersensitivity to apremilast or any of the excipients in the formulation
PREGNANCY & BREASTFEEDING1
Based on animal studies, apremilast may increase the risk for fetal loss
Advise female patients of the potential risk of fetal loss. Consider pregnancy planning and prevention for females of reproductive potential
Apremilast has been detected in the milk of lactating mice. The risks and benefits should be considered before starting apremilast in a woman who is breastfeeding.
MONITORING1
No recommended blood monitoring guidelines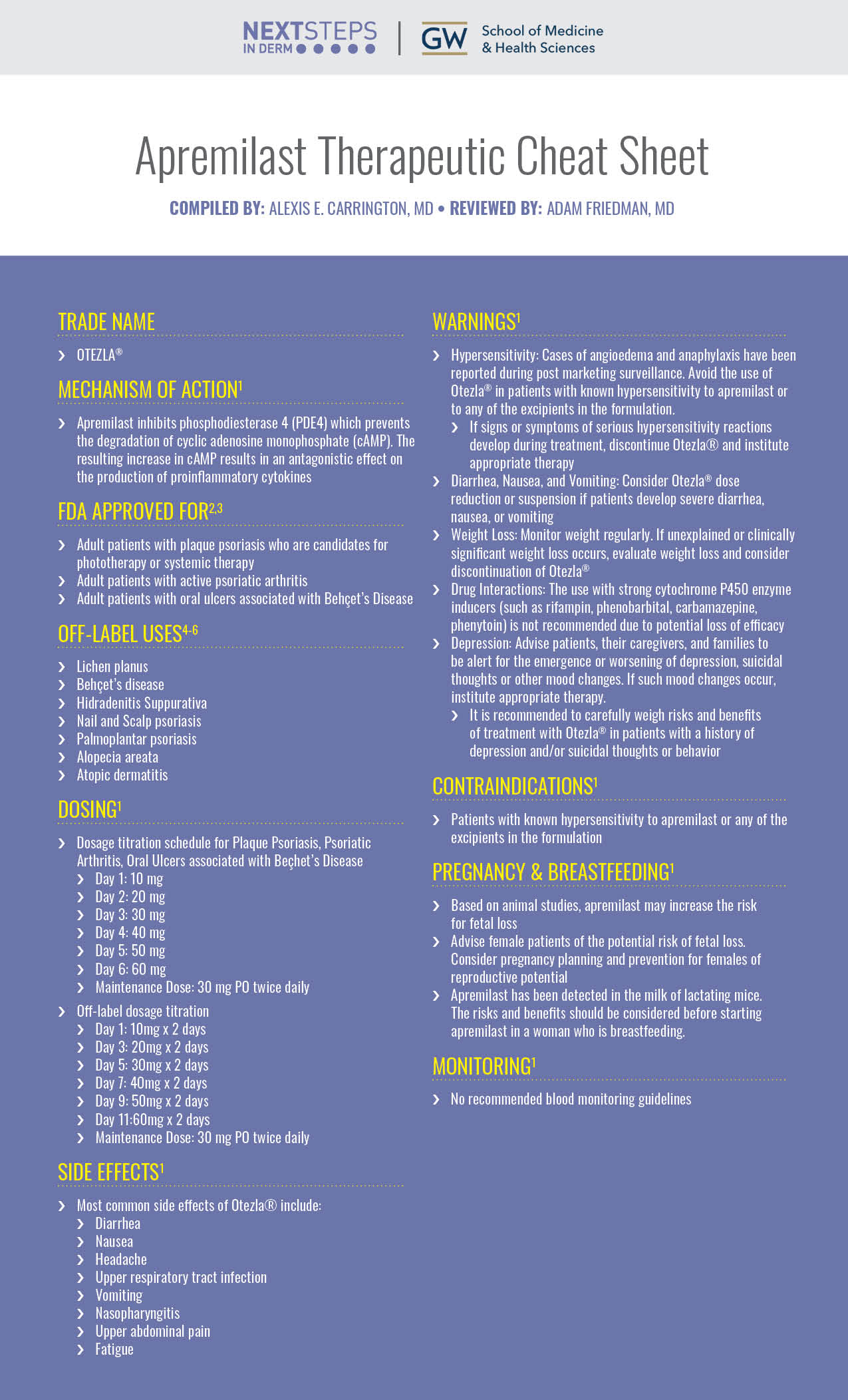 Conclusion
Apremilast is effective at treating inflammatory conditions like plaque psoriasis and psoriatic arthritis. Further, increasing literature is demonstrating apremilast's potential benefits towards treating other inflammatory dermatologic conditions. For this reason, it is important for providers to closely follow new publications studying these off-label treatments.
Further Reading
If you would like to learn more about apremilast, check out the following two articles recently published in the Journal of Drugs in Dermatology:
Noelle Dorgham, David Crasto, Stanley Skopit
Abstract:
Palmoplantar pustulosis (PPP) is a chronic, debilitating autoimmune skin disease characterized by the presence of recurrent neutrophilic pustules on acral surfaces. Although similarities exist, PPP is currently regarded as a distinct pathologic entity from palmoplantar psoriasis. PPP is often refractory to topical treatments and therefore may benefit from the introduction of systemic or biologic therapy, although options are limited at this time. Few, yet promising, case reports exist highlighting the efficacy of oral apremilast, a phosphodiesterase-4 (PDE-4) inhibitor. Herein, we present a case of biopsy-proven PPP successfully treated with apremilast, along with a brief review of relevant literature supporting the use of apremilast.
J Drugs Dermatol. 2021 Nov 1;20(11):1255-1256.
Review of Apremilast Combination Therapies in the Treatment of Moderate to Severe Psoriasis
Mirjana G. Ivanic, Akshitha Thatiparthi, Shikha Walia, Wilson Liao, Jashin J. Wu
Abstract:
Psoriasis is a chronic inflammatory skin condition resulting from the dysregulation of cytokines. Apremilast, an oral phosphodiesterase-4 inhibitor, is approved by the Federal Drug Administration (FDA) for the treatment of moderate to severe plaque psoriasis in patients who are eligible for phototherapy or systemic therapy. The drug increases cyclic adenosine monophosphate, cAMP, modulating the expression of pro-inflammatory cytokines. This review aims to explore and categorize current literature describing the efficacy and safety profile of the addition of apremilast to existing therapies including topicals, phototherapy, and systemic agents for the treatment of psoriasis. One database was used for the literature search. Seventeen studies with 617 patients met inclusion criteria and were included. Fifteen studies demonstrated beneficial results with excellent safety and efficacy of apremilast combination therapy (CT). Apremilast has been shown to improve the quality of life and reduce symptom severity in moderate to severe psoriasis. The drug's simple dosing schedule with mild side effect profile makes it a practical option for patients as combination therapy.
J Drugs Dermatol. 2021 Jul 27;20(8):837-843.
References
OTEZLA® (apremilast) [Package Insert]. Thousand Oaks, CA.: Amgen Inc. https://www.accessdata.fda.gov/drugsatfda_docs/label/2021/205437s011lbl.pdf
Otezla® (apremilast) – Official Website. "Psoriasis Medication | Otezla® (Apremilast)." Accessed February 12, 2023. https://www.otezla.com/.
Zerilli T, Ocheretyaner E. Apremilast (Otezla): A New Oral Treatment for Adults With Psoriasis and Psoriatic Arthritis. P T. 2015 Aug;40(8):495-500. PMID: 26236137; PMCID: PMC4517531.
Paul J, Foss CE, Hirano SA, Cunningham TD, Pariser DM. An open-label pilot study of apremilast for the treatment of moderate to severe lichen planus: a case series. J Am Acad Dermatol. 2013 Feb;68(2):255-61. doi: 10.1016/j.jaad.2012.07.014. Epub 2012 Aug 19. PMID: 22910104.
Dorgham N, Crasto D, Skopit S. Successful Treatment of Palmoplantar Pustulosis With Apremilast. J Drugs Dermatol. 2021 Nov 1;20(11):1255-1256. doi: 10.36849/jdd.6098. PMID: 34784120.
Maloney NJ, Zhao J, Tegtmeyer K, Lee EY, Cheng K. Off-label studies on apremilast in dermatology: a review. J Dermatolog Treat. 2020 Mar;31(2):131-140. doi: 10.1080/09546634.2019.1589641. Epub 2019 Apr 2. PMID: 30935262; PMCID: PMC6774908.
Did you enjoy this therapeutic cheat sheet? You can find more here.