Disorders of the hair follicles, including hidradenitis suppurativa and folliculitis, are some of the most common dermatologic conditions affecting a wide variety of patients. Chlorhexidine's bacteriostatic and bacteriocidal properties enable it to be a potent defender of the pilosebaceous unit. We continue our series, Therapeutic Cheat Sheet, with a closer look at chlorhexidine, which has far reaching effects in its off-label use in dermatology aside from its staple as an antiseptic preparation prior to a variety of procedures.
CHLORHEXIDINE THERAPEUTIC CHEAT SHEET
Compiled by: Azam Qureshi, MD | Reviewed by: Adam Friedman, MD
CHLORHEXIDINE TRADE NAMES
Hibiclens
Betasept
Avagaurd
BD E-Z Scrub
Peridex
CHLORHEXIDINE MECHANISM OF ACTION
Broad spectrum biguanide biocide, adsorbed onto components in the bacterial cell wall1-2

At lower, bacteriostatic concentrations: penetrates and disrupts the bacterial membrane, leading to leakage of cytoplasmic components
At higher, bacteriocidal concentrations: enters cytoplasm through damaged cytoplasmic membrane, forms irreversible precipitates with intracellular adenosine triphosphate and nucleic acids
CHLORHEXIDINE IS FDA APPROVED FOR
Surgical hand scrub
Antiseptic skin preparation
Wound cleanser
Oral rinse
CHLORHEXIDINE OFF-LABEL USES
Hidradenitis suppurativa
Folliculitis
CHLORHEXIDINE DOSING
Surgical hand scrub (chlorhexidine 1-4%): wash with 5mL for 3 minutes, rinse, repeat
Wound cleanser (chlorhexidine 0.05%): rinse with water, apply, wash, repeat rinse
Oral rinse (chlorhexidine 0.12%): rinse with 15mL for 30 seconds twice daily after toothbrushing
Once daily wash (chlorhexidine 4%) for hidradenitis suppurativa, folliculitis
CHLORHEXIDINE SIDE EFFECTS
Hypersensitivity reaction
Anaphylaxis
Allergic/irritant contact dermatitis
Corneal damage
Ototoxicity
CHLORHEXIDINE WARNINGS
Keep out of eyes, ears, and mouth
Avoid use in subfascial wounds, genitals, caution with use on head, face
CHLORHEXIDINE CONTRAINDICATIONS
Patients with known hypersensitivity to the drug or any of its components
During breastfeeding if applied on nipple
CHLORHEXIDINE DURING PREGNANCY/LACTATION
Risk of fetal harm unlikely based on limited human data and minimal systemic absorption
Avoid using on nipple while breastfeeding given conflicting evidence suggesting this may be associated with risk of fetal bradycardia, but may use on other areas and unlikely effect on breastmilk
MONITORING
No recommended monitoring guidelines
CLICK ON THE IMAGE BELOW TO ENLARGE AND/OR DOWNLOAD YOUR THERAPEUTIC CHEAT SHEET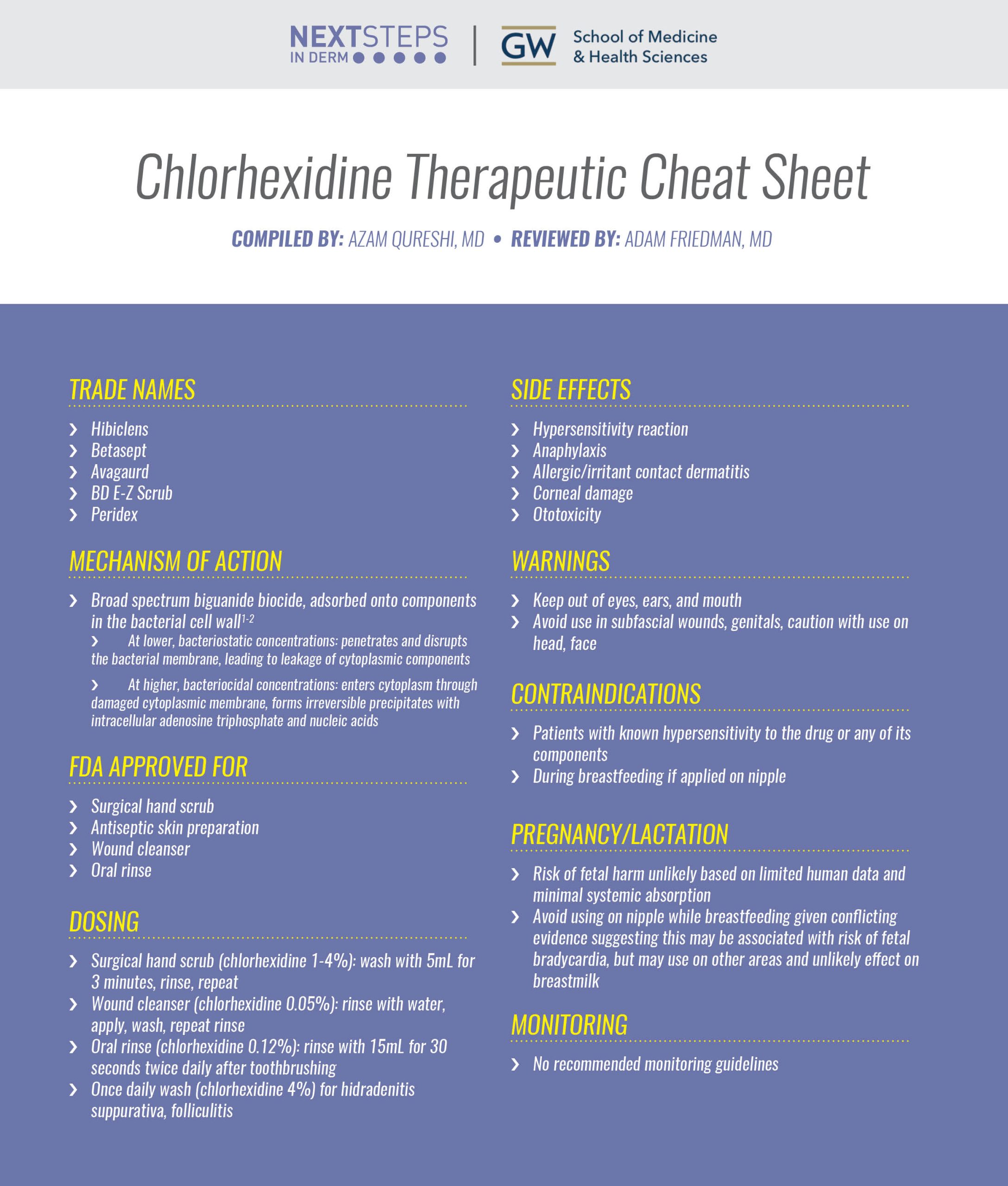 Although chlorhexidine has been a cornerstone antiseptic agent in surgical preparation and hand scrub, its far-reaching effects on dermatology patients also extend to common dermatoses including hidradenitis suppurativa and folliculitis. It is vital for practitioners to understand the limitations of use, particularly regarding safety around the eyes and ears, as well as potential risk for fetal harm with use on nipple while breastfeeding.
Further Reading
If you would like to learn more about chlorhexidine, check out the following 2 articles published in the Journal of Drugs in Dermatology:
INDIVIDUAL ARTICLE: Algorithm for Nonenergy and Injectable Treatment Pre-/Post-Procedure Measures, published in the Journal of Drugs in Dermatology
Michael Gold, Anneke Andriessen, David Goldberg, Komel Grover, Shasa Hu, Z Lorenc, Stephen Mandy
Abstract:
Background: Nonenergy and injectable treatments are frequently used for facial rejuvenation. Many publications have addressed methods to reduce adverse events related to the procedure; however, no algorithm exists on temporol before, during, and after measures for nonenergy and injectable treatments.
Methods: A panel of dermatologists and plastic surgeons convened a virtual meeting to develop an algorithm for measures before, during, and after nonenergy and injectable treatments based on the best available evidence and the panelists' experience and opinion. For the project, a Delphi method was applied, which was adapted from face-to-face meetings to a virtual meeting to discuss the outcome of literature searches to reach a consensus on the algorithm.
Results: The four sections of the algorithm address measures for optimizing outcome before, during, and after the procedure. Prevention includes avoiding excessive sun exposure and the use of a broad-spectrum sunscreen with an SPF 30 or higher. Before nonenergy-based and injectable treatments, the avoidance of alcohol, retinol peels, and agents such as acetylsalicylic acid and non-steroidal anti-inflammatory drugs, amongst other agents, is advised. Isopropyl alcohol, chlorhexidine, or hypochlorous acid (HOCl) prepare the skin before nonenergy and injectable treatments. The advisors recognize HOCL as particularly useful as it is active against bacterial, viral, fungal microorganisms and biofilm. The literature is inconsistent about the use of topical agents and skincare before and after the procedure.
Conclusions: The algorithm aims to support an optimal treatment outcome for their patients, providing physicians with guidance on measures before, during, and after nonenergy and injectable treatments.
Topical Approaches to Improve Surgical Outcomes and Wound Healing: A Review of Efficacy and Safety, published in the Journal of Drugs in Dermatology
Kristin Totoraitis, Joel L Cohen, Adam Friedman
Abstract:
Surgical procedures are an important piece of a dermatologist's daily practice. Therefore, the optimization of post-surgical wound healing is an area of utmost importance and interest. Although low risk, one notable barrier to proper wound healing is surgical site infection. In an attempt to mitigate this risk and improve surgical outcomes, multiple topical products continue to be used both pre- and postprocedure. Traditionally, this includes both topical antibiotics and antiseptics. However, these products are not without consequence. The overuse of topical antibiotics as prophylaxis for infection has contributed to increased bacterial resistance, and in fact is no longer recommended by the American Academy of Dermatology in clean post-surgical wounds. Topical antiseptics, including chlorhexidine and povidone-iodine, can have a cytotoxic effect on keratinocytes and may actually impede wound healing as a result. In addition, chlorhexidine in particular can produce both otologic and ocular toxic effects when used on the face. Emerging products, such as hypochlorous acid, may be a potential alternative to the more commonly used agents, as it has effective antimicrobial actions and minimal adverse effects. Therefore, the purpose of this review is to highlight several topical products used to optimize post-surgical wound healing and discuss both their efficacy and safety.
References
Frew JW, Hawkes JE, Krueger JG. Topical, systemic and biologic therapies in hidradenitis suppurativa: pathogenic insights by examining therapeutic mechanisms. Therapeutic Advances in Chronic Disease. 2019 Feb;10:2040622319830646.
Lim KS, Kam PC. Chlorhexidine-pharmacology and clinical applications. Anaesthesia and intensive care. 2008 Jul;36(4):502-12.
Gold M, Andriessen A, Goldberg D, Grover K, Hu S, Lorenc Z, Mandy S. INDIVIDUAL ARTICLE: Algorithm for Nonenergy and Injectable Treatment Pre-/Post-Procedure Measures. Journal of drugs in dermatology: JDD. 2021 Nov 1;20(11):ss3s-10s.
Totoraitis K, Cohen JL, Friedman A. Topical Approaches to Improve Surgical Outcomes and Wound Healing: A Review of Efficacy and Safety. Journal of drugs in dermatology: JDD. 2017 Mar 1;16(3):209-12.
Krautheim AB, Jermann TH, Bircher AJ. Chlorhexidine anaphylaxis: case report and review of the literature. Contact dermatitis. 2004 Mar;50(3):113-6.
Silvestri DL, McEnery-Stonelake M. Chlorhexidine: uses and adverse reactions. Dermatitis. 2013 May 1;24(3):112-8.
Did you enjoy this Therapeutic Cheat Sheet? You can find more here.