Clascoterone cream is a novel topical therapeutic agent used to treat acne vulgaris through androgen inhibition. Other androgen inhibitors such as combined oral contraceptive pills and off-label spironolactone can lead to some unwanted side effects such as feminization, gynecomastia, and erectile dysfunction, making them unsuitable for male patients. Unlike other androgen inhibitors used to manage acne, clascoterone cream can treat both males and females due to its limited systemic effect. Further, clascoterone cream may be better tolerated than other topical acne medications. We continue our series, Therapeutic Cheat Sheet, with a closer look at clascoterone cream.
Clascoterone Cream Therapeutic Cheat Sheet
Compiled by: Kamaria Nelson, MD | Reviewed by: Adam Friedman, MD
TRADE NAME
MECHANISM OF ACTION
Clascoterone 1% cream or cortexolone 17a-propionate is an androgen inhibitor that works by competing with dihydrotestosterone (DHT) for binding to androgen receptors in sebocytes.1-3 Decreased gene transcription results in reduced sebum production as well as proinflammatory cytokine production.2Androgen receptors are targeted at the site of application therefore systemic activity is limited.2,3
FDA-APPROVED USE
Acne vulgaris in patients 12 years of age and older
OFF-LABEL USES OF CLASCOTERONE
CLASCOTERONE DOSING
Topical application on clean, dry skin to affected areas twice a day.1
There is no standardized treatment duration, but clinical trials utilized twice a day dosing for 12 weeks duration.
SIDE EFFECTS ASSOCIATED 
Erythema (7-12%)
Pruritus (7-12%)
Scaling/dryness (7-12%)
Edema (>3%)
Stinging (>3%)
Burning (>3%)
CLASCOTERONE WARNINGS
Local skin irritation can occur especially when used with other irritating topical medications. If this occurs, discontinue or reduce the frequency of clascoterone application.
Hypothalamic-pituitary-adrenal (HPA) axis suppression may occur during or after treatment. It is recommended not use the product over large surface areas or under occlusive dressings. Pediatric patients may be more susceptible to HPA axis suppression. If HPA axis suppression occurs, one should withdraw the drug.
CLASCOTERONE CONTRAINDICATIONS
PREGNANCY
There are no studies or adequate data on risk associated in pregnant women. In animal reproduction studies, there were no clascoterone-related maternal toxicity at doses up to 25 mg/kg/day.1 However, there were malformations noted in fetuses at all doses including omphalocele, visceral and external malformations.1
There is no data on the presence of clascoterone in human milk, effects on milk production, or effects on infants who are breastfed.
CLASCOTERONE MONITORING
No recommended monitoring guidelines
Overall, clascoterone cream appears to be a safe and effective therapy for acne vulgaris and can be used in all genders. Clascoterone may cause skin irritation in some patients and it is recommended to avoid other irritating topical acne medications while on this drug. Clascoterone in a solution formulation is currently being studied for use in androgenetic alopecia in the US and in Germany with promising results.4,5 Practitioners should continue to take note of newly published reports concerning the safety of this therapeutic option in the diversity of clinical settings in which it is utilized.
CLICK ON THE IMAGE BELOW TO ENLARGE AND/OR DOWNLOAD YOUR THERAPEUTIC CHEAT SHEET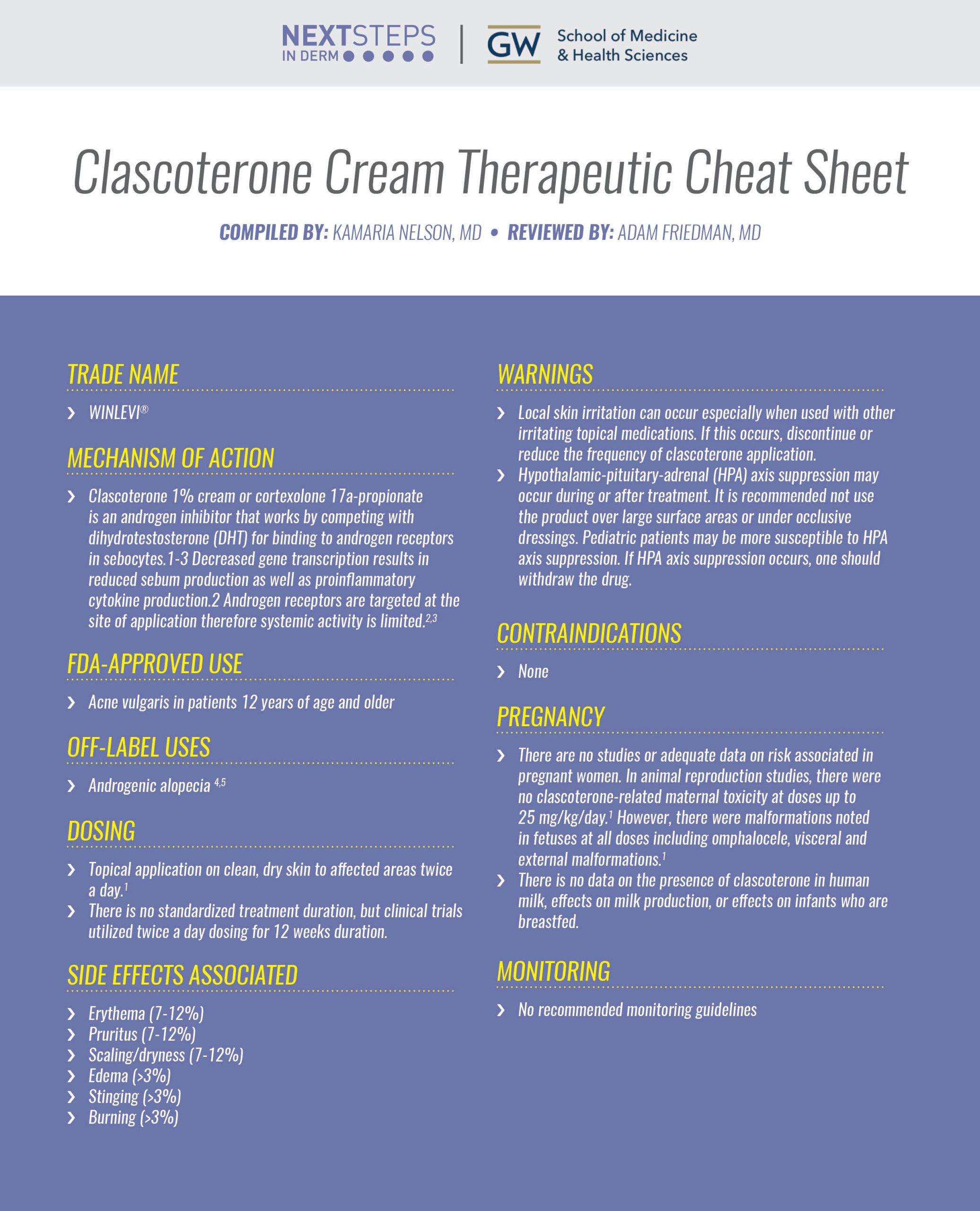 FURTHER READING
If you would like to learn more about Clascoterone in dermatology, check out the following articles published in the Journal of Drugs in Dermatology:
Clascoterone: First Approval, published in Drugs
Sohita Dhillon
Abstract:
Clascoterone (Winlevi®) is an androgen receptor inhibitor being developed as a topical cream and solution by Cassiopea (a spin-out company of Cosmo Pharmaceuticals) for the treatment of androgen-dependent skin disorders, including androgenetic alopecia and acne vulgaris. Although the exact mechanism of action of clascoterone for the topical treatment of acne vulgaris is unknown, the drug is believed to compete with the androgen dihydrotestosterone for binding to androgen receptors in the sebaceous gland and hair follicles to attenuate signalling necessary for acne pathogenesis. In August 2020, clascoterone cream 1% received its first approval in the USA for the topical treatment of acne vulgaris in patients 12 years of age or older. Clinical studies of a different formulation of clascoterone (a solution containing a higher concentration of the drug) for the treatment of androgenetic alopecia are underway in Germany and the USA. This article summarizes the milestones in the development of clascoterone leading to this first approval for the topical treatment of acne vulgaris.
References
Sun Dermatology: WINLEVI® (clascoterone) cream for topical use. Package Insert. US Prescribing Information and Patient Information. Revised 03/2022. Available at https://www.accessdata.fda.gov/drugsatfda_docs/label/2022/213433Orig1s002lbl.pdf
Hebert A, Thiboutot D, Stein Gold L, Cartwright M, Gerloni M, Fragasso E, Mazzetti A. Efficacy and Safety of Topical Clascoterone Cream, 1%, for Treatment in Patients With Facial Acne: Two Phase 3 Randomized Clinical Trials. JAMA Dermatol. 2020 Jun 1;156(6):621-630. 10.1001/jamadermatol.2020.0465. PMID: 32320027; PMCID: PMC7177662.
Alkhodaidi ST, Al Hawsawi KA, Alkhudaidi IT, Magzoub D, Abu-Zaid A. Efficacy and safety of topical clascoterone cream for treatment of acne vulgaris: A systematic review and meta-analysis of randomized placebo-controlled trials. Dermatol Ther. 2021 Jan;34(1):e14609. doi: 10.1111/dth.14609. Epub 2020 Dec 11. PMID: 33258536.
Dhillon S. Clascoterone: First Approval. Drugs. 2020 Nov;80(16):1745-1750. doi: 10.1007/s40265-020-01417-6. PMID: 33030710.
Sun HY, Sebaratnam DF. Clascoterone as a novel treatment for androgenetic alopecia. Clin Exp Dermatol. 2020 Oct;45(7):913-914. doi: 10.1111/ced.14292. Epub 2020 Jun 23. PMID: 32421862.
Did you enjoy this Therapeutic Cheat Sheet? You can find more here.