Welcome to the next delivery of our series, Therapeutic Cheat Sheet, wherein we take a deep dive into the literature and guidelines to give you a quick reference on the use of new or complex therapies.  This series will become your go-to for information about dosing, potential interactions and laboratory monitoring, just to name a few.  Next up: Cyclosporine.
Cyclosporine is a versatile and valuable tool in the dermatologist's therapeutic repertoire. Among its strengths are its dependability, rapid onset of action and wide indication. Allow our Therapeutic Cheat Sheet to demystify its use.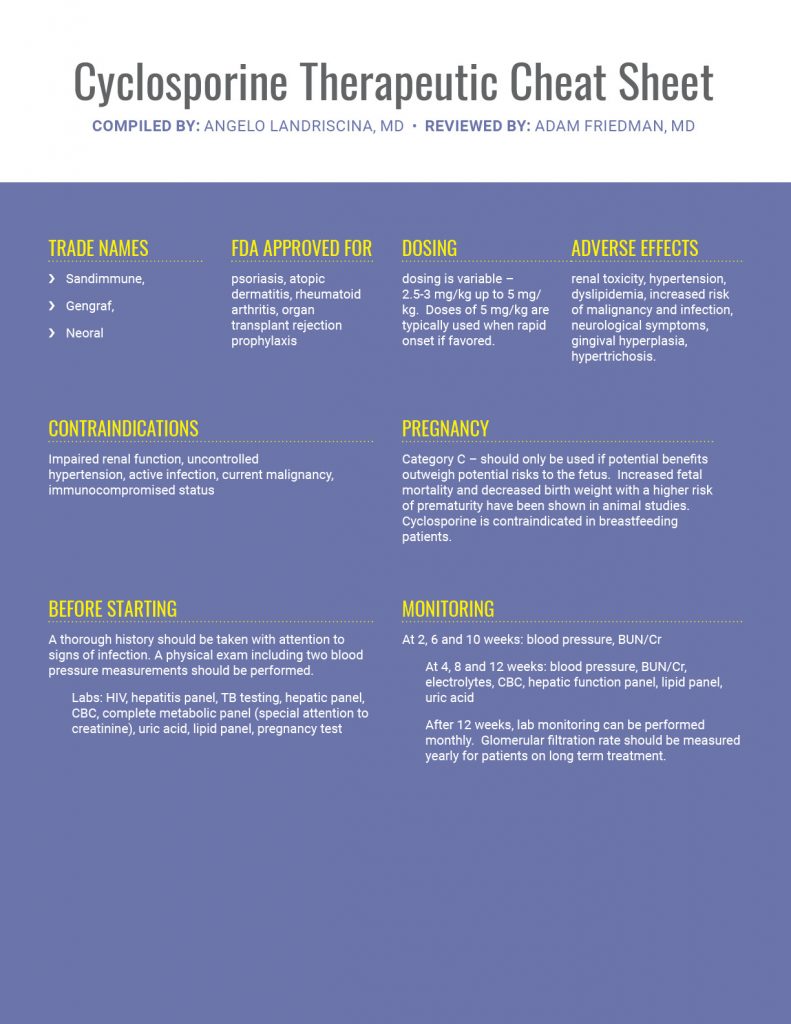 If you would like to read more about Cyclosporine, check out the following three articles (including a case report) published in the Journal of Drugs in Dermatology:
Teo Soleymani MD, Janna M. Vassantachart MS4, and Jashin J. Wu MD FAAD
There are several well-established guidelines for the treatment of psoriasis. Guidelines have been proposed in the United States by the American Academy of Dermatology (AAD), in Europe by the European S3, in the United Kingdom by the National Institute for Health and Care Excellence (NICE), and in Canada by the Canadian Dermatology Association. These guidelines are predominantly evidence-based, supported by expert panel consensus where evidence is lacking. Cyclosporine, a potent calcineurin inhibitor that acts selectively on T-cells, revolutionized the world of immunosuppression upon its discovery in 1970. Since its approval in 1997 by the U.S. Food and Drug Administration for the treatment of psoriasis, cyclosporine has been used with great efficacy in the treatment of not only psoriasis but also a wide consortium of dermatological diseases. However, in the past decade or so, many dermatologists have become increasingly hesitant to use this important drug because of its potent toxicity profile.
The purpose of this article is to review and compare the current evidence-based guideline recommendations for the use of cyclosporine in the treatment of psoriasis. Although the various guidelines are similar in their initial treatment recommendations, significant differences exist in recommendations on maximal treatment duration (1 year versus 2 years), intermittent short-term versus continuous therapy, use in erythrodermic and palmoplantar psoriasis, as well as recommendations on managing cyclosporine-associated side effects. By following guideline recommendations, cyclosporine remains an excellent and indispensable tool for the dermatologist treating moderate-to-severe psoriasis.
Luis Dehesa MD, Adriana Abuchar MD, Almudena Nuno-Gonzalez MD, Magalys Vitiello MD, and Francisco A. Kerdel BSc MBBS
Cyclosporine is an immunosuppressive drug that acts selectively on T-cells by inhibiting calcineurin phosphorylase. It has been used in dermatology since its approval for US Food and Drug Administration in 1997 for the use in psoriasis. While indicated only for the treatment of moderate to severe psoriasis, cyclosporine has also been used as an off-label drug for the treatment of various inflammatory skin conditions, including atopic dermatitis, blistering disorders, and connective tissue diseases. In this article, we review the use of cyclosporine in dermatology.
Shilpa Gattu MD, Emily M. Becker MD, John Y. M. Koo MD
Cyclosporine has been shown to increase the risk of lymphoma when used in organ transplant patients; however, studies have failed to demonstrate an increased risk of lymphoma when used at lower dermatologic doses for psoriasis. The authors present a case of solid B-cell lymphoma occurring in a psoriasis patient with a history of intermittent exposure to high-dose methotrexate, followed by low-dose cyclosporine for two years and subsequently transitioned to treatment with adalimumab. Methotrexate, cyclosporine and adalimumab are each effective treatments for psoriasis. However, when faced with an interplay of several factors, closer surveillance for malignancy is warranted than that which is currently considered for monotherapy.
Did you enjoy reading this post? If so, find more articles on Medical Derm here.