For small businesses, Twitter is sometimes viewed as a "second-tier" social network, lagging behind more readily engaging platforms like Facebook or even LinkedIn . And despite falling behind those networks in stock market value, Twitter is in the headlines every single day, often as a conduit for newsworthy statements from celebrities, haphazard politicians, high-profile organizations, etc.
While Facebook may often appear to be the more engaging and popular platform for small businesses, especially when dealing with a local target audience, Twitter continues to play a crucial role on a number of fronts, including SEO, communication, and much more.
SEO
A Twitter account, when set up properly, becomes a key online search result for your business name. Given the seemingly endless onslaught of "data-gathering" websites like Spokeo, Yelp, Corporation Wiki, etc., crowding online search results, it becomes increasingly challenging – and important – for businesses to manage their appearance in an online search.
This is the main reason that even if we don't use other social networks like LinkedIn or YouTube, it is prudent to set up those accounts – albeit with proper titles, descriptions, links, etc. – in order to control as many of those initial search results as possible at any given moment.
For example, if the first page of search results contains ten items (not paid ads but organic results), we want to control as many of those results as possible, ideally having the following links as close to the top as we can:
● Company website
● Facebook page
● Twitter account
● LinkedIn company page
● YouTube account (and/or any videos we've posted there)
● Instagram account
Setting up these social media accounts helps to ensure that any online search for our business name will most prominently show "positive" results, meaning those that we are able to control and use to portray the image of our business that we desire.
Depending on the type of business in question, it may be inevitable that websites like Yelp (restaurants), RateMDs (medical practices), Trip Advisor (hotels) will also appear as primary search results, but in any case, optimized – and ideally active – social media accounts can, over time, bring more of those results under our own control .
Communication
By now, many businesses have learned the value of Facebook Messenger for Pages, and Twitter can become an equally useful and important conduit for communication between your business and target audiences.
In recent years, we've seen businesses of all sizes utilizing Twitter to field incoming – and often public – customer service requests, complaints, questions, and much more. Many larger companies have even created "support" Twitter accounts strictly for handling such inquiries to keep their brand's main Twitter account free of back-and-forth customer service, tech support, etc.
For smaller businesses, one account should be enough to handle both the SEO and customer communication aspects, keeping management of the account as simple as possible.
Additionally, businesses can encourage their audience to "mention" their official Twitter account for an incentive, e.g. a free ebook delivered via email, discount coupon, etc., in the same fashion as encouraging users to "tag" the business in any photos or videos on Facebook or Instagram.
Of course, this necessitates some degree of account management, meaning one should not simply set up the Twitter account and leave it alone forever. Fortunately, Twitter's email notification options can be set up to let you know, by email, when specific actions have been taken, e.g. incoming direct message, engagement, etc.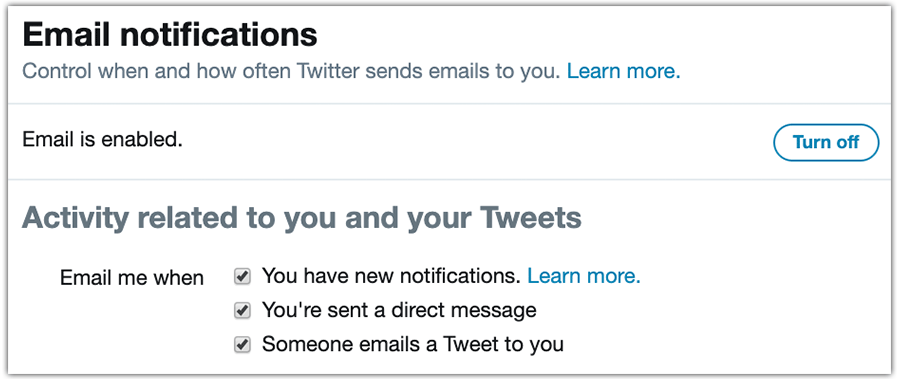 As seen above, you can severely limit the amount of emails you receive from Twitter to avoid clogging your email inbox with unimportant items, and ensure that only "notifications" and direct messages, etc. will generate such emails.
Multiplying Instagram Reach
For those businesses already utilizing Instagram, a simple and easy connection toTwitter can expand the reach of any and all Instagram content by automatically pushing Instagram posts to Twitter and also carry over the relevant hashtags, with no additional work beyond the original Instagram post.
Services like IFTTT offer a simple, quick, and easy connection that publishes Instagram content as "native" content on Twitter, as opposed to sharing an Instagram link to the original post that must then be clicked and viewed as a separate link, with the associated waiting time and possible visitor drop-off.
Remember Mobile!
As mobile devices account for an ever-increasing proportion of traffic to and via social media, it's crucial for account managers to remember that many if not most users that engage with their businesses on Twitter will be doing so through a mobile device .
That means that any calls to action – including links and landing pages – should be optimized for mobile use, allowing that user to easily engage in that call to action from their device.
Ultimately, although Twitter may not seem as useful or important as Facebook for small, local businesses, it can be quite helpful, with minimal effort and maintenance.
Need help with your Derm Practice social media strategy? Contact Ocean Drive Social, a modern brand consulting firm specializing in social media marketing and online strategy. They provide comprehensive solutions that empower their clients to grow by connecting them to the right audience, with the right information, in the right context.
Did you enjoy this post? Find more on Starting & Running a Practice here.