At its core, dermabrasion is the application of an abrasive surface to the skin with the goal of inciting cutaneous injury to subsequently induce a healing response. This relationship is utilized in dermabrasion to promote improved complexion, contour, and appearance of the skin in the treatment of acne scarring, surgical scarring, destruction of benign cutaneous lesions, as well as a secondary reconstruction modality following tumor extirpation with Mohs micrographic surgery. This therapeutic cheat sheet highlights the technical application of dermabrasion in dermatologic surgery while emphasizing the core principles of its utility.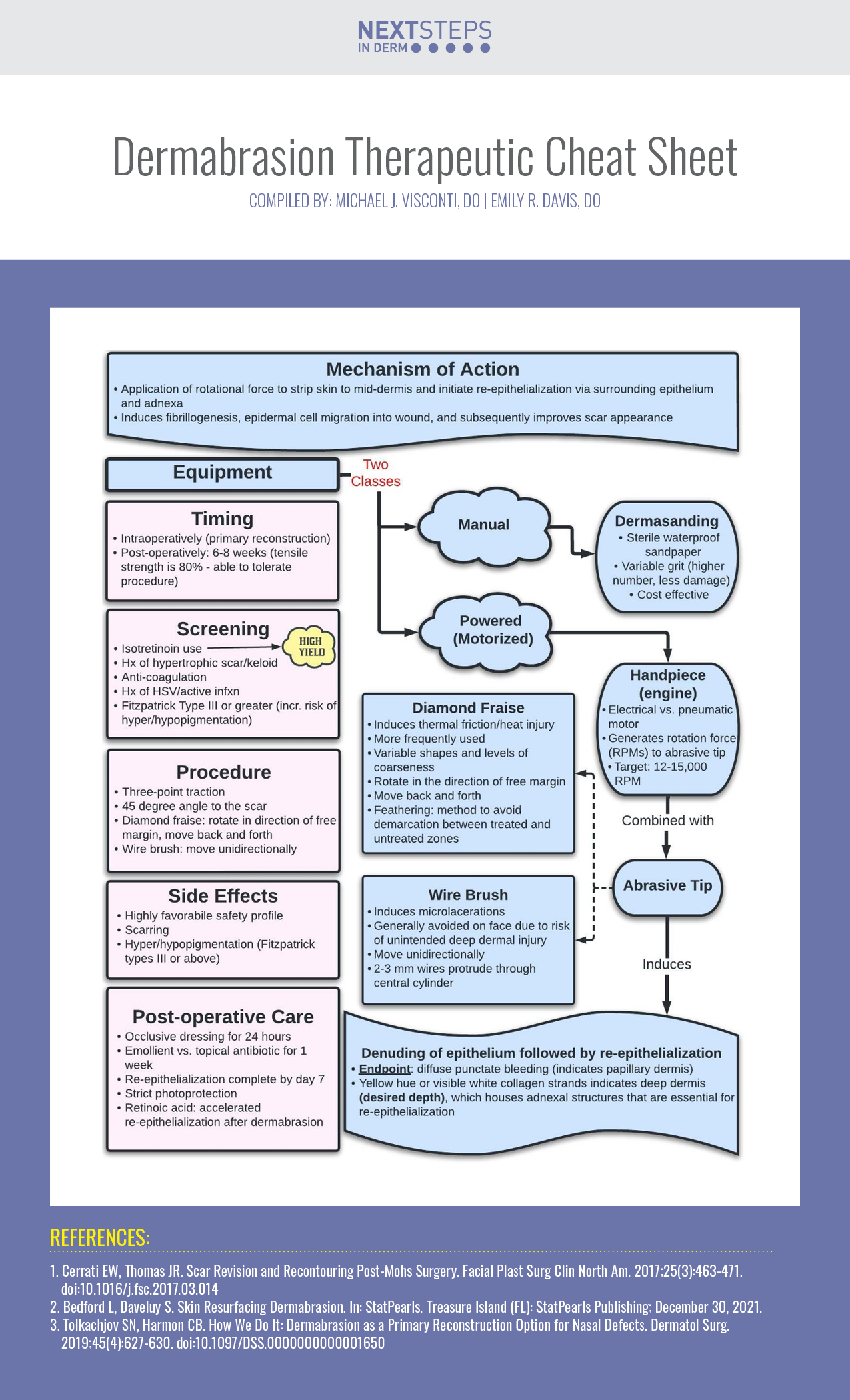 Further Reading
To learn more about dermabrasion and its many applications, check out the following articles published in the Journal of Drugs in Dermatology:
Comparative Evaluation of Efficacy and Safety of Tacrolimus and Dinoprostone Following Dermabrasion in Stable Vitiligo
ABSTRACT
Background: Dinoprostone (DNP), a prostaglandin E2 (PGE2) analogue, has been found to cause repigmenation in vitiliginous lesions. Combined medical and surgical therapy might be more useful for successful treatment of vitiligo.
Objectives: In this study, we aimed to evaluate the efficacy and safety of dermabrasion followed by dinoprostone gel and to compare it with tacrolimus ointment following the same procedure in the treatment of localized stable vitiligo.
Methods: 40 patients of stable vitiligo were enrolled which were divided in two groups of 20 patients each. In group 1, dermabrasion followed by tacrolimus 0.1% ointment was done and in group 2, dermabrasion followed by dinoprostone gel was done.
Results: Group 1 patients showed slightly better response (P=0.039), whereas the side effect profile was better for group 2.
Conclusion: DNP and tacrolimus have immunomodulatory and melanocyte stimulating effect and are well tolerated when combined with dermabrasion. Their effect on skin pigmentation could be enhanced by dermabrasion.
J Drugs Dermatol. 2021;20(5):519-522. doi:10.36849/JDD.5751
Background
The use of full-thickness skin grafts (FTSG) in facial reconstruction during dermatologic surgery is well-established. Surgical sites that commonly receive a skin graft include the scalp, nose and ear. Cosmesis with FTSG is an important consideration as the donor skin must closely match the texture, color, and photodamage of the skin adjacent to recipient site. Highly visible areas like the nasal dorsum and tip are less tolerant of a visible margin and may camouflage less readily than concave surfaces. Flaps were aesthetically superior on the nose in one systematic review.1 However, flaps are not always possible or desired. Surgical scar revision through the use of dermabrasion has been performed to even FTSG and scar texture, contour, and color-match with the surrounding skin. Many different techniques of performing dermabrasion have been tried including manual, electrical, and using a scratch pad. The use of fractional CO2 laser has been used more re-cently. However, there are no reports of combination treatment. This article describes the combination use of fractional ablative CO2 laser (FACL) in combination with manual dermabrasion to synergistically blend FTSGs with the surrounding skin to create a more seamless transition between native and donor skin.
Did you enjoy this Therapeutic Cheat Sheet? You can find more
here
.