I'll never forget the stories that my patients told me at our monthly hidradenitis suppurativa support group meetings in the Bronx.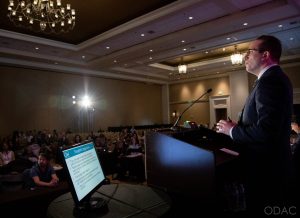 From women who were too embarrassed to wear short sleeves to men in so much pain they could not sit down properly, all of them had been impacted profoundly by this disease. That is why I was so excited to cover this lecture at the 2020 ODAC Dermatology, Aesthetic and Surgical Conference by Dr. Adam Friedman, Interim Chair and Program Director at George Washington University School of Medicine, on all of the new and emerging treatments for hidradenitis suppurativa.
Who Is Affected?
Although we used to think hidradenitis suppurativa (HS) was a rare disease, new studies show that as much as 4% of the population is affected. It disproportionally affects women and African American patients. Here are a few pearls I learned from Dr. Friedman:
Genetics plays a big role in HS, with possibly a defect in α-secretase and NOTCH signaling. In fact, 34% of patients have a 1st degree relative with HS.
The innate immune response plays a role in HS, with the TH-1 and TH-17 pathways abnormally active. What we still have to figure out is why this occurs.
Sadly, patients are often affected for 7-10 years before finally receiving a diagnosis, leading to devastating and poor quality of life.
The Many Faces of HS
When diagnosing a patient with HS, remember that they need to meet all three criteria:
Typical primary lesions that are painful deep nodules. Many patients can also have draining sinuses, bridged scars, and large "tombstone" comedones
Typical localization of lesions to the axilla, groin, and inframammary regions
Lastly, chronic and recurrent lesions in those places
Patients can have a wide variety of clinical presentations, but all three of these criteria will be present!
Though the Hurley Staging can be used to categorize the severity of a patient's HS, it is very broad and does not really encompass how varied HS can be
Co-Morbidities of HS
The same factors that worsen acne appear to also worsen HS, including progestins, smoking, stress, and obesity. The amount of comorbidities in HS is high, as inflammation causes many issues in the human body.
Screen for metabolic syndrome, anxiety, inflammatory arthropathy, PCOS, diabetes, and tobacco abuse in HS patients
Squamous cell carcinoma can often be seen in patients with chronic HS, particularly of the perineal, perianal, and gluteal region. Therefore, it is important to do a thorough physical exam at every visit and if something is persistent and not responsive to therapy, it should be biopsied!
Treatment Principles
One important clinical pearl I learned from Dr. Friedman's talk is that treatment should not follow step therapy, instead use whatever medication is needed to get inflammation under control. This often means a combination of medical and surgical treatments. Currently, the concept is that wide surgical excision is the most permanent cure.
All patients should avoid friction, heat, and tight clothing to reduce rupture of pores. All patients should be counseled on healthy diets and weight loss if obese. Smoking cessation is crucial as smoking is bad for treatment response.
Low serum zinc levels were associated with an increased amount of lesions. Therefore, for nutritional support all patients can be started on zinc 50mg/2mg copper amino acid complex as well as vitamin C 1000mg twice daily.
Intralesional triamcinolone (ILK) at 10 mg/cc can be beneficial for flares by reducing pain and inflammation. A study that showed ILK was not helpful had mostly larger nodules that might not have responded as well.
What About Antibiotics?
Antibiotics have long been a mainstay therapy for HS as it is thought to decrease pathologic bacteria concentration, shift skin flora, and furthermore many antibiotics have anti-inflammatory effects. Here is what I learned:
Topical clindamycin can be effective (equally effective compared to oral tetracycline!), however it should be used with benzoyl peroxide or chlorhexidine to reduce the risk of Staphylococcus aureus resistance.
Clindamycin can be combined with rifampin with good response rates; however clindamycin alone could actually be better at reducing draining sinuses as the rifampin might slightly reduce serum concentration. Don't forget that rifampin will affect oral contraceptives!
Though some antibacterial resistance was noted in patients on topical clindamycin as well as trimethoprim/sulfamethoxazole, no significant resistance was seen with oral tetracyclines or clindamycin.
What Else?
Spironolactone and metformin can be helpful for women, finasteride might be helpful in men.
Oral retinoids seem to work best for the follicular subtype of HS. Based on Dr. Friedman's own experience, high dose of 200-22 mg/kg is best for mild to moderate disease. Patients should be treated until they have been clear for 2 months before stopping oral retinoids.
Oral steroids can induce a rapid and significant response, but should be used to bridge to more long-term therapy
Biologics
Luckily with the advent of biologics, we now have another therapy to control HS. Medications like adalimumab work well as we know HS lesions express five times as much TNF-a compared to normal skin. The results can vary, with some patients achieving near clearance and some patients with no improvement. Here are some important pearls:
Humira is currently the only FDA approved medication for HS. It doesn't not work well as monotherapy but in combination with everything else as detailed above
Other biologics, such as infliximab, ustekinumab, and secukinumab have been trialed in HS with some promising results
Low dose methotrexate can be used as rescue therapy for patients on biologics who develop antibodies
This was a talk full of useful and clinically relevant information, and I learned so much in regards to how to best approach treating HS patients. The biggest takeaway points from this lecture is that you shouldn't be afraid to be aggressive with your treatment regimen as HS patients need combination therapy and a good multidisciplinary approach including dermatology, surgery, weight management, and primary care.
Source:
This information was presented by Dr. Adam Friedman at the 17th Annual ODAC Dermatology, Aesthetic and Surgical Conference held January 17–20, 2020 in Orlando, FL. The above highlights from his lecture were written and compiled by Dr. Angela Hou, one of the 7 residents selected to participate in the Sun Young Dermatology Leader Mentorship Program (a program supported by an educational grant from Sun Pharmaceutical Industries, Inc.).
Image Credits:
Clinical images are courtesy of Adam Friedman, MD
Did you enjoy this post? Find more on Medical Dermatology here.