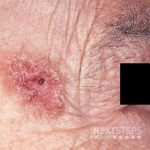 This patient presents for Mohs surgery. What is the deepest layer that you can undermine in this area?
A. Epidermis
B. Dermis
C. Subcutaneous fat
D. Superficial muscular aponeurotic system (SMAS)
E. Muscle
To find out the correct answer and read the explanation, click here. 
Brought to you by our brand partner Derm In-Review.  A product of SanovaWorks.