INTRODUCTION
Erosive pustular dermatosis (EPD) is a rare inflammatory skin disorder typically of the scalp in older patients characterized by crusted erosions, sterile pustules, skin atrophy, and scarring alopecia.1-3 However, few cases of leg involvement have been reported.4 EPD of the leg (EPDL) has been associated with venous leg ulcers (VLUs), venous insufficiency, and skin atrophy.1,5,6 It is rare with less than 20 cases of EPDL reported, and management can be challenging. We describe a refractory patient with EPDL and VLU successfully treated with an oral retinoid (acitretin) and a bioengineered skin substitute (Apligraf®, Organogenesis, Canton, MA) with successful results. 
CASE REPORT
A man in his 70s presented to our wound clinic complaining of multiple ulcerative lesions in his left leg. He had numerous successfully treated VLU in the past; however, the present wounds had not healed in over a year of treatment. He reported his wounds were exudating and itchy. Prior treatments included compression wraps and topical medications (ie, antibiotic ointments). His past medical history was positive for venous insufficiency, VLUs, and Type 2 Diabetic Mellitus. On skin examination, he had multiple scattered superficial ulcers and erosions on the anterior leg surrounded by edematous, red/purple, and macerated patches (Figure 1A). Also, numerous small pustules were present, some of them coalescing into lakes. Venous studies showed venous insufficiency and a tissue culture did not grow any microorganisms.
 Given the lack of success of standard of care and the clinical presentation, particularly the multiple sterile pustules, the clinical diagnosis of EPDL was made. At this point, acitretin 25mg daily was started, and full 4-layer compression was continued. After eight weeks of treatment, the lesions were improving (Figure 1B); however, a bioengineered skin substitute (Apligraf®) was applied to accelerate healing. Full epithelialization of the wounds was achieved six weeks later (Figure 1C). 
DISCUSSION
Lanigan et al. first described EPD involvement of the legs7 (EPDL). They identified EPDL changes in patients with long-standing atrophic cutaneous damage, especially those with history of ulcers. Our patient had underlying skin atrophy due to scars of previously healed VLUs. He presented with multiple small ulcerations and pustules that resembled white lakes, description frequently considered quintessential for this condition. This clinical presentation, in the setting of negative tissue cultures, is quintessential for the diagnosis of EPDL. 
The success of high-potency topical corticosteroids and topical calcineurin inhibitors have been reported.² However, in the setting of chronic lower extremity ulceration where compression wrappings are crucial, frequent application of topical medications becomes a challenge. Other treatments such as photodynamic therapy have conflicting evidence, proven efficacy in some cases but aggravating EPD in others.8,9 To our knowledge, this is the first report of an oral retinoid is used for EPDL. Retinoids regulate keratinocyte differentiation and have anti-inflammatory properties,10 potential therapeutic target in this case. Additionally, the ease of administration simplifies the treatment approach.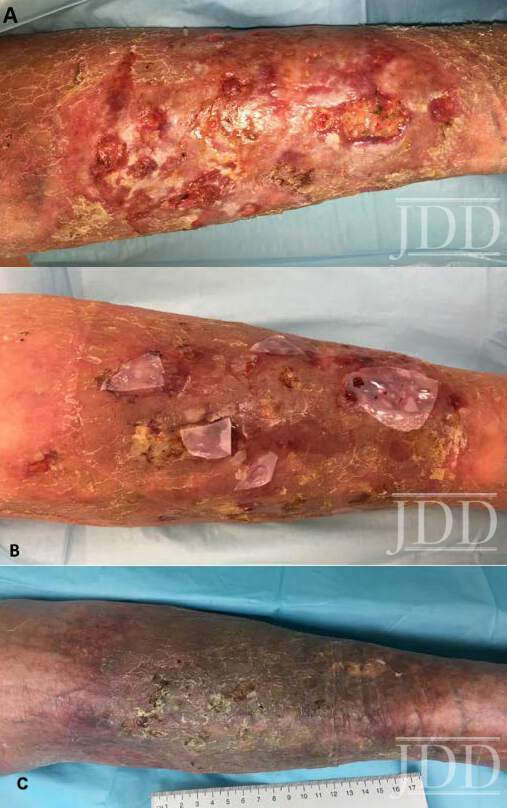 We also used a bi-layered bioengineered skin substitute constituted of human foreskin-derived keratinocytes and fibroblasts sitting over bovine collagen I matrix.11 This skin substitute is FDA approved for treatment of VLUs and DFUs; and with benefit in wounds of other etiologies. 
EPDL should be considered in a patient with erosive and ulcerative lesions, especially in the setting of chronic cutaneous atrophy induced by VLUs. In our case, the use of an oral retinoid, in combination with a skin substitute resulted in resolution. 
REFERENCES
Feramisco JD, Goerge T, Schulz SE, Ma HL, Metze D, Steinhoff M. Disseminated erosive pustular dermatosis also involving the mucosa: successfultreatment with oral dapsone. Acta Dermato-venereologica. 2012;92(1):91-92.
Semkova K, Tchernev G, Wollina U. Erosive pustular dermatosis (chronicatrophic dermatosis of the scalp and extremities). Clin Cosmet Investig Dermatol. 2013;6:177-182.
Di Lernia V, Ricci C. Familial erosive pustular dermatosis of the scalp and legs successfully treated with ciclosporin. Clin Exp Dermatol. 2016;41(3):334-335.
Patton D, Lynch PJ, Fung MA, Fazel N. Chronic atrophic erosive dermatosisof the scalp and extremities: A recharacterization of erosive pustular dermatosis. J Am Acad Dermatol. 2007;57(3):421-427.
Dawn G, Loney M, Zamiri M, et al. Erosive pustular dermatosis of the legassociated with compression bandaging and fungal infection. Br J Dermatol. 2003;148(3):489-492.
Cotterill JA, Lanigan SW. Erosive pustular dermatosis of the leg–a definition. Br J Dermatol. 1990;123(4):548.
Lanigan SW, Cotterill JA. Erosive pustular dermatosis—a common development in atrophic skin. British Journal of Dermatology. 1987;117:15-15.
Lopez V, Lopez I, Ramos V, Ricart JM. Erosive pustular dermatosis of thescalp after photodynamic therapy. Dermatology online journal. 2012;18(9):13.
Meyer T, Lopez-Navarro N, Herrera-Acosta E, Jose A, Herrera E. Erosivepustular dermatosis of the scalp: a successful treatment with photodynamic therapy. Photodermatology, photoimmunology & photomedicine.2010;26(1):44-45.
Becherel PA, Mossalayi MD, LeGoff L, et al. Mechanism of anti-inflammatory action of retinoids on keratinocytes. Lancet (London, England).1994;344(8936):1570-1571.
Zaulyanov L, Kirsner RS. A review of a bi-layered living cell treatment (Apligraf) in the treatment of venous leg ulcers and diabetic foot ulcers. Clin Interv Aging. 2007;2(1):93-98.
Source:
Jose A. Jaller MD, Luis J. Borda MD, Robert S. Kirsner MD PhD (2019). , Erosive Pustular Dermatosis of the Leg Successfully Treated With an Oral Retinoid and a Bi-layered Skin Substitute 18(3). https://jddonline.com/articles/dermatology/S1545961620P0792X
Content and images used with permission from the Journal of Drugs in Dermatology.
Adapted from original article for length and style.
Did you enjoy this case report? Find more here.