Chronic idiopathic urticaria is urticaria for greater than 6 weeks without an identifiable trigger. Cases relapse in 20% of patients for more than 5 years and be difficult to manage; however, omalizumab is a recently approved option for treatment of chronic idiopathic urticaria showing beneficial outcomes.1 Omalizumab is an injectable monoclonal antibody that has been FDA approved not just for chronic idiopathic urticaria, but also for moderate to severe asthma and nasal polyps. In recent years, practitioners have been expanding the number of off-label uses of this medication to treat multiple dermatologic conditions given its efficacious mechanism of action of inhibiting IgE-mediated inflammation.2,3 In this edition of our series, Therapeutic Cheat Sheet, we will focus on omalizumab and its increased off-label use for several dermatologic conditions, including chronic idiopathic urticaria and bullous pemphigoid.
Omalizumab Therapeutic Cheat Sheet
Compiled by: Alexis E. Carrington, MD, Reviewed by: Adam Friedman, MD
OMALIZUMAB TRADE NAME
MECHANISM OF ACTION
Omalizumab is a monoclonal antibody that inhibits the binding of IgE to high-affinity IgE receptors (FcɛRI) on the surface of mast cells, basophils and dendritic cells inhibiting IgE-mediated inflammation
FDA APPROVED FOR
Moderate to severe allergic asthma in patients +6 years old
Chronic idiopathic urticaria in patients +12 years old
Nasal polyps in patients +18 years old
OFF-LABEL USES  OF OMALIZUMAB2-5   
Angioedema
Atopic Dermatitis
Normocomplementemic Urticarial Vasculitis
Eosinophilic Granulomatosis with Polyangiitis (EGPA)
Bullous Pemphigoid
Contact Dermatitis
OMALIZUMAB DOSING
Chronic Idiopathic Urticaria (CIU)6

150 or 300 mg SC every 4 weeks

Dosing in CIU is not dependent on serum IgE level or body weight

Normocomplementemic Urticarial Vasculitis7
Possible utility on treating atopic dermatitis*
Bullous pemphigoid

300 mg SC every 4 weeks3-4

 Asthma

Omalizumab 75 to 375 mg SC every 2 or 4 weeks

Determine dose (mg) and dosing frequency by serum total IgE level (IU/mL) measured before the start of treatment, and by body weight (kg). Adjust doses for significant changes in body weight during treatment4
*Current literature shows administration of omalizumab to treat AD is still subject to debate, some studies showing conflicting results in effectiveness
OMALIZUMAB SIDE EFFECTS 8
Injection site reaction
Viral infection
URI symptoms
Migraine
Arthralgia
Fatigue
Dizziness
Nausea
Pruritus
Abdominal pain
Epistaxis
Otitis media
Otalgia
Myalgia
Peripheral edema
Fever
Anxiety
Alopecia
Geohelminth infection
Thrombocytopenia
OMALIZUMAB WARNINGS4
Anaphylaxis- Administer in a healthcare setting prepared to manage anaphylaxis
Malignancies have been observed in clinical studies (including breast, non-melanoma skin, prostate, melanoma)
Acute Asthma Symptoms: Do not use for the treatment of acute bronchospasm or status asthmaticus
Corticosteroid Reduction: Do not abruptly discontinue corticosteroids upon initiation of omalizumab therapy
Fever, Arthralgia, and Rash: Stop omalizumab if patients develop signs and symptoms similar to serum sickness
Eosinophilic Conditions: Be alert to eosinophilia, vasculitic rash, worsening pulmonary symptoms, cardiac complications, and/or neuropathy, especially upon reduction of oral corticosteroids
OMALIZUMAB CONTRAINDICATIONS
Patients with known hypersensitivity to omalizumab or other IgE inhibitors
PREGNANCY & BREASTFEEDING6
No known risk of teratogenicity, although potential effects on a fetus are likely to be greater during the second and third trimesters of pregnancy given monoclonal antibodies transport across the placenta as pregnancy progresses
It is unknown if omalizumab is excreted in human breast milk
 MONITORING
No recommended blood monitoring guidelines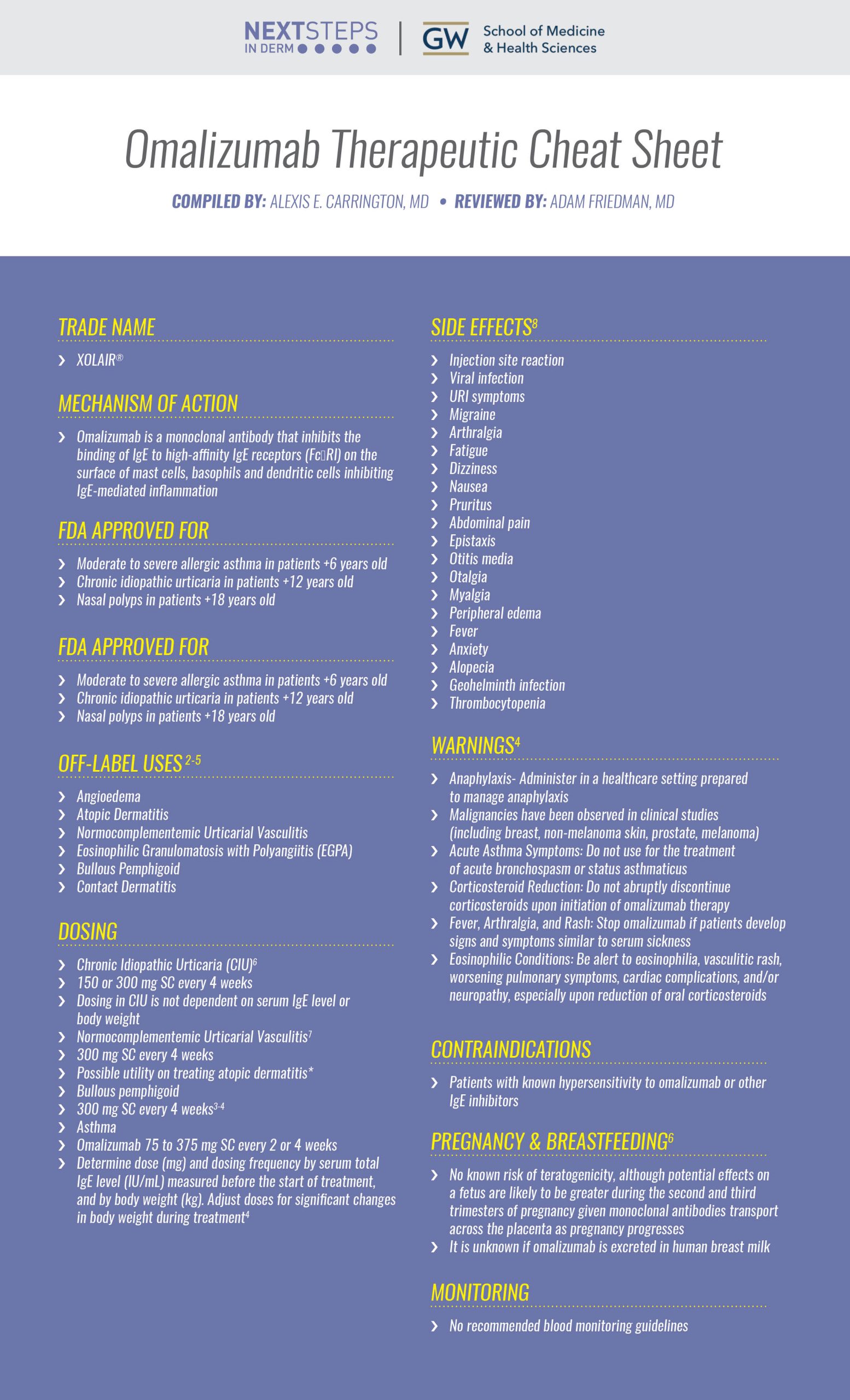 Omalizumab is being used by dermatologists more in recent years given its off- label use in treating IgE-mediated skin disease including chronic idiopathic urticaria. The list of these conditions continue to grow and include bullous pemphigoid, atopic dermatitis and angioedema. Practitioners should continue to follow newly published reports studies focusing on the off-label uses of this medication.
Further Reading
If you would like to learn more about omalizumab, check out the following two articles recently published in the Journal of Drugs in Dermatology:
Long-Term Efficacy and Safety of Omalizumab Monotherapy in a Patient With Normocomplementemic Urticarial Vasculitis
Mohamed Abuzakouk MD, Omar Ghorab MB Bch BAO, Rajaie Namas MD, Marcus Maurer MD
Abstract:
Normocomplementemic urticarial vasculitis is a rare autoimmune disorder characterized by leukocytoclasia, fibrin deposits, and extravasated erythrocytes affecting multiple organ systems. Current treatment modalities, including corticosteroids and immunosuppressive agents, are of limited efficacy and an expansive side effect profile. Omalizumab has been reported to be effective in urticarial vasculitis, but its long-term effectiveness and tolerability have not yet been evaluated. We report a case of long-standing normocomplementemic urticarial vasculitis treated with omalizumab only, for almost 3 years. The patient reported a significant improvement in quality of life after the first few doses with a significant improvement in the urticaria control test. The treatment was well tolerated and no adverse events were reported after 3 years. Our patient was treated with 300 mg of omalizumab, as it was previously linked with a better improvement in quality of life. We were able to extend our patient's treatment intervals, suggesting that this is feasible in patients treated with omalizumab who achieve a complete response. We recommend that larger and long-term studies are conducted to assess the efficacy and effectiveness of omalizumab in patients with urticarial vasculitis. Read the full article here.
An Updated Therapeutic Strategy for Chronic Idiopathic Urticaria
Nagasai C. Adusumilli MBA and Adam J. Friedman MD FAAD
References
Adusumilli NC, Friedman AJ. An Updated Therapeutic Strategy for Chronic Idiopathic Urticaria. J Drugs Dermatol. 2021 Mar 1;20(3):354-355. doi: 10.36849/JDD.0421. PMID: 33683088.
El-Qutob D. Off-Label Uses of Omalizumab. Clin Rev Allergy Immunol. 2016 Feb;50(1):84-96. doi: 10.1007/s12016-015-8490-y. PMID: 26048266.
Liu J, Xiang T, Wang W, Bu Z. Case Report: Omalizumab Successfully Treated Recalcitrant Bullous Pemphigoid in an Elderly Patient with Multiple Comorbidities. Clin Cosmet Investig Dermatol. 2022 Jul 21;15:1391-1396. doi: 10.2147/CCID.S373682. PMID: 35903519; PMCID: PMC9314756.
Lonowski S, Sachsman S, Patel N, Truong A, Holland V. Increasing evidence for omalizumab in the treatment of bullous pemphigoid. JAAD Case Rep. 2020 Feb 26;6(3):228-233. doi: 10.1016/j.jdcr.2020.01.002. PMID: 32140524; PMCID: PMC7044652.
Chan S, Cornelius V, Cro S, Harper JI, Lack G. Treatment Effect of Omalizumab on Severe Pediatric Atopic Dermatitis: The ADAPT Randomized Clinical Trial. JAMA Pediatr. 2020;174(1):29–37. doi:10.1001/jamapediatrics.2019.4476
XOLAIR [prescribing information]. Genentech USA, Inc. and Novartis Pharmaceuticals Corporation; 2021.
Abuzakouk M, Ghorab O, Namas R, Maurer M. Long-Term Efficacy and Safety of Omalizumab Monotherapy in a Patient With Normocomplementemic Urticarial Vasculitis. J Drugs Dermatol. 2022 Oct 1;21(10):1124-1126. doi: 10.36849/JDD.6739. PMID: 36219045.
Xolair. (2019). Epocrates medical references.  https://online.epocrates.com/drugs/350810/Xolair/Monograph
Did you enjoy this Therapeutic Cheat Sheet? You can find more here.