Hyperhidrosis affects up to 4.8% of people in the United States, causing significant impacts in patient quality of life.1 Often times, the etiology of symptoms cannot be identified, resulting in a subset of disease termed "primary hyperhidrosis." Symptoms may be focal or generalized. Because there is a scarcity of FDA-approved treatments for primary hyperhidrosis, treatment often requires a multimodal approach utilizing off-label treatment.2  We continue our series, Therapeutic Cheat Sheet, with a closer look at oral glycopyrrolate, which plays an important role when used off-label in the management of primary hyperhidrosis.2
Oral Glycopyrrolate Therapeutic Cheat Sheet
Compiled by: Azam Qureshi, MD | Reviewed by: Adam Friedman, MD
TRADE NAME
Glycate®
Robinul® and Robinul® Forte
Cuvposa®
MECHANISM OF ACTION
Competitive inhibitor of acetylcholine at M3 muscarinic receptor on post-synaptic neurons, thereby inhibiting sympathetic stimulation of eccrine sweat gland and sweat production3
FDA APPROVED FOR
Chronic drooling (Cuvposa®)4
OFF-LABEL USES
Primary focal hyperhidrosis1-3

Axillary hyperhidrosis
Facial hyperhidrosis

Pediatric and adolescent hyperhidrosis
Hailey-Hailey disease9
DOSING
Children up until age 19: variable dosing regimens have been utilized, weight-based dose of 0.05-0.06 mg/kg/day in 1 or 2 divided doses supported by recent literature4
Adults: variable dosing regimens have been utilized, 1 to 2 mg once or twice daily, titrating upwards weekly based on treatment response and tolerability supported by literature1,2,4

Maximum of 8 mg per day2,7,8
SIDE EFFECTS9-10
Most commonly (occurring in 15% or more patients): vomiting, dry mouth, constipation, flushing, nasal congestion, sinusitis, upper respiratory tract infection, headache, urinary retention
Other side effects that may be less common:

Mydriasis, increased intraocular pressure
Arrhythmias
Hypohidrosis
Impotence
Urinary hesitancy
Decreased gastric motility and secretion, pseudo-obstruction
Compensatory hyperhidrosis11
WARNINGS
Patients should proceed cautiously if they have history of cardiovascular disease, gastroesophageal reflux, bladder obstructions, or glaucoma9-12
Neonates: Dosage forms may contain propylene glycol, which has previously been shown to be associated with metabolic acidosis, seizures, renal failure, and central nervous system depression with excessive systemic administration (>3,000 mg/day)9-10
CONTRAINDICATIONS9-10
Hypersensitivity to glycopyrrolate
History of myasthenia gravis
History of severe ulcerative colitis, toxic megacolon, paralytic ileus, obstructive disease of GI tract, intestinal atony, obstructive uropathy
Unstable cardiovascular status
Glaucoma
PREGNANCY & BREASTFEEDING9-10
No adequate and well-controlled studies of the effects of oral glycopyrrolate on pregnant humans, further study is needed
Given glycopyrrolate serves as an anti-cholinergic medication, it may suppress lactation
It is not known if glycopyrrolate is present in breast milk
MONITORING9-10
Monitor for heart rate, bowel sounds & movements
No recommended lab monitoring
CLICK ON THE IMAGE BELOW TO ENLARGE AND/OR DOWNLOAD YOUR THERAPEUTIC CHEAT SHEET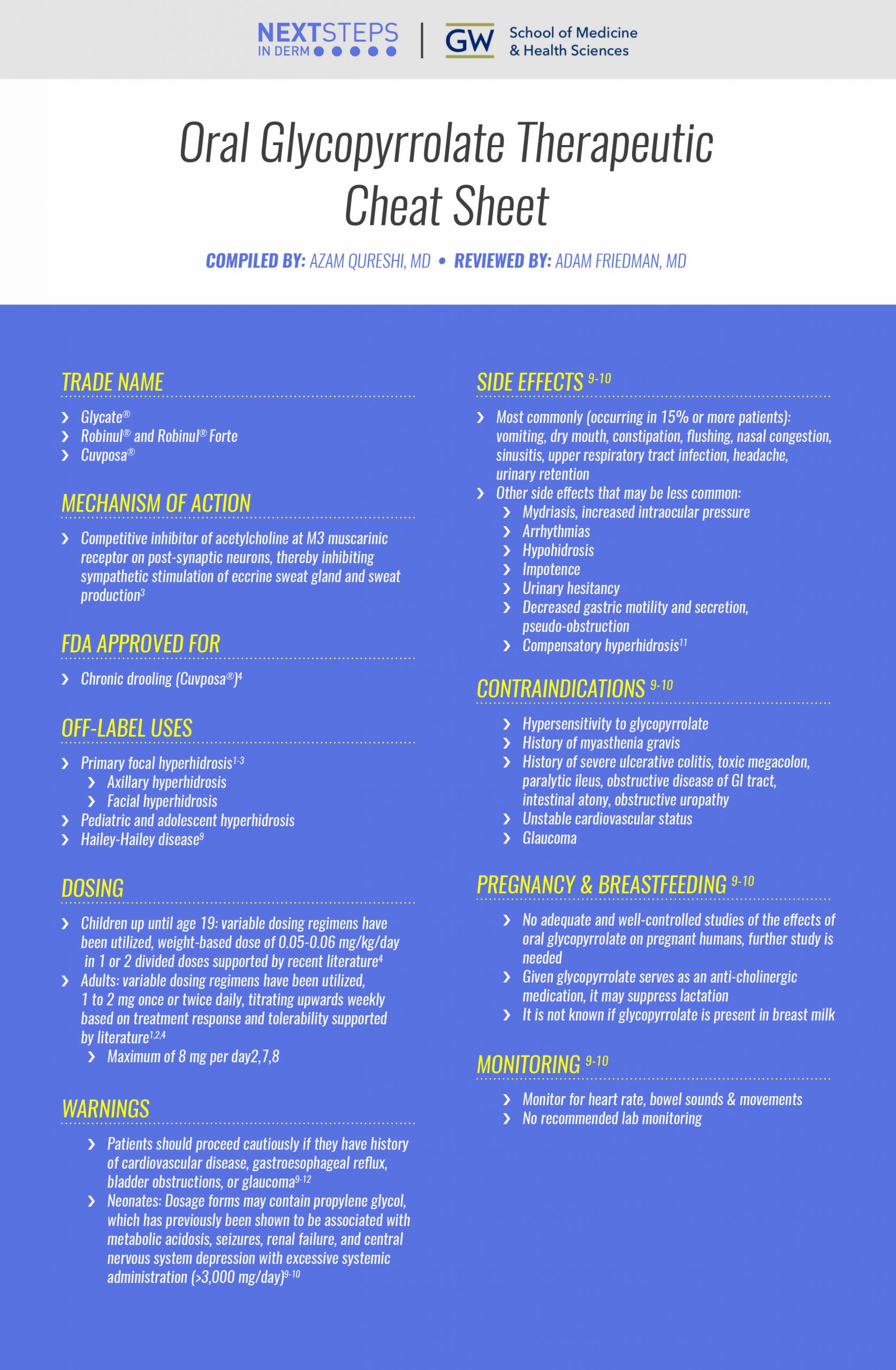 Oral glycopyrrolate serves as a cornerstone of hyperhidrosis treatment. It's off-label utilization for this life-altering condition has shown to be highly effective with a favorable side-effect profile when titrated slowly.1,2,4,14,15 Nonetheless, patient counselling about the potential side effects is pivotal in order to maximize the benefits of treatment outcomes.
Further Reading
If you would like to learn more about oral glycopyrrolate, check out the following 2 articles published in the Journal of Drugs in Dermatology:
Therapeutic Update on Hyperhidrosis14
Authors: Deborah Sarnoff, MD, FAAD, FACP
Abstract:
Hyperhidrosis is defined as non-physiological, excessive sweating that is not caused by physical activity, which occurs in a localized, symmetrical distribution. It affects from 2.8% – 5% of the population and can negatively impact one's quality of life due to embarrassment and shying away from social interactions. The most frequently affected areas are the axillae, palms, soles, face, and groin. While the precise eitology of focal hyperhyidrosis is unknown, it is thought that sympathetic overstimulation of normal eccrine glands is the mostly likely cause. The onset usually occurs during childhood or adolescence; 30%-50% of patients have a positive family history. During sleep, hyperhidrotic individuals sweat normally. Interestingly, patients with axillary hyperhidrosis usually do not have bromhidrosis (pungent sweat odor).1 Due to recent drug development and breakthough technology, there are now several treatment options available. Choice of therapy may depend on the severity of sweating and the locations involved. Read the full article here. 
Diagnosis and Management of Primary Hyperhidrosis: Practical Guidance and Current Therapy Update15
Authors: Joe Gorelick, Adam Friedman, MD, FAAD
Abstract:
Hyperhidrosis is a chronic medical condition characterized by excessive sweating beyond that which is necessary for thermoregulatory homeostasis. It is estimated to occur in 4.8% of the U.S. population (~15.3 million people) but is both underreported and underdiagnosed. With the busy practitioner and dermatology resident in mind, we provide here a disease state primer for hyperhidrosis, a top-line review of the breadth of literature underscoring the overall burden of the disease, a practical guide to differential diagnosis, and an update on current treatment approaches, including for the most common form of the condition, primary axillary hyperhidrosis. In addition, a case study is presented to provide a real-life perspective from the clinic on the importance of early and effective management strategies for those suffering with hyperhidrosis.
References
Doolittle J, Walker P, Mills T, Thurston J. Hyperhidrosis: an update on prevalence and severity in the United States. Archives of dermatological research. 2016 Dec;308(10):743-9.
Stuart ME, Strite SA, Gillard KK. A systematic evidence-based review of treatments for primary hyperhidrosis. Journal of drug assessment. 2021 Dec 15;10(1):35-50.
Lee HH, Do Won Kim DW, Kim C. Efficacy of glycopyrrolate in primary hyperhidrosis patients. The Korean journal of pain. 2012 Jan;25(1):28.
Evatt ML. Oral glycopyrrolate for the treatment of chronic severe drooling caused by neurological disorders in children. Neuropsychiatric disease and treatment. 2011;7:543.
Park HH, Conic RR, Zhang S, Lieu A, Haft M, Hightower GK. Oral glycopyrrolate for primary focal hyperhidrosis in a pediatric population: A cross-sectional study. JAAD international. 2021 Sep 1;4:65-6.
Walling HW. Systemic therapy for primary hyperhidrosis: a retrospective study of 59 patients treated with glycopyrrolate or clonidine. J Am Acad Dermatol. 2012;66(3):387-392. doi:10.1016/j.jaad.2011.01.023 [PubMed 21820204]
Solish N, Bertucci V, Dansereau A, et al; Canadian Hyperhidrosis Advisory Committee. A comprehensive approach to the recognition, diagnosis, and severity-based treatment of focal hyperhidrosis: recommendations of the Canadian Hyperhidrosis Advisory Committee. Dermatol Surg. 2007;33(8):908-923. doi:10.1111/j.1524-4725.2007.33192.x [PubMed 17661933]
Bajaj V, Langtry JA. Use of oral glycopyrronium bromide in hyperhidrosis. Br J Dermatol. 2007;157(1):118-121. doi:10.1111/j.1365-2133.2007.07884.x [PubMed 17459043]
Cuvposa (glycopyrrolate) [prescribing information]. Raleigh, NC: Merz North America Inc; February 2018.
Robinul (glycopyrrolate) tablet [prescribing information]. Atlanta, GA: Mikart Inc; December 2011.
Kaniszewska M, Rovner R, Arshanapalli A, Tung R. Oral glycopyrrolate for the treatment of Hailey-Hailey disease. JAMA dermatology. 2015 Mar 1;151(3):328-9.
Prouty ME, Fischer R, Liu D. Glycopyrrolate-induced craniofacial compensatory hyperhidrosis successfully treated with oxybutynin: report of a novel adverse effect and subsequent successful treatment. Dermatology online journal. 2016;22(10).
Shehab N, Lewis CL, Streetman DD, Donn SM. Exposure to the pharmaceutical excipients benzyl alcohol and propylene glycol among critically ill neonates. Pediatr Crit Care Med. 2009;10(2):256-259. [PubMed 19188870]
"Inactive" ingredients in pharmaceutical products: update (subject review). American Academy of Pediatrics Committee on Drugs. Pediatrics. 1997;99(2):268-278. [PubMed 9024461]
Sarnoff DS. Therapeutic update on hyperhidrosis. Journal of drugs in dermatology: JDD. 2014 Aug 1;13(8):896-7.
Gorelick J, Friedman A. Diagnosis and Management of Primary Hyperhidrosis: Practical Guidance and Current Therapy Update. Journal of drugs in dermatology: JDD. 2020 Jul 1;19(7):704-10.
Did you enjoy this Therapeutic Cheat Sheet? You can find more here.