Every day in the US more than 9500 people will be diagnosed with skin cancer. More people are diagnosed with skin cancer each year in the U.S than all other cancers combined. The earlier skin cancer is detected and treated, the better chance of a cure.
1 in 5 Americans will develop skin cancer by the age of 70.
More than 2 people die of skin cancer in the U.S. every hour.
Having 5 or more sunburns doubles your risk for melanoma.
When detected early, the 5-year survival rate of melanoma is 99%.
Melanoma rates in young adults are declining. While the literature isn't clear as to why, we do know that regular use of an SPF 15 or higher sunscreen reduces melanoma risk by 50%.
To explore and share the latest facts on skin cancer prevalence and prevention measures, see the infographic below.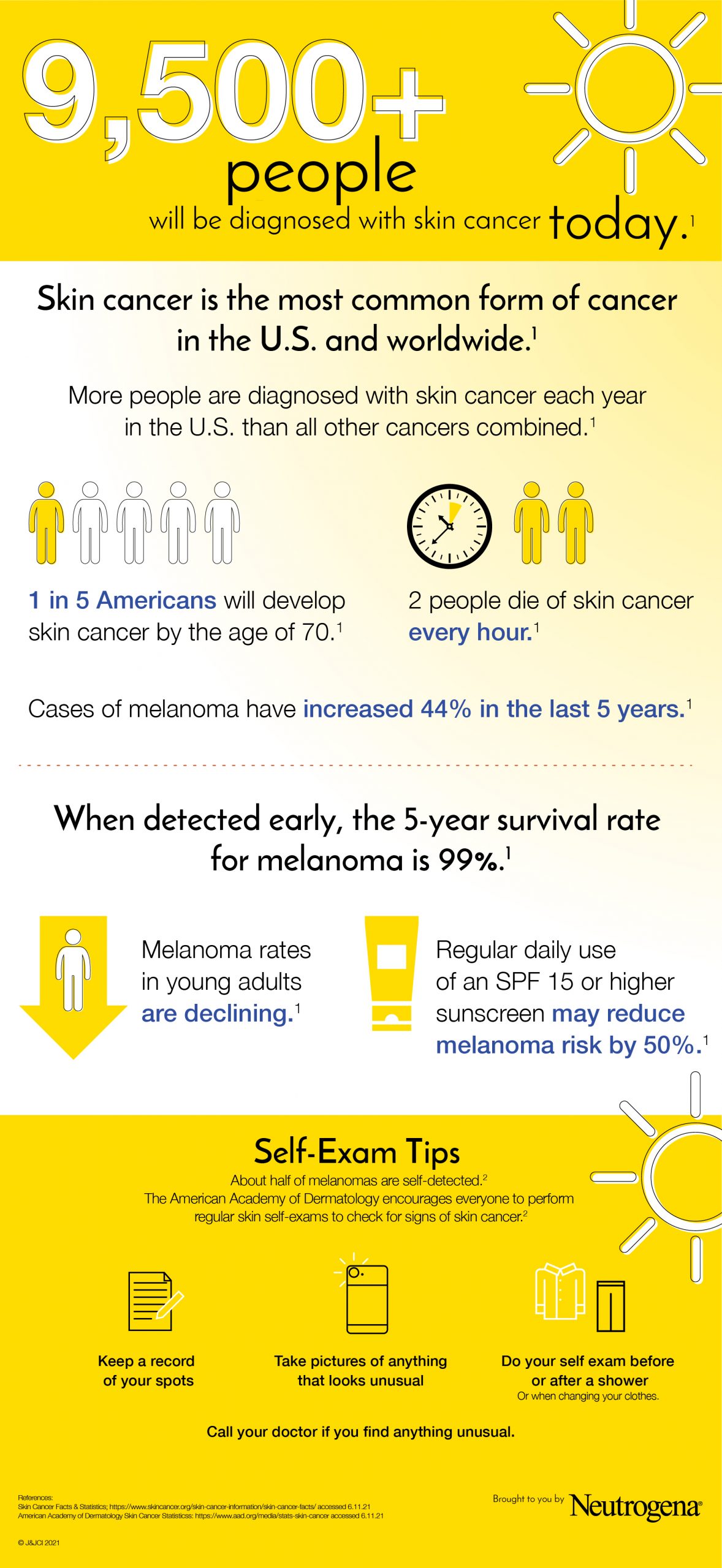 We encourage all healthcare practitioners to download, print and display this infographic in waiting areas and exam rooms, and share with patients.
For additional resources and products that can help you promote sun-safe behavior in your patients, visit NeutrogenaMD.com
Additional Resources
Neutrogena Self-Exam. Beautifully.
Neutrogena's self-exam beautifully guide is an interactive microsite that represents a range of skin tones and types, designed to make self-exams more inclusive and engaging for the purpose of early detection of skin cancers: https://www.neutrogena.com/SkinSelfExam.html
Also new is Neutrogena Studios, a new brand platform that provides a medium to tell compelling stories that educate about the science behind skin health, celebrate healthy skin for all, and inspire people to action. The first film — In the Sun—follows the skin health journeys of seven families facing extraordinary circumstances as they navigate the long-term effects of living life in the sun, while still living vibrant lives: https://www.inthesunfilm.com/

References
Skin Cancer Facts & Statistics; https://www.skincancer.org/skin-cancer-information/skin-cancer-facts/ accessed 6.11.21
American Academy of Dermatology Skin Cancer Statisticss: https://www.aad.org/media/stats-skin-cancer accessed 6.11.21
Did you enjoy this article? Find more on sun protection here.
Brought to you by NeutrogenaMD.