During the 2021 ODAC Dermatology, Aesthetic and Surgical Conference, Dr. Jeremy Green, Clinical Assistant Professor of University of Miami Miller School of Medicine and Dermatologist at Skin Associates of South Florida shared PRO TIPS for RF microneedling during his panel presentation "RF technologies, Making sense of it all"
Dr. Green loves RF microneedling for skin tightening/rhytides, acne scars, and rejuvenating the neck (for which he uses bipolar RF).
PRO TIPS:
Combine bipolar RF + Botulinum Toxin for best results on the neck
There is less bleeding if you anesthetize with lidocaine+epinephrine, but you lose the "end point" of pinpoint bleeding
RF microneedling is like doing a nonablative fractional laser treatment, but able to deliver energy exactly at the tips of the needles
RF microneedling really helps with rolling acne scars, it breaks up the fibrous bands pulling on the surface of the skin
Dr. Green sometimes likes to alternate fractional laser with RF microneedling for best results
Let's talk about skin tightening:
"The target for skin tightening treatment is the superficial fascial system" — Dr. Jeremy Green
The superficial fascia is below the superficial adipose tissue in the skin. The depth varies based on age, gender, BMI, and anatomic location (i.e., 12.48-12.81mm deep for the abdomen vs 3.71mm deep on the lateral neck: HUGE DIFFERENCE!).
There are connective tissue fibrils that run from the superficial fascia to the skin (what gives us those lines in cellulite). If we tighten these fibrils, we get skin tightening.
In the face, the superficial facia is called the SMAS (superficial muscular aponeurotic system). It is contiguous with the platysma of the neck. Remember, this superficial facia is only ~3.71mm deep to the surface of the skin.
When using RF microneedling, we want to be at a depth that is less than or equal to the depth of the SMAS on the head/neck (ie < or = 3.71mm)
Bonus pro tip:
Inject botox into the platysma to improve the outcome of RF microneedling. By injecting botox in to the platysma, we are relaxing these muscles from further pulling down the skin. This produces a neck that is overall tighter/less sagging. Dr. Green typically uses 40-46U or ona- or inco-botulinumtoxinA.
2. Moving onto acne scars
Dr. Green likes to  use bipolar RF for acne scars, which are more superficial. RF microneedling may be particularly effective in treating rolling scars, which are a type of acne scar that is particularly disfiguring because of increased fibrosis and tethering of the skin. See Dr. Green's slide below.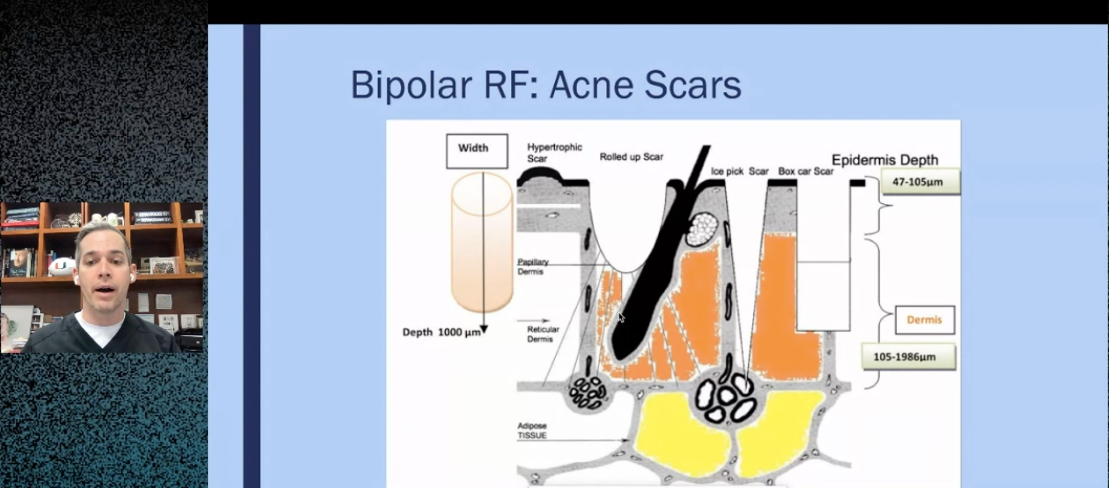 As we can see from the picture above, acne scares are more superficial (ie 1- 2mm in depth). Dr. Green likes to perform 3 passes of RF microneedling : 2mm, 1.5mm, then 1mm (deep to superficial).
Pop Quiz!
Which can be considered the first line treatment modality for acne scarring?
A) non ablative fractional lasers
B) ablative fractional lasers
C) bipolar needle radiofrequency
D) needle subcision
E) TCA CROSS technique
F) Any of the above
Answer:
Any of the above.
Dr. Green often likes to alternate treatment modalities
3. Adverse Effects
Dr. Green listed adverse effects of RF microneedling:
Edema/Erythema
Purpura
Acneiform eruption (consider using peri-treatment doxycycline or minocycline)
Hyperpigmentation (always hold the handpiece flush with the skin surface, go slow to let the needles withdraw to reduce epidermal burning)
Stippling
Infections: HSV, bacteria (consider HSV prophylaxis)
Q&A
At the conclusion of Dr. Green's panel presentation, Dr. Joel Cohen, ODAC Vice Conference Chair and dermatologic surgery extraordinaire, lead a dynamic Q&A session on RF microneedling and lasers. See highlights below.
Our expert panelists often agreed that they mix of up treatment modalities for best results (ablative and nonablative laser, RF microneedling, etc)
SAME DAY FILLER? Quite the controversy:

Dr. Saedi— does not do same day filler as RF microneedling (waits 2-4 weeks).
Dr. Green— considers DEEP filler same day. If he injects along the periosteum, he will use RF Microneedling after, but not with fillers that he injects more superficially

Accutane— our experts generally wait to perform RF microneedling until after Accutane.
Laser assisted drug delivery2?

Consider topical formulations post RF microneedling such as tranexamic acid
Generally our experts consider application of topicals after fractional laser treatments. Topicals include corticosteroids (Intralesional liquid formulations), 5-fluorouracil, Sculptra, among others.

Post treatment care?

Thicker emollients/occlusives for ablative laser (i.e., Aquaphor or Vaseline)
Alastin Skin nectar (preferred by Dr. Saedi)
PRP to help recovery
Biopelle Serum ampules (Dr. Cohen uses)
How often do you use RF microneedling for skin tightening? What is your approach to acne scars? Please share your comments at the end of this post and on our Instagram page.
References
Weiner SF. Radiofrequency Microneedling: Overview of Technology, Advantages, Differences in Devices, Studies, and Indications. Facial Plast Surg Clin North Am. 2019 Aug;27(3):291-303. doi: 10.1016/j.fsc.2019.03.002. Epub 2019 May 22. PMID: 31280844.
 Juhasz MLW, Cohen JL. Microneedling for the Treatment of Scars: An Update for Clinicians. Clin Cosmet Investig Dermatol. 2020 Dec 22;13:997-1003. doi: 10.2147/CCID.S267192. PMID: 33376377; PMCID: PMC7764156.
This information was presented by Jeremy Green, MD at the 2021 ODAC Virtual Conference. The above highlights from his lecture were written and compiled by Jacqueline McKesey, MD.
Did you enjoy this article? Find more on Aesthetic Derm topics here.