Baricitinib (Olumiant®) is a once daily oral medication recently FDA approved for severe alopecia areata, which is defined as having a Severity of Alopecia Tool (SALT) score of 50 or higher.1 JAK inhibitors are a relatively new class of drug demonstrating efficacy and safety in a range of inflammatory skin disorders. Emerging studies have highlighted baricitinib's effectiveness for conditions like atopic dermatitis and vitiligo, though use is currently considered off label.2-4 In this Therapeutic Cheat Sheet, baricitinib and its indication for severe alopecia areata will be the focus.
Baricitinib Therapeutic Cheat Sheet
Compiled by: Alexis E. Carrington, MD | Reviewed by: Adam Friedman, MD.
TRADE NAME
MECHANISM OF ACTION5
Baricitinib inhibits Janus kinases (JAK), a group of tyrosine kinases that phosphorylate signal transducers and activators of transcription (STATs) in the pro-inflammatory JAK-STAT pathway.
Baricitinib specifically inhibits JAK1 and JAK2 compared to JAK3 subtypes.
FDA APPROVED FOR6
Adults with severe alopecia areata (SALT score of 50 or higher).
Adults with moderate to severe rheumatoid arthritis (RA) with inadequate response to one or more TNF blockers.
Hospitalized adults with COVID-19 requiring supplemental oxygen, non-invasive or invasive mechanical ventilation or extracorporeal membrane oxygenation (ECMO).
OFF-LABEL USES2-4
Atopic Dermatitis
Psoriasis
Vitiligo
DOSING7
Alopecia Areata

2 mg once daily. Increase to 4 mg once daily if no hair growth on 2mg daily.
For patients with nearly complete or complete scalp hair loss, with or without substantial eyelash or eyebrow hair loss, consider treating with 4 mg once daily.
Reduce the dose to 2 mg once daily when an adequate response has been achieved.

Rheumatoid Arthritis*
COVID-19

4 mg once daily for up to 14 days
*Baricitinib may be used as monotherapy or in combination with methotrexate or DMARDS.
SIDE EFFECTS 7
Some side effects of baricitinib in people treated for rheumatoid arthritis, COVID-19, and alopecia areata include:
Upper and lower respiratory tract infections
Urinary tract infection

Elevated liver enzymes
Folliculitis
Acne
Anemia
Neutropenia
Herpes simplex and herpes zoster
Nausea
Thrombocytosis
Deep vein thrombosis and pulmonary embolism
Urinary tract infection
WARNINGS7
Serious infections- Baricitinib increases the risk of serious and potentially fatal infections, including tuberculosis (TB), fungal, and opportunistic infections. Avoid use in patients with an active infection, including localized infections. It is important to stop treatment with baricitinib if a serious infection occurs until it is controlled.
Major cardiovascular events- There is an increased risk of major cardiovascular events, such as a heart attack or stroke, in people 50 years old or older with a history of a risk factor for heart disease (i.e., smoking)
Malignancies– Barictinib can increase the risk of cancers, including lymphoma and skin cancers.
Blood clots– There is an increased risk of blood clots in the legs and lungs, more often in people 50 years old or older with a heart disease risk factor. A patient must stop taking baricitinib if they experience any symptoms of blood clots, such as sudden shortness of breath or leg tenderness.
Hypersensitivity– Serious hypersensitivity reactions (e.g., anaphylaxis) have been reported. Discontinue if a serious hypersensitivity reaction occurs.
Gastrointestinal (GI) Perforations- This is more common in patients who are also taking NSAIDs, corticosteroids or methotrexate. Monitor patients at risk for any symptoms of GI perforations such as fever or persistent stomach pain.
Laboratory Abnormalities: Obtain baseline labs to check lymphocytes, neutrophils, hemoglobin, liver enzymes and lipids. It is recommended to check lipids about 3 months after starting baricitinib and then as needed thereafter.
Embryo-Fetal Toxicity: May cause fetal harm based on animal studies.
Vaccinations: Avoid use with live vaccines.
Hepatic Impairment: Barictinib is not recommended in patients with severe hepatic impairment.
Renal Impairment: Barictinib is not recommended in COVID-19 patients with eGFR <15mL/min/1.73m2, who are on dialysis, have ESRD or acute kidney injury. Barictinib is not recommend in patients with rheumatoid arthritis patients with eGFR <30 mL/min/1.73m2.
CONTRAINDICATIONS7
Patients with known hypersensitivity to baricitinib or any of the excipients in baricitinib
PREGNANCY & BREASTFEEDING7
Based on animal studies, baricitinib may cause embryo-fetal harm when administered to pregnant women.
Advise female patients of reproductive potential of the potential risk to a fetus and to use effective contraception.
Advise women not to breastfeed during treatment with baricitinib.
MONITORING7
Test for active and latent TB before and during therapy in all patients.
Perform a pregnancy test in all females of reproductive potential prior to starting baricitinib. Advise female patients of reproductive potential to use effective contraception during treatment with baricitinib.
Obtain a baseline CBC to assess for neutropenia and anemia.
Assess baseline values for elevated liver enzymes, impaired renal function, and dyslipidemia. Continue to monitor patients for any of these laboratory changes.
Perform screening for viral hepatitis in accordance with clinical guidelines before starting therapy with baricitinib.*
*The impact of baricitinib on chronic viral hepatitis reactivation is unknown.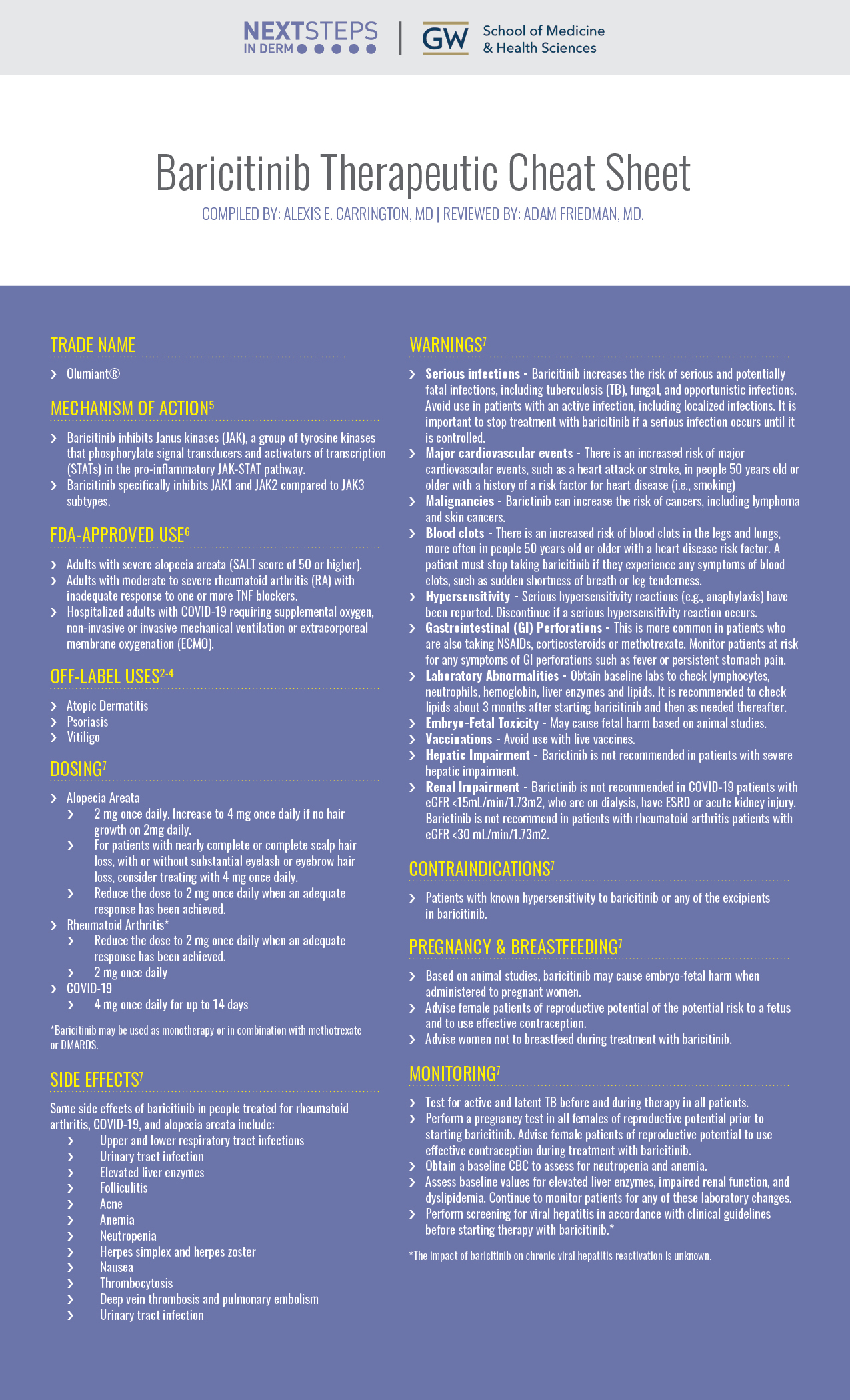 Baricitinib is effective at treating inflammatory conditions and is being used by dermatologists for some skin conditions both on and off-label. Since JAK inhibitors continue to show effectiveness against skin conditions, practitioners should continue to follow newly published reports studies focusing on the on and off-label uses of this medication. If you would like to learn more about baricitinib and other JAK inhibitors, check out the following articles recently published in the Journal of Drugs in Dermatology:
Further Reading
Off-label uses of JAK Inhibitors in Dermatology
Published in the Journal of Drugs in Dermatology
Nussbaum, D. McCormick, E. Desai, S. Murphy, E. Saardi, K. Friedman, A.
Abstract:
The Janus kinase (JAK)-signal transducer and activator of transcription (STAT) pathway is a crucial component of immune function, and JAK inhibitors allow dermatologists to regulate this pathway in certain disease states. Once bound to ligands, JAKs phosphorylate cytokine receptors and STAT proteins, which translocate to the nucleus and activate transcription of immunologic proteins.1 Four JAK isoforms have been identified: JAK1, JAK2, JAK3, and tyrosine kinase 2 (TYK2). The different isoforms bind varyingly to cytokines including interleukin (IL)-2, IL-4, IL-7, IL-9, IL-15, and IL-21. While the first-generation JAK inhibitors — tofacitinib, ruxolitinib, and baricitinib — block multiple JAK isoforms, second generation JAK inhibitors, such as decernotinib, abrocitinib, and upadacitinib, target a particular JAK, reducing adverse effects.
Jak Inhibitor Safety Compared to Traditional Systemic Immunosuppressive Therapies
Published in the Journal of Drugs in Dermatology
Daniele S, Bunick C.
Abstract:
Dermatologists treating atopic dermatitis are interested in the safety profile of the recently available JAK inhibitors, upadacitinib and abrocitinib, especially after they received boxed safety warnings. Long-term clinical trial data using these JAK inhibitors for the treatment of atopic dermatitis suggest that they are associated with very low incidence rates of malignancy, major adverse cardiac events, and thromboembolic events. However, a knowledge gap exists regarding the incidence of adverse events for JAK inhibitors compared to traditional systemic therapies used to treat poorly controlled atopic dermatitis as well as baseline rates in both atopic dermatitis and reference control populations. To address this gap, we analyzed data regarding adverse events of special interest for methotrexate, cyclosporine, and systemic corticosteroids and calculated the incidence of adverse events per 100 patient-years for these drugs. We also examined data regarding baseline incidence of adverse events in atopic dermatitis and control patients. We found that compared to upadacitinib and abrocitinib, traditional systemic therapies for atopic dermatitis demonstrated equal or higher incidence rates for malignancy (excluding non-melanoma skin cancer), non-melanoma skin cancer, major adverse cardiac events, and venous thromboembolism. Moreover, the use of upadacitinib and abrocitinib also exhibited either comparable or lower incidence of malignancy (excluding non-melanoma skin cancer), major adverse cardiac events, and venous thromboembolism, but higher rates of non-melanoma skin cancer, in comparison to baseline rates in atopic dermatitis or control patients. These findings indicate that JAK inhibitors should be positioned, at least based on safety, ahead of traditional systemic therapies for atopic dermatitis treatment.
References
King B, Ohyama M, Kwon O, Zlotogorski A, Ko J, Mesinkovska NA, Hordinsky M, Dutronc Y, Wu WS, McCollam J, Chiasserini C, Yu G, Stanley S, Holzwarth K, DeLozier AM, Sinclair R; BRAVE-AA Investigators. Two Phase 3 Trials of Baricitinib for Alopecia Areata. N Engl J Med. 2022 May 5;386(18):1687-1699. doi: 10.1056/NEJMoa2110343. Epub 2022 Mar 26. PMID: 35334197.
Zhang J, Qi F, Dong J, Tan Y, Gao L, Liu F. Application of Baricitinib in Dermatology. J Inflamm Res. 2022 Mar 18;15:1935-1941. doi: 10.2147/JIR.S356316. PMID: 35330989; PMCID: PMC8939862.
Dogra S, Shah S, Sharma A, Chhabra S, Narang T. Emerging Role of Baricitinib in Dermatology Practice: All We Need to Know! Indian Dermatol Online J. 2023 Mar 3;14(2):153-162. doi: 10.4103/idoj.idoj_542_22. PMID: 37089829; PMCID: PMC10115327.
Thyssen JP, Bieber T, Kleyn CE, Nosbaum A, Grond S, Petto H, Riedl E, Wollenberg A. Baricitinib provides rapid and sustained improvements in absolute EASI and SCORAD outcomes in adults with moderate-to-severe atopic dermatitis. J Dermatolog Treat. 2023 Dec;34(1):2216322. doi: 10.1080/09546634.2023.2216322. PMID: 37345379.
Kuriya B, Cohen MD, Keystone E. Baricitinib in rheumatoid arthritis: evidence-to-date and clinical potential. Ther Adv Musculoskelet Dis. 2017 Feb;9(2):37-44. doi: 10.1177/1759720X16687481. Epub 2017 Jan 23. PMID: 28255337; PMCID: PMC5315227.
OLUMIANT® (baricitinib) https://www.olumiant.com/. Accessed 16 Jul. 2023.
OLUMIANT® (baricitinib) [Package Insert]. Indianapolis, IN.: Lilly USA LLC. https://www.accessdata.fda.gov/drugsatfda_docs/label/2022/207924s006lbl.pdf
Did you enjoy this Therapeutic Cheat Sheet? You can find more here.