Rituximab was the first monoclonal antibody approved for cancer treatment and now in dermatology, this medication has been life-altering for patients with the severe, autoimmune blistering disease, pemphigus vulgaris. We continue our series, Therapeutic Cheat Sheet, with a closer look at rituximab, which is FDA-approved for the treatment of pemphigus vulgaris, and is also used off label for other autoimmune blistering diseases and connective tissue diseases via its depletion of B cells.
Rituximab Therapeutic Cheat Sheet
Compiled by: Emily Murphy, MD | Reviewed by: Adam Friedman, MD
TRADE NAME
MECHANISM OF ACTION
Binds B cell surface antigen CD20 to trigger B cell depletion via 3 mechanisms:1

Natural killer cells bind CD20+ cells with bound rituximab and secrete cytotoxic granules to destroy B cells.
Binding of rituximab activates the classical complement pathway, leading to induction of cell death via membrane attack complexes.
Rituximab promotes cell death via multiple proposed signaling pathways, including MAPK, NFĸB, ERK, and AKT.

C20 is expressed almost exclusively on B cells so rituximab is specific to these cells, sparing plasma cells and protecting acquired immunity and antibody levels.1
Beyond B cell depletion, rituximab has also been shown to decrease desmoglein reactive CD4+ T cells and increase interleukin-10 producing regulatory B cells, which may lead to disease remission after rituximab administration.1
FDA APPROVED FOR1
Pemphigus vulgaris (primary dermatologic use) in adult patients2
Other approved uses: CD20+ non-Hodgkin B cell lymphoma, CD20+ chronic lymphocytic leukemia, rheumatoid arthritis, granulomatous with polyangiitis, microscopic polyangiitis.
OFF-LABEL DERMATOLOGIC USES1
Autoimmune blistering diseases (pemphigus foliaceous, bullous pemphigoid, mucous membrane pemphigoid, epidermolysis bullosa acquisita)
Dermatomyositis
Cutaneous lupus erythematosus
Graft-versus-host disease
DOSING (INTRAVENOUS)1
Initial dose of 1000 mg IV every 2 weeks for 2 doses (in combination with tapering doses of systemic steroids).
Maintenance dose of 500 mg IV at 12 months and then every 6 months after as needed.
ADMINISTRATION CONSIDERATIONS
Provide immunizations at least 4 weeks before treatment to allow development of appropriate immunity.1
Initiation early in disease has been shown to more effective for treatment of pemphigus vulgaris.1
Depletion of B cells starts 2-3 weeks after treatment and lasts for about 6 months.1
Pre-medication with acetaminophen 650 mg, diphenhydramine 50 mg, and methylprednisolone 100 mg can reduce the risk of infusion reactions.1
If combining rituximab with other immunosuppressants, antibiotic prophylaxis against Pneumocystis jirovecii pneumonia should be considered. 
SIDE EFFECTS1,3
Boxed warnings: hepatitis B reactivation, severe mucocutaneous reactions, infusion reactions, progressive multifocal leukoencephalopathy.

Other than hepatitis B reactivation, these boxed warnings are predominantly seen in lymphoma treatment.

Hypersensitivity reactions:

Infusion reactions (most common, occurs in 60% of pemphigus vulgaris patients)

Mild: headache, chills, nausea, pain, altered blood pressure
Severe: hypotension, angioedema, bronchospasm, urticaria

Mucocutaneous reactions (SJS/TEN, lichenoid, paraneoplastic pemphigus)

Infections:

Hepatitis B reactivation
Bacterial, viral, and fungal infections

Cardiovascular effects (arrhythmias, angina)

More likely in patients with a history of heart disease.

Hematologic effects (cytopenia, including leukopenia, anemia, and thrombocytopenia)

Typically late onset, most often 3-4 months post-treatment.

Gastrointestinal effects (bowel obstruction and perforation)

Only observed with co-administration of chemotherapy.
DRUG INTERACTIONS1
No formal studies.
Combination other myelosuppressive medications may increase the risk of cytopenia.
Combination with other immunosuppressive therapies may amplify immunosuppression.
Renal toxicity can occur when administered with chemotherapy.
CONTRAINDICATIONS1
Type I hypersensitivity to rituximab components.
Progressive multifocal leukoencephalopathy.
Active, severe infections.
PREGNANCY AND BREASTFEEDING1
Rituximab can cause B cell lymphopenia in infants exposed in utero, so use should be avoided in pregnancy.
IgG passes into breast milk, so women should avoid breastfeeding while on treatment and for at least 6 months after.
MONITORING1
Baseline labs:

CBC with differential
Complete metabolic panel
Peripheral CD20 and CD3 counts via flow cytometry
Anti-desmoglein 1 and 3 titers via ELISA
Infection screening (hepatitis B and C, HIV, tuberculosis)
Screen for pregnancy and breastfeeding; effective birth control should be used during and for 12 months after treatment.

Periodic monitoring:

CBC with differential every 2-3 months
Complete metabolic panel periodically
Yearly tuberculosis screening

Anti-desmoglein 1 and 3 titers can be used to monitor response.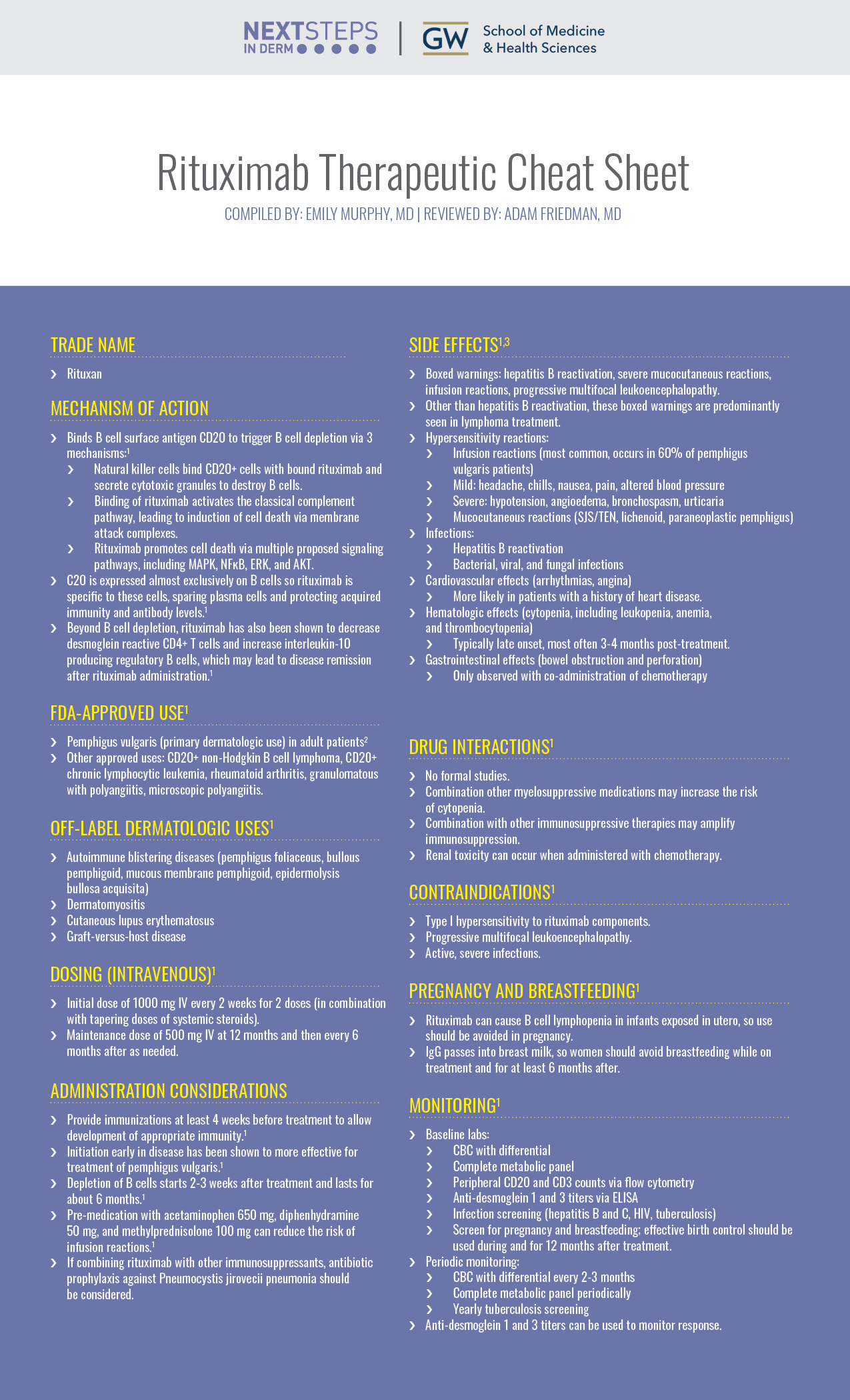 FURTHER READING
If you would like to learn more about rituximab, check out the following articles published in the Journal of Drugs in Dermatology:
Rituximab Use in Pediatric Dermatology
Hoffman, R. Bhandari, and A. Sinha.
Abstract:
Rituximab, an anti CD20 monoclonal antibody leading to transitory B cell depletion, is used to treat a wide variety of immune system tumors and immune mediated diseases. While most of data supporting the efficacy and safety of rituximab in treating autoimmune patients is focused on the adult population, the utilization of rituximab (RTX) for a wide range of pediatric conditions is also increasing. While there are a number of published case reports, a comprehensive review of the various uses for rituximab in pediatric dermatology is lacking. To better assess the therapeutic role of rituximab in the management of skin disease in children, here we comprehensively document reported cases of use including details regarding specific treatment regimens, efficacy and safety profile. Evaluation of the data supports consideration for the initiation of rituximab at early time points in the treatment ladder, before certain diseases become refractory to conventional treatment.
J Drugs Dermatol. 2016;15(7):821-829.
The Use of Rituximab in the Management of Refractory Dermatomyositis
Kuye and G. Smith.
Abstract:
There is growing adoption of rituximab in the treatment of dermatomyositis patients whose disease is refractory to steroids. However, the effects have not been extensively studied. This is a retrospective study of 25 patients with dermatomyositis who were treated with rituximab. Data from January 2000 to July 2014 was obtained from a clinical data repository, which yielded results from two tertiary centers in the United States. We analyzed information on muscle weakness, skin disease, enzyme levels, and immunosuppressive medication use before and after treatment with rituximab. The follow-up time was six months. Among the patients with skin disease before treatment with rituximab, 72.2% had a clinical improvement in their skin disease at the follow-up visit (P less than0.01). Among the patients with proximal muscle weakness before treatment with rituximab, 81.8% had clinical improvement in their symptoms at the follow-up visit (P less than0.01). The average prednisone dose before rituximab therapy was 18.9 mg, and this dropped to 11.0 mg at follow up (P less than 0.05). The average number of immunosuppressive medications taken by patients dropped from 2.04 to 1.74 (P less than0.05). These changes were less in magnitude and significance among the subset of patient that had an additional connective tissue autoimmune condition.
J Drugs Dermatol. 2017;16(2):162-166.
References
Davis L, Owen C. Miscellaneous Systemic Drugs, Chapter 40. In: Wolverton S, Wu J, eds. Comprehensive Dermatologic Drug Therapy. Fourth Edition. Elsevier; :445-464.e6. Accessed September 12, 2021. https://www-clinicalkey-com.proxygw.wrlc.org/#!/content/book/3-s2.0-B9780323612111000401?indexOverride=GLOBAL
Joly P, Maho-Vaillant M, Prost-Squarcioni C, et al. First-line rituximab combined with short-term prednisone versus prednisone alone for the treatment of pemphigus (Ritux 3): a prospective, multicentre, parallel-group, open-label randomised trial. Lancet. 2017;389(10083):2031-2040. doi:10.1016/S0140-6736(17)30070-3
Rutuximab Package Insert. https://www.accessdata.fda.gov/drugsatfda_docs/label/2010/103705s5311lbl.pdf
Did you enjoy this Therapeutic Cheat Sheet? You can find more here.