Alopecia areata is a CD8+ T-lymphocyte driven autoimmune disorder leading to reversible hair loss. While most commonly presenting as isolated well-demarcated non-cicatricial alopecic patches on the scalp, subtypes of alopecia areata include alopecia totalis with loss of all scalp hair and alopecia universalis with complete loss of all body hair. Although primarily an idiopathic condition, several triggers, including medications, have been reported in the literature. To the best of the authors' knowledge, they present the first reported case of rituximab, a chimeric anti-CD20 receptor monoclonal antibody, inducing alopecia universalis on two separate occasions during the treatment of bullous pemphigoid in a 55-year-old female. While the exact mechanism driving this association remains unclear, greater insights into the pathophysiology of alopecia areata/universalis may help to further explain this association and provide greater insight into other possible therapeutic options.
CASE PRESENTATION
A 55-year-old female with a history of hypertension and discoid lupus presented to dermatology clinic with widespread urticated tense bullae and crusted erosions present for several months (Figure 1), consistent with bullous pemphigoid on further tissue and serological evaluation. Treatment was initiated with a prolonged prednisone taper, starting at 1 mg/kg, in conjunction with mycophenolate mofetil at a dose of 1 g daily. Although well-controlled initially, breakthrough blistering was noted approximately 6 months into the treatment course. At that time, the risks and benefits of the off-label use of rituximab for bullous pemphigoid was discussed,1-2 and patient elected to proceed with rituximab treatment.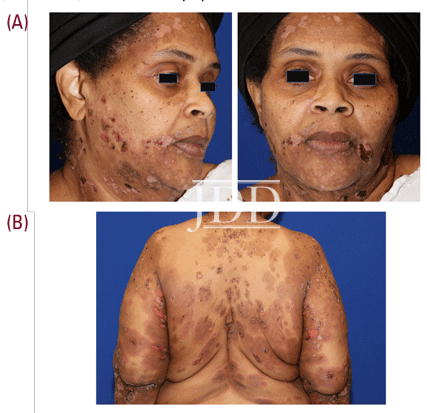 The patient presented in follow up one month after completing two loading doses of rituximab 1,000 mg IV spaced two weeks apart with subsequent complete resolution of blistering and pruritus. Over the next few months, she developed progressive and eventually complete non-scarring alopecia involving the scalp, eyebrows, and eyelashes. Of note, our patient did have a background of previous scattered atrophic cicatricial alopecic plaques involving the scalp in areas of discoid lupus involvement (Figure 2). Biopsy obtained from an area of scarring on the scalp demonstrated features consistent with her known previous diagnosis of discoid lupus, with a negative evaluation for systemic lupus. Biopsy obtained from a non-scarring area on the scalp demonstrated histopathologic features diagnostic of alopecia areata (Figure 3). Treatment was initiated with clobetasol 0.05% ointment twice daily to the scalp for 2 weeks on, 2 weeks off.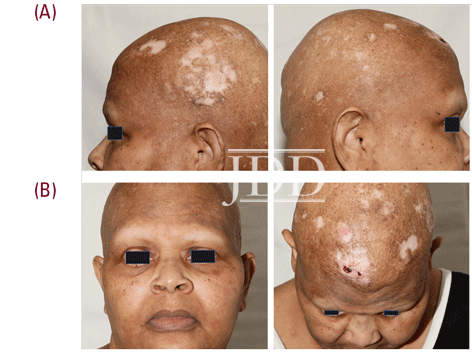 At the 6-month time point from first rituximab infusion, hair regrowth was noted involving affected non-scarring areas, including eyebrows, eyelashes, and scalp. Since causality related to rituximab had not been established at this time point and alopecia areata/universalis had otherwise not been reported in the literature in relation to rituximab administration, our patient elected to proceed with her third 1,000 mg IV rituximab infusion. Several weeks following this, she again noted complete non-scarring alopecia involving the scalp, eyebrows, and eyelashes, with subsequent hair regrowth, noted several months later.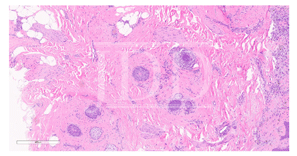 DISCUSSION
Alopecia areata is a predominantly CD8+ T-lymphocyte driven autoimmune-mediated condition leading to reversible hair loss, although the exact antigenic epitope is yet to be defined.3 The most common presentation of alopecia areata is the development of isolated non-cicatricial alopecic patches involving the occipital or parietal scalp with the presentation of alopecia totalis and universalis being less common.4 Multiple triggers have been reported in the literature, including physical stressors, infections, and medications.5 Commonly implicated medications include TNF-alpha receptor inhibitors, systemic retinoids, immune checkpoint inhibitors, and dupilumab.6 To date, no cases of alopecia areata/universalis have been reported as a side effect of rituximab, and in fact, a case report in the literature suggests a possible therapeutic role of rituximab in the treatment of alopecia areata/universalis.7 Rituximab, a chimeric monoclonal antibody, binds the CD20 receptor of B cells inducing their apoptosis.8 Demonstrating disease causality in the setting of multiple reported triggers can be challenging, however, the temporal and reproducible correlation to Rituximab infusions, particularly at the 6 month time point when no new medications, disease flare, or other triggers were otherwise noted, is unique in our case. Although the exact pathophysiologic mechanism of rituximab-induced alopecia universalis remains unclear in this case, possible explanations include a protective role of the current resident B-cell population, an indirect physiological stressor of medication exposure, or epitope sharing between the CD20 receptor target of rituximab and the antigenic epitope of alopecia areata, although this is less likely given the paucity of reported correlations in the literature between rituximab and alopecia areata. Further insights into the pathophysiology of alopecia areata may shed more light on this interesting association.
CONCLUSION
Alopecia areata is an autoimmune disorder believed to be predominantly driven by CD8+ T-lymphocytes, however, the exact pathophysiology, including the antigenic epitope, have not yet been fully elucidated. While primarily an idiopathic disorder, multiple triggers, including medications, infections, and physiological stressors, have been described in the literature. Herein, we present the first known case of rituximabinduced alopecia universalis occurring during treatment of bullous pemphigoid. While it can be challenging to establish temporal correlations between exposure and a proposed event, the authors' case is unique in the reproducibility of the development of alopecia universalis following treatment with rituximab and the subsequently noted hair regrowth months after exposure. Although multiple hypotheses, as noted above, may be postulated for this association, an improvement in our understanding of the antigenic driver of alopecia areata/ universalis may ultimately be necessary to refine our hypothesis and guide more effective therapies in the future.
REFERENCES
1. Polansky M, Eisenstadt R, DeGrazia T, Zhao X, Liu Y, Feldman R. Rituximab therapy in patients with bullous pemphigoid: A retrospective study of 20 patients. J Am Acad Dermatol. 2019;81(1):179-186. doi: 10.1016/j.jaad.2019.03.049.
2. Bilgiç Temel A, Bassorgun CI, Akman-KarakaÅŸ A, Alpsoy E, Uzun S. Successful Treatment of a Bullous Pemphigoid Patient with Rituximab Who Was Refractory to Corticosteroid and Omalizumab Treatments. Case Rep Dermatol. 2017;9(1):38-44.
3. Wang EHC, Yu M, Breitkopf T, Akhoundsadegh N, Wang X, Shi FT, Leung G, Dutz JP, Shapiro J, McElwee KJ. Identification of Autoantigen Epitopes in Alopecia Areata. J Invest Dermatol. 2016;136(8):1617-1626. doi:10.1016/j.jid.2016.04.004.
4. Juhasz M, Mesinkovska NA. Are Preferred Scalp Locations for Alopecia Areata Patches a Clue to Neuronal Etiology? Skin Appendage Disord. 2019;5(5):283- 287. doi: 10.1159/000497392.
5. Lepe K, Zito PM. Alopecia Areata. [Updated 2021 Aug 27]. In: StatPearls. Treasure Island (FL): StatPearls Publishing; 2021 Jan. Available from: https:// www.ncbi.nlm.nih.gov/books/NBK537000/
6. Murad A, Maguire J, Bergfeld W. Drug-induced alopecia areata? Clin Exp Dermatol. 2021;46(2):363-366. doi: 10.1111/ced.14381.
7. Anuoluwapo R Oke, Steven Young-Min. EP06 Successful treatment of alopecia universalis with rituximab therapy. Rheumatology. 2020; Volume 59(2):133-134. doi.org: 10.1093/rheumatology/keaa109.005
8. Rituxan [package insert]. South San Francisco, CA: Biogen and Genentech USA, Inc.
SOURCE
Did you enjoy this JDD case report? You can find more here.