Palmoplantar pustulosis (PPP) is a rare, recurrent skin disorder that presents a major challenge to clinical therapy. JDD author Danilo C. Del Campo, MD, FAAD reports a case of a 69-year-old woman with a 20-year history of psoriasis with skin manifestations and clinical and pathologic features consistent with PPP. After intolerance to apremilast and unsuccessful use of topical corticosteroids and phototherapy, tildrakizumab therapy was initiated and resulted in complete lesion clearance. Clinical improvement was maintained for several months after discontinuation of systemic treatment due to the need to initiate chemotherapy. Tildrakizumab may be an effective and safe therapeutic option for chronic PPP.
INTRODUCTION
Palmoplantar pustulosis (PPP) is a psoriasis subtype characterized by small sterile pustules or blisters with hyperkeratosis, erythema, scaling, and fissuring on the palms and/or soles, along with itching and burning sensations.1,2Histopathological features include epidermal hyperplasia, isolated/distinct intraepidermal pustules, and inflammatory infiltration of predominantly T lymphocytes, neutrophils, and eosinophils.1,2 Although rare, PPP is debilitating, recurrent, and refractory to treatment and thus adversely impacts patients' physical and psychological well-being.1,2
Current US and EU guidelines offer few specific treatment recommendations for PPP.3-5 Nonbiologic systemic treatment options include acitretin and cyclosporine, which are associated with toxic effects and require frequent laboratory monitoring.3 Various biologic therapies may be recommended,4 but in practice formulary restrictions generally limit options to high-dose anti-tumor necrosis factor-α antagonists.
Tildrakizumab (Ilumya, MK-3222)—a monoclonal antibody targeting interleukin (IL)-23p19—is approved in the US, EU, Australia, and Japan for treatment of plaque psoriasis.6-9 The safety profile of tildrakizumab is very favorable, with low rates of infections, malignancies, and other adverse events of clinical interest.10 This report documents a case of successful tildrakizumab treatment of PPP in a patient with undiagnosed malignancy.
CASE REPORT
A 69-year-old woman presented with a chief complaint of severe rash, skin flaking, and skin itching and tenderness, along with a 20-year history of psoriasis. Other history included current smoking, benign adrenal adenoma, medically controlled hypothyroidism, and questionable previously documented diagnoses of rheumatoid arthritis and gluten sensitivity. Prior medications included cyclosporine and prednisone with only temporary improvement and rapid return to baseline symptoms; current medications included levothyroxine. The patient denied any improvement in her psoriasis from previous treatments and had not received any oral or injectable medication for psoriasis for several years at presentation. Her primary care provider had recently referred her for an oncology work-up due to cachexia and smoking history.
On physical examination, the patient had pronounced salmon-pink plaques with silvery scale and scattered pustules, predominantly on her bilateral plantar feet (Figure 1). Skin biopsy revealed histopathological morphology consistent with pustular psoriasis with palmoplantar distribution (ie, PPP). The patient expressed a preference for oral medication but was concerned about side effects and frequent laboratory monitoring; oral apremilast 30 mg twice daily was initiated while anticipating lab work and following up with her primary care physician. She experienced mild improvement but selfdiscontinued apremilast therapy after four months because of severe daily nausea.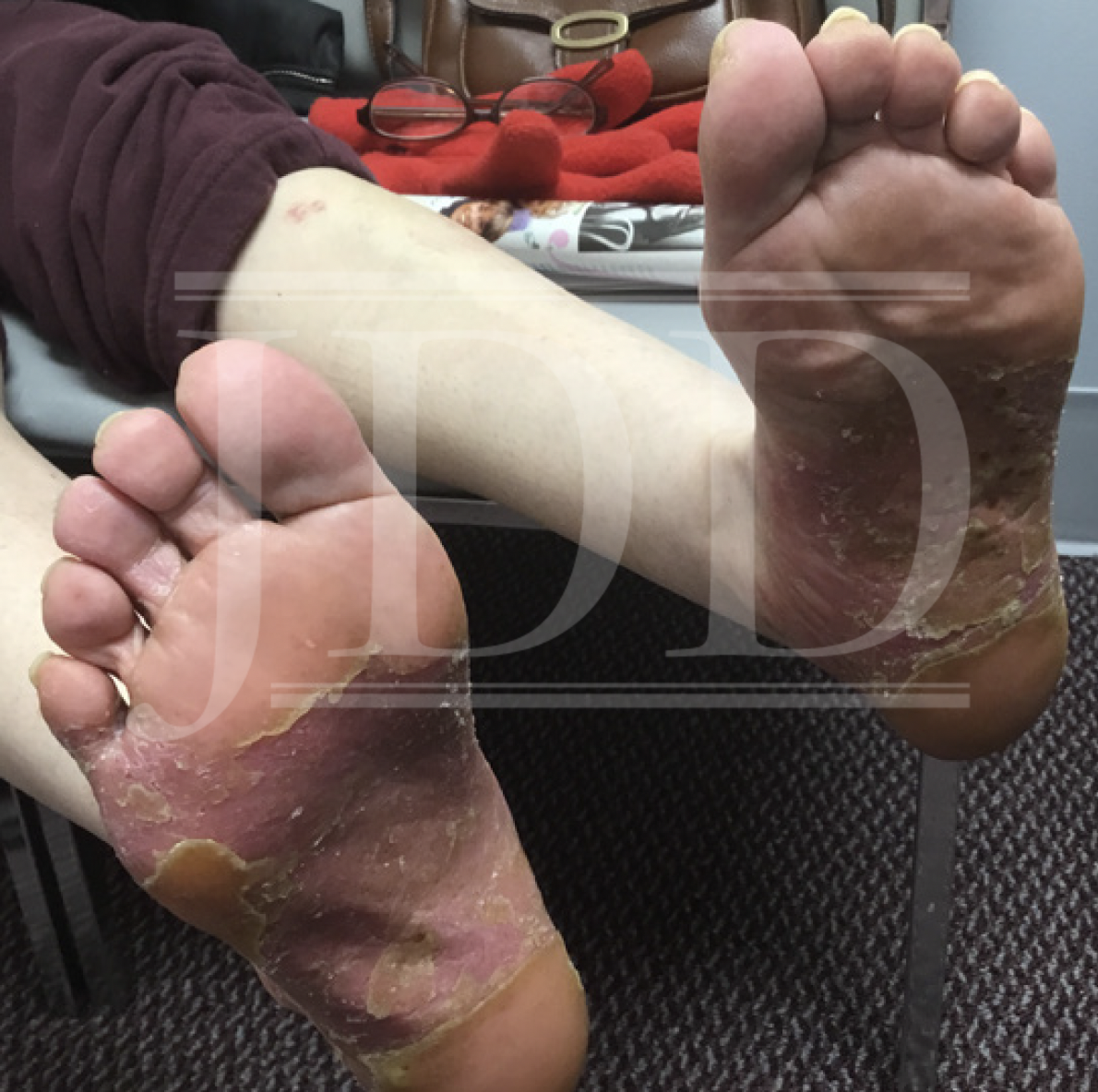 The skin lesions continued for over a year despite subsequent treatment with topical corticosteroids under occlusion and narrowband UVB phototherapy twice weekly. The patient continued to experience severe pain when walking due to fissures and thickened skin on her feet. Because of ongoing debilitating symptoms, including worsening depression due to her condition, an injectable biologic was planned as the next option. Despite her unintentional weight loss, appropriate laboratory investigations and cancer screenings relevant to cachexia remained negative. Her primary care physician provided approval for proposed therapy with tildrakizumab.
The patient started tildrakizumab 100 mg subcutaneous injection at week 0, week 4, and every 12 weeks thereafter. At baseline, she had affected body surface area (BSA) of 20% and a Physical Global Assessment (PGA) score of 4. Significant improvement was noted after 30 days, with reduction of BSA to 1% and PGA to 1. Three months later, she continued to show substantial improvement, with 100% clearance of the lesions on her extremities (Figure 2). The patient was then diagnosed with lung cancer, and tildrakizumab therapy was paused while she initiated chemotherapy. At last contact, the patient was treated solely with topical medication for psoriasis for 6 months and reported only "a few flareups."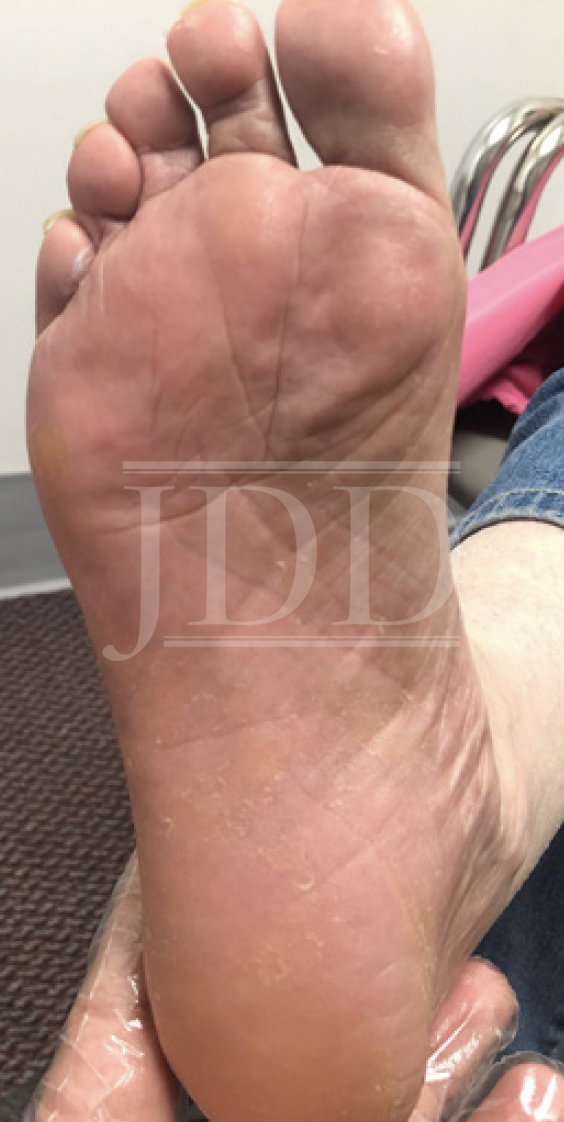 DISCUSSION
Our patient, whose diagnosis of PPP was supported by clinical manifestations and biopsy findings, was successfully treated with tildrakizumab and achieved complete clearance. Clinical improvement was maintained for several months after withdrawal of systemic treatment due to chemotherapy.
Tildrakizumab was selected in part because of our concern about undiagnosed malignancy; oncologists consulted were more comfortable with selective IL-23 blockade due to limited immunosuppression. Furthermore, tildrakizumab is not contraindicated in patients with cancer, although such patients were excluded from phase 3 trials.11 Other considerations included need for rapid onset and minimal risk for side effects due to the patient's deteriorating quality of life. Despite disease duration of 20 years at baseline, tildrakizumab treatment at the approved dose resulted in near-complete resolution of PPP. The reasons for the patient's poor response to prior conventional therapies for PPP are unclear, but severe cases of psoriasis can benefit from systemic therapy with immunomodulatory biologics. Treatment with the IL-23p19 inhibitor tildrakizumab significantly improves both cutaneous symptoms and quality of life in patients with moderate-to-severe plaque psoriasis.11-13 Targeting the IL-23/Th17 axis with selective IL-23p19 antagonists may be an effective and safe therapeutic option for chronic PPP; promising results were reported for treatment of PPP with guselkumab, another selective IL-23p19 inhibitor, in phase 2 and phase 3 randomized clinical trials conducted in Japan.14,15
Tildrakizumab is generally well tolerated, with advantages of simple and infrequent dosing and mild adverse effects.13Although the IL-23p19 inhibitors share a similar safety profile, tildrakizumab is administered every 12 weeks during maintenance dosing, compared with every 8 weeks for guselkumab.4 Therefore, tildrakizumab may be more convenient for clinical management.
CONCLUSION
Our patient with long-standing PPP was successfully treated with tildrakizumab, with complete resolution of lesions and no notable adverse effects. Further study of biologic use in patients with less common forms of psoriasis such as PPP can improve our understanding of the entire spectrum of therapeutic potential.
DISCLOSURES
Dr. Del Campo reports no potential conflicts of interest to disclose.
ACKNOWLEDGMENT
We thank the patient for providing permission for this case report. Medical writing and editorial support were provided by Judy Phillips, DVM, PhD, CMPP, of AlphaBioCom, LLC, and funded by Sun Pharmaceutical Industries, Inc.
REFERENCES
1. Freitas E, Rodrigues MA, Torres T. Diagnosis, screening and treatment of patients with palmoplantar pustulosis (PPP): A review of current practices and recommendations. Clin Cosmet Investig Dermatol. 2020;13:561-578.
2. Rendon A, Sch kel K. Psoriasis pathogenesis and treatment. Int J Mol Sci. 2019;20(6):1475. doi:10.36849/JDD.6031
3. Menter A, Gelfand JM, Connor C, et al. Joint American Academy of Dermatology-National Psoriasis Foundation guidelines of care for the management of psoriasis with systemic nonbiologic therapies. J Am Acad Dermatol. 2020;82(6):1445-1486.
4. Menter A, Strober BE, Kaplan DH, et al. Joint AAD-NPF guidelines of care for the management and treatment of psoriasis with biologics. J Am Acad Dermatol. 2019;80(4):1029-1072.
5. Nast A, Gisondi P, Ormerod AD, et al. European S3-Guidelines on the systemic treatment of psoriasis vulgaris–Update 2015–Short version– EDF in cooperation with EADV and IPC. J Eur Acad Dermatol Venereol. 2015;29(12):2277-2294.
6. Sun Pharma announces Japan MHLW approval of ILUMYA™ for the treatment of plaque psoriasis. Mumbai, India, and Tokyo, Japan: Sun Pharmaceutical Industries Ltd.; June 29, 2020. https://jp.sunpharma.com/ up_pdf/20200629161219_pdf.pdf. Accessed July 2, 2020.
7. Ilumya (Tildrakizumab-asmn) injection, for subcutaneous use. Full Prescribing Information. Sun Pharmaceutical Industries, Inc., Cranbury, NJ, USA, 2018. 2018.
8. ILUMETRI® (tildrakizumab). Summary of Product Characteristics. Industrias Farmac uticas Almirall, S.A, Barcelona, Spain. 2018.
9. ILUMYA™ (tildrakizumab). Australian product information. Sun Pharma ANZ Pty Ltd, Macquarie Park, Australia. 2019.
10. Blauvelt A, Reich K, Papp KA, et al. Safety of tildrakizumab for moderateto- severe plaque psoriasis: pooled analysis of three randomized controlled trials. Br J Dermatol. 2018;179(3):615-622.
11. Reich K, Papp KA, Blauvelt A, et al. Tildrakizumab versus placebo or etanercept for chronic plaque psoriasis (reSURFACE 1 and reSURFACE 2): results from two randomised controlled, phase 3 trials. Lancet. 2017;390(10091):276-288.
12. Blauvelt A, Sofen H, Papp K, et al. Tildrakizumab efficacy and impact on quality of life up to 52 weeks in patients with moderate-to-severe psoriasis: a pooled analysis of two randomized controlled trials. J Eur Acad Dermatol Venereol. 2019;33(12):2305-2312.
13. Reich K, Warren RB, Iversen L, et al. Long-term efficacy and safety of tildrakizumab for moderate-to-severe psoriasis: pooled analyses of two randomized phase III clinical trials (reSURFACE 1 and reSURFACE 2) through 148 weeks. Br J Dermatol. 2020;182(3):605-617.
14. Terui T, Kobayashi S, Okubo Y, et al. Efficacy and safety of guselkumab, an anti-interleukin 23 monoclonal antibody, for palmoplantar pustulosis: A randomized clinical trial. JAMA Dermatol. 2018;154(3):309-316.
15. Terui T, Kobayashi S, Okubo Y, et al. Efficacy and safety of guselkumab in Japanese patients with palmoplantar pustulosis: A phase 3 randomized clinical trial. JAMA Dermatol. 2019.
SOURCE
Did you enjoy this JDD case report? You can find more
here
.