Unfortunately for many residency graduates, a lot of the decisions regarding interactions with industry such as pharmaceutical and medical device sales forces have been made into policies. These are often parallel to the strictures of parents attempting to shelter their children from what is socially perceived as "evil" or "influential," and in many instances has led to the development of very poor relationships once these residents enter the real world. Much like the over-protected children who were not allowed to make their own decisions, these physicians either become rebellious and overdo their interactions with drug companies, or else they go the other way and continue to shut them out of their offices.
In either case, the results tend more to the extremes based on media bias and fears of scrutiny, which have adversely influenced decisions. In summary, access bans on sales reps in academia, hospital health systems, or other settings have become problematic for the development of healthy partnerships with industry. This affects patient care, medical education, and pharma reputation, and may lead to several outcomes in the long run, including either a complete restriction (i.e., no sales rep and no industry support of any kind), or a return to the relationship that helps patients and physicians. Unfortunately, these policies are hurting both patients' access to new drugs and physicians who truly want information.
The problem began when a few people took advantage of this sacred relationship. Whether this problem was due to the physicians who held their prescriptions hostage ("I won't write your product unless I serve on an advisory board or speak at an event") or the inexperienced sales reps who traded food for prescriptions, it has led to a more regulated environment. That said, there are ways to improve the physician/rep relationship (see Tables 1 and 2).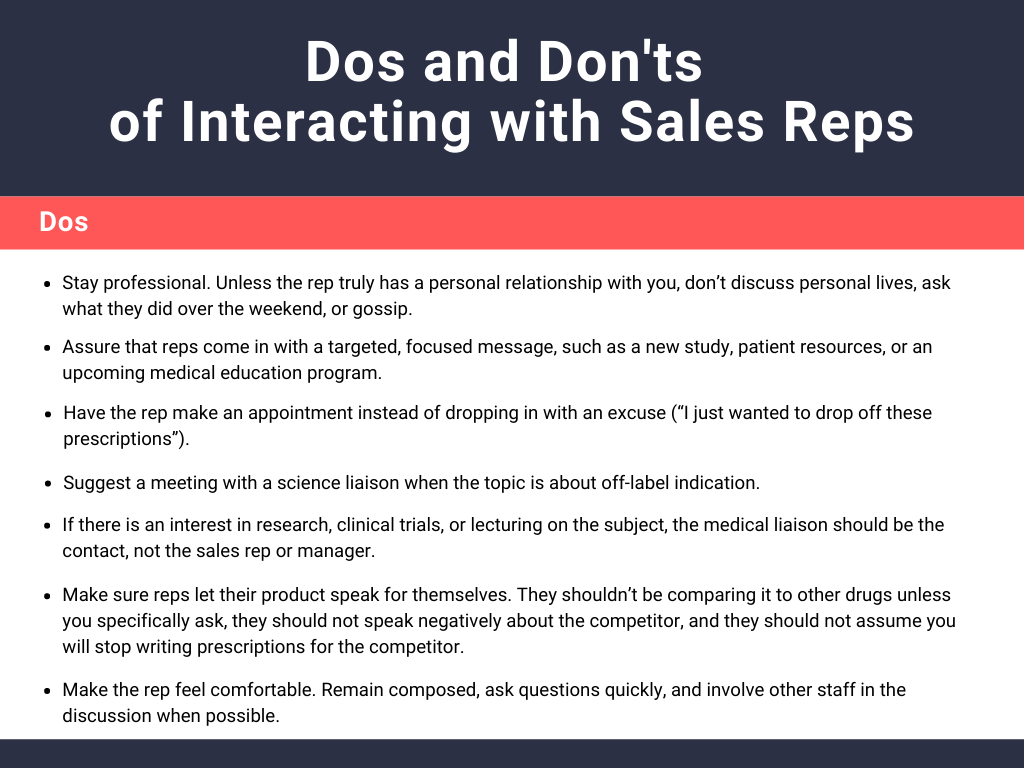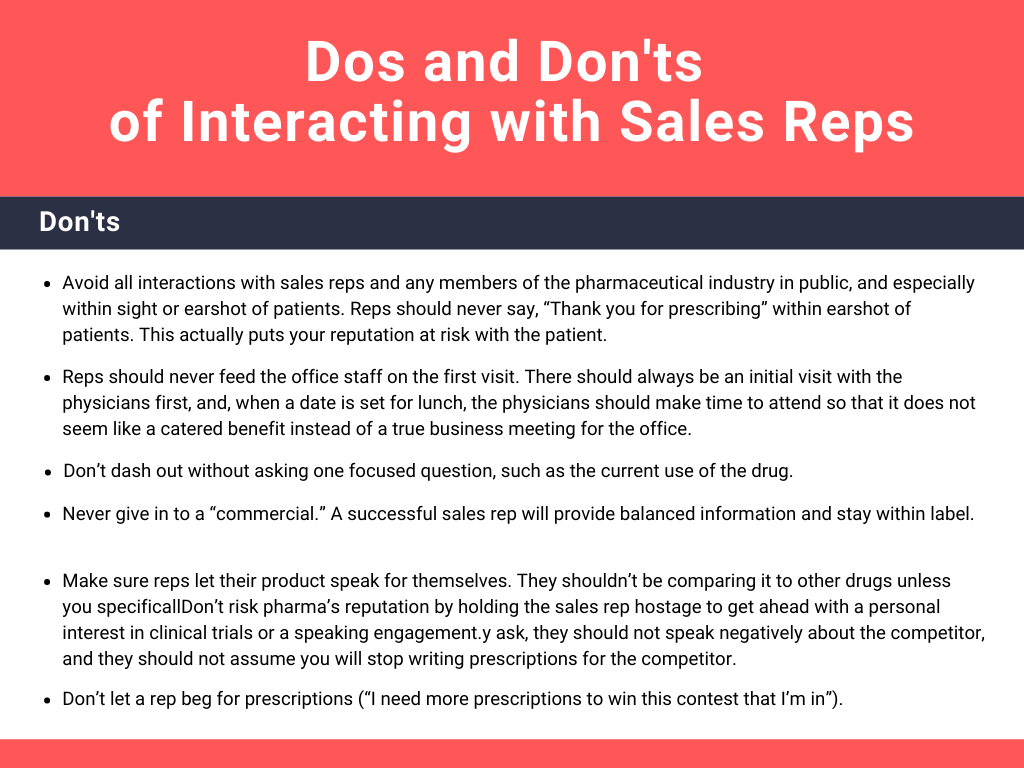 In this era of greater restrictions on sharing information with physicians, pharma must focus on creating a positive relationship. This is far more productive than dealing with restrictions.
Finally, it should be noted that the most successful thought leaders in a specialty that conduct clinical trials, who are invited to speak at conferences and develop consultant agreements with pharmaceutical companies, are not those who are aggressive or obnoxious in their quests. Instead, they are those who create a scientific niche or specific interest in the specialty that becomes known based on the merit of either the results or the presentation of their own written lecture at a CME meeting, such as the American Academy of Dermatology (AAD), the American Society for Dermatological Surgery (ASDS), or any local or state society meeting where an abstract is submitted without any input or influence from pharma. This is similar to moving to Hollywood and declaring that one is a "star," compared with "being discovered" based on one's hard work and merit. In short, it is more lucrative and prolonged to have industry come to the physician to start a relationship than for the physician to say "Pick me" or "I want to work with the company" when there is nothing to show on their CV or track record to support that interest.
Did you enjoy this post? Find more on Navigating Your Career here.
Next Steps in Derm is brought to you by SanovaWorks.