New Trends & Changes in Position Offerings & Employment Contract Negotiations in Dermatology
At the 2021 ODAC Dermatology, Aesthetic and Surgical Conference, we were fortunate to hear from two top professionals that help dermatologists navigate their career: Kim Campbell, founder of Dermatology Authority, and Ron Lebow, Esq., Senior Counsel in the Health Law practice group at Greenspoon Marder LLP.
New Trends & Changes in Position Offerings
Ms. Campbell began her talk by explaining the current trends in the dermatology job market and options for the types of careers that dermatologists can enjoy. My key takeaways after attending this session were:
As they say in real estate: location, location, location! The location where you practice is critically important.
The COVID-19 pandemic has changed the market for dermatologists, at least temporarily.
Know yourself. Everyone has unique life circumstances and desires for their career.
Practice location
Choosing where to practice is a highly personal decision that comes down to many factors including: proximity of family, dermatologist density, economic health of the community, state incomes/property taxes, and where potential patients may be moving to. Where you practice directly translates to the type of job opportunities available to you and ultimately, how much you can earn.
In a JAMA Dermatology research article by Glazer et al., they highlighted the areas in the U.S. with the greatest need for dermatologists comparing numbers from 2009 and 20161  as seen in the table below. This data set may be useful in helping you decide if you want to compete in a market with many dermatologists or if you would rather serve an underserved population. According to Ms. Campbell, the target number is low single digits per 100,000 people in the population to maximize demand for your services.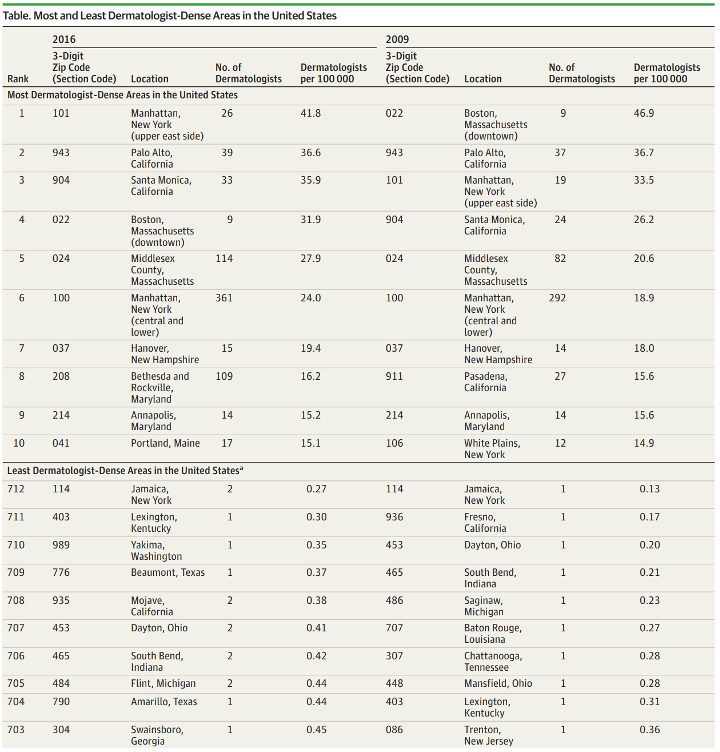 The effects of COVID-19 on the dermatology job market
The global pandemic has changed the dermatology market in a number of ways:
A decrease from 700-800 job openings to 400-500 job openings nationwide.
A shift back to % of collections compensation models and away from guaranteed salaries.
Increase in early retirements of established dermatologists.
However, it is not all bad news. Mr. Lebow stated that it may be a great time to buy an existing practice because revenues were down in 2020. Moreover, it was noted that the negative trends were likely to reverse once the pandemic is better controlled and that practices were now up to approximately 90% of pre-COVID profit levels.
When looking at the demographic changes in the United States during the pandemic, the states with the largest net gain of new residents were North Carolina, Oregon, Arkansas, Kentucky, and Maine.
Know yourself
Due to the numerous practice settings that dermatologists enjoy, it is important to self-reflect and prioritize the things that are most meaningful to you as a doctor. Do you enjoy helping patients feel their best by performing cosmetic procedures? How much research do you want to do? Do you enjoy rounding on complex medical dermatology patients in the hospital? Do you find enjoyment in seeing 35-45 patients a day?
The main practice options open to dermatologists are private practice (solo and group), corporate, academia, multi-specialty, and practice management partners. These settings all have their own unique advantages and disadvantages as highlighted nicely by Ms. Campbell in the tables below: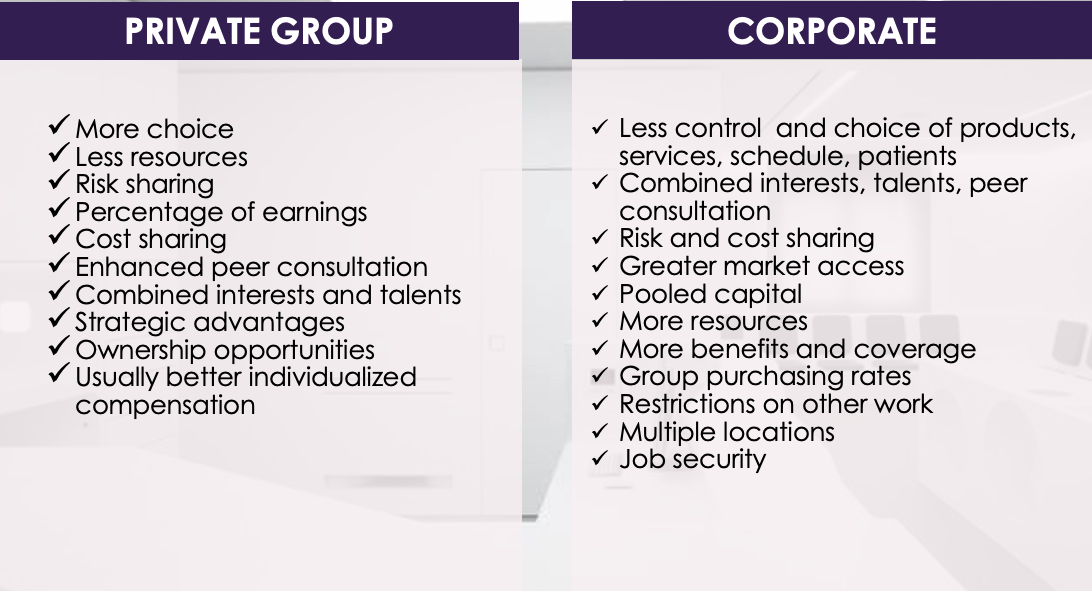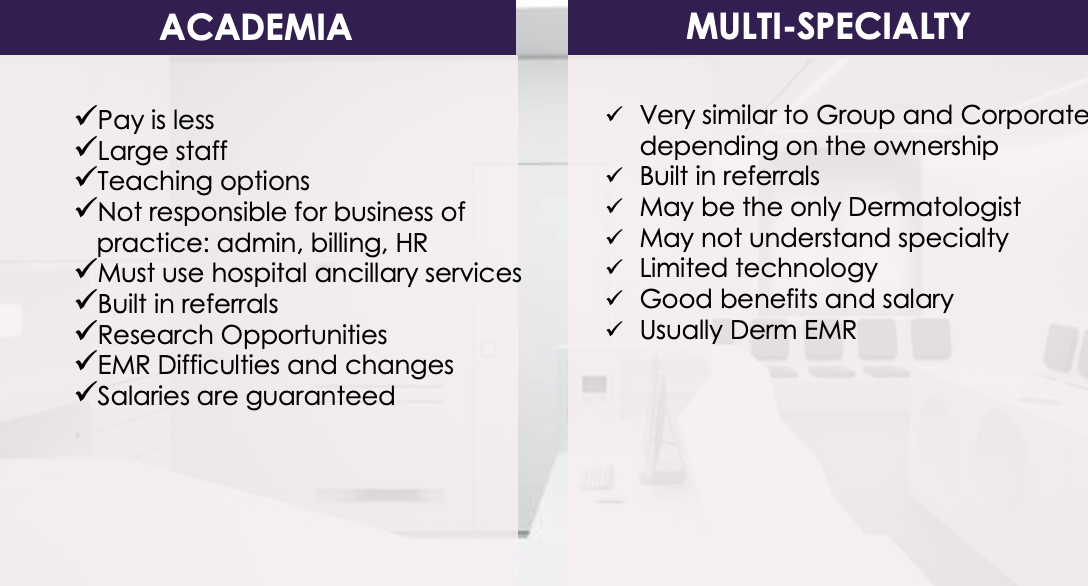 Mr. Lebow recommends taking a few part-time jobs to get a sense of the different types of practice environments, such as corporate venture capital owned vs. small private practice.
Employment Contract Negotiations
The second portion of this talk involved contract tips by Ron Lebow, Esq. My main takeaways from his talk were:
Ask about ensuring you receive accounts receivable after contract termination. If you do not have this provision in the contract, you may not get compensated for work you did in your final months of employment.
Don't be fixated on the term period of a contract, as renegotiations can happen at any time. The true term is how much notice is required for termination or resignation. If you can be terminated on 60 days' notice, then it is really a 60 day contract. Knowing what is going to happen in the future matters more, such as when will you receive salary, bonus incentive or vacation increases, and will partnership happen after being there for a while? Future expectation can be contractually addressed.
Compensation: Always ask for more! This includes higher compensation, either initially or over time. The worst they can do is say "no". Rarely are sign on bonuses offered up front but they may have budgeted for this request. Check MGMA data for your specific practice setting as a starting point. For compensation or bonuses based on a % of collections, ask for threshold increases based on productivity, such that as the collections in a given contract year reach a certain point, there is a corresponding % increase for a larger piece of the excess.
Duties, Days and Hours. Be SPECIFIC about call, fair apportionment of patients based on both payor source and type of service, and if you will work in multiple locations.
Restrictive covenants and non-compete agreements. Make sure you understand this language in your contract and know what you are agreeing to. This often can be negotiated to an extent.
Overall, I found these talks to be extremely insightful because as residents, this is not a regular part of our training. Understanding the nuances of the breadth of dermatology career choices and how to advocate for yourself in contract negotiations sets us up to better help our patients in ways that fulfill our career aspirations.
References
Glazer AM, Farberg AS, Winkelmann RR, Rigel DS. Analysis of Trends in Geographic Distribution and Density of US Dermatologists . JAMA Dermatol. 2017;153(4):322–325. doi:10.1001/jamadermatol.2016.5411
This information was presented by Ron Lebow, Esq. and Kim Campbell  at the ODAC Conference held January 14-17, 2021. The above highlights from their lecture were written and compiled by Sang Kim, MD.
Did you enjoy this article? Find more on Navigating Your Career here.