Melanoma remains the most common cause of death among skin cancers.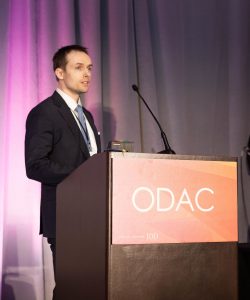 Over the past decade, major leaps have been made in treating advanced melanoma, resulting in unprecedented improvement in survival. Nevertheless, a large room for improvement is still ahead. In his presentation Therapeutic Updates in Melanoma: IO for Earlier Stage Disease presented at the 2020 ODAC Dermatology, Aesthetic and Surgical Conference, Dr. Miller discussed the emerging use of immunotherapies for resectable melanoma.
Approved Therapies for Advanced Melanoma
FDA approved therapies for unresectable melanoma currently in practice include immunotherapies targeting CTLA-4 (ipilimumab) or the PD1-PDL1 pathway such as nivolumab and pembrolizumab, or the herpes-derived immunotherapy talimogene laherparepvec (TVec). Oncogene-directed therapies mainly target the MAPK pathway and include trametinib, dabrafenib, and vemurafenib among others.
Importantly, over the past 5 years, new therapeutics were approved as adjuvant therapies for resected melanoma, including ipilimumab, nivolumab, pembrolizumab, and combination dabrafenib and trametinib.
In unresectable melanoma, 5-year overall survival (OS) is 34% with dabrafenib plus trametinib (Median survival ~ 26 months)1. In the checkmate 067 trial2, combination of nivolumab plus ipilimumab yielded 52% 5-year survival, compared to 44% with nivolumab and 26% with ipilimumab.
Approved Adjuvant Therapies for Resected Stage III and IV Melanoma
Until 2015, IFNα-2 was the only approved adjuvant therapy for resected melanoma. Since then, ipilimumab, nivolumab, pembrolizumab, and combination dabrafenib plus trametinib were approved as adjuvant treatments.
In the EORTC 180713, comparing ipilimumab versus placebo in patients who underwent adequate resection of lymph nodes, 5-year OS was 65.4% with ipilimumab and 54.4% with placebo.
In the CHECKMATE 238 trial in resected stage III or IV melanoma4, recurrence-free survival (RFS) at 1 year was 70.5% with nivolumab compared to 60.8% with ipilimumab.
The KEYNOTE-054 trial in resected stage III melanoma showed that pembrolizumab conferred 75.4% RFS at 1 year, versus 61.0% with placebo5.
Similar to immunotherapy, adjuvant dabrafenib plus trametinib in stage III BRAF-mutated melanoma resulted in longer relapse-free survival (54% at 4 years) than placebo (38%)6.
Therefore, adjuvant treatment options for resected melanoma currently include:
– Pembrolizumab or Nivolumab for BRAF WT and V600 mutant tumors
– Dabrafenib/Trametinib, Pembrolizumab or Nivolumab for BRAF V600 mutant tumors
Adjuvant Therapy for Resected Stage II Melanoma
Ongoing trials are investigating immunotherapies for high-risk stage II melanoma. The MK-3475-716/KEYNOTE-716 trial (Clinicaltrials.gov NCT03553836) is underway to evaluate the safety and efficacy of pembrolizumab compared to placebo in resected stage IIB-C melanoma.
Neo-adjuvant Therapy for Melanoma
Neo-adjuvant approaches in melanoma are being pursued because they have the potential to:
– Reduce tumor burden and facilitate resection
– Provide potentially valuable information regarding response
– Provides insight into mechanisms of resistance and response
– Enable identification of biomarkers for response and survival
Neo-adjuvant immunotherapy:
In the OpACIN study7, 20 patients were randomized to receive 2 cycles of neoadjuvant ipilimumab plus nivolumab versus placebo prior to tumor resection, followed by ipilimumab plus nivolumab in both groups after resection, with a total of 4 cycles in each group. This study suggested that neoadjuvant therapy could provide an advantage, with 2/10 relapses in the neoadjuvant/adjuvant group, versus 4/10 in the adjuvant only group after 2 years.
In resectable stage III-IV melanoma (N=21), neoadjuvant ipilimumab plus nivolumab versus neoadjuvant nivolumab were compared, and both arms received adjuvant nivolumab post-resection. At 2 years, progression-free survival was 81% with ipilimumab plus nivolumab and 56% with nivolumab alone. Importantly, grade III adverse events were 73% in the former versus 8% in the latter8.
Neo-adjuvant oncogene-directed therapy:
In the COMBI-Neo study9, patients with resectable stage III/IV BRAF V600E/K mutated melanoma (N=21) received Dabrafenib plus Trametinib pre- and post-op versus placebo pre-op and optional adjuvant post-op. Strikingly, median event-free survival was 19.7 months with the first arm, compared to 2.9 months in the latter.
Summary
-Immune-checkpoint inhibitors and oncogene-targeted therapies demonstrate substantial activity in late-stage disease
-Newer approaches including neoadjuvant and adjuvant strategies aim to improve outcomes in patients with both high risk locoregional and resectable metastatic disease
-Early referral to medical oncology for consideration of systemic therapy may be appropriate for high-risk stage II and stage III melanoma
References
Robert C, Grob JJ, Stroyakovskiy D, et al. Five-Year Outcomes with Dabrafenib plus Trametinib in Metastatic Melanoma. N Engl J Med. 2019;381(7):626-636.
Larkin J, Chiarion-Sileni V, Gonzalez R, et al. Five-Year Survival with Combined Nivolumab and Ipilimumab in Advanced Melanoma. N Engl J Med. 2019;381(16):1535-1546.
Eggermont AM, Chiarion-Sileni V, Grob JJ, et al. Prolonged Survival in Stage III Melanoma with Ipilimumab Adjuvant Therapy. N Engl J Med. 2016;375(19):1845-1855.
Weber J, Mandala M, Del Vecchio M, et al. Adjuvant Nivolumab versus Ipilimumab in Resected Stage III or IV Melanoma. N Engl J Med. 2017;377(19):1824-1835.
Eggermont AMM, Blank CU, Mandala M, et al. Adjuvant Pembrolizumab versus Placebo in Resected Stage III Melanoma. N Engl J Med. 2018;378(19):1789-1801.
Hauschild A, Dummer R, Schadendorf D, et al. Longer Follow-Up Confirms Relapse-Free Survival Benefit With Adjuvant Dabrafenib Plus Trametinib in Patients With Resected BRAF V600-Mutant Stage III Melanoma. Journal of clinical oncology : official journal of the American Society of Clinical Oncology. 2018:Jco1801219.
Blank CU, Rozeman EA, Fanchi LF, et al. Neoadjuvant versus adjuvant ipilimumab plus nivolumab in macroscopic stage III melanoma. Nature medicine. 2018;24(11):1655-1661.
Amaria RN, Reddy SM, Tawbi HA, et al. Neoadjuvant immune checkpoint blockade in high-risk resectable melanoma. Nature medicine. 2018;24(11):1649-1654.
Amaria RN, Prieto PA, Tetzlaff MT, et al. Neoadjuvant plus adjuvant dabrafenib and trametinib versus standard of care in patients with high-risk, surgically resectable melanoma: a single-centre, open-label, randomised, phase 2 trial. The Lancet Oncology. 2018;19(2):181-193.
This information was presented by Dr. David Miller at the 17th ODAC Dermatology, Aesthetic and Surgical Conference held January 17th-20th, 2020 in Orlando, FL. The above highlights from his lecture were written and compiled by Dr. Saleh Rachidi, PGY-4 dermatology resident at John Hopkins, and one of the 7 residents selected to participate in the Sun Young Dermatology Leader Mentorship Program (a program supported by an educational grant from Sun Pharmaceutical Industries, Inc.).
Did you enjoy this post? Find more on Medical Dermatology here.