Gabapentin is a well-established treatment option for itch with a reassuring safety profile that does not require continued lab monitoring. Generalized itching is a common cause of visits to the dermatologist and can be difficult to treat, leading to sleepless nights and inability to function. We continue our series, Therapeutic Cheat Sheet, with a closer look at gabapentin.
GABAPENTIN THERAPEUTIC CHEAT SHEET
Compiled by: Blair Allais, MD Reviewed by: Adam Friedman, MD
TRADE NAME
WHAT IS THE MECHANISM OF ACTION OF GABAPENTIN?
Exact mechanism unknown. Structurally related to the neurotransmitter gamma-aminobutyric acid (GABA) but has no effect on GABA binding, uptake or degradation. In vitro studies demonstrate binding with high affinity to the a2d subunit of voltage-activated calcium channels.1 This action thereby reduces calcium influx and the subsequent release of excitatory neurotransmitters, thus increasing the threshold for neuronal excitation.2
WHAT IS GABAPENTIN FDA APPROVED FOR?
Postherpetic neuralgia in adults
Adjunctive therapy in the treatment of partial onset seizures in adult and pediatric patients with epilepsy.1
WHAT ARE THE OFF-LABEL USES OF GABAPENTIN?
Chronic pruritus
Uremic pruritus
Brachioradial pruritus
Nostalgia paresthetica
Scalp dysesthesia
Trigeminal trophic syndrome
Prurigo Nodularis
Penodynia
Vulvodynia
Erythromelalgia
DOSAGE FORMS AND STRENGTHS
Capsules: 100mg, 300mg, and 400mg
Tablets: 600mg and 800mg
Oral Solution: 250mg/5mL
GABAPENTIN DOSING REGIMENS
Postherpetic neuralgia: 300mg on day 1, 300mg BID on day 2, 300mg TID on day 3, increasing as needed up to 1.8-3.6 g/day.2
For chronic pruritus, initial dosing of 300mg/d and can be increased to 1200mg three times per day.3
Should be tapered gradually if discontinuing medication to avoid withdrawal symptoms such as seizures.4
WHAT ARE THE SIDE EFFECTS OF GABAPENTIN?
Drowsiness, sedation, fatigue
Dizziness, ataxia
Peripheral edema
Drug reaction with eosinophilia and systemic symptoms1
Suicidal behavior and ideation1
GABAPENTIN CONTRAINDICATIONS
Hypersensitivity to gabapentin or components of formulation
PREGNANCY
MONITORING
Baseline creatinine
Monitor for depression, behavior changes and suicidality
Schedule 5 controlled substance in many states. Combination of opioids and gabapentin potentially increases risk of acute overdose death.5
CLICK ON THE IMAGE BELOW TO DOWNLOAD YOUR THERAPEUTIC CHEAT SHEET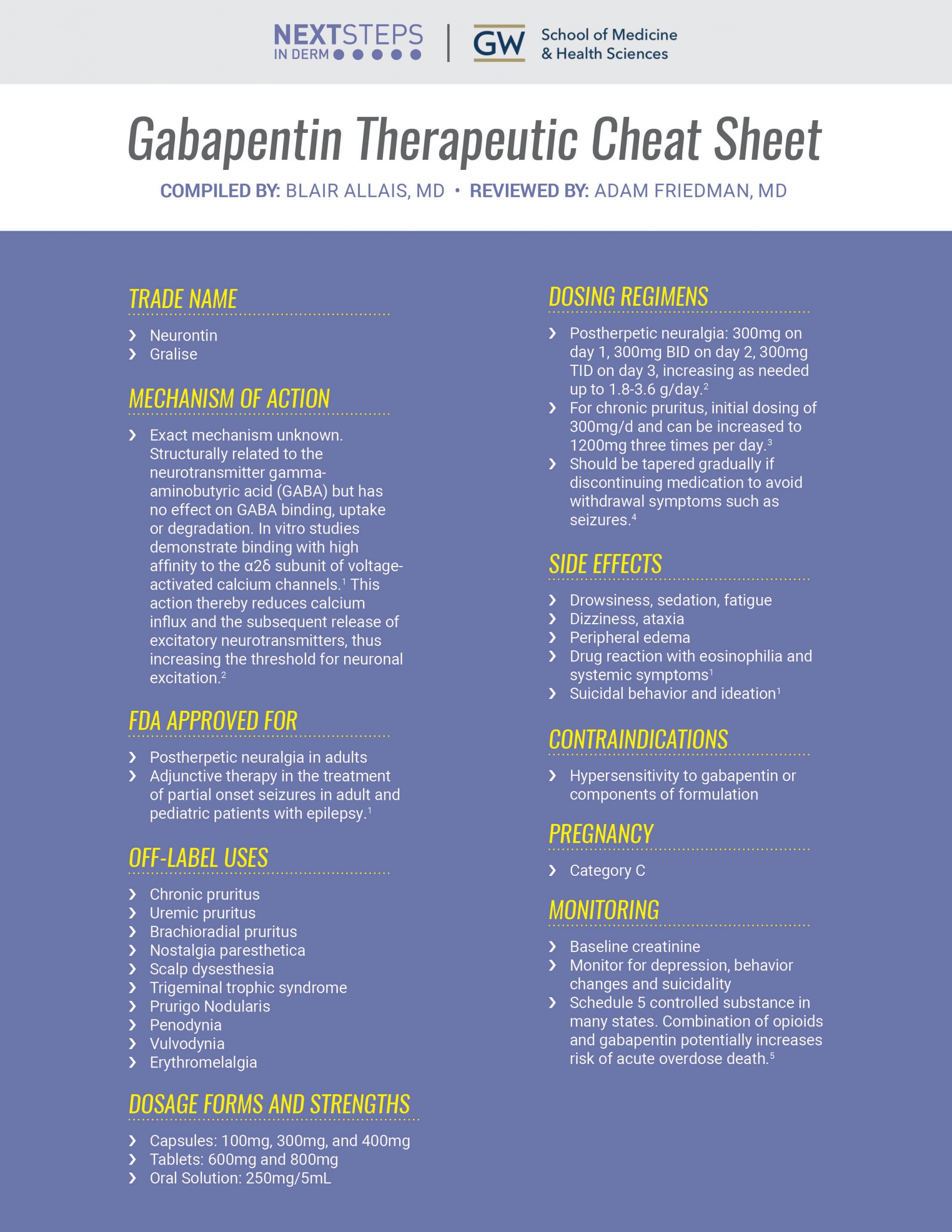 Further Reading On Gabapentin Uses in Dermatology
If you would like to read more about how gabapentin is used in dermatology, check out the following 3 case reports published in the Journals of Drugs in Dermatology:
A Case of Erythromelalgia: Good Response to Treatment With Gabapentin
Ali Murat Ceyhan MD, Ipek Gurses MD, Mehmet Yildirim MD, Vahide Baysal Akkaya MD
ABSTRACT
Erythromelalgia is a rare chronic disorder characterized by intense burning pain, redness, swelling and increased skin temperature. It occurs primarily in the feet, but may also involve the hands, face and ears. Warming of the extremity or placing and maintaining the extremity in a dependent position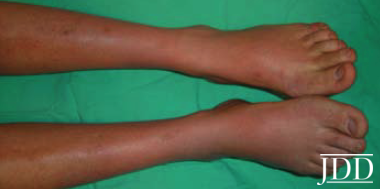 can exacerbate symptoms. These symptoms are typically refractory to various medications, but are relieved by elevation or exposure to cold. Although a specific therapy is not available for erythromelalgia yet, several treatment modalities may be used as therapeutic options, including: aspirin, indomethacine beta-blockers, calcium channel antagonists, misoprostol, diltiazem, tricyclic antidepressants, serotonin reuptake inhibitors and number of more aggressive procedures—such as intravenous lidocaine, epidural anaesthesia, intrathecal opiates and sympathetic ganglion blockade. There are very few reports in the literature of gabapentin successfully treating erythromelalgia. Here, the authors report a case of primary erythromelalgia in a 20-yearold woman responding to gabapentin therapy. READ THE FULL ARTICLE HERE.
A Case of Post-herpetic Itch Resolved With Gabapentin
Jared Jagdeo MD MS, Daniela Kroshinsky MD
ABSTRACT
Herpes zoster is a skin disease encountered commonly in dermatologic practice. While post-herpetic neuralgia (PHN) is a familiar side effect of this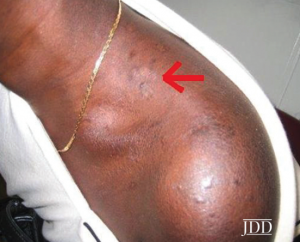 condition, it is not the only neuropathic symptom that can result. Post-herpetic itch (PHI) is less well known, but should be considered when evaluating a patient after an occurrence of zoster. Gabapentin has been successfully used to treat cutaneous pain and pruritus in a variety of conditions. The authors describe a case of PHI successfully treated with a course of gabapentin and propose that this agent be considered for use in patients who present with PHI. READ THE FULL ARTICLE HERE.
The Use of Gabapentin for Recurrent Painful Attacks With Multiple Piloleiomyomas
Reshma Nair Haugen MD, Michael D. Tharp MD
CASE REPORT
Case Report A 49-year-old man presented with a 35-year history of multiple, painful, reddish-brown papules confined to his back. The lesions first appeared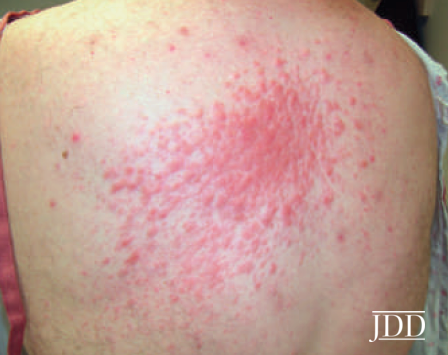 during adolescence and had con-tinued to increase in size and number (Figure 1). The patient's mother and brother had similar, but less extensive, lesions. A biopsy of a lesion revealed piloleiomyoma. The patient reports debilitating, recurrent attacks of acute pain, which had worsened over the last few years. The painful episodes occurred several times throughout the day, either spontaneously or after inadvertent physical stimulation. The pain was aggravated by cold temperatures, stress, and sexual activity. Treatment had included the use of amlodipine and atenolol, as well as a number of topical steroids of varying strengths, with little relief. READ THE FULL ARTICLE HERE.
References
Pfizer Gabapentin Prescribing Information. Revised October 2017. Available at: https://www.accessdata.fda.gov/drugsatfda_docs/label/2017/020235s064_020882s047_021129s046lbl.pdf
Davis LS, Owen CE. Chapter 40: Miscellaneous Systemic Drugs. Comprehensive Dermatologic Drug Therapy. 4th Philadelphia, PA: Elsevier; 2021.
Yesudian PD, Wilson NJE. Efficacy of Gabapentin in the Management of Pruritus of Unknown Origin. Arch Dermatol.2005;141(12):1507–1509. doi:10.1001/archderm.141.12.1507
Norton JW. Gabapentin withdrawal syndrome. Clin Neuropharmacol. 2001;24(4):245-246. doi:10.1097/00002826-200107000-00011
Lyndon A, Audrey S, Wells C, et al. Risk to heroin users of polydrug use of pregabalin or gabapentin. Addiction. 2017;112(9):1580-1589. doi:10.1111/add.13843
Did you enjoy this therapeutic cheat sheet? You can find more here.