While we have an increasing armamentarium of biologic agents and targeted systemic medications for certain dermatologic conditions such as psoriasis or atopic dermatitis, treatment options are still limited for a litany of other inflammatory cutaneous disorders. Additionally, when discussing therapeutic options, patients often opt for medications that are established, safe, well-tolerated and minimally immunosuppressive. In this month's installment of Therapeutic Cheat Sheets, we will discuss the off-label use of oral metronidazole in dermatology.
Oral Metronidazole Therapeutic Cheat Sheet
Compiled by: Adrianna Gonzalez, MD | Reviewed by: Adam Friedman MD
TRADE NAME
METRONIDAZOLE MECHANISM OF ACTION
Metronidazole is an oral nitroimidazole. Nitroimadazoles are prodrugs which enter organisms and are reduced in the presence of low oxygen tension, leading to fragmentation of imidazole and cytotoxicity. The mechanism of action is not entirely clear, but is thought that imidazole metabolites interact and disrupt DNA helices, leading to inhibition of nucleic acid synthesis.1
FDA APPROVED USES OF METRONIDAZOLE
To treat protozoan and anaerobic bacterial infections
OFF-LABEL USES OF METRONIDAZOLE IN DERMATOLOGY
Rosacea (including granulomatous rosacea)
Oral and cutaneous lichen planus
Hidradenitis suppurativa
Periorificial dermatitis
Demodicosis
Tropical ulcers
Cutaneous metastatic Crohn disease2
Granulomatous cheilitis3
Lupus miliaris disseminatus faciei (LMDF)4
Eosinophilic pustular folliculitis5
DERMATOLOGIC DOSING OF METRONIDAZOLE
The most commonly reported dosage of oral metronidazole used in dermatology for adults is 500mg twice daily. However, some authors have reported success in lichen planus and demodicosis at a dose of 250mg every 8 hours6,7 and in LMDF at an even lower dose of 250mg BID4
SIDE EFFECTS OF METRONIDAZOLE
Disulfiram-like reaction when consumed with alcohol
Abdominal pain
Diarrhea
Metallic taste
Headache
Dizziness
Vaginitis
Hepatotoxicity, in the setting of Cockayne syndrome
Neurotoxicity may occur, especially in the setting of prolonged treatment courses as the risk may be cumulative. This may present as peripheral neuropathy, encephalopathy, altered mental status, ataxia, optic neuropathy and seizures.8
Prolonged use may increase risk of certain fungal and bacterial infections, including candidiasis and C difficile infection with associated pseudomembranous colitis
Rare reports of transient leukopenia, neutropenia and thrombocytopenia9
Cutaneous adverse reactions have been reported and include Stevens-Johnson syndrome (SJS) and toxic epidermal necrolysis (TEN), and drug-induced hypersensitivity syndrome (DIHS)
There is a black box warning of carcinogenicity based on animal studies, however, treatment in humans does not appear to increase cancer risk
CONTRAINDICATIONS OF METRONIDAZOLE
Hypersensitivity to drug component
Concomitant alcohol use. It is recommended patients avoid alcohol during treatment and for two additional weeks following treatment
Disulfiram use
Cockayne syndrome
Caution if: hepatic impairment, electrolyte abnormalities, recent myocardial infarction, congestive heart failure, bradycardia, certain arrhythmias such as those involving QT prolongation
SAFETY MONITORING
CBC at baseline and throughout treatment is recommended in the case of prolonged treatment courses. Patients should be closely monitored for the development of neurotoxicity. Close monitoring is also recommended in patients with hepatic and renal disease.10
PREGNANCY
 Contraindicated in the first trimester of pregnancy, as there have been rare reports of teratogenicity including cleft lip and palate. During lactation, milk drug level concentrations are similar to maternal serum concentrations. Therefore, a risk benefit analysis should be performed given the theoretical risk of tumorigenicity based on animal models.10
CLICK ON THE IMAGE BELOW TO ENLARGE AND/OR DOWNLOAD YOUR THERAPEUTIC CHEAT SHEET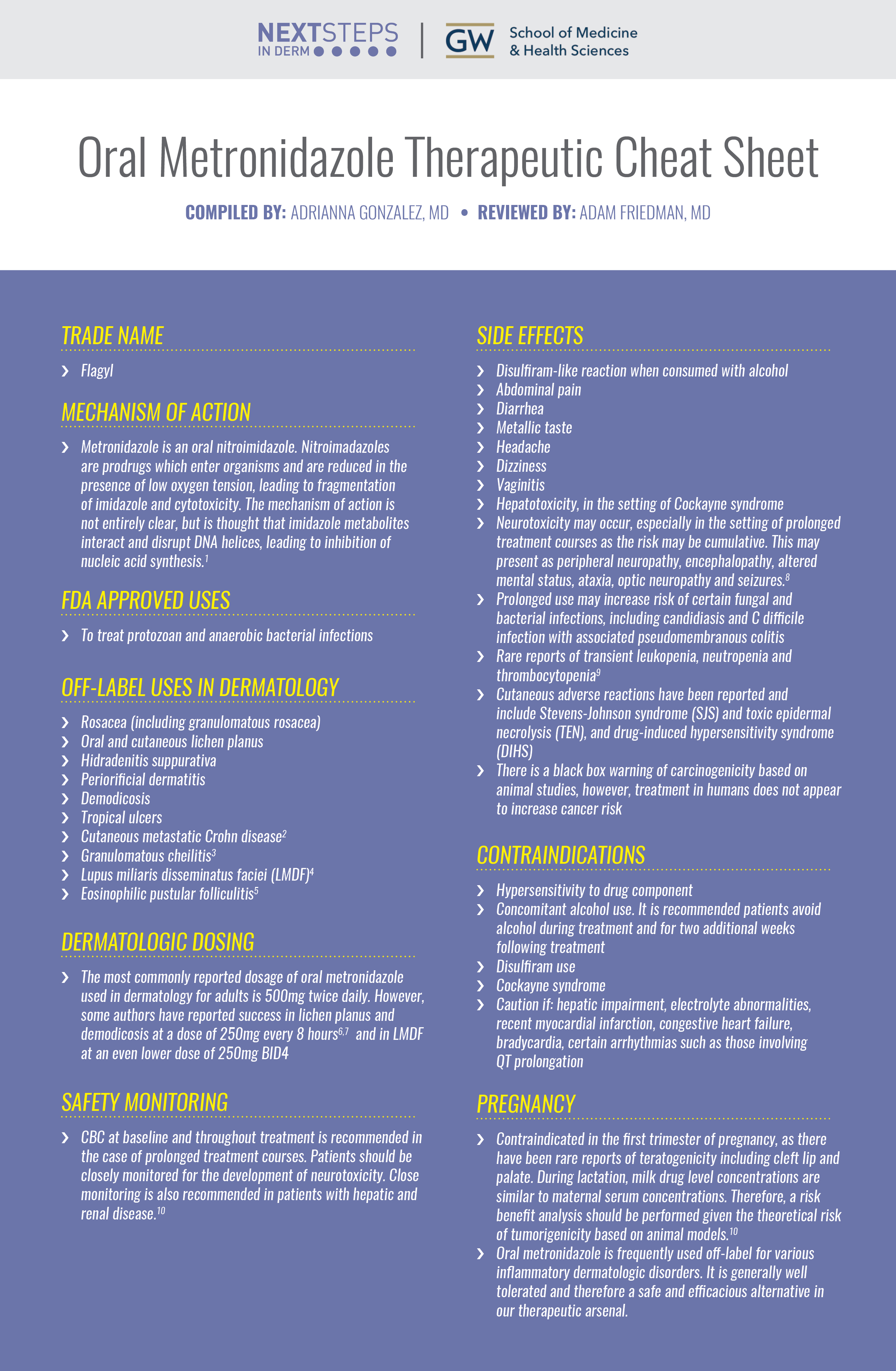 Oral metronidazole is frequently used off-label for various inflammatory dermatologic disorders. It is generally well tolerated and therefore a safe and efficacious alternative in our therapeutic arsenal.
Further Reading
If you would like to read more about the use of metronidazole in dermatology, check out the following articles published in the Journal of Drugs in Dermatology:
Efficacy of Oral Metronidazole in Treatment of Cutaneous and Mucosal Lichen Planus
ABSTRACT
Introduction: Response to different antimicrobial agents supports the infection hypothesis for lichen planus (LP). There are individual case reports describing the improvement of LP with oral metronidazole treatment in patients with concomitant intestinal amebiasis or giardiasis. There are two small studies that reported metronidazole might be effective in some patients with idiopathic LP who did not have concomitant protozoal infections of the intestinal or genital tracts. The authors performed an open trial to evaluate the effectiveness of metronidazole, as a single treatment, on different forms of LP. Patients and Methods: A total of 49 patients, 24 male and 25 female, were selected from the dermatology outpatient clinic with a diagnosis of LP in one of its forms. Metronidazole was administered at 250 mg every eight hours daily without any concomitant therapy. Patients were examined at baseline and at days 21, 42, 63, 84 of treatment, and the follow-up period was three months. The authors used SPSS software (Version 15) for data analysis. Results: A total of 20 (40.82%) skin lesions had complete response (CR) to treatment by metronidazole, 16 (32.65%) had relative healing (PR) and 13 (26.53%) did not improve (NR). The overall treatment response (CR +PR) of LP skin lesions was 73.47 percent in this study. In mucosal involvement, the overall treatment response was 66.6 percent, and finally the overall treatment response for itching was obtained in 75 percent of the cases. Conclusion: Based on the authors' findings, metronidazole can be an alternative therapy in treatment of LP, and is a safe agent to be considered. Read the full article here.
Topical Metronidazole After Discontinuation of Oral Metronidazole for Continuing Treatment of Lichen Planus
References
Dingsdag SA, Hunter N. Metronidazole: an update on metabolism, structure-cytotoxicity and resistance mechanisms. J Antimicrob Chemother. 2018;73(2):265-279.
Chatterjee D, Bhattacharjee R, Khullar G, et al. Metastatic Crohn Disease: A Clinicohistological Appraisal From a Tertiary Care Center in India. Am J Dermatopathol. 2020;42(7):506-512.
Sbano P, Rubegni P, Risulo M, De Nisi MC, Fimiani M. A case of idiopathic granulomatous cheilitis and vulvitis. Int J Dermatol. 2007;46(7):720-721.
Nomura H, Egami S, Kasai H, Yokoyama T, Fujimoto A, Sugiura M. A patient with lupus miliaris disseminatus faciei treated successfully with a combination of oral metronidazole and topical tacrolimus. J Dermatol. 2014;41(7):645-646.
Inaoka M, Hayakawa J, Shiohara T. HIV seronegative eosinophilic pustular folliculitis successfully treated with metronidazole. J Am Acad Dermatol. 2002;46(5 Suppl):S153-155.
Rasi A, Behzadi AH, Davoudi S, et al. Efficacy of oral metronidazole in treatment of cutaneous and mucosal lichen planus. J Drugs Dermatol. 2010;9(10):1186-1190.
Schaller M, Sander CA, Plewig G. Demodex abscesses: clinical and therapeutic challenges. J Am Acad Dermatol. 2003;49(5 Suppl):S272-274.
Datta AK, Chakraborty U, Mukherjee A, Dutta A, Malakar S, Chandra A. Metronidazole Induced Neurotoxicity: A clinico-radiological diagnosis. Sultan Qaboos Univ Med J. 2022;22(1):149-151.
Smith JA. Neutropenia associated with metronidazole therapy. Can Med Assoc J. 1980;123(3):202.
Pfizer. Flagyl (metronidazole) [package insert]. U.S. Food and Drug Administration website. https://www.accessdata.fda.gov/drugsatfda_docs/label/2013/020334s008lbl.pdf. Revised 2013. Accessed 2022. In.
Did you enjoy this Therapeutic Cheat Sheet? You can find more here.