Glamour recently posted an article on the rise of the "Botox Bar." These aesthetics bars offer injectables in a consumer-friendly manner reminiscent of upscale nail salons and blowout bars. How should dermatologists respond?
For an expert opinion, I consulted Heidi A. Waldorf, MD, associate clinical professor of dermatology, Icahn School of Medicine at Mount Sinai, New York. Dr. Waldorf is in private practice in Nanuet, N.Y.
What safety concerns do you have with "Botox Bars?"
The major problem is that "Botox Bars" reduce injectables – a medical procedure – to  the level of a hair blow out or makeup application. Injectables are just that – the injection of botulinum toxin, a medication, or fillers, which are regulated as devices, into your body. While the safety profile is excellent when done by board-certified core cosmetic physicians, the potential complications are serious. The injector must be able not only to inject in the best way for safety and outcome, but also to be prepared to handle any and all adverse effects.
Another concern is the paint by numbers approach to treatment that is the standard at these walk-in "Botox Bars."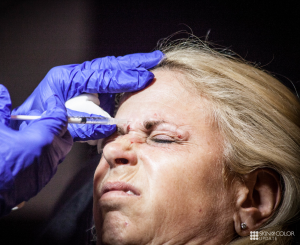 The non-physician injectors who are their providers don't have the foundation in anatomy or aesthetics that provide the necessary respect for the anatomy or allows them to develop the artful eye. Their basic training generally comes from industry and is limited to on-label indications. The walk-in nature of these places also decreases the likelihood of establishing a long-term relationship with patients: following their results over time is critical to providing the best results.

What steps can dermatologists take to address safety concerns with this trend?
As board-certified dermatologists, we must provide a higher level of care. That means attending academic surgical and aesthetic meetings taught by expert injectors. The annual ASDS and ASDS regional meetings are easily accessible. Dermatologists who want to call themselves cosmetic experts should spend time watching CME injection videos, studying the relevant anatomy and making a point to look at faces in person and in art. Remember aesthetics is medicine and should not be taken less seriously than treating psoriasis or skin cancer.
Did you enjoy this Patient Buzz article? Find more here.
Next Steps in Derm is brought to you by SanovaWorks.