Although the term "rosacea" is derived from the Latin adjective meaning "like roses," those who suffer from it, myself among them, will tell you that there is nothing beautiful, sweet, or fragrant, about life with this chronic, inflammatory vascular condition. Much to the contrary, rosacea is a pesky thorn in one's side. As roses have appeared in literary tropes for centuries, so too have descriptions of rosacea. The French surgeon Dr. Guy de Chauliac in the 14th century wrote of goutterose, couperose ("pink droplets"), and pustule de vin ("pimple of wine"). And because art imitates life, there is even a painting hanging in the Louvre— Ghirlandaio's "The Old Man and his Grandson" from the 1480s—that depicts an elderly gentleman with rhinophyma.
Despite having had the opportunity to see rosacea in art and life for centuries, many dermatologists are late to the table when it comes to recognizing rosacea in skin of color. At the 2019 Skin of Color Update that recently took place in New York City, however, Dr. Fran Cook Bolden aimed to catch us all up to speed in how to recognize rosacea in more richly pigmented skin. Her lecture on Rosacea: Nuances in Clinical Presentation and Treatment was brimming with practical tips on how to identify the often subtle and overlooked ways that rosacea can manifest in skin of color.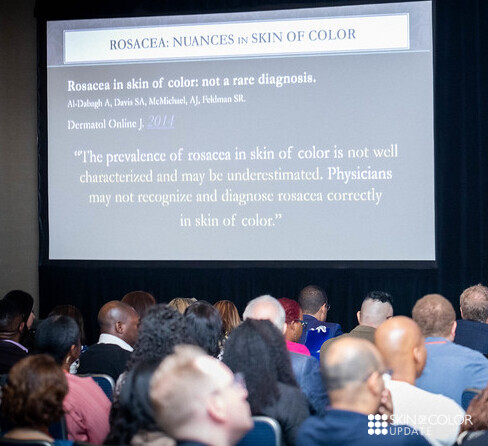 This post will provide an overview of the following:
Clinical considerations when treating skin of color patients with rosacea
Tricks for helping you diagnose rosacea in skin of color patients
Mimickers of rosacea in skin of color patients
But first, let me share a few of the "A-ha" moments that I experienced during Dr. Cook-Bolden's lecture, in the hope that they will entice you to read on…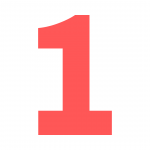 Your dermatoscopes aren't just for diagnosing cutaneous neoplasms anymore—read on to learn how they can be put to use when considering rosacea in your skin of color patients.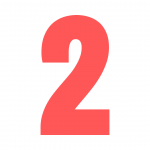 What you don't see can be just as important as what you do see when trying to discern whether your skin of color patients have rosacea. Want to know what you aren't looking for? Read on!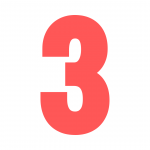 And if you can't see it, ask your patients whether they feel it! Stay with me to learn about Dr. Cook-Bolden's tips for teasing out this diagnosis in the absence of convincing clinical findings.
Rosacea in Skin of Color
Because rosacea can have a nuanced presentation in skin of color (SOC), with erythema and telangiectasias that may be difficult to discern in the setting of increased background pigmentation, it was incorrectly assumed for a long time to simply not be there. The reality is that the prevalence of rosacea in SOC is not well characterized but is likely underestimated.1Dermatologists who see a large number of SOC patients, however, will tell you that rosacea is by no means rare in this population. And I am one of these dermatologists—at my Howard University clinic, where I see predominantly black and Hispanic patients, I see several of cases of rosacea every week.
And because a diagnosis not considered is a diagnosis not made, there is often unnecessary progression of rosacea in SOC patients that results from delayed and/or inaccurate diagnosis, which in turn engenders inappropriate or inadequate treatment.1As a consequence, this can lead to morbidity in the form of disfiguring, occasionally irreversible cutaneous findings, as well as intense and chronic emotional distress.1
PEARLS for diagnosing rosacea in SOC (namely FST V – VI)
Look for the nuanced clinical findings!!
Fixed centrofacial erythema may appear more reddish/violet
A patient complains of "acne," but has no comedones. Additionally, papules and pustules are superimposed on an erythematous background. Inflammatory papules may also appear on the chest and back.
Telangiectasias can be difficult to appreciate with the naked eye in FST V – VI, so use your dermatoscope to help you find them
Check for scleral injection, which may be a sign of ocular rosacea. Be aware that the onset of ocular findings may proceed cutaneous ones.
Phymatous rosacea is a giveaway!
Facial edema of the upper 2/3 of the face in a patient who has complained of longstanding rosacea symptoms may represent progression to Morbihan disease. Case in point (quite literally)—a poster that I presented at the Skin of Color Update highlighted a case of Morbihan disease in a black man who had reported symptoms of rosacea to his non-dermatology providers for 16 YEARS before he came to see me and received a correct diagnosis. To learn more about this case, and Morbihan disease, check out Dr. Lola Adekunle's interview with me here.
Pertinent negatives are just as important as pertinent positives. Know that post-inflammatory hyperpigmentation (PIH) is ALMOST NEVER directly related to rosacea unless the disease is very chronic and severe OR if the patient has been injured their skin in some way while trying to self-treat disease manifestations (picking at lesions, using harsh topical therapies)
And if you can't find the findings, ask about the symptoms!!
Has your patient been experiencing burning and stinging of the face?
You might not be the only one who doesn't see that the patient is flushed—sometimes they don't realize it either! Alternatively, patients might not have the same notion of "flushing" in mind as you do. To get everyone on the same page, ask the patient whether their face sometimes experiences a "warm sensation."
To this last point, you can also ask your patient: "Do you think your face is red?"
If the patient's face is relatively clear during the visit, ask about a history of "red bumps or pimples."
Don't forget to ask about classic rosacea triggers (extremes of temperature, alcohol, spicy food, emotional stress, UV exposure, or anything else) that might provoke any of the aforementioned findings.
Finally, ask about ocular symptoms such as burning, stinging, photosensitivity, foreign body sensation,2 and specifically a gritty feeling in the eyes as these may exist concurrently with cutaneous findings (or even precede them)!
Rosacea mimickers in skin of color
Acne: Will usually have associated comedones and usually PIH, but no flushing or telangiectasias. Rosacea is often misdiagnosed as acne in all skin types, including SOC, so look carefully!
Seborrheic dermatitis: Look for greasy scaling, as well as other areas that are classically affected (scalp, eyebrows, ears). Know that seborrheic dermatitis and rosacea can present concurrently. Seborrheic dermatitis is also more likely to cause pigmentary changes in SOC, such as hyper or hypopigmentation.
Contact dermatitis: Will lack papules, pustules, flushing, and telangiectasias, but will often feel itchy. Lesion distribution can also provide clues that support an "outside job."
Steroid dermatitis: Ask the patient about a history of chronic topical steroid use, and whether the lesions flare when they try to wean off of them.
Lupus: Though a malar rash can present similarly to the centrofacial erythema of rosacea, the former will spare the nasolabial folds, and also lack of papules and pustules. But this distinction can be difficult to make by physical exam alone, and a biopsy and serologic testing are often needed.
Sarcoidosis: May or may not be markedly erythematous, and to make things even more confusing, can also present with papules! Look for a subtle difference in color—the papules of sarcoidosis are usually more yellowish to reddish-brown.
Dermatomyositis: Look for a heliotrope rash and other cutaneous findings such as Gottron papules and poikiloderma. Don't forget to ask about muscle pain and weakness.
What other findings or questions help you make the diagnosis of rosacea in your skin of color patients? Have you found that your skin of color patients with rosacea have experienced delayed diagnosis? What is your rosacea treatment ladder?
Please share your comments at the end of this post, and on Instagram @nextstepsinderm!
Dr. Fran Cook-Bolden is the Founding Associate Director of the Skin of Color Center and Founding Director and former owner of Skin Specialty Dermatology. She is currently a clinical assistant professor of Dermatology at Mount Sinai Health Systems and Director of Fran E. Cook-Bolden, Md-Dermatology & Wellness Cosmetic & Laser Surgery, New York and the Ethnic Skin Specialty Group. 
This information was presented by Dr. Fran Cook-Bolden at the 2019 Skin of Color Update held September 7-8 in New York City. The above highlights from her lecture were written and compiled by Dr. Kimberly Huerth, Chief dermatology resident at Howard University in Washington DC.
Image Credits:
Patient images are courtesy of the Journal of Drugs in Dermatology
https://jddonline.com/articles/dermatology/S1545961619P0608X/3/
Did you enjoy this post? Find more articles on Skin of Color Derm Topics here.
Next Steps in Derm is brought to you by SanovaWorks.