Acne vulgaris is one of the most common reasons for visiting the dermatologist. Topical retinoids are a mainstay of and considered first-line treatment, but patients often face issues with tolerability, which can impact adherence to therapy. We continue our series, Therapeutic Cheat Sheet, with a closer look at the recently FDA approved trifarotene.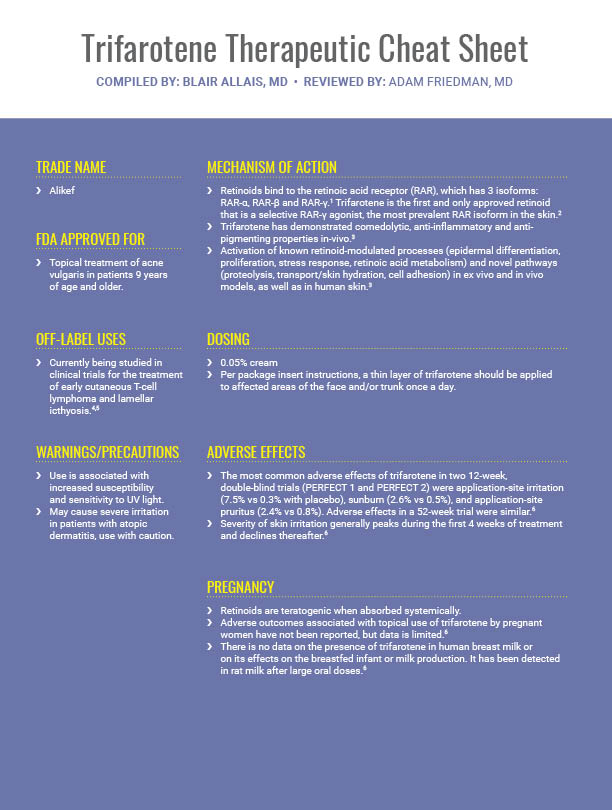 Trifarotene is a newly approved topical retinoid that has proven safety and efficacy in the treatment of acne vulgaris. Because of its selectivity for RAR-γ, trifarotene may have promising tolerability and efficacy compared to other topical retinoids, but ultimately further research and head-to-head comparison trials are needed.
Further Reading
If you would like to read more about trifarotene, check out the following 2 articles published in the Journals of Drugs in Dermatology:
Anna L. Chien, MD
ABSTRACT
Acne vulgaris is the most common skin condition affecting adolescents and young adults with a tremendous psychosocial impact. Its pathogenic hallmarks include follicular dyskeratosis, increased sebum production, and inflammation induced by Cutibacterium (formerly Propionibacterium) acnes within the follicle. Retinoids, derived from vitamin A, are the mainstays of acne treatment given they address the key pathogenic pathways of acne. Retinoids exert their effects through the binding of their nuclear receptors leading to downstream biological effects. The understanding of retinoid pharmacology has increased the diversity of retinoids with now both natural and synthetic retinoids available for use. For acne, retinoids can be administered both topically in a variety of formulations and combinations as well as systemically. With judicious use, this class of medication is well tolerated and very efficacious in managing acne. Furthermore, there is evidence showing its role in improving and preventing one of the most challenging post-acne changes, atrophic acne scarring. With a promising topical retinoid, trifarotene, on the horizon, the acne armamentarium will be further broadened to better manage acne and its related sequelae.
James Q. Del Rosso DO, Linda Stein-Gold MD, Charles Lynde MD, Emil Tanghetti MD, Andrew F. Alexis MD MPH.
ABSTRACT
Truncal acne – acne vulgaris involving the chest, back, or shoulders – is thought to be present in more than half of patients with acne. Because the study of acne has been focused on the face, there are sparse data in the literature about the clinical characteristics and management options for truncal acne. It is thought that the pathogenic process is similar between the face and the back, suggesting that treatments studied on the face may be suitable for use on the back. It is not uncommon for patients to omit discussion of truncal acne with their treating physician, and it is likely that non-facial acne is under-diagnosed and under-treated. Scarring and pigmentary problems are common sequelae of acne on the trunk, underscoring the need for early and effective treatment as a preventive measure.
Truncal acne merits consideration and should be more thoroughly studied. Initiating treatment with a topical retinoid combined with an antimicrobial agent is logical for most patients with truncal acne, and mirrors recommendations for facial acne; however, there are additional considerations for truncal acne such as extension of the lesions, risk of antibiotic resistance due to large surface areas treated for a prolonged duration, accessibility of lesions, and discoloration of clothing or bedding due to topical products. Oral isotretinoin is the treatment of choice when truncal acne is severe. This article reviews available information as well as recent recommendations for treatment.
References
Chien A. Retinoids in acne management: review of current understanding, future considerations, and focus on topical treatments. J Drugs Dermatol. 2018;17:s51.
Scott L. Trifarotene: First Approval. 2019; 79:1905-1909.
Aubert J, Piwnica D, Bertino B et al. Nonclinical and human pharmacology of the potent and selective topical retinoic acid receptor-γ agonist trifarotene. Bri J Dermatol. 2018; 179(2):442-456.
CD5789 in Early Cutaneous T-Cell Lymphoma (CTCL). https://clinicaltrials.gov/ct2/show/study/NCT01804335
A Safety, Efficacy and Systemic Exposure Study of CD5789 Cream in Adults and Adolescents with Lamellar Icthyosis. https://clinicaltrials.gov/ct2/show/NCT03738800
Trifarotene (Alikef) – A New Topical Retinoid for Acne. 2020;323(13):1310-1311.
Did you enjoy this Therapeutic Cheat Sheet? You can find more here.