Ruxolitinib (OPZELURA) is a twice daily topical cream that is FDA approved for non-segmental vitiligo and mild to moderate atopic dermatitis1. JAK inhibitors are a class of drugs effective in treating a wide variety of inflammatory conditions. Initially only FDA approved for non-dermatologic conditions such as rheumatoid arthritis and ulcerative colitis, there is now strong evidence that JAK/STAT signaling is a key pathway in numerous skin disorders. This has led to FDA approval of two oral JAK inhibitors for atopic dermatitis as well as another for alopecia areata2. Additionally, they have been shown to be effective in off-label use for a host of other skin diseases and are becoming vital in the therapeutic arsenal of dermatologists3. The major hurdle of systemic JAK inhibition however is the possibility of significant adverse events which makes a topical application that much more desirable. We continue our series, Therapeutic Cheat Sheet, with a closer look at topical ruxolitinib.
Topical Ruxolitinib Therapeutic Cheat Sheet
Compiled by: Adam Rosenfeld, MD, Reviewed by: Adam Friedman, MD
TRADE NAME
GENERIC DOSAGE FORM1
MECHANISM OF ACTION4
Ruxolitnib falls under the drug class known as Janus kinase inhibitors (JAK inhibitors).
Janus kinase (JAK) is a tyrosine kinase family of cytokine receptors (JAK1, JAK2 and JAK3).
In conjunction with signal transducer and activator of transcription (STAT), the JAK family regulates erythropoiesis and thrombopoiesis.
Under physiologic conditions, JAK/STAT pathway activation leads to gene transcription of cytokines and growth factors, resulting in cell growth, differentiation, and apoptosis.
The JAK/STAT pathway therefore regulates hematopoiesis and modulates the immune system.
Ruxolitinib is a selective JAK1 and JAK2 protein kinase inhibitor.
The result of this inhibition is disruption of cytokine and growth factor signaling pathways, leading to a decrease in proinflammatory cytokines and chemokines.
JAK1 is involved in regulating IL-2, IL6 and TNF-alpha while JAK2 is involved with many cellular functions that include proliferation and differentiation.
FDA-APPROVED USE1
The topical short-term and non-continuous chronic treatment of mild to moderate atopic dermatitis in non-immunocompromised adult and pediatric patients 12 years and older whose disease is not adequately controlled with topical prescription therapies or when those therapies are not advisable.
The topical treatment of nonsegmental vitiligo in adult and pediatric patients 12 years of age and older.
LIMITATIONS OF USE/CONTRAINDICATIONS1
Use of Opzelura in combination with therapeutic biologics, other JAK inhibitors or potent immunosuppressants such as azathioprine or cyclosporine is not recommended. 
OFF-LABEL USES5
Alopecia areata
Psoriasis
Seborrheic dermatitis
Lichen planus
DOSING1
No more than 60-gram tube per week or one 100-gram tube per 2 weeks.
Not for intraocular, oral, or intravaginal use.
Atopic Dermatitis

Apply a thin layer twice daily to affected areas of up to 20% body surface area (BSA)
In the phase three clinical trials (TRuE-AD1 and TRuE-AD2), patients were treated for 8 weeks before assessing for efficacy.

8% and 51.3% of patients respectively had at least 2 grade improvement in their IGA scores at 8 weeks.
Although the clinical trials had patients use Opzelura for 8 weeks, incorporating it into a patient's regimen for as needed, long term use is certainly reasonable but should be considered on a case-by-case basis.

Nonsegmental Vitiligo

Apply a thin layer twice daily to affected areas of up to 10% body surface area (BSA)
In the clinical trials (TRuE-V1 and TRuE-V2), after treatment for 24 weeks, 30% of patients received 75% improvement of their vitiligo in both studies.
Patients continued to use Opzelura for another 28 weeks (a total of 52 weeks) with continued improvement in their re-pigmentation.

In practice, it is important to advise patients that it may take 6 months to notice significant improvement in their vitiligo and that they may need to continue it for a longer period if necessary.
SIDE EFFECTS ASSOCIATED1
In atopic dermatitis, the most common adverse reactions (incidence equal or >1%) are nasopharyngitis, diarrhea, bronchitis, ear infection, eosinophil count increased, urticaria, folliculitis, tonsillitis, and rhinorrhea.
In nonsegmental vitiligo, the most common adverse reactions (incidence equal or >1%) are application site acne, application site pruritus, nasopharyngitis, headache, urinary traction infection, application site erythema, and pyrexia.
WARNINGS1
The black box warning as below for Opzelura are based on one study of patients taking JAK inhibitors orally.
The black box warning includes increased risk of:

Serious infection
All-cause mortality
Malignancies
Major adverse cardiovascular events (MACE)
Thrombosis
Thrombocytopenia, anemia, and neutropenia

Since these black box warnings apply to the entire class of JAK inhibitors, they should be discussed with any patient you are considering starting on Opzelura.
However, it is important to emphasize these were largely seen in patients taking an oral JAK inhibitor who had an inflammatory condition independently placing them at an increased risk for severe adverse events.
It is important to be cognizant of the BSA recommendations as above (20% or less in atopic dermatitis and 10% or less in vitiligo) in effort to prevent systemic absorption.
As such, the risk of these adverse events should be viewed as extremely low and would practically only be a consideration if a patient were applying on a very large surface area for a quite a long period of time.
DRUG INTERACTIONS1
Drug interaction studies with Opzelura have not been conducted.
Ruxolitinib is known to be a substrate for cytochrome P450 3A4 (CYP3A4). Inhibitors of CYP3A4 may increase Ruxolitinib systemic concentrations.
However, the chance of any meaningful systemic absorption is low, so this is unlikely to have any clinical relevance.
PREGNANCY/LACTATION1
Available data from pregnancies reported in clinical trials with Opzelura are not sufficient to evaluate a drug associated risk of major birth defects, miscarriage or other adverse maternal or fetal outcomes.
There are no data on the presence of Ruxolitnib in human milk, the effects on the breastfed child, or the effects on mild productions.
In lactating rats, Ruxolitinib was present in their milk. When a drug is present in animal milk, it is likely that the drug will be presents in human milk.
Because of the serious adverse findings in adults, advise women not to breastfeed during treatment with Opzelura and for approximately four weeks after their last dose. 
MONITORING1
Regularly monitor patients for infection and manage it promptly.
Perform periodic skin examinations during treatment and following treatment as appropriate.
Perform CBC monitoring as clinically indicated.
Opzelura is a topical JAK inhibitor that was recently FDA approved for mild to moderate atopic dermatitis as well as non-segmental vitiligo1. The list of inflammatory conditions that oral and topical JAK inhibitors are effective against continues to grow. Although JAK inhibitors have been around for many years, they were mostly used by other specialties for conditions like rheumatoid arthritis or ulcerative colitis. Considering they are now FDA approved for numerous dermatologic conditions and have shown efficacy in off label use, it appears their presence within dermatology will continue to grow.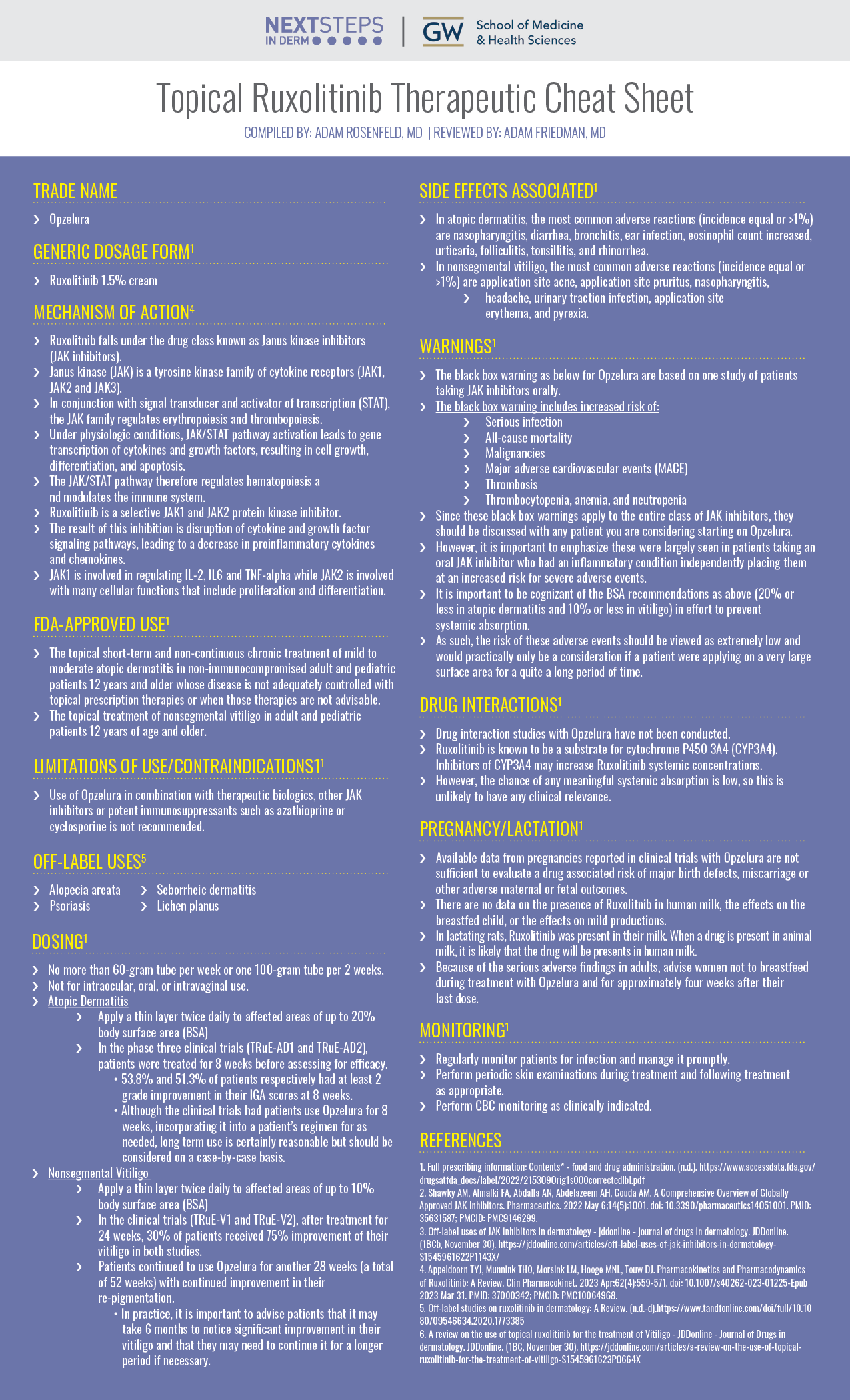 FURTHER READING
A Review on the Use of Topical Ruxolitinib for the Treatment of Vitiligo6
Meghan C Grossmann BS, Wasim Haidari, MD, Steven R. Feldman, MD, PhD
Abstract
Background: This article describes the clinical trial safety, and efficacy of ruxolitinib1.5% cream or re-pigmentation in patients with vitiligo.
Data Sources: A systematic review was done using ruxolitinib or Opzelura in MEDLINE (PubMed) and EMBASE. ClinicalTrials.gov was used to identify ongoing or unpublished studies.
Study selection and Data Extraction: Studies included were written in English and relevant to pharmacology, clinical trials, safety and efficacy.
Data Synthesis: In two 52-week phase 3 trials, 52.0% of subjects had atleast 75% improvement in their Facial Vitiligo Area Scoring Index (F-VASI).
Relevance to Patient Care and Clinical Practice: Ruxolitinib is a topical Janus Kinase (JAK) inhibitor newly approved by the US Food and Drug Administration for re-pigmentation in patients with vitiligo.
Conclusion: Topical ruxolitinib is the first medication approved for re-pigmentation in patients with vitiligo. It is a safe and effective treatment; however, cost may be a barrier to some patients when prescribing the medication. Trials to compare the efficacy and side effect profile of topical ruxolitinib with other topical treatments are still needed.
References
Full prescribing information: Contents* – food and drug administration. (n.d.). https://www.accessdata.fda.gov/drugsatfda_docs/label/2022/215309Orig1s000correctedlbl.pdf
Shawky AM, Almalki FA, Abdalla AN, Abdelazeem AH, Gouda AM. A Comprehensive Overview of Globally Approved JAK Inhibitors. Pharmaceutics. 2022 May 6;14(5):1001. doi: 10.3390/pharmaceutics14051001. PMID: 35631587; PMCID: PMC9146299.
Off-label uses of JAK inhibitors in dermatology – jddonline – journal of drugs in dermatology. JDDonline. (1BCb, November 30). https://jddonline.com/articles/off-label-uses-of-jak-inhibitors-in-dermatology-S1545961622P1143X/
Appeldoorn TYJ, Munnink THO, Morsink LM, Hooge MNL, Touw DJ. Pharmacokinetics and Pharmacodynamics of Ruxolitinib: A Review. Clin Pharmacokinet. 2023 Apr;62(4):559-571. doi: 10.1007/s40262-023-01225-Epub 2023 Mar 31. PMID: 37000342; PMCID: PMC10064968.
Off-label studies on ruxolitinib in dermatology: A Review. (n.d.-d).https://www.tandfonline.com/doi/full/10.1080/09546634.2020.1773385
A review on the use of topical ruxolitinib for the treatment of Vitiligo – JDDonline – Journal of Drugs in dermatology. JDDonline. (1BC, November 30). https://jddonline.com/articles/a-review-on-the-use-of-topical-ruxolitinib-for-the-treatment-of-vitiligo-S1545961623P0664X
Did you enjoy this Therapeutic Cheat Sheet? You can find more here.