At ODAC 2023, we had the opportunity to learn about cicatricial alopecias from renowned dermatologist and hair expert Dr. Amy McMichael, Professor of Dermatology at Wake Forest University School of Medicine.
First, we considered a framework to check for cicatricial alopecias. This is particularly important because if we can identify cicatricial alopecia, we can make sure we are treating the right thing and promote follicular rescue. One framework by which we do this is to characterize each alopecia by the type of infiltrate present.
Lymphocytic forms: chronic cutaneous lupus erythematosus, lichen planopilaris, central centrifugal symmetrical alopecia
Neutrophilic forms: folliculitis decalvans, dissecting cellulitis
Mixed forms: acne keloidalis, erosive pustular dermatosis
Another approach is to identify the alopecia based on how far the alopecia has been going on. Do follicles appear inflammatory or burned out, and is there an opportunity for follicular rescue? The answers to these questions can help you formulate a treatment strategy. Once we use this approach, we identify a variety of different diagnoses within the cicatricial alopecias. However, the cicatricial alopecias are broad, so here we focus on 4 common diagnoses and their important features. These include:
Discoid lupus erythematosus
Frontal fibrosing alopecia (FFA)
Central centrifugal cicatricial alopecia (CCCA)
Acne keloidalis nuchae (AKN) 
Chronic Cutaneous Lupus Erythematosus
The most common type of chronic cutaneous lupus erythematosus, discoid lupus erythematosus, is more commonly found in people of color. Clinically, the disease shows follicular plugging, scaling, hyper or hypopigmentation, and erythema on any area of the scalp that is well demarcated. There may be associated systemic lupus erythematosus and therefore systemic signs, such as joint or skin involvement, may be present. A differential diagnosis should include lichen simplex chronicus, psoriasis, atopic dermatitis, and allergic contact dermatitis.
Tip: Because pigmentary change may be an early finding, biopsy early to identify the disease for prompt treatment.
An interesting feature of this disease is that early pigmentary change maybe seeing versus more advanced follicular change, as shown. Treatment of this disease involves treatment of the systemic lupus if that is present, as well as consideration of corticosteroids, antimalarials (except quinacrine), immunosuppressive agents, or other immunomodulatory agents. 
Frontal Fibrosing Alopecia
FFA is a variant of lichen planopilaris. The incidence of this disease appears to be exploding. Clinically, patients will have progressive recession of the frontotemporal hairline with loss of follicular openings, atrophy of frontal scalp with vessel prominence, perifollicular erythema, hyperkeratosis in active areas, eyebrow loss, and facial papules. Its cause is unclear, but some studies have suggested there may be a link to cosmetics exposure or sunscreens, among other facial skin care products. Still, there remains no direct evidence of causation of FFA from sunscreens and previous studies may face issues of recall bias or temporal ambiguity.
Clinical Tip: Recommend use of physical (inorganic) sunscreen for patients with FFA
In one study of patch testing and FFA patients almost 60% had at least one positive test, while almost 50% had two or more positive reactions. Genome wide association studies have found FFA has susceptibility loci like HLA B*07:02.
FFA can be seen in both black and white patients, but some key differences between the two show:
More facial pigmentation in black patients
More itch in black patients
More frontal recession in black patients
Younger age of onset in black patients
More scale in white patients
The differential diagnosis should include traction alopecia, which classically has a fringe sign and does not have complete loss of the frontal scalp hair unlike frontal fibrosing alopecia. When presenting with eyebrow loss as the initial symptom, FFA usually is more mild. Treatment should be initiated as early as appropriate, and first-line, second-line, and third-line treatments are listed in the table below. 
Clinical Tip: The goal of treatment is follicular rescue before burnout. Combine the treatments above for the best outcome.  
Central Centrifugal Cicatricial Alopecia
CCCA is a disease affecting mostly middle-aged women of African ancestry. It has been associated with uterine leiomyomas and familial inheritance based on PADI3 mutations, which encodes an enzyme that post-translationally modifies other proteins essential to hair shaft formation. This aligns with early presenting signs of CCCA, which can include hair breakage.
The goals of treatment to discuss with your patients with CCCA include:
Recruit remaining hairs back to health
Improve appearance of density
Maintain long-term improvement
For all patients, this should include discussing genetic predisposition, using trichoscopy to determine viable small hairs, performing a biopsy to understand the extent of inflammation or alternative diagnosis, decreasing traumatic styling methods (e.g., traction alopecia), and informing patients about resources available to them through the Scarring Alopecia Foundation and the Skin of Color Society.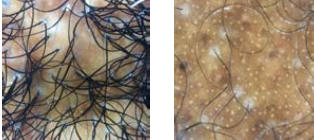 As shown, trichoscopy can help follow treatment, which can even predict the spread of CCCA. Note the image showing perifollicular scale and erythema (showing disease activity), loss of follicular openings (showing burned out disease), and miniaturization of hair shafts (showing ability of follicular recruitment and regrowth). Treatment should be based on the stage of the disease—inflammatory or post-inflammatory, as shown below in the table.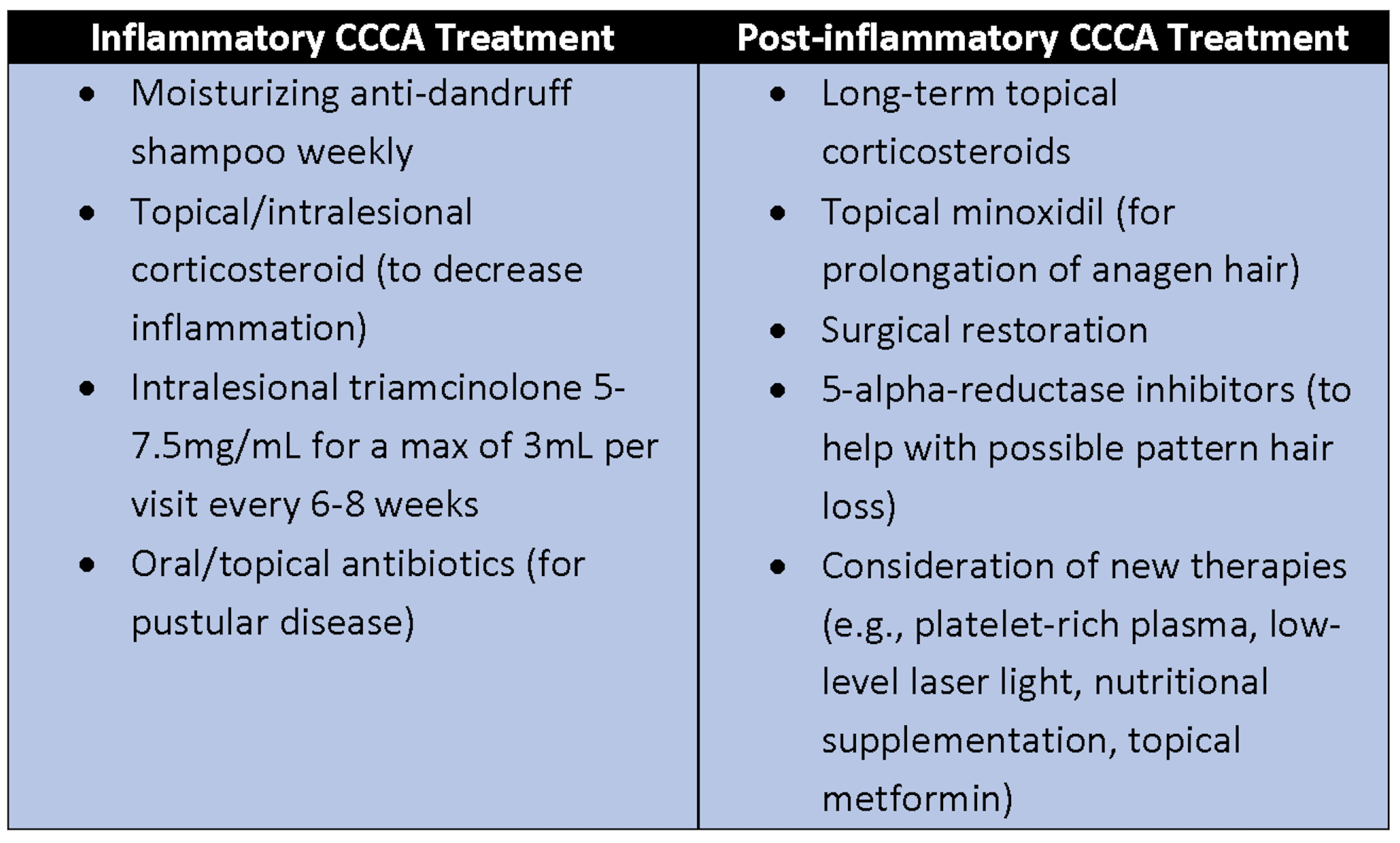 Clinical Tip: Continue inflammatory CCCA treatment until the patient is symptom-free.
Acne Keloidalis Nuchae
AKN presents with follicular, inflammatory papules and macules with alopecia. It has its highest prevalence in African-American men, but it can occur in other populations too. There aren't known genetic associations, and treatment can be very challenging as this disease can be disfiguring and can affect quality of life for patients who have it. The mainstay of treatment includes topical and intralesional steroids, topical and oral antibiotics, and cryosurgery.
It is recommended to not excise the lesions unless you're doing so down to fascia, which may require collaboration with head and neck surgeons. Notice the example of pre- and post-operative changes in this patient who underwent localized cryosurgery, doxycycline, and intralesional corticosteroid treatment six times. For patients like this, procedural management may be essential to consider.
In summary, here are some important tips to keep in mind to master cicatricial alopecias:
Use the dermatoscope to find early or burnt out disease to treat all affected areas
Discuss the known genetics and traction-related hair care practices for CCCA patients
Aggressively manage anti-inflammatory treatments for traction alopecia, FFA, CCCA, and AKN
Tell your patients about the Scarring Alopecia Foundation and about follicular rescue so they may join the fight
References
Al-Refu K, Goodfield M. Scar classification in cutaneous lupus erythematosus: morphological description. Br J Dermatol. 2009;161(5):1052-1058.
Robinson G, McMichael A, Wang SQ, Lim HW. Sunscreen and frontal fibrosing alopecia: A review. J Am Acad Dermatol. 2020;82(3):723-728.
Rudnicka L, Rokni GR, Lotti T, et al. Allergic contact dermatitis in patients with frontal fibrosing alopecia: An international multi-center study. Dermatol Ther. 2020;33(4):e13560.
Tziotzios C, Petridis C, Dand N, et al. Genome-wide association study in frontal fibrosing alopecia identifies four susceptibility loci including HLA-B*07:02. Nat Commun. 2019;10(1):1150. Published 2019 Mar 8.
This information was presented by Dr. Amy McMichael during the 2023 ODAC Dermatology, Aesthetic and Surgical Conference.  The above highlights from hes lecture were written and compiled by Dr. Nishad Sathe. 
Did you enjoy this article? You can find more on Medical Dermatology here.