Actinic keratoses represent the most common dermatologic diagnosis in patients older than 45 years old in the United States and account for 5.2 million visits annually.1 Cutaneous field cancerization represents areas with a high burden of both clinical and subclinical actinic damage. Cryotherapy can often be combined with topical chemotherapy for a synergistic approach. We continue our series, Therapeutic Cheat Sheet, with a closer look at 5-Fluorouracil.
TRADE NAME
Efudex (5% cream, 2% solution, 5% solution) ** (most widely studied formulation)
Fluoroplex (1% cream, 1% solution)
Carac (0.5% cream)
Tolak (4% cream)
MECHANISM OF ACTION
Disrupts DNA synthesis: structural analog of uracil that irreversibly inhibits thymidylate synthetase (which normally converts deoxyuridine→thymidine)
Interferes with RNA synthesis: metabolites are misincorporated into ribonucleic acid.2
In one study, application of radiolabeled 5-FU to diseased or ulcerated skin resulted in a 15 to 75 times greater degree of absorption compared to application on healthy skin, which explains the selective effect of 5-FU for AKs compared to normal skin.3
FDA APPROVED FOR
Actinic keratosis
Superficial basal cell carcinoma (Efudex)
OFF-LABEL USES
Squamous cell carcinoma in situ
Actinic cheilitis
Verruca Vulgaris
Keloid
DOSING
Expected response: erythema → vesiculation → desquamation → erosion →reepithelialization.
Actinic keratosis:

Efudex: Apply cream or solution twice daily in an amount sufficient to cover the lesions until inflammatory response reaches erosion stage (generally between 2-4 weeks).4
Carac: Apply once a day for up to 4 weeks as tolerated.5
Fluoroplex: Apply twice daily for 2-6 weeks as tolerated.6
Tolak: Apply daily for 4 weeks as tolerated.

Superficial BCC:

Efudex: Twice daily for 3-6 weeks.4
ADVERSE EFFECTS
Generally localized to areas of treatment: erythema, irritation, burning, pain, pruritus, hypopigmentation, hyperpigmentation. Allergic contact dermatitis has also been reported.
CONTRAINDICATIONS
Patients who have a deficiency in dihydropyrimidine dehydrogenase (DPD), the enzyme that metabolizes 5-FU, can develop neurotoxicity in addition to severe GI and hematologic toxicity.8,9
Of note, studies indicate that the amount of systemic absorption of topical 5-FU is far less than that of typical absorption when it is delivered intravenously, as in the case of cancer chemotherapy. There have been reports of life-threatening toxicity of topical 5-FU in patients found to have a deficiency in DPD. 9
PREGNANCY
Teratogenic, pregnancy category X
CLICK ON THE IMAGE BELOW TO DOWNLOAD YOUR THERAPEUTIC CHEAT SHEET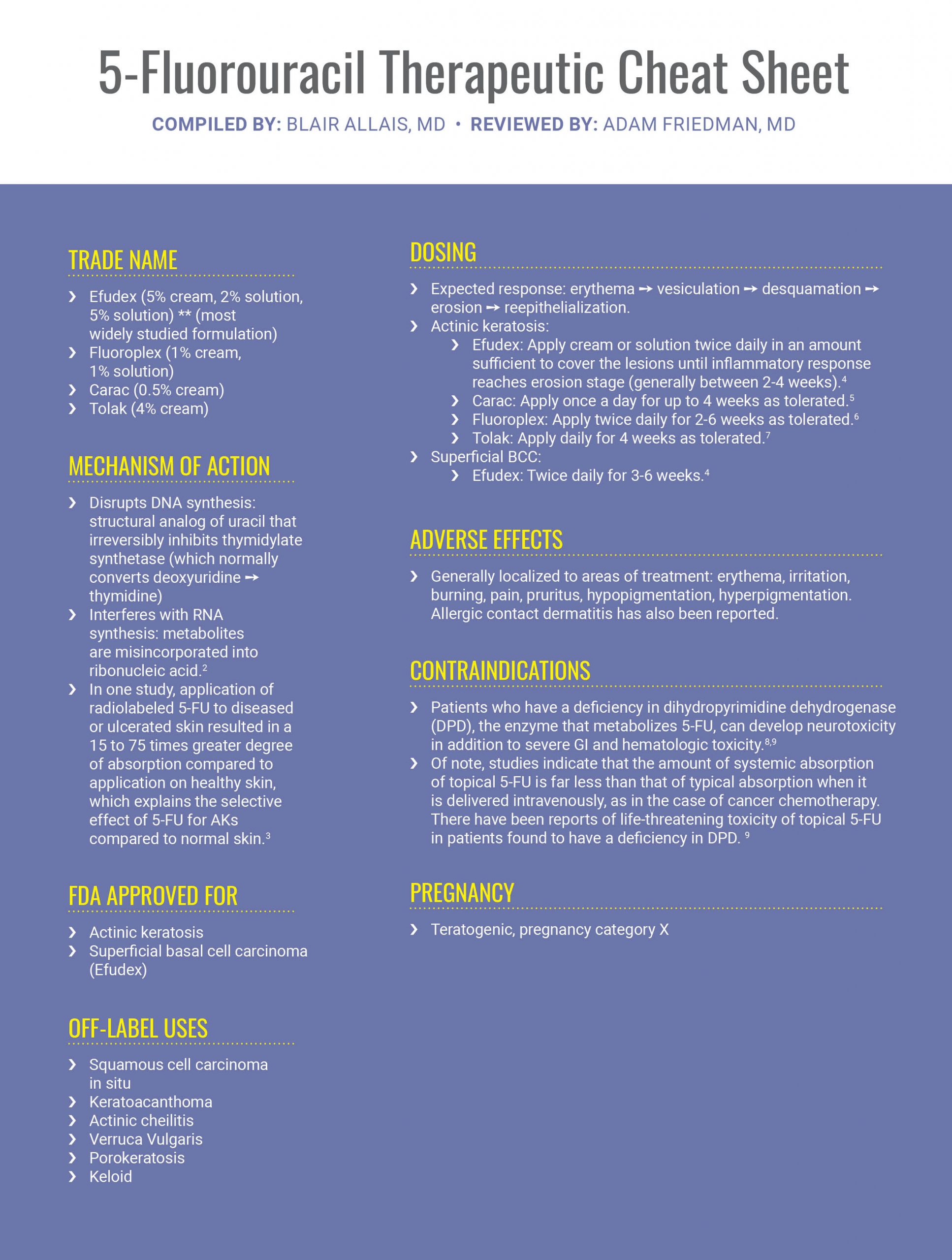 CLINICAL PEARLS  
To control severe inflammatory reactions, can decrease the frequency of application or use topical steroids concomitantly and for 1-2 weeks past cessation of 5-FU (which does not impact efficacy).2
Apply with gloves or wash hands after use.
A recent randomized control trial of 624 patients comparing 5% fluorouracil cream, 5% imiquimod cream, methyl aminolevulinate photodynamic therapy (MAL-PDT) and 0.015% ingenol mebutate gel demonstrated that 5% fluorouracil was significantly more effective for the treatment of multiple actinic keratoses.10
Combination with calcipotriene has a synergistic effect and can lead to shorter treatment courses: in one randomized trial, four-day application of calcipotriol plus 5-FU vs. Vaseline plus 5-FU led to an 87.8% versus 26.3% mean reduction in the number of actinic keratoses in participants (P < 0.0001). It is thought that this effect is mediated through the induction of thymic stromal lymphopoietin (TSLP), HLA class II, and natural killer cell group 2D (NKG2D) ligand expression in the lesional keratinocytes associated with a marked CD4+ T cell infiltration. This peaked on days 10 –11 after treatment, without pain, crusting, or ulceration.11
Authors have noted radiation recall in patients treated with 5-FU, which is important to consider when treating patients.
It is helpful and important to provide photos of expected outcomes when counseling patients prior to prescribing. Authors also ask about work and personal life commitments of patients before planning out when to complete field therapy.
Ultimately, 5-fluorouracil is an excellent treatment option for patients with evidence of field cancerization or multiple actinic keratoses.
FURTHER READING
If you would like to read more about 5-fluorouracil, check out the following 2 articles published in the Journal of Drugs in Dermatology:
Hannah Pederson, Cecil Jordan Staples, Chad Housewright
ABSTRACT
When treating invasive basal cell carcinoma (BCC) with Mohs micrographic surgery (MMS), including infiltrative and nodular subtypes, the goal is complete surgical removal of the tumor. In some cases, after several stages of MMS, residual foci of superficial BCC are noted with no dermal invasive components apparent. Some patients and surgeons have opted for halting surgery and treating residual superficial BCC with adjuvant topical fluorouracil. In this retrospective study, this treatment method is shown to be effective with a recurrence rate of BCC of 3.7% over a mean follow-up of 28 months. This treatment method reduces the number of stages of MMS as the surgery is stopped was invasive BCC is removed. This can be beneficial when considering the morbidity of prolonged surgical procedures in frail, elderly patients experiencing surgical fatigue, the cost of additional stages, and the cost of advanced repairs due to enlarging defect size.
J Drugs Dermatol. 2020;19(5): doi:10.36849/JDD.2020.4811
Peter W. Hashim MD MHS, Tinley Chen BA, Darrell Rigel MD, Neal Bhatia MD, Leon H. Kircik MD
ABSTRACT
Actinic keratosis (AK) develops on chronically sun-exposed skin and constitutes one of the most common diseases managed by dermatologists. The incidence of AKs continues to rise among aging as well as younger sun-damaged populations worldwide, underscoring the importance of effective therapy options. Various treatments are available, including light-based therapies, topical therapies, and destructive therapies. Herein, we review the current management options for AKs and discuss emerging therapeutic agents.
J Drugs Dermatol. 2019;18(5 Suppl 1):s161-166.
Did you enjoy this Therapeutic Cheat Sheet? You can find more here.