Dr. Hanke, a dermatologic surgeon who needs no introduction (but I'll give one anyway!) provided us with an evidence-based discussion of field treatments available for actinic keratoses at ODAC 2021 conference.
Just to name a few of Dr. Hanke's accomplishments, he is the current Senior Vice President of the Skin Cancer Foundation, Senior editor of JDD, and the former president of the AAD, ASDS, ACMS, and International Society for Dermatologic Surgery.
 As if Dr. Hanke's credentials didn't blow my mind enough, I decided to compile a list of the most memorable moments from his lecture:
Field Treatment of AKs: what you should know
Did you know that Actinic Keratoses (AKs) have an incredibly high disease burden? The estimated cost for this condition is up to 900 million USD per year!
When compared head-to-head with other field treatments, 5% 5-Fluorouracil (5-FU) won hands down for efficacy and cost-effectiveness in treating actinic keratoses.
The more aggressive you are with treating actinic keratoses, the better the results. Do not let actinic damage get away from you!
The newer combination of 5-FU PLUS calcipotriene is like getting a vaccine against squamous cell carcinomas (SCCs). It gets rid of AKs but also reduces the number of SCCs developing over several years by inducing a robust T-cell mediated immune response.
I. Actinic Keratoses: the facts
Approximately 37.5% of Caucasian patients >50 years old have actinic keratoses
There are 5 million dermatology visits per year in the U.S. associated with AKs
The yearly cost associated with AKs is between $554 million and $900 million!
The progression of AKs to skin cancer is about 5-10% per AK (range <1% to up to 16%)
Treatments vary but are heavily provider and patient-dependent. The treatment that works is the one that the patient is willing to adhere to
II. Field treatment: which one is the best? 
The below RCT has some answers for us (hint: 5% 5-FU wins).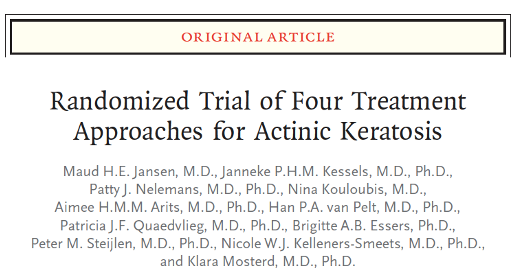 The above RCT was a randomized, single-blind study comparing 4 different field treatments:
5% 5-FU cream
5% imiquimod cream
MAL-PDT
0.015% ingenol mebutate gel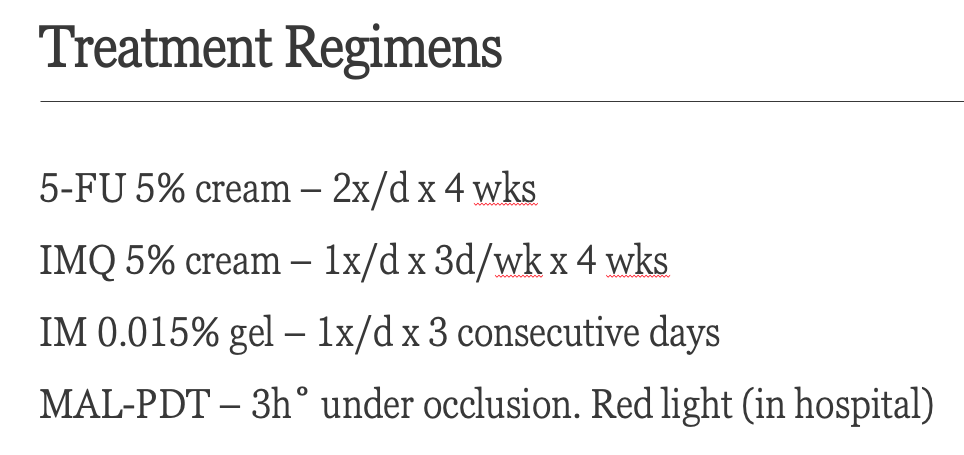 ***NOTE: MAL-PDT is available in Europe only, not in the U.S. In the United States we use ALA-PDT. The above study actually performed MAL-PDT in a hospital setting, because MAL was applied under 3 hours of occlusion—this can be painful, possibly requiring anesthesia.***
Regarding the above treatments, patients were not on systemic treatments for their AKs at least 3 months prior to enrolling in this study and superficial curettage was performed on the hypertrophic AKs prior to treatment with the above therapies.
The authors measured how many AKs had resolved from baseline to an evaluation at 12 months post-treatment. They took into account the proportion of patients that achieved >75% reduction in AKs.
Overall Efficacy: 5-FU was #1
The order of efficacy was:
5-FU (74.7%)  > imiquimod  (53.9%) > > MAL-PDT  (37.7%) > Ingenol mebutate(28.9%)
Regarding other outcomes, see below:
Adherence: overall good to excellent
Ingenol mebutate (100%) >= MAL-PDT (96.8%) > 5-FU= Imiquimod (ie these have the longest treatment duration and are based on patient application, at 4 weeks)
Cosmetic results: all good to excellent
MAL-PDT 96.6%
Ingenol mebutate 95.1%
5-FU 90.3%
Imiquimod 89.7%
Remember, there is less morbidity associated with MAL-PDT and ingenol than 5-FU and imiquimod. Dr. Hanke wonders if the study/subjects were equating/mixing up cosmetic results with morbidity. Patients will get more erythematous, or "angry skin" associated with 5-FU and imiquimod, but this doesn't necessarily equate to overall cosmetic results (i.e. do the patients have baby smooth skin afterward and look younger?).
Cost of treatment
5-FU < Imiquimod < Ingenol Mebutate < MAL-PDT (>3X price of 5-FU)
Cost in the US: GoodRx prices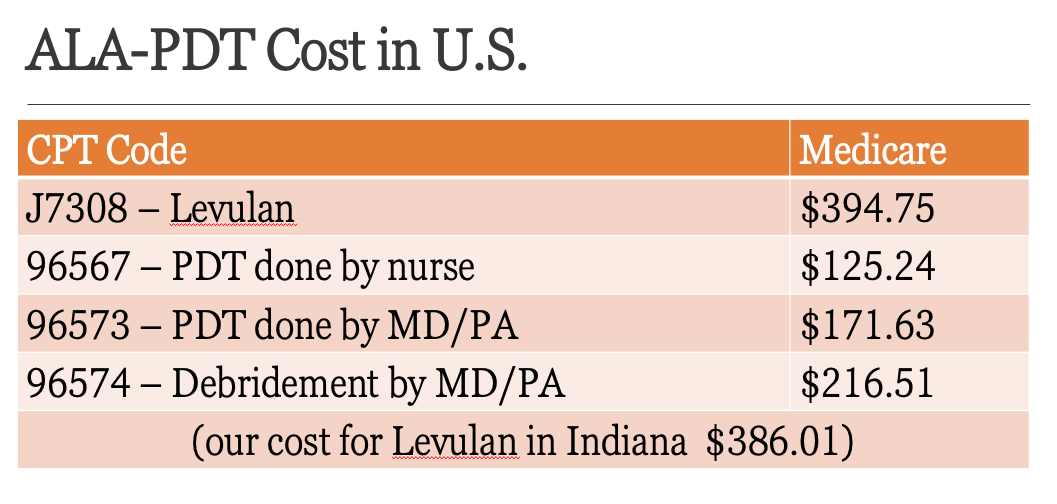 5% 5-FU wins in terms of both efficacy and cost  for treatment of multiple AKs on the head and neck
Lastly, we should know that Ingenol Mebutate (brand name Picato) has recently been discontinued in the U.S. A few studies showed that there may be more skin malignancies seen with this medication when compared to placebo. Although there is no clear evidence of a causative relationship between ingenol mebutate and skin cancer, it was taken off the market for safety reasons.
III. Don't let actinic damage get away from you: how to keep your patient's skin as smooth as a baby's bottom
Lesson #1: You can't dip your patient's whole body in 5-FU. You need to get ahead of AKs before they become too advanced and widespread.
In this case, you have to wait until the SCCs develop and treat them individually
Lesson #2: Patients with a mind of steel do better. The more aggressive treatment that the patient is able to complete/adhere to, the better their skin will look.
Lesson #3: Don't go out in the sun after treatment. You will develop significant erythema. 
Lesson #4: Counsel the patient on the side effects (ie erythema, dermatitis, burning) that he or she may experience.
See below for the picture of an ultra-marathon runner that religiously applied 5-FU and came out with skin as smooth as a baby's rear!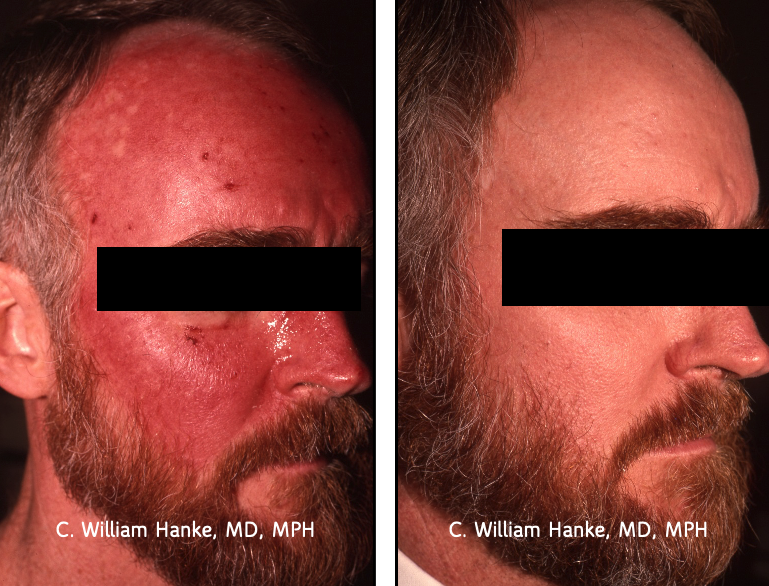 IV. What about newer or "out of the box" treatments for AKs?
Dermabrasion
Perform dermabrasion down to the reticular dermis. By going down to the reticular dermis, you knock off dysplastic cells in the upper part of hair follicle. The nose can be included in your treatment. For patient comfort, you can do nerve blocks to block the whole forehead.
See an example before and after below:

Chemo wraps
Chemo wraps with 5% 5-FU can be used in a manner that is "off-label" by covering arms/legs with diffuse actinic damage/SCC with 5-FU followed by occlusion with unna boots (zinc oxide impregnated gauze, followed by coban). This can be done periodically (e.g. once a year) for maintenance.
An example regimen2:

See below for some before and after photos:
Before: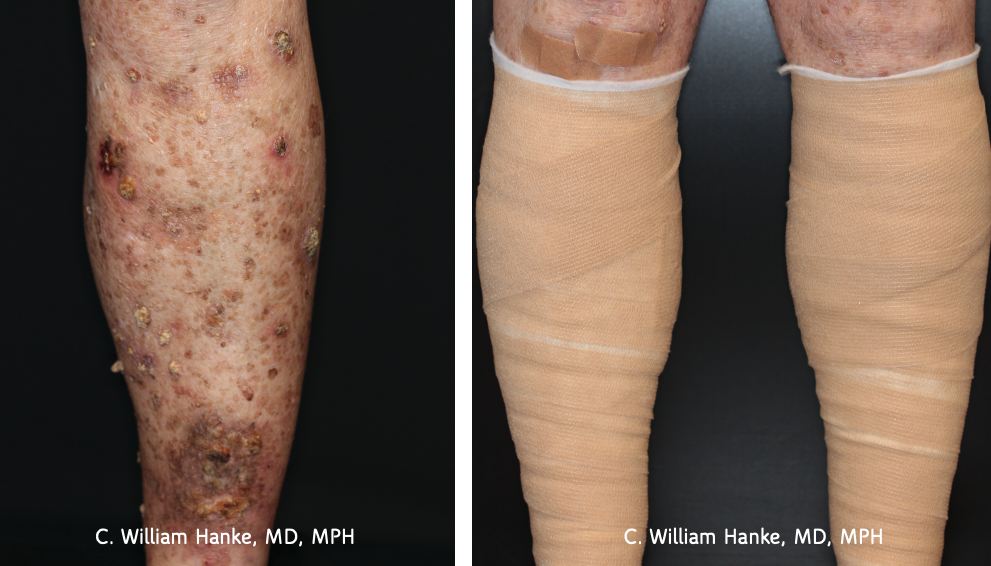 After: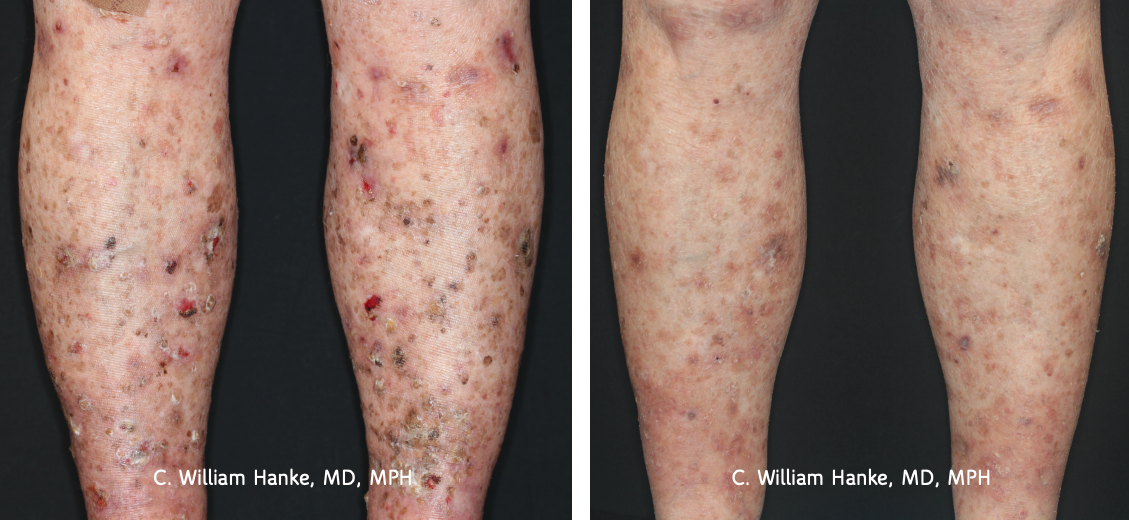 Tirbanibulin 1% ointment (NEW!)
Tirbanibulin is a microtubule inhibitor (microtubules aid in mechanical aspects of cell cytoskeleton changes during mitosis). Tirbanibulin inhibits tubulin polymerization and Src kinase signaling. It also causes upregulation of p53 expression, arresting cell division at the interphase G2 checkpoint, thus halting mitosis in proliferating cell populations. Subsequently, cells die by apoptosis.
Tirbanibulin was approved for the treatment of AKs in December 2020. You apply it once a day for 5 days. Most common side effects are erythema and scaling.  Up to 10% of patients reported either application-site pain or pruritus. Of 702 patients involved in phase 3 studies, 44-54% achieved complete clearance on the face and scalp with use of this medication.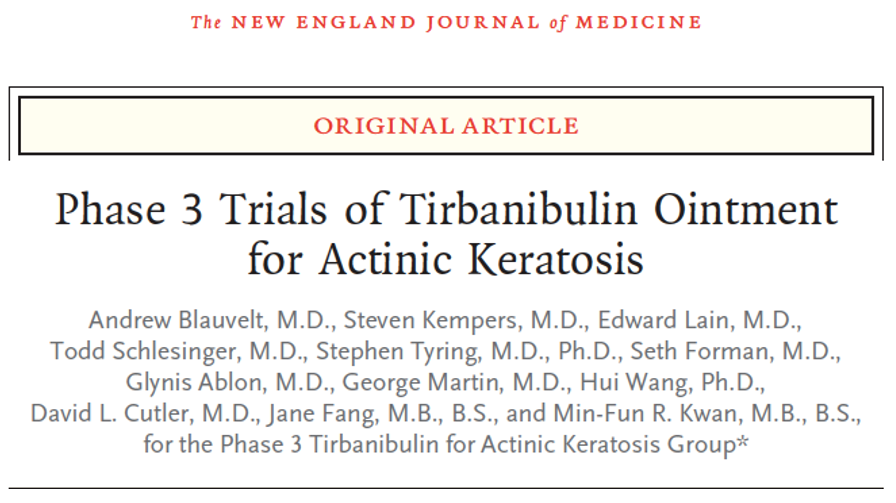 V. Combined Calcipotriol/5-FU: why it is like a vaccine against SCC
In the past few years, the combination of calcipotriol and 5-FU has gained traction as a robust treatment for actinic keratoses. Calcipotriol, aka calcipotriene, is a synthetic derivative of calcitriol, also known as 1,25-dihydroxycholecalciferol, the active form of Vitamin D.
Clinical Pearl
Calcipotriol 0.005% and 5% 5-FU combination cream (usually mixed via compounding pharmacies in a 1:1 ratio) is applied twice daily for 4 days as field treatment for actinic keratoses. Dr. Hanke usually sees patients at this 4-day time period and determines the degree of inflammation. If it is sufficient, he stops, if the inflammation is not robust enough, he continues the treatment for another 3-4 days.
It is important to generate sufficient skin inflammation when using this cream to treat AKs and prevent future SCCs. Severe erythema associated with calcipotriol/5-FU causes massive influx of lymphocytes around AKs. Most of these lymphocytes are CD-4+ T cells, generating a robust adaptive immune response to AKs and SCCs. Resident memory T-cells also develop in an antigen-specific manner, thus effectively generating protection from future SCCs, hence its comparison to a "vaccine for SCC." Inflammation generally peaks at 10 days and resolves by 14 days.
Here is a summary slide regarding treatment with this combination cream: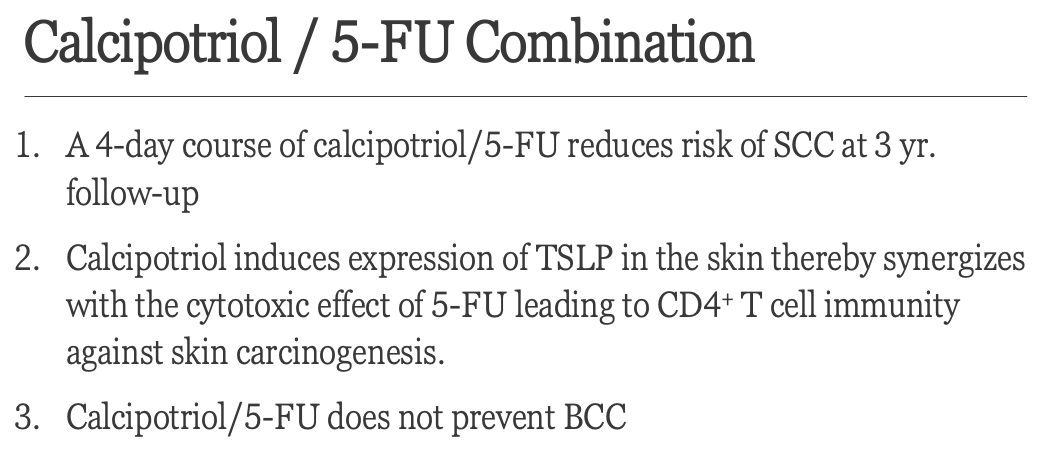 Let's dive further into this "vaccine" concept.
Calcipotriol induces expression of  Thymic stromal lymphopoietin (TSLP). TSLP is a cytokine produced by keratinocytes and it plays a role in allergic inflammation in the skin (ie think of it having a role in atopic dermatitis). Generally, TSLP is released in barrier-defective skin and recruits CD4+ T cells to generate antitumor immunity. Calcipotriol produces a significant increase in TSLP expression when compared to controls and reduces tumor burden in mice3,4 . When used in combination in humans, calcipotriol+5-FU causes a significant reduction in AKs when compared to 5-FU + Vaseline alone. Patients on the combination treatment tended to get more inflamed skin and this erythema took longer to resolve.

Lastly, Dr. Hanke highlighted a study supporting the fact that combined 5-FU+ calcipotriol reduces the risk of SCC development within 3 years of treatment. When comparing this combined treatment to 5-FU alone, 7% vs 28% developed SCC on the face and scalp at the time of 3- year follow-up. See the details below.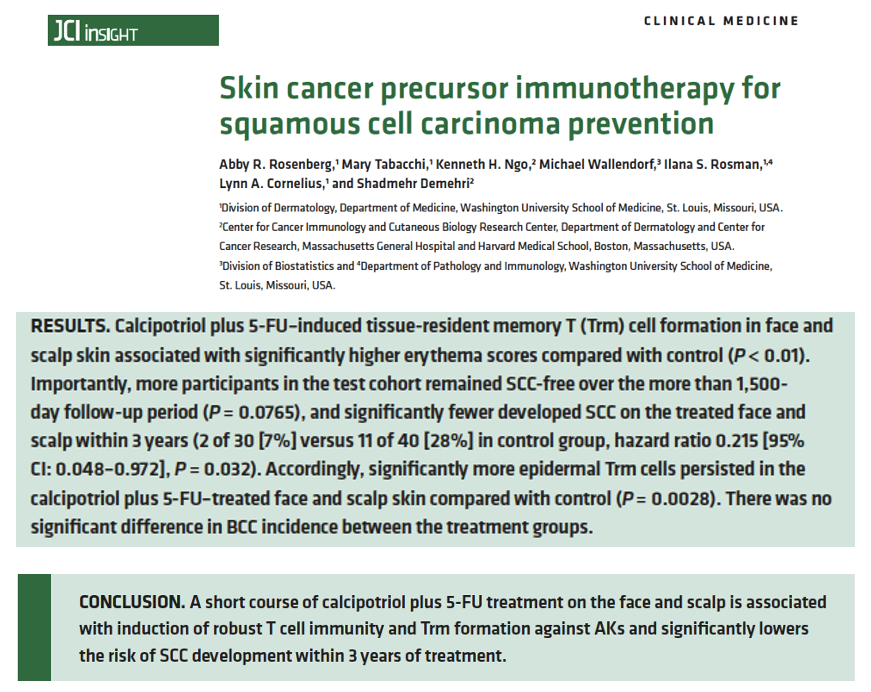 Dr. Hanke provided wonderful words of wisdom regarding treatment of actinic keratoses. To dive more deeply into treatment options and the science behind them, Dr. Hanke highly recommends reviewing the articles mentioned above.
I hope we all jump on the bandwagon of getting ahead of AKs before they get ahead of us!
How often do you use combined calcipotriol+ 5-FU cream? Did you know this could prevent SCC development?
Please share your comments at the end of this post and on Instagram @nextstepsinderm!
References
Jansen MHE, Kessels JPHM, Nelemans PJ, Kouloubis N, Arits AHMM, van Pelt HPA, Quaedvlieg PJF, Essers BAB, Steijlen PM, Kelleners-Smeets NWJ, Mosterd K. Randomized Trial of Four Treatment Approaches for Actinic Keratosis. N Engl J Med. 2019 Mar 7;380(10):935-946. doi: 10.1056/NEJMoa1811850. PMID: 30855743.
Goon PK, Clegg R, Yong AS, Lee AS, Lee KY, Levell NJ, Tan EK, Shah SN. 5-Fluorouracil "Chemowraps" in the Treatment of Multiple Actinic Keratoses: A Norwich Experience. Dermatol Ther (Heidelb). 2015 Sep;5(3):201-5. doi: 10.1007/s13555-015-0082-5. Epub 2015 Aug 25. PMID: 26304846; PMCID: PMC4580657.
Cunningham TJ, Tabacchi M, Eliane JP, Tuchayi SM, Manivasagam S, Mirzaalian H, Turkoz A, Kopan R, Schaffer A, Saavedra AP, Wallendorf M, Cornelius LA, Demehri S. Randomized trial of calcipotriol combined with 5-fluorouracil for skin cancer precursor immunotherapy. J Clin Invest. 2017 Jan 3;127(1):106-116. doi: 10.1172/JCI89820. Epub 2016 Nov 21. PMID: 27869649; PMCID: PMC5199703.
Rosenberg AR, Tabacchi M, Ngo KH, Wallendorf M, Rosman IS, Cornelius LA, Demehri S. Skin cancer precursor immunotherapy for squamous cell carcinoma prevention. JCI Insight. 2019 Mar 21;4(6):e125476. doi: 10.1172/jci.insight.125476. PMID: 30895944; PMCID: PMC6483001.
This information was presented by C. William Hanke, MD, MPH at the 2021 ODAC Virtual Conference. The above highlights from his lecture were written and compiled by Jacqueline McKesey, MD
All clinical images and slides courtesy of C. William Hanke, MD, MPH
Did you enjoy this article? You can find more on Medical Dermatology here.