Dr. Jerry Shapiro, or the "Lord of the Hair" (as described by ODAC conference co-chair Dr. Adam Friedman) provided us with an A to Z overview of frontal fibrosing alopecia (FFA) and lichen planopilaris (LPP) as well royalty-worthy pearls and treatment updates.
Before we start, here are my favorite quotes from Dr. Shapiro, which also serve as a great summary of his wonderful lecture:
"Frontal Fibrosing alopecia is an epidemic… It's growing. There's just so much of it."

"This is a Trichologic Emergency"-early intervention is key!

"I always use two devices: Folliscope and Fotofinder. I can magnify the scalp significantly, count hairs, and look at how active the condition is."

"T.C.M… Topical Tacrolimus 0.3% in Cetaphil Cleanser, Clobetasol 0.05% solution, Minoxidil 5% foam… layer these on, one right after the other."

"When I inject [intralesional Kenalog 10mg/mL] I ago around [the borders] of alopecia. In the center where the follicles are it's a cemetery (the follicles are dead)"- don't inject ILK there.
Now let's dive into an algorithmic approach for the treatment of LPP and FFA, starting with an introduction to Dr. Shapiro's clinic. Look out for "Money Slides" #1 and #2 later in the text.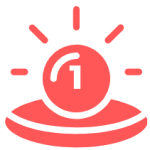 Learn from the expert: a "day in the life" of Dr. Shapiro
Well, a day in the life of Dr. Shapiro consists of 1-hour appointments only with patients who are suffering conditions of the scalp and hair.
Note that the patient ends the consultation, NOT Dr Shapiro. Of the patients he sees, about 35% have alopecia areata, 35% have pattern hair loss and telogen effluvium, and about 30% have cicatricial alopecia (the focus of today's talk).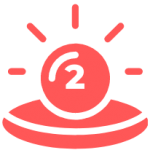 Scarring Alopecias: Recent JAAD Articles
Dr. Shapiro highlighted several recent JAAD articles that he co-authored. Specifically, a two-part JAAD CME published in 2016, highlighting primary cicatricial alopecias1,2. Check this out as another great reference!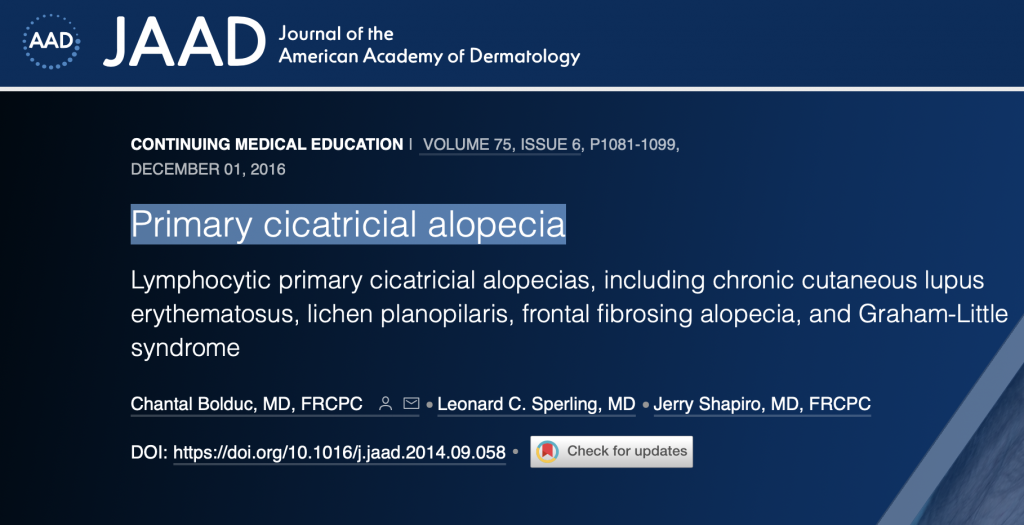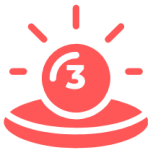 Let's Talk About Lichen Planopilaris: Evaluation and Treatment
When discussing LPP, Dr. Shapiro always uses these 3 tools:
Fotofinder
Folliscope
Trichoscopy
Fotofinder and folliscope magnify the hair follicles to highlight inflammation as well as count the number of hairs.  The coolest part is that erythema, hyperkeratosis and hair density can be quantified. Trichoscopy is dermoscopy of the hair. It is essential for diagnosis and monitoring of scalp conditions.
Trichoscopy of LPP and FFA are similar:
Perifollicular scaling
Scales may migrate up the hair shaft and form tubular structures
You may see fibrotic white dots (scars that replaced the hair follicle)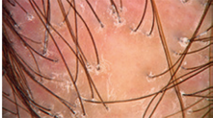 Biopsy can assist in narrowing down the ddx from alopecia areata vs traction alopecia vs female/male pattern hair loss vs LPP/FFA. Of note, the distinction between FFA and LPP is primarily clinical, as histopathologically they look nearly identical. There may be slightly less perifollicular inflammation in FFA when compared to LPP.
What about pseudopelade of brocq? This is the same as LPP. Possibly the pseudopelade of brocq variant may be less symptomatic. We may see confetti like lesions or large plaques, or a combination of the two. See photos below for an example of confetti like lesions.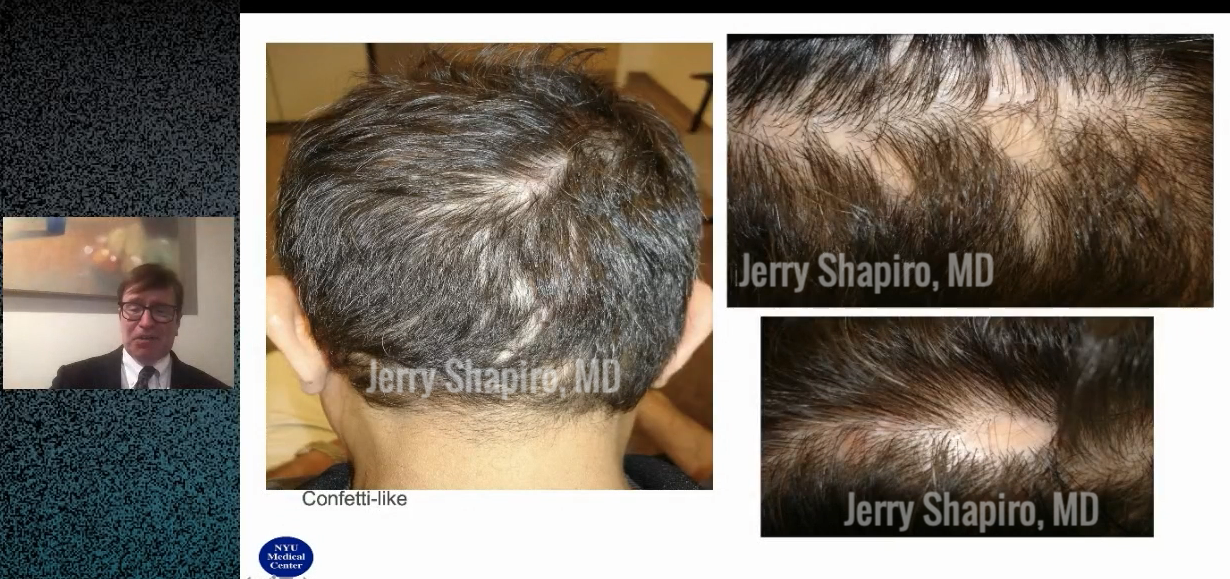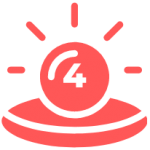 Treatments for Lichen Planopilaris
Look at this beautiful treatment algorithm below. I call this "Money Slide #1"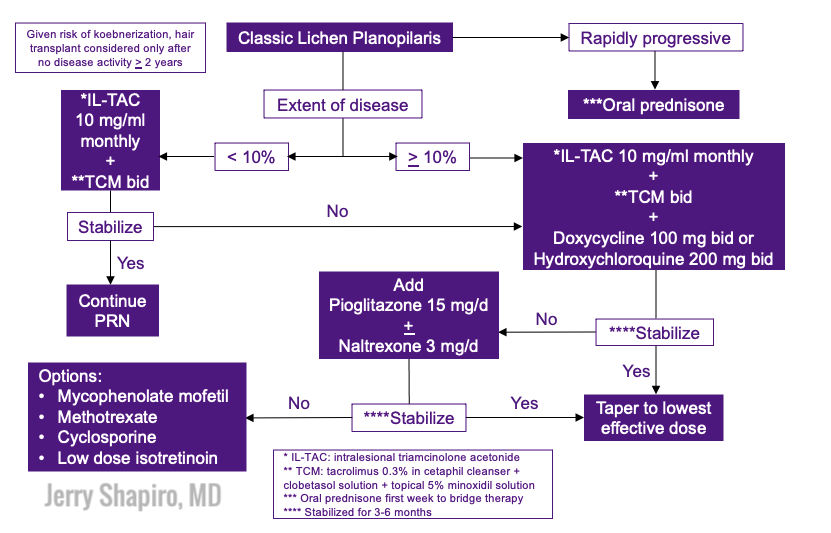 Lichen Planopilaris Treatment Algorithm
Step 1: Is the disease rapidly progressive?
This is a trichologic emergency. Proceed to oral steroids.
Step 2: Is the disease involving <10% or >10% of the scalp?
>10% proceed to intralesional (Kenalog), topical (calcineurin-I + corticosteroid+ minoxidil), and oral therapy (doxycycline, plaquenil)
<10% start with intralesional and topical therapy alone
If we need to bump up therapy, consider adding pioglitazone and/or naltrexone. For recalcitrant cases, consider mycophenolate mofetil, methotrexate, cyclosporine, or low dose isotretinoin.
So what's the magic sauce?   T.C.M.
Compounded Tacrolimus 0.3% in Cetaphil cleanser + Clobetasol 0.05% solution + Minoxidil 5% foam
Layer this on the scalp, one right after the other. The order is  T C M. We remember this by thinking of "Turner Classic Movies".
What About Naltrexone?
Naltrexone is a pure opioid agonist traditionally used at doses of 25-50mg daily for alocohol/opioid abuse. However, low dose naltrexone (in this case, 3mg daily) has anti-inflammatory effects and has been emerging for its off-label use in chronic inflammatory conditions, including lichen planopilaris (others include crohn's, multiple sclerosis, fibromyalgia, Hailey-Hailey)5. It has also demonstrated success in treating pruritus.
Side effects of naltrexone are generally mild, and include vivid dreams, nightmares, headaches, and increased anxiety. Note that it can precipitate opioid withdrawal if patients are actively taking opiate-based medications.
Dr. Shapiro also highlighted pioglitazone (see the slide below), a diabetic medication (PPAR-gamma agonist), as a potential treatment for LPP. In a recent study, Dr. Shapiro demonstrated that 18/25 patients showed benefit in their LPP while on this medication6. One potential mechanism for its efficacy—it normalizes cholesterol synthesis in the sebaceous gland (of the pilosebaceous unit) to allow the follicle to form a more functional hair shaft. Look at the slide below for more information on PPAR-gamma and LPP.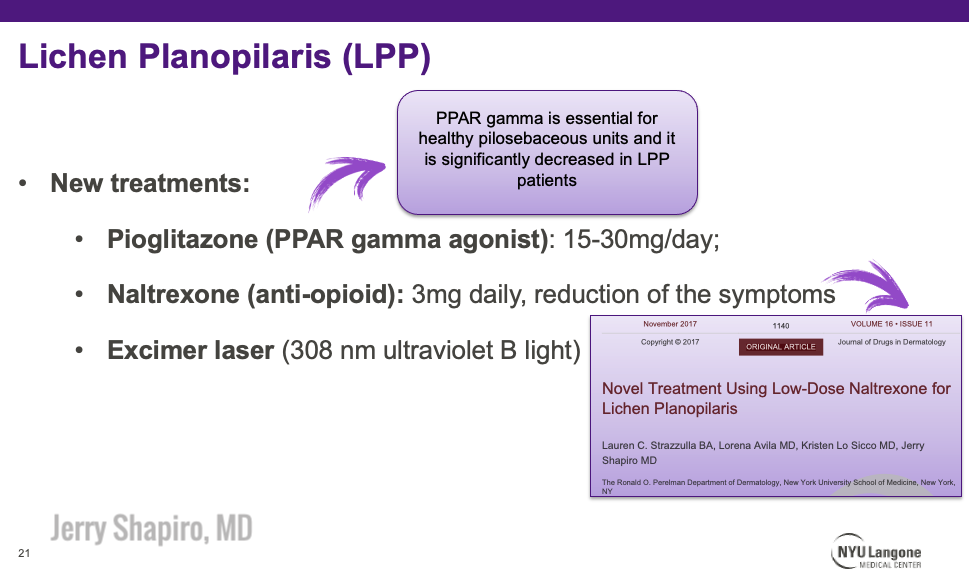 Here's a summary of "alternate" adjuvant treatment options discussed by Dr. Shapiro: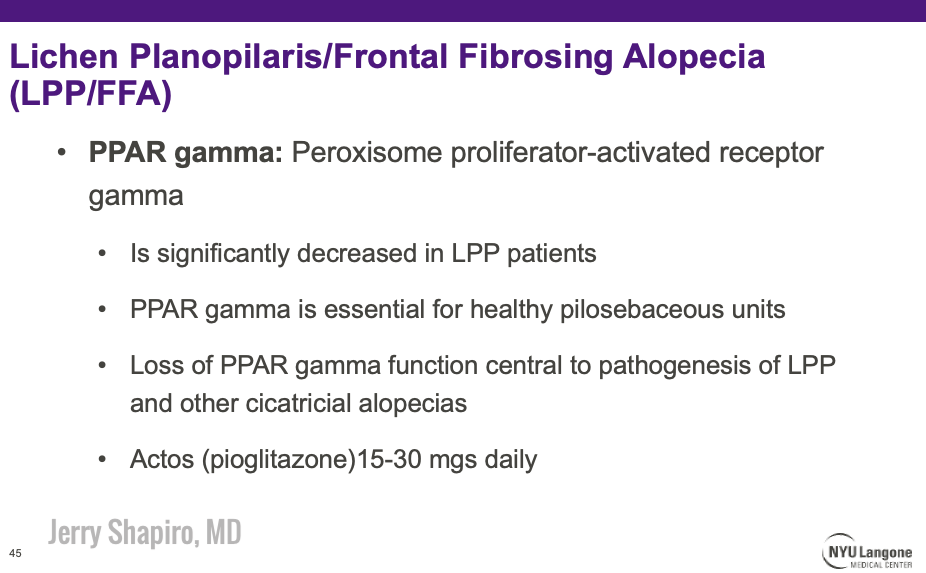 Frontal Fribrosing Alopecia: A Variant of LPP
FFA is a variant of LPP, distinguished from the latter largely based on clinical factors alone. It typically occurs on the frontotemporal region of the scalp, but can involve the upper periauricular and occipital locations as well. It is most common in postmenopausal women (55-65 years old), but 15% of cases occur in younger individuals.
When looking at patients' faces, the band of alopecia is typically easily distinguishable from the sun damaged skin on the forehead.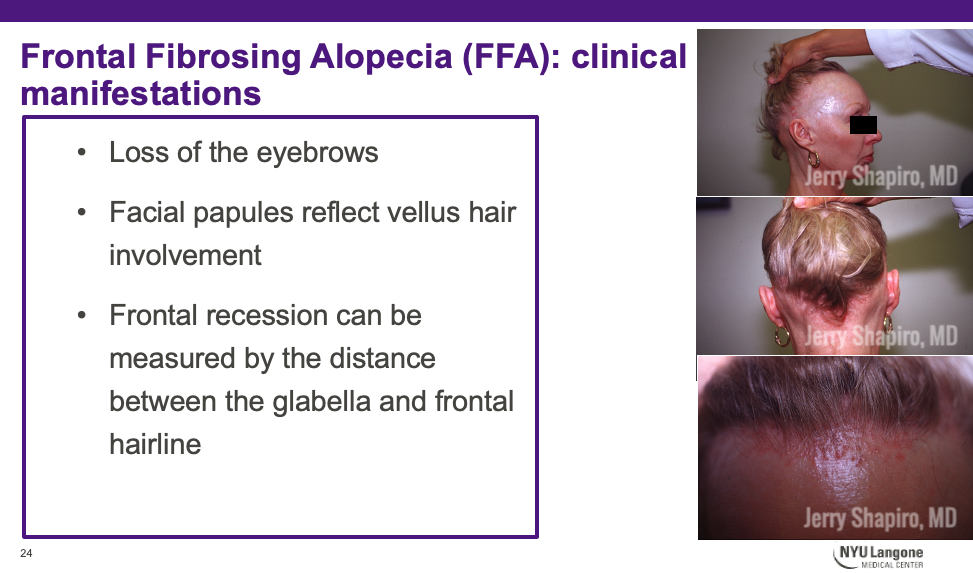 Here's another look at facial papules seen in FFA: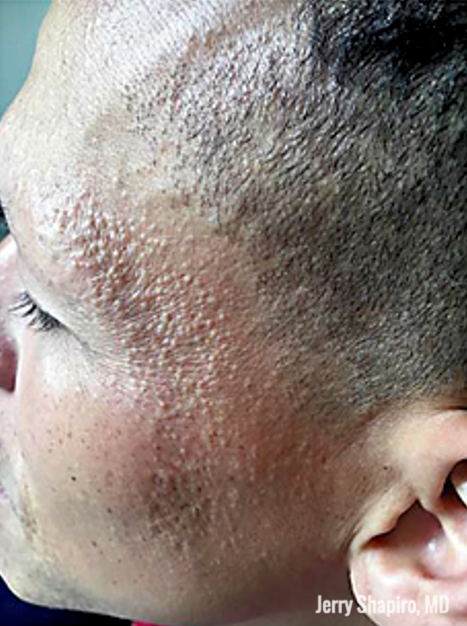 .
Dr. Shapiro says that these reflect vellus hair involvement of FFA and, unfortunately, are hard to treat. Lasers don't really seem to work. We can try low dose isotretinoin in these cases (20mg a day).
How Do We Evaluate Hair Loss in Frontal Fibrosing Alopecia?
Always measure the amount of hair loss individuals have. See photo below for the appropriate way to measure hair loss in FFA.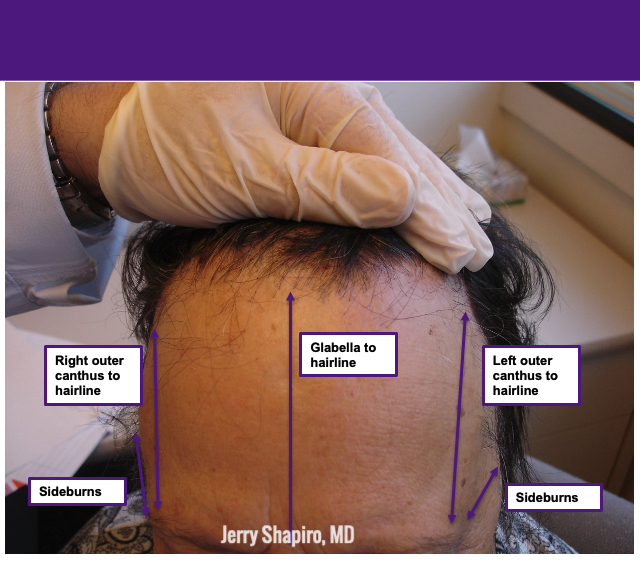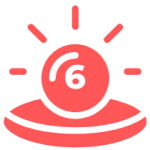 Frontal Fibrosing Alopecia Treatments: What's New in the JAAD?
Dr. Shapiro and his fellow, Dr. Ho, published a 2019 JAAD review article highlighting medical therapy for FFA. Most studies reviewed were case reports and retrospective studies4. Here is a summary of the results: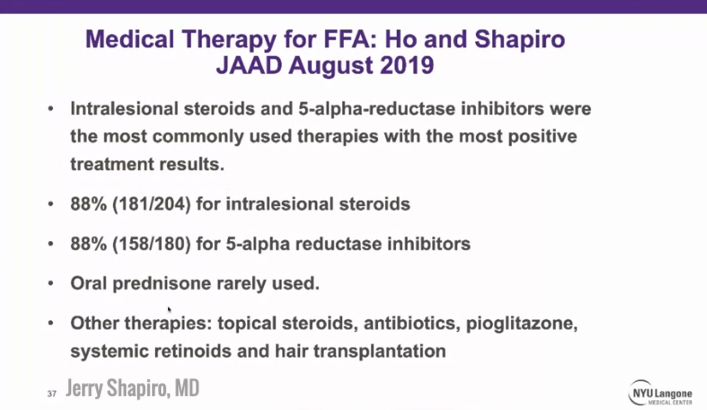 Dr. Shapiro also discussed a few additional studies highlighting clinical findings and treatment/treatment efficacy in patients with FFA. The table below can be useful to show to our patients. Of 92 cases of FFA treated by Dr. Shapiro at NYU, 70.7% were able to achieve disease stability, and the average time to achieve stable disease was 10.4 months7.
These findings may help to guide our patients and manage their expectations.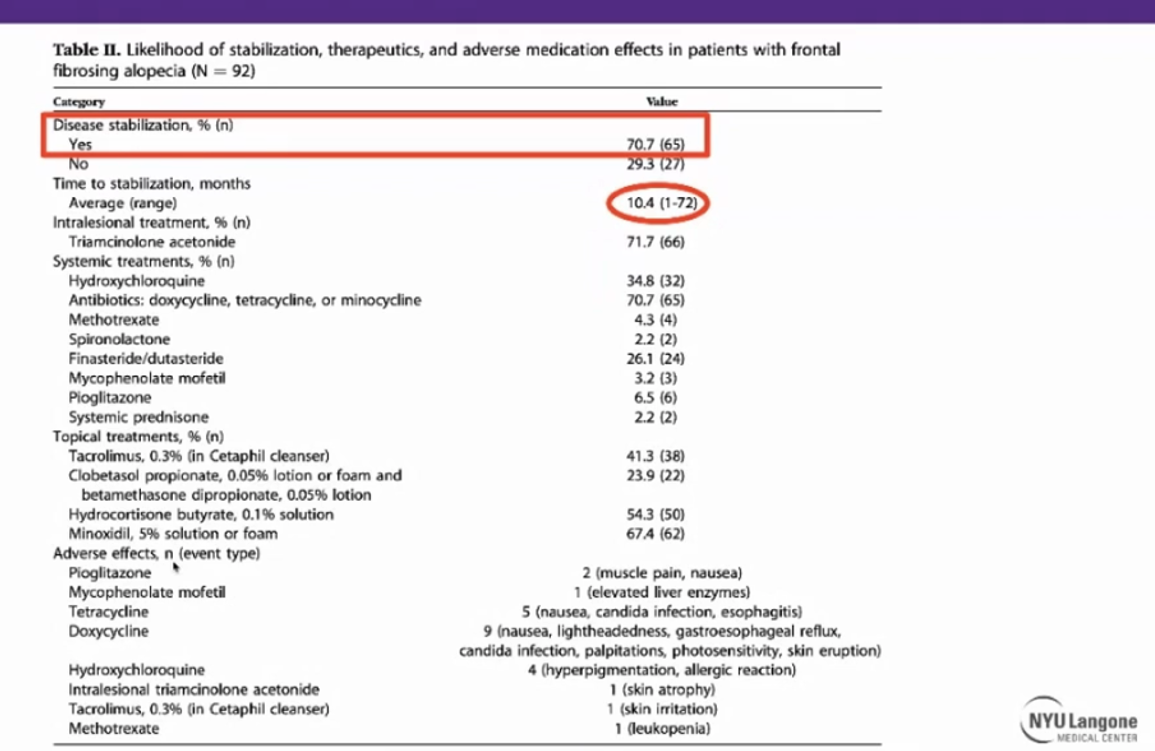 On to Money Slide #2: Treatment algorithm for FFA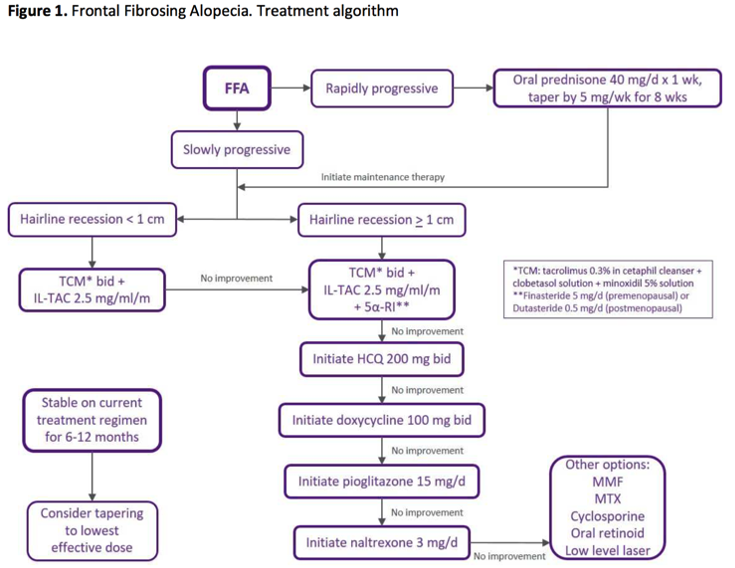 Frontal Fibrosing Alopecia Treatment Algorithm
Step 1: Rapidly Progressive?
Start with oral prednisone as bridge to therapy, while concomitantly starting topicals/orals.
Step 2: Determine extent based on measurements of hairline recession
<1cm recession- Topical TCM + ILK (this time only 2.5mg/cc)
For ILK, inject hairline to hairline (~30 injections, 3cc total injecting slightly behind the hairline)
>1cm recession TCM, ILK, start 5a-reductase inhibitor (finasteride or dutasteride)
If the disease process does not stabilize, consider adding hydroxychloroquine, doxycycline, pioglitazone, or naltrexone. More heavy hitting options include mycophenolate mofetil, methotrexate, cyclosporine, oral retinoids, or excimer laser.
Note: the treatment is the same in males as it is in females.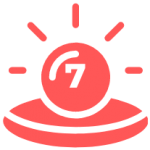 Sunscreen and Frontal Fibrosing Alopecia: The Controversy
There is ongoing literature to suggest (but also refute?) that sunscreen may have an association with FFA8.
Ultimately, the AAD released a review article "Sunscreen and Frontal Fibrosing Alopecia: A review" in 2019 stating that there was "insufficient evidence to establish a direct causal relationship between sunscreen and FFA."
Dr. Shapiro often recommends that his patients take the safer road and use mineral-based sunscreens such as zinc oxide and titanium dioxide. Sunscreen ingredients to possibly avoid are oxybenzone and avobenzone.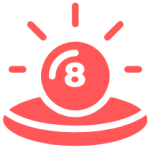 Surgical Options for Frontal Fibrosing Alopecia
Dr. Shapiro finished his talk with mentioning surgical options for stable FFA. It seems that hair transplantation is a feasible option for patients with LPP and FFA9. Overall, results may be variable, but it is important to establish disease remission first (on the order of 1-3 years).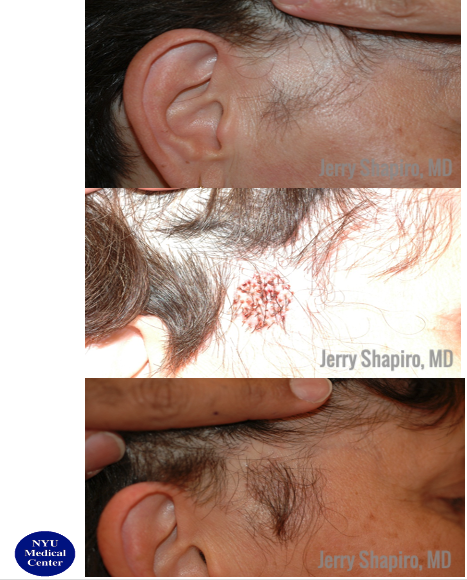 References
Bolduc C, Sperling LC, Shapiro J. Primary cicatricial alopecia: Other lymphocytic primary cicatricial alopecias and neutrophilic and mixed primary cicatricial alopecias. J Am Acad Dermatol. 2016 Dec;75(6):1101-1117. doi: 10.1016/j.jaad.2015.01.056. PMID: 27846945.
Bolduc C, Sperling LC, Shapiro J. Primary cicatricial alopecia: Lymphocytic primary cicatricial alopecias, including chronic cutaneous lupus erythematosus, lichen planopilaris, frontal fibrosing alopecia, and Graham-Little syndrome. J Am Acad Dermatol. 2016 Dec;75(6):1081-1099. doi: 10.1016/j.jaad.2014.09.058. PMID: 27846944.
Waśkiel, A., Rakowska, A., Sikora, M., Olszewska, M., & Rudnicka, L. (2018). Trichoscopy in lichen planopilaris: an update. Dermatology Review/Przegląd Dermatologiczny, 105(1), 63-75. https://doi.org/10.5114/dr.2018.74167
Ho A, Shapiro J. Medical therapy for frontal fibrosing alopecia: A review and clinical approach. J Am Acad Dermatol. 2019 Aug;81(2):568-580. doi: 10.1016/j.jaad.2019.03.079. Epub 2019 Apr 3. PMID: 30953702.
Strazzulla LC, Avila L, Lo Sicco K, Shapiro J. Novel Treatment Using Low-Dose Naltrexone for Lichen Planopilaris. J Drugs Dermatol. 2017 Nov 1;16(11):1140-1142. PMID: 29141063.
Peterson EL, Gutierrez D, Brinster NK, Lo Sicco KI, Shapiro J. Response of Lichen Planopilaris to Pioglitazone Hydrochloride. J Drugs Dermatol. 2019 Dec 1;18(12):1276-1279. PMID: 31860218.
Strazzulla LC, Avila L, Li X, Lo Sicco K, Shapiro J. Prognosis, treatment, and disease outcomes in frontal fibrosing alopecia: A retrospective review of 92 cases. J Am Acad Dermatol. 2018 Jan;78(1):203-205. doi: 10.1016/j.jaad.2017.07.035. PMID: 29241787.
Robinson G, McMichael A, Wang SQ, Lim HW. Sunscreen and frontal fibrosing alopecia: A review. J Am Acad Dermatol. 2020 Mar;82(3):723-728. doi: 10.1016/j.jaad.2019.09.085. Epub 2019 Oct 22. PMID: 31654665.
Liu YS, Jee SH, Chan JL. Hair transplantation for the treatment of lichen planopilaris and frontal fibrosing alopecia: A report of two cases. Australas J Dermatol. 2018 May;59(2):e118-e122. doi: 10.1111/ajd.12682. Epub 2017 Jul 24. PMID: 28736812.
Did you enjoy this article? Find more on Medical Dermatology here.