Chronic pruritus affects 8-16% of the general population and has a profound impact on patient quality of life.1-3Although the symptom of pruritus may originate from a number of underlying etiologies, including metabolic derangements and infectious causes, along with neoplastic, inflammatory, or psychiatric conditions, other cases may be idiopathic in nature.4 Given the diversity of underlying contributing factors, systemic nerve-targeted treatment is a cornerstone of disease management. We continue our series, Therapeutic Cheat Sheet, with a closer look at pregabalin, which plays an important role when used off-label in the management of chronic pruritus along with several other dermatologic conditions as supported by recent reports.5
PREGABALIN THERAPEUTIC CHEAT SHEET
Compiled by: Azam Qureshi, MD, Reviewed by: Adam Friedman, MD
TRADE NAME
MECHANISM OF ACTION
Although the exact mechanism of action is not well-understood, pregabalin is a gabapentinoid agent which binds and inhibits the α2δ auxiliary subunit of voltage-gated calcium channels containing this specific subunit, thereby disrupting neurotransmitter-mediated communication between the dorsal root ganglion and the spinal dorsal horn.6 Pregabalin reduces the spinal cord release of substance P and calcitonin gene-related peptide, which are important mediators in sensation of itch and pain through interplay with C-fibers.7
FDA APPROVED FOR
Neuropathic pain associated with diabetic peripheral neuropathy or spinal cord injury8
Postherpetic neuralgia8
Fibromyalgia8
Partial-onset seizures in patients 1 month and older, adjunctive therapy8
OFF-LABEL USES
Chronic pruritus9,10
Uremic pruritus11
Neuropathic or neurogenic pruritus11
Prurigo nodularis12
Brachioradial pruritus13
Notalgia paresthetica14
Scalp dysethesia15
Vulvodynia16
Red scrotum syndrome17
Pain symptoms associated with acral erythrodysesthesia or hand-foot-skin reaction18
Acute zoster19
Erythromelalgia20
DOSING
Adult indications; begin dosing at 150mg daily, although evidence of efficacy of lower starting doses in management of pruritic diseases8

Diabetic peripheral neuropathy pain; 3 divided doses daily of 300mg daily within 1 week
Postherpetic neuralgia; 2-3 divided doses per day of 300mg daily within 1 week (max. dose of 600mg daily)
Adjunctive treatment for partial-onset seizures in pediatric and adult patients weighing 30kg+

2-3 divided doses, max. dose of 600mg daily

Adjunctive treatment for partial-onset seizures in pediatric patients weighing <30kg

1 month to <4 years; 3 divided doses of 14mg/kg daily
4 years and older; 2-3 divided doses of 14mg/kg daily

Fibromyalgia; 2 divided doses daily, 300mg daily within 1 week, max. dose of 450mg daily
Off-label use in chronic pruritic diseases; evidence for efficacy of 75mg once daily, with titration upwards to twice daily dosing, and/or 150mg once daily, with titration upwards to twice daily dosing, with max. dose of 600mg daily10,12,21

Dose adjustment in adult patients with reduced kidney function8
Withdrawal recommended over min. of 1 week to prevent seizures8
SIDE EFFECTS
Most commonly: Dizziness, somnolence, dry mouth, edema, blurred vision, weight gain, difficulty with concentration & attention8
Angioedema, hypersensitivity reactions8
Respiratory depression8
Suicidal thoughts & behavior (however, evidence is inconclusive)8
Seizures with withdrawal8
Possible creatine kinase elevations, decreased platelet counts, and PR interval prolongation8
WARNINGS
Caution in patients with previous episode of angioedema or in patients on other drugs also associated with increased risk of angioedema (ex. angiotensin converting enzyme inhibitors)8
CONTRAINDICATIONS
Patients with known hypersensitivity to the drug or any of its components8
PREGNANCY  & BREASTFEEDING
No well-controlled studies studying medication in pregnant human women; further study is needed8,22
Recent cohort study providing evidence for lack of significantly increased occurrence of major congenital malformations in offspring of patients using medication22
Evidence from animal studies suggest increased risk of fetal abnormalities in offspring of rats and rabbits exposed to 16 times the max. recommended human dose of medication2
Small amounts of medication detected in milk of women who are lactating (about 7% of mother's dose, effects on infant breastfed this medication are unknown)8
MONITORING
Monitor for symptoms of swelling of face, mouth, or neck (angioedema may occur with initial or chronic treatment)
Monitor for new or worsening depression, suicidal ideation, behavior
Monitor for respiratory depression
CLICK ON THE IMAGE BELOW TO ENLARGE AND DOWNLOAD YOUR THERAPEUTIC CHEAT SHEET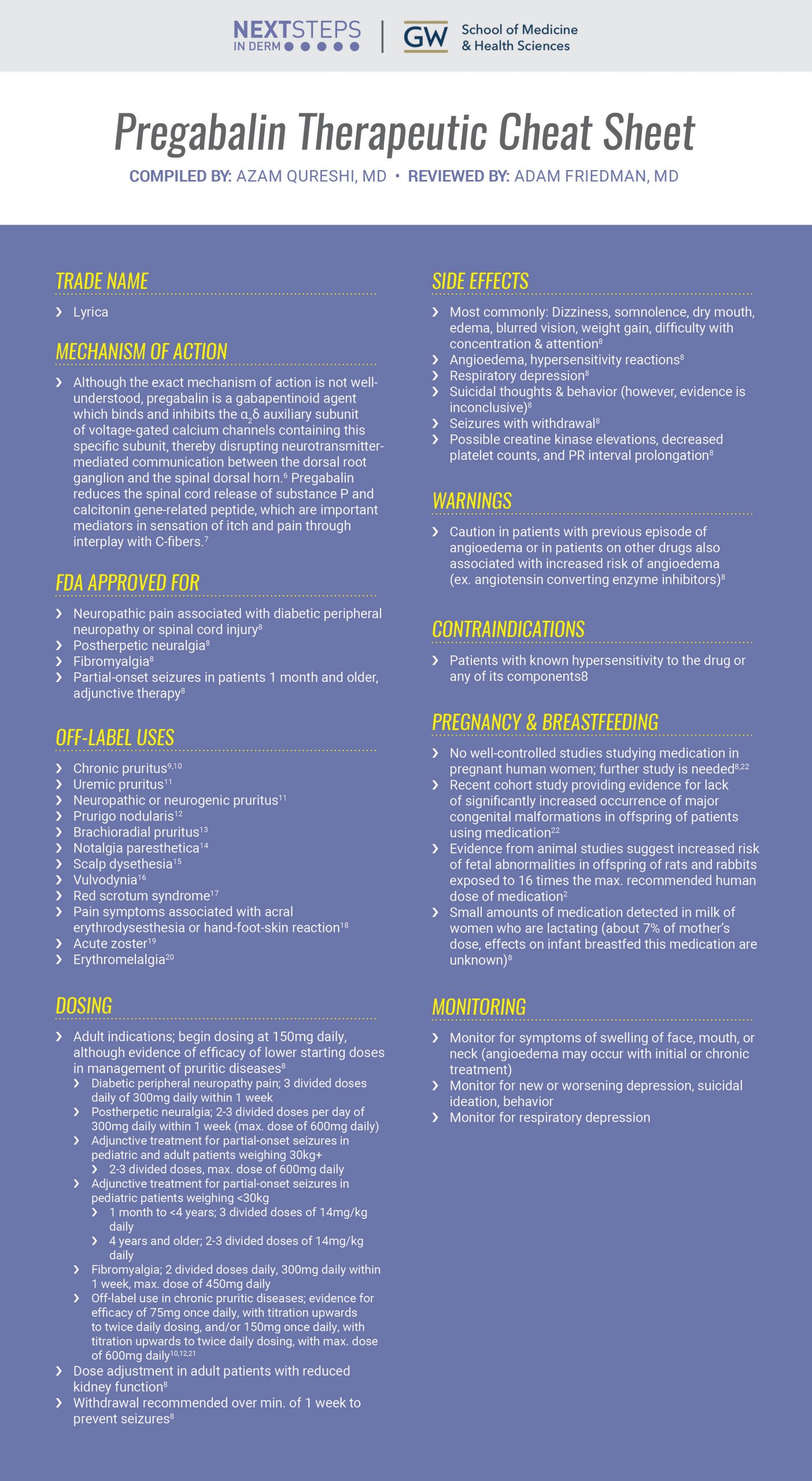 Pregabalin has a variety of off-label applications in dermatology and serves as an important asset in the management of chronic pruritus and an array of pruritic diseases. As an accumulating amount of studies support its use in a variety of dermatologic diseases, practitioners should continue to take note of newly published reports concerning the safety of this medication in the diversity of clinical settings in which it is utilized. If you would like to learn more about pregabalin, check out the following 2 articles:
Authors: Jan Ehrchen, MD, PhD, & Sonja Ständer, MD
Abstract:
To the Editor: Chronic pruritus represents a diagnostic and therapeutic challenge demanding continuous evaluation of new therapeutic modalities. We report on 3 patients responding to treatment with pregabalin. The patients presented with a 15- to 25-year history of generalized, severe itch. Diagnostic procedures 1 could not detect any underlying causes in one patient. Two patients had aquagenic pruritus associated with polycythemia vera. The itch intensity as rated by the visual analog scale was 8 points in all patients. After multiple treatment failures, pregabalin was commenced at a dose of 75 mg twice daily and increased to 150 mg twice daily resulting in a more than 70% reduction of itch 5 to 8 weeks after treatment initiation. Side effects were moderate and included weight gain, mild somnolence, dizziness, and peripheral edema. The effect of pregabalin was stable (longest follow-up time currently 6 months) and the patients were reluctant to stop therapy because of the dramatic response.
Gabapentinoids for Pruritus in Older Adults: A Narrative Review, published in Dermatology and Therapy23
Authors: Shreya A. Sreekantaswamy, Nicholas Mollanazar, & Daniel C. Butler
Abstract:
There is currently no standardized algorithm for the treatment of chronic pruritus (CP), or itch lasting more than 6 weeks, in adults aged ≥ 65 years. The antiepileptic agents gabapentin and pregabalin, however, are gaining popularity in the dermatologic community for their efficacy in treating CP of neuropathic origin. Yet the lack of literature specifically looking at the safety and efficacy of these medications in older adults results in limited guidance for providers in the safe use of gabapentinoids. In this paper we discuss special considerations and recommendations for treating older adults with gabapentin and pregabalin and explore the possibility for these drugs to ameliorate CP of multiple etiologies.
References
Matterne U, Apfelbacher CJ, Loerbroks A, Schwarzer T, BüTTNER M, Ofenloch R, Diepgen TL, Weisshaar E. Prevalence, correlates and characteristics of chronic pruritus: a population-based cross-sectional study. Acta dermato-venereologica. 2011 Nov 1;91(6):674-9.
Ständer S, Schäfer I, Phan NQ, Blome C, Herberger K, Heigel H, Augustin M. Prevalence of chronic pruritus in Germany: results of a cross-sectional study in a sample working population of 11,730. Dermatology. 2010;221(3):229-35.
Dalgard F, Svensson Å, Holm JØ, Sundby J. Self-reported skin morbidity among adults: associations with quality of life and general health in a Norwegian survey. InJournal of Investigative Dermatology Symposium Proceedings 2004 Mar 1 (Vol. 9, No. 2, pp. 120-125). Elsevier.
Warlich B, Fritz F, Osada N, Bruland P, Stumpf A, Schneider G, Dugas M, Pfleiderer B, Ständer S. Health-related quality of life in chronic pruritus: an analysis related to disease etiology, clinical skin conditions and itch intensity. Dermatology. 2015;231(3):253-9.
Goodman CW, Brett AS. A clinical overview of off-label use of gabapentinoid drugs. JAMA Internal Medicine. 2019 May 1;179(5):695-701.
Calandre EP, Rico-Villademoros F, Slim M. Alpha2delta ligands, gabapentin, pregabalin and mirogabalin: a review of their clinical pharmacology and therapeutic use. Expert review of neurotherapeutics. 2016 Nov 1;16(11):1263-77.
Fehrenbacher JC, Taylor CP, Vasko MR. Pregabalin and gabapentin reduce release of substance P and CGRP from rat spinal tissues only after inflammation or activation of protein kinase C. Pain. 2003 Sep 1;105(1-2):133-41.
Parke-Davis Div of Pfizer Inc: LYRICA® (pregabalin) capsule & solution. Package Insert. US Prescribing Information and Patient Information. Revised 06/2020 Available at http://labeling.pfizer.com/ShowLabeling.aspx?id=561
Lee J, Jang D, Bae J, Jung H, Park M, Ahn J. Efficacy of pregabalin for the treatment of chronic pruritus of unknown origin, assessed based on electric current perception threshold. Scientific reports. 2020 Jan 23;10(1):1-8.
Ehrchen J, Ständer S. Pregabalin in the treatment of chronic pruritus. Journal of the American Academy of Dermatology. 2008 Feb 1;58(2):S36-7.
Matsuda KM, Sharma D, Schonfeld AR, Kwatra SG. Gabapentin and pregabalin for the treatment of chronic pruritus. Journal of the American Academy of Dermatology. 2016 Sep 1;75(3):619-25.
Mazza M, Guerriero G, Marano G, Janiri L, Bria P, Mazza S. Treatment of prurigo nodularis with pregabalin. Journal of clinical pharmacy and therapeutics. 2013 Feb;38(1):16-8.
Atış G, Bilir Kaya B. Pregabalin treatment of three cases with brachioradial pruritus. Dermatologic therapy. 2017 Mar;30(2):e12459.
Park MY, Kim JM, Kim GW, Song M, Kim HS, Ko HC, Kim MB, Kim BS. Notalgia paresthetica of the back successfully controlled by pregabalin. Korean Journal of Dermatology. 2017 Mar 1;55(3):198-202.
Sarifakioglu E, Onur O. Women with scalp dysesthesia treated with pregabalin. International journal of dermatology. 2013 Apr 4;52(11):1417-8.
Jerome L. Pregabalin-induced remission in a 62-year-old woman with a 20-year history of vulvodynia. Pain Research and Management. 2007 Jan 1;12(3):212-4.
Miller J, Leicht S. Pregabalin in the treatment of red scrotum syndrome: a report of two cases. Dermatologic therapy. 2016 Jul;29(4):244-8.
Lilly E, Burke M, Kluger H, Choi J. Pregabalin for the treatment of painful hand-foot skin reaction associated with dabrafenib. JAMA dermatology. 2015 Jan 1;151(1):102-3.
Jensen-Dahm C, Rowbotham MC, Reda H, Petersen KL. Effect of a single dose of pregabalin on herpes zoster pain. Trials. 2011 Dec;12(1):1-5.
Kakizaki A, Fujimura T, Kambayashi Y, Watabe A, Aiba S. Successful treatment of adult-onset erythromelalgia with steroid pulse and pregabalin. Case reports in dermatology. 2012;4(3):242-6.
Mittal A, Agarwal C, Balai M, Taneja A. Gabapentin and pregabalin in dermatology. Indian Journal of Dermatology, Venereology, and Leprology. 2018 Sep 1;84(5):634.
Patorno E, Bateman BT, Huybrechts KF, MacDonald SC, Cohen JM, Desai RJ, Panchaud A, Mogun H, Pennell PB, Hernandez-Diaz S. Pregabalin use early in pregnancy and the risk of major congenital malformations. Neurology. 2017 May 23;88(21):2020-5.
Sreekantaswamy SA, Mollanazar N, Butler DC. Gabapentinoids for Pruritus in Older Adults: A Narrative Review. Dermatology and therapy. 2021 Mar 15:1-1.
Did you enjoy this therapeutic cheat sheet? You can find more here.